Motorists know that they need to have a service jack wherever they are heading to. This is because they don't know when the tire will burst or the vehicle may as well develop a technical hitch. In such a situation, a motor jack or auto jack is greatly needed. For personal use, one needs a jack stand that is lighter such as those made from aluminum. But for heavy-duty work such as for car repair shops, they need durable jacks such as those constructed from steel metal. Read this Hein Werner Jack review to know more about this American floor jack brand.
On different occasions, people usually argue about which is the best floor jack in the USA. There are several brands with some being locally made while others are imported from countries like China. Among the best, USA-based brands are the Hein-Werner floor jack. This brand has been in this field for a while and has a wide range of floor jacks that they offer. They have heavy-duty jacks, 2-ton capacity jacks, and 3-ton capacity jacks, too. Hein-Werner aims in coming up with durable and easy-to-use floor jacks.
Top 2 Best Hein Werner jack Review 2022
When it comes to the best Hein-Werner floor jacks, there are various models to choose from. This is an excellent brand and has almost everything for everyone. After looking at several models from this brand, we decided to look at these two which we have discussed further below as follows:
Hein-Werner HW93642 Blue Hydraulic Service Jack – 2-ton capacity
If you are looking for value for your money, then look no further than the Hein-Werner HW93642 service jack. Made in the USA, this car jack has all the excellent qualities that a person can need in a top service jack. The manufacturer says that around 96% of the parts of this jack are made in the USA and that's why it provides outstanding performance despite its hefty price. The jack has a cast iron lift arm and pumps base for giving strength and durability. The flanged side and plates and the wide frame are built for stability.

Technical Features of Hein-Werner HW93642 Blue Service Jack:
| | |
| --- | --- |
| Features | Hein-Werner HW93642 |
| Rated capacity: | 2 Ton |
| Lifting Height: | 15-3/4 inch |
| Handle: | 50 inch |
| Saddle Diameter: | 6-3/4 inch |
| Chassis Height: |  6-3/4 inch |
| Chassis Length: | 28-1/2 inch |
| Wheel to Wheel Width: | 11-3/4 inch |
| Dimensions: | 32 x 8 x 17 inches |
| Weight: | 99 pounds |
Features:
Flagged side plates
Cast iron lift arm
Sealed hydraulic pump
U-joint
Pump base
2-ton capacity
Wide frame
One-piece handle
Made in the USA
2 years warranty from date of purchase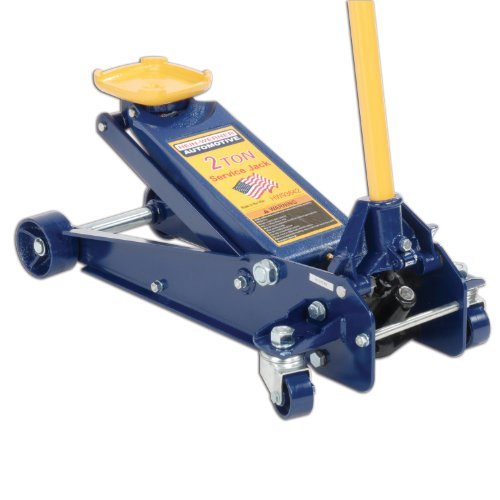 Check Price
When it comes to easy maneuvering, the car jack has rear and large front wheels. The load capacity is not as high as the Craftsman 3 ton floor jack but this quality jack has the ability to lift vehicles with a maximum capacity of 2 tons. In addition, it has a minimum lift range of 4, ½ inches and a maximum lift range of 20, ¼ inches. For excellent control of the garage jack, it comes with a U-joint and a one-piece handle to remove the need for bending during work. With its durable construction, you can heavily rely on this jack stand to offer you the much-needed support for a long while. Get a 2-year warranty when you purchase this service jack from Hein-Werner.
Hein-Werner HW93652 Blue Heavy Duty Service Jack – 3-ton capacity
This is one of the best heavy-duty American-made jack stands. It can be used to lift different types of vehicles, trucks, vans, and SUVs. The Hein-Werner HW93652 Heavy-duty service jack is a 3 ton capacity with some great features. To begin with, this jack has a cast iron lift arm and pump base to increase its strength. The flanged side plates and wider frame offer stability and strength under the load. The U-joint release mechanism is built for accurate control of the load.

Related product: Check the Review of Different Harbor Freight Floor Jacks
Technical Features of Hein-Werner Blue Heavy Duty Service Jack, HW93652:
| | |
| --- | --- |
| Features | Hein-Werner HW93652 |
| Rated capacity: | 3 Ton |
| Lifting Height: | 18-1/2 inch |
| Handle: | 50 inch |
| Saddle Diameter: | 6-3/4 inch |
| Chassis Height: | 7-1/4 inch |
| Chassis Length: |  31-1/2 inch |
| Wheel to Wheel Width: | 11-3/4 inch |
| Dimensions: | 31.5 x 7.2 x 15.5 inches |
| Weight: | 110 pounds |
Features:
Sealed hydraulic pump
Cast iron lift arm
3-ton capacity
U-joint
Flagged side plates
Saddle
Pump base
Handle
Made in the USA
2-year warranty on purchase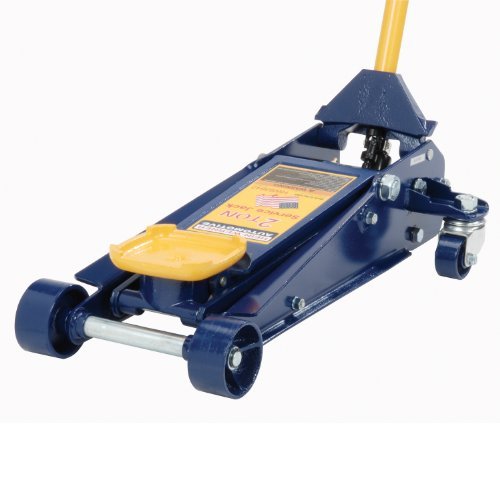 Check Price
The lifting process is made easy with the one-piece handle which eliminates bending during the application of the car jack. It has the power to lift vehicles up to a maximum height of 23, ½ inch and the minimum lift range is 5 inches. The saddle is large enough to firmly hold your vehicle after being lifted with a diameter of 6 ¾ inches. With its rear and front wheels, maneuvering this heavy-duty jack is very easy and quick. Besides all these outstanding features that one gets when they acquire this Hein-Werner service jack, the manufacturer provides buyers with a 2-year warranty.
Things that people look for when buying floor jacks
Whether you want to buy a Hein-Werner service jack or any other kind of jack stand, there are several factors that you need to be aware of so that you can make the best choice. These are as follows:
A floor jack can be heavy compared to a Motorcycle lifting jack. Depending on which material it is built with, the jack may be said to be durable or not. Normally, steel service jacks are the sturdiest although they are heavy and should be kept in a garage or service station. Aluminum floor jacks are durable but still lightweight. These are suitable for keeping in the garage and can as well be lifted from one area to another easily. Pick a service jack that is not only well built but as well offers great performance in lifting your load.
Some floor jacks are rated above others as a result of how they operate. Those that allow loads to be lifted with much ease and high efficiency are rated above others. Also, fast pump features and padded pump handles are highly regarded when it comes to ease of operation. The jack should also have rear and front wheels that maneuver easily.
How stable is the jack stand you are picking. Quality brand such as Hein-Werner normally offers great stability than a lightweight Pro lift car jack. This makes them be very stable and reliable to carry different loads. Inferior service jacks need support as they may lose their stability with time. Check if the jack stand you are buying meets the safety standards.
If you want the best, then you've to spend more. For instance, Hein-Werner service jacks come at a high cost when compared to other inferior brands. But with their outstanding quality, you can rely on them to offer the best services.
The brand that you choose your car jack from should be reliable. Some brands pose as quality brands only to offer low quality and unreliable jack stands. Also, the good thing with top brands like Hein-Werner is that they offer a warranty on their products. So, if the jack stand has an issue, you can always get assistance.
Conclusion
Tired of Chinese lifting jacks that aren't as effective as American-made auto jacks? The Hein-Werner as discussed above is one of the leading American-made service jacks. This brand offers different types of jacks that can be used by different motorists. Whether it is a heavy-duty jack or just a simple jack for normal cars, Hein-Werner has it. It creates quality jacks that are well built to last longer and work efficiently. Even though their carjacks are a bit costly when compared to other brands, you will get value for your money. I hope this Hein Werner jack review article was helpful to you.
Still, have questions after reading this Hein Werner Jack Review article? Comment below.
Meet our professional car mechanic, Russell D. Steele, who has been in this field for five consecutive years and works with several automotive companies. He completed the "AUTOMOTIVE & LIGHT DUTY DIESEL TECHNOLOGY" course from NorthWest Lowa Community College, where he learned essential diagnostic and transportation management skills and became a certified mechanic.