Foxwell offers some of the best diagnostic scanners on the market. The Foxwell nt624 is one of the most reliable scan tools on the market. It is very easy to use and offers accurate readings. Use the Foxwell nt624 on all OBD2 cars, light-duty trucks, SUVs, and minivans sold worldwide from 1996. This scanner is sturdily built and is offered at a very great price. It is easy to use and good for both beginners and experts. In this Foxwell nt624 review, we will take a look at the Foxwell nt624 diagnostic scan tool features.
Related: Best OBD2 Scanner Review [Most Popular Scanners List]
Taking your vehicle for inspection when the check engine light comes on is a bit costly. This is because you are charged every time you take the vehicle for inspection. But if you had your own code reader, the cost will be a bit lower as you can read and know the fault before taking the car to your mechanic. The initial cost of acquiring a scan tool might be high, but you stand to benefit in the long run.
Technical specifications of the Foxwell nt624 pro professional automotive obd2 scanner:
Features

Foxwell NT624

Works:
ALL 1996 and newer vehicles
Display:
480*272 TFT backlit color screen
Check Engine Light(MIL):
Yes, determines the cause
Reset ABS Service Light:
Yes
Oil Light Reset:
Yes
Reads, stores Data:
Yes
Electrical Park Brake Service:
Yes
Playbacks live sensor data:
Yes
Clears codes & resets monitors:
Yes
Update option:
Yes (Via the internet)
Emissions readiness checks:
Yes
TF memory card for data backup:
Yes
Views freeze frame data:
Yes
Merges PID graphs for easy:
Yes
Voltage:
12v
Vehicle Service Type:
Chrysler, US Ford, GM, Au Ford, Acura, Brazilian GM,
Ho   nda, Holden, Hyundai, Isuzu, Kia, Infiniti, Lexus,
Ma zda, Mistubishi, Nissan, Perodua, Proton, Rely,
Riich, Scion, Suzuki,Toyota, Audi, Subaru, Bentley,
BMW, Bugatti, EU Ford, Land Rover, Maybach, Jaguar,
Mercedes Benz, Mini, Opel, Saab, Seat, Skoda, Smart,
Porsche, Sprinter, Vauxhall, Volvo, VW, Abarth,
Alfa-Romeo, Citron, Dacia, Fiat, Lancia, Maserati,
Domestic, Peugeot, Renault.
Mode:
10
Warranty:
One Year Warranty
Price:
Check Today's Price
This is an affordable scan tool. If you need the more cheap tool, then this Foxwell NT510 version or this Foxwell NT630 could be your solution.
Foxwell nt624 Review(video):
Main Features of the Foxwell nt624 Scanner
Request and records live sensor data
Retrieves ECU information
Provides live data graphing
TF memory card for data backup and software update
Displays freeze frame data
Advanced EPB functionalities on 31 manufacturers
Merges PID graphs for easy and intuitive diagnosis
Multilingual menu options and code definitions
Large TFT color screen and menu-driven operations
Reads and clear codes and turns off MILs of all systems
Support all 10 OBDII mode 6 functionality
Code troubleshooters offer you a faster and easier diagnosis
Compatible with almost all OBDII cars, minivans, SUVs, light-duty trucks sold globally from 1966
Lifetime free upgrades.
Benefits of using the Foxwell nt624 OBD2 scanner
Ergonomic design and rugged construction
The Foxwell nt624 is sturdily built to withstand the tough conditions that mechanics and electricians undergo when working on vehicles. Also, it is ergonomically designed to perfectly fit in the hands of the user. This allows the user to read and erase the codes easily and comfortably. The older version of this model is Foxwell nt614.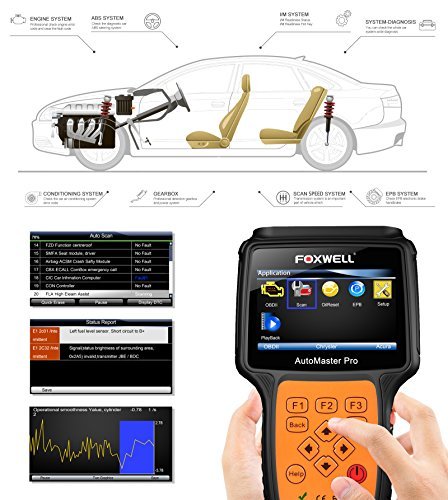 Check Price
User-friendly scan tool
The code reader is hand-held and has clearly arranged keypad. Furthermore, it has a menu-driven operation and a large TFT screen of 4.3 inches for displaying codes and data. Since it is multilingual, the user can choose the language they understand better for simple and quick use.
Wider vehicle coverage
This scan tool is compatible with almost all OBD2 cars, light-duty trucks, SUVs, and Minivans manufactured around the world since 1996. This includes European, Asian, and Domestic vehicles sold from 1996 to date.
All system scanner
A unique feature of this scan tool is that it automatically scans all diagnosable electronic control units on a car, immediately shows all the faults detected on the car, and allows faults to be observed and cleared with just a single click.
Special functions
The code reader offers some special functions for some car models. Such functions include EPB service, Oil service reset, and ABS light reset.
Provide accurate readings
Using this scan tool is very easy and fast. Also, it provides accurate outcomes instantly. All you have to do is to press the button that will scan automatically and read codes in Engine, Transmission, ABS, Electronic, heating/air conditioning control, EPS, and parking brake.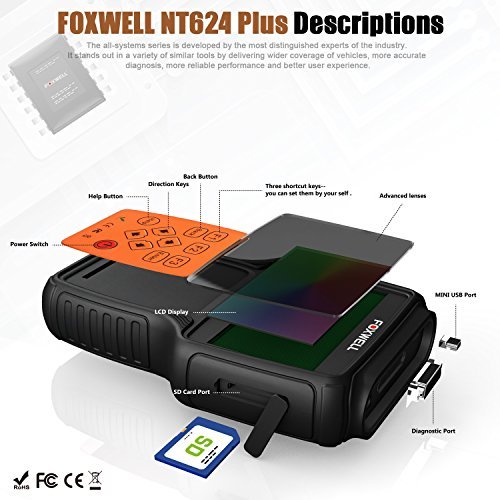 Check Price
Lifetime free online upgrade
With internet access and TF memory card, you can always upgrade the software of the scan tool to fix the latest bug, new cars, newly added parameters, and functionality.
Portable device
The Foxwell nt624 diagnostic scan tool has dimensions of 13 by 3 by 8.7 inches. It also weighs 3.31 pounds. With such size and weight, carrying this device from one place to another isn't a big deal at all. Actually, it is convenient and you can keep it in a backpack or car when not in use or as you travel to work.
Setbacks of the Foxwell nt624 code reader
Poor customer support
This is one of the things that Foxwell as a brand needs to improve on. They don't have a customer care number for clients in the US and other countries. This is a setback as you can only send an email if you experience an issue with your scan tool.
Incompatibility issues
Some car models that are listed to be compatible with this device are not. A good number of clients have complained about the gadget not being compatible with their cars.
Summary
The scan tool is ergonomically designed for easy handling and is compatible with a wide range of vehicles. It has special features and supports all OBD2 test modes. With lifetime free upgrades, you can be certain to use the diagnostic code reader on newer car models. The multilingual menu options and large TFT screen makes using the Foxwell nt624to be easy and fast.
Still, have a question after reading this Foxwell nt624 review? Comment below.