Selecting an ideal OBD2 diagnostic scan tool for your car can be a very tricky thing to do. This is because of the various scan tool models on the market. If you don't know how to go about it, this can be extremely challenging. You need to know what brand is the best and what features you want. Not all diagnostic code readers will serve you well, as some have unnecessary features that you don't need or are way above your budget. If you are looking for a pro-quality automotive diagnostic scan tool, Launch is a wonderful brand to consider. Launch crp129 code reader has a Big display, Comprehensive diagnosis, wide vehicle coverage, Graphical data streams, convenient updating method, and top performance. This tool has more powerful features than the launch crp123 obd2 code reader. Read this Launch crp129 review to know what kind of features are available on it.
Get the latest version as an alternative: Launch CRP129X
-Upgraded Version of CRP123X/CRP129
-7*24 Hours Support
-Get Full Control Over the Vehicle's ECU
-Auto VIN & Scan
-8 Hot Service Maintenance
-8 Reset Function: TPMS/Oil/EPB/SAS/BMS/Throttle /DPF Reset/Injector Coding
-4 Systems Diagnosis: Engine/Transmission/ABS/SRS
-16G Internal storage
-6100mAh battery
-4 in 1 live data graph & PCM data streams
-Supports 57+ Car Brands & 10000+ Vehicles
-9 Muntigunal Languages
Technical specifications of the Launch crp129 Scanner
Works:
ALL 1996 and later vehicles
Screen:
4" TFT LCD True Colour Screen
Live data:
Yes
Read DTC & Clear DTC:
Yes
Read vehicle information:
Yes
Multiple car models:
Over 40 prevalent models from Asia, America, and Europe
Update option:
Yes (Via the internet)
O2 sensor test:
Yes
Views freeze frame data:
Yes
Clear DTCs:
Yes
Oxygen sensor test and carbon canister test:
Yes
Prints data via PC:
Yes
Read Dynamic Data Stream:
Yes
Oil Reset:
Yes
Vehicle Coverage:
Suzuki, Usaford, Infiniti, Mazda, Gm, Euroford,
Volvo, Renault, Chrysler, Jaguar, Toyota, Daewoo,
Jpisuzu, Acura, Opel, Dacia, Landrover, Benz, Saab
Lexus, Lancia, Fiat, Vauxhall, Seat, Romeo, VW, Peugeot,
Citroen, Skoda, Porsche, Subaru, Mitsubishi, Hyundai,
Sprinter, BMW, Kia, Honda, Mini, Audi, Nissan, Smart,
Eastford, Holden, etc.
Warranty:
One Year Warranty
Price:
Check Today's Price
Launch technologies are one of the re-known scan tool brands in the market. Launch creates sturdy diagnostic tools with sophisticated features. On top of their various excellent models, Launch CRP has added Launch crp129. This is a simple-to-use and feature-packed diagnostic code reader. It is sold at a fair price and is compatible with a wide range of vehicles.
Launch CRP129 OBD2 diagnostic tool- video review
It is able to support all 10 test modes of the OBDII scan diagnostic tool, and it diagnoses 4 systems which are transmission, engine, ABS, and airbag. CRP129 scanner can be upgraded through the internet by use of the USB cable and has a TF card for storing data. Besides reading and clearing codes, it can be utilized to test oxygen sensors and carbon canisters. These are some of the features that make it a high-end and reliable device.

Reasons why you should buy the Launch crp129 scanner (Our review)
Other amazing features include the multilingual aspect, OBDII data stream graphic display, and read dynamic stream data. Purchasers of this crp129 get a one-year warranty from the manufacturer.
Related article: Which brand should you choose between Launch and Autel?
Features of the launch crp129 car diagnostic tool
Reset functions like oil reset, EPB reset, and SAS reset

Read DTC and clear DTC

Colored LCD display

Read dynamic data stream

Oxygen sensor test, carbon canister test

Diagnoses of 4 systems – engine, transmission, ABS, and airbag

Support online upgrade

OBD2 data stream graphic display

Supports all 10 test modes of the OBDII

Shows DTC help information and service information

Compatible with most vehicles that match OBD2 standard after 1996

Measures 5.9 by 1.2 by 2.4 inches

TF card

USB cable

Manufacturer's full one-year warranty
Durable and reliable
Most of the OBD2 scan tools, such as Autel MaxiLink ML629 or FOXWELL NT630, cost so much. Hence, buying a device that doesn't live to serve the user for a while is useless. That's why quality should always be considered when buying quality and reliable diagnostic code readers.
The launch crp129 car scan tool is sturdily built to function for a very long while. The plastic body is strong and will allow you to read and clear trouble codes for a very long period of time.
Multilingual feature
For users who are not English speakers or don't understand English very well, they can still use Spanish or French languages.
These can be set and used. The manufacturer made this possible so that different users of the Launch can use the diagnostic tool without any setbacks.

Check Price
Diverse functions
Looking for a diagnostic tool that performs OBD2 functions and many others? Look no further than the launch crp129 scan tool. Apart from covering a wide range of vehicles around the world, this diagnostic car scanner carries out comprehensive diagnoses. This includes the 4 basic systems, which are AT/ENG/ABS/SRS. In addition, it performs reset functions for EPB/SAS/Oil service light. These are carried out in vehicles that match 1996 OBDII/EOBD standards. Other functions include: OBDII data stream graphic display, reads dynamic data stream, and supports all 10 test modes of the OBD2.
But if you are a professional mechanic and want a more advanced device, then you may consider buying an upgraded Launch x431 scan device.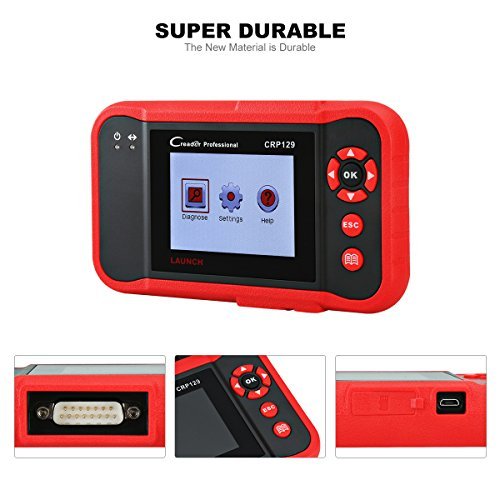 Check Price
Easy to store
If you are worried about owning a huge tool that makes you uncomfortable when scanning OBD2 codes, then this is the best diagnostic scanner to acquire. The CRP129 code reader is well-built with a sleek design. It is ergonomic in design for easy handling and small enough to easily keep away after use. Actually, it measures 5.9 by 1.2 by 2.4 inches. Also, it weighs less than 1.65 pounds. So you can easily keep it in your pocket or pouch when not in use.
Economical
Even though this diagnostic scanner comes with outstanding features, it is not as costly as scan tools in its range. The modern technology comprised of this tool makes it special and exceptional in performance. So, you will end up having an extremely reliable and quality diagnostic scanner at such a great price. Also, its quickness enables the user to save time and money, which is essential in today's busy life. Every minute is precious.
Related article: Check the technical features of upgraded Innova 3030 code reader
Quick and efficient
There is no joy like knowing that the scan tool you're using will scan, test, and display the information that you need within the shortest time possible. That's what you get from the Launch crp129 code reader. It is very fast and very efficient in performance. This will help you solve the issue that is facing your modern car. Also, it is ideal for a busy repair shop, and no time is wasted waiting for the results to be displayed.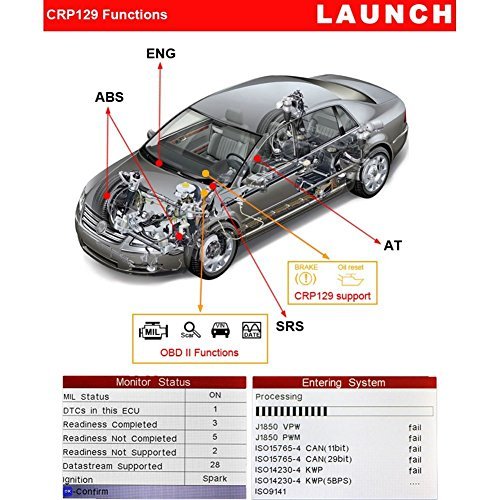 Check Price
High compatibility
Getting an OBD2 code reader with the latest technology isn't a simple thing. Most of the devices that fall into this category are extremely costly and not compatible with older cars. The launch creeper professional 129 car diagnostic scan tool functions on more than 40 US-based, 2000 European-based, and newer OBDII/EOBD protocol vehicles. Also, its software can be upgraded by connecting it to the internet via a USB cable.
Feature-packed
This device comes with several features that make it tech-savvy. This can be problematic for a startup technician or mechanic as they may not know how to use certain features. So beginners should use the Autel Autolink al319 basic OBD2 scanner. One of the unique features of the crp129 car scanner is the steering angle sensor resets. This functions to clearly decipher and read the requisite OBD2 motor vehicle codes. Also, it has an electronic parking brake release. It makes the braking process to be easy and extremely simple. Other features include the capability to retrieve both generic and manufacturer-specific codes.
Lightweight and highly portable OBD2 scanner
Working in a busy garage or repair shop can be cumbersome at times. This can be made worse if you have bulky tools that weigh you down as you work. The launch crp129 scan tool is lightweight and compact in design.
Thus, it won't be a burden to you as you perform other tasks. Also, its lightness makes it to be highly portable and ideal for carrying in your car in case you want to check why the check engine light is on.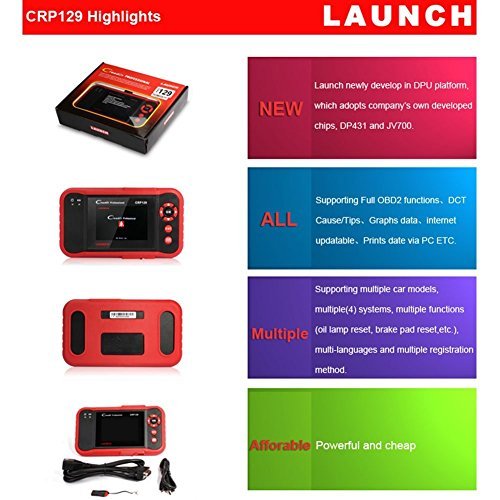 Check Price
Launch crp123 vs. crp129
What is the difference between launch crp123 and crp129?
The launch crp129 is the upgrade version of crp123.
The crp129 supports 42 car brands, and the crp123 only support 30.
Crp129 has lots of improvements and more advanced features than crp123.
The Launch crp123 price is lower than the Launch crp129.
Comparison Table: Launch crp129 vs Autel md808 OBD2 Scanner
| | | |
| --- | --- | --- |
| Features | Launch crp129 | Autel md808 |
| Operating System:  | Windows | Android 4 4 |
| Weight: | 10 ounces | 11 ounces |
| Languege Support: | 7 languege | 13 languege |
| System Coverage: | Engine, Transmission, ABS, Airbag | All System |
| Battery Registration and Reset: | No | Yes |
| Throttle matching Function: | No | Yes |
| DPf Function: | No | Yes |
| Price:  | Check Price | Check Price |
Summary
Launch offers a wide range of scan tools on the market. Most of them are priced higher, but the Launch Creaper Professional OBD II scanner is offered at a great price with outstanding features. Though it is not Bluetooth supported scan device, using this device saves you time as it carries out timely and quick tests and scans. It is also reliable and very efficient in performance. The OBD II diagnostic code reader was built with a sense of long-lastingness, which makes it durable. The large screen ensures that users have a simple time reading outcomes, and it is as well compatible with vehicles that were built in 1996 and newer. At such a fair price, you are able to get an upgradeable diagnostic scanner. I have explained everything in this Launch crp129 review article that you need to know.
Affiliate Disclosure: "Our site is a participant in the Amazon Associates Program. This page may include Amazon affiliate links, on which we may receive a small commission at no extra cost to you."
Kevin Nicholas is an automotive technician who is a genius at software and hardware-related issues. He manually tested more than a hundred OBD scanners and gave his honest opinion on whether the device was worth the money or not. His in-depth OBD review articles help people choose the right product, whether it is a European, American, or Asian vehicle. He completed his Automotive Specialized Training Course at Universal Technical Institute and has more than 15 years of experience in the field.