Whether you want a simple DIY type of scan tool or a professional type diagnostic scanner, Autel is the brand to look for. Among their high-quality scan tools, the Autel Maxisys Elite OBD2 scanner is one of the best. The Autel Maxisys elite scan tool(Upgraded Version of Autel MS908P Pro) is a full OBD2 automotive scanner. It has a 1.8GHz code-core processor that provides the user with quick operation speed and a quick diagnosis. This is an advanced OBD2 Automotive Scanner and an essential tool for auto mechanics. Read this Autel Maxisys Elite review to know more about this scanner.
Autel is a leading scanner brand and offers some of the most versatile diagnostic scan tools on the market. They have both low-cost and high-end tools to offer.
Technical specifications of the Autel Maxisys Elite Diagnostic Tool
Features

Autel Maxisys Elite

Works:
ALL 1996 and later vehicles
OS:
Android 4.4.4
Display:
Retina display (2048×1536 dpi)
Check Engine Light(MIL):
Yes
Reads, stores Data:
Yes
Playbacks live sensor data:
Yes
Clears codes & resets monitors:
Yes
Software Update:
Yes
Batteries:
One Lithium Polymer batteries required
Views freeze frame data:
Yes
Remote Control Tech Support:
Yes
Real-Time push message notifications:
Yes
Processor:
NVIDIA Tegra® 4 (4-PLUS-1 Quad-core Processor) 1.8GHz with ARM Cortex – A15 CPU
Memory:
2GB RAM & 32GB Embedded Memory
Camera:
Rear: 8.0 Megapixel, Autofocus with Flashlight
Front: 2.0 Megapixel
Connectivity:
802.11a/b/g/n/ac WIFI
Version 2.1 3Mbs Bluetooth
RJ45 Ethernet Connection
3.0 USB (2.0 Compatible)
HDMI 1.4a
SD Card (Support up to 32GB)
Sensors:
Ambient Light Sensor, G-sensor
Audio Input/Output:
Microphone
Dual Speakers
3-Band 3.5 mm stereo/standard headset jack
Power and Battery:
3.7V/13600mAH Lithium-polymer battery
DC/12V/3A Power Supply
Power Consumption:
Max 20W
Input Voltage:
DC/12V/3A
Storage Temperature:
-20 to +70°C
Operating Temperature:
-10 to +55°C
Models:
More than 80 US domestic, Asian and European
Protocols:
Most OBD1/OBD2
WiFi, Bluetooth:
Yes
Dimensions:
25.6 x 7.5 x 16.9 inches
Weight:
24.9 pounds
Get transmission codes:
Yes
Warranty:
One-year warranty
Price:
Check Today's Price
Moreover, it is powered by a 13600mA lithium polymer battery and has a RAM of 2GB. Connect the device to your car via Bluetooth and update it via WiFi connectivity. This model is more advanced than the Autel Maxisys MS906, which review is here. The Autel Elite scan tool supports more than 80 different car brands. Also, Autel offers buyers of this product a 2-years free update.
Autel Maxisys Elite Review (Video):
Features of Autel Maxisys Elite scan tool
WiFi and Bluetooth connectivity
Full OBD2 automotive scanner
Grease and water-resistant
2GB RAM and 32 GB embedded memory
8 GHz code-core processor speed
7-inch Retina display with 2048 x 1536 resolution
Powered by 13600mA lithium-polymer battery
Compatible with over 80 US domestic, Asian, and European makes and models
Why use the Autel Maxisys elite diagnostic scanner
Considerate design and sturdy construction
The Autel Maxisys elite code reader is not only a quality diagnostic scan tool, but it is also well built. Its design is wonderful and will fit in your hands easily. The device can defy grease and water, which are some of the things that it is likely to encounter during use.
Portable and smart
The Autel Maxisys elite scan tool is lightweight and portable. This makes it easy to carry from one place to another. Also, it has some outstanding features like automatically read VIN, one-click upgrade, and Autel cloud technology that offers you support anytime, anywhere.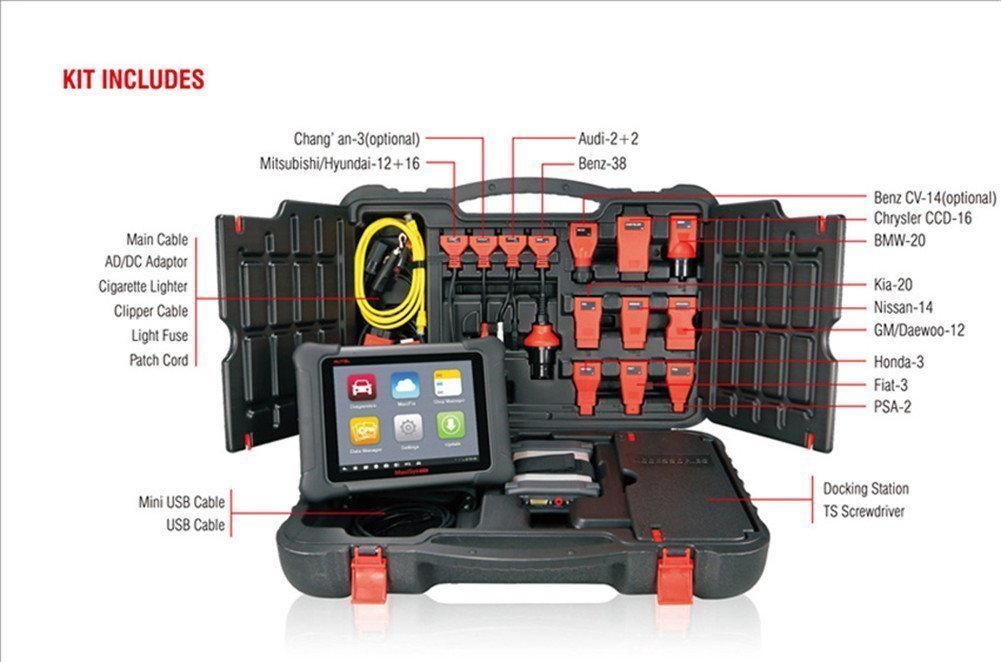 Check Price
Ergonomic design
the Autel Maxisys elite diagnostic scanner is ergonomically created to allow the user to have a simple time handling it. It has rubberized outer protection and durable internal housing. In addition to the ergonomic design, it has a large TFT screen for easy displaying of fault codes and other info on the device.
Fast and accurate
For the quick reading of trouble codes and other functions, this is the ideal code reader. The Autel Maxisys elite scanner supports first-hand troubleshooting of diagnostic bugs and faults, errors, and one-stop multitasking created for the ideal management of workshop operations to keep all data files, client info, and car records properly organized.
Wide vehicle coverage
The Autel Maxisys elite scan tool is one of the most versatile diagnostic code readers on the market. It covers more than 80 US domestic, Asian, and European makes and models. Check and determine if it is compatible with your vehicle before purchasing it.
Connects you to other technicians
This scan tool comes with a Maxifix platform that allows you to network with other professional technicians and access a huge database of repair, diagnostic tips, and processes, and you can as well have data feedback and management via this platform and get several repair work completed.
Automatic system and software update
This code reader has an automatic system and software updates with real-time push message notifications through the internet with instant remote control tech support anytime, anywhere, and interactive data logging session allows direct contact with Autel.
It offers advanced ECU coding and programming
Check Price
The scan tool functions very fast and efficiently with the NVIDIA Tegra" 4 Quad-core processor 1.8GHz. Actually, it has a bootup time of around 20 seconds. With such a feature, you are able to have a wonderful diagnostic experience.
It performs tire pressure reset, which makes up or replaces the tire. Also, it tells the ECU that the tire pressure returned to normal and keeps all the data in a record.
Shortcomings of the Autel Maxisys elite code reader
Updating the Autel Maxisys elite scan tool is very troublesome, and it may even cause the device to crash.
The price is high but lower than the OTC Evolve advanced scanning device.
The tool doesn't function on all the vehicles listed, and it is important that you check compatibility with your car model before buying it.
Autel lacks good customer care, which is a setback. The user has to send an email and wait for the manufacturer to respond.
Summary
This is a high-end diagnostic code reader that performs a wide range of functions and is suitable for professional mechanics and technicians. It has lots of excellent features like the MaxiFix platform, Autel cloud technology, OE-level functionality, NIVIDIA Tegra" 4 Quad-core processor 1.8 GHz. In addition, it performs various functions such as SAS reset, tire pressure reset, injector programming, coding function, online ECU programming, and many others. The scan tool is easy to use with the large TFT screen with a resolution of 2048 by 1536. On purchase, the manufacturer offers 2-years free updates. I hope you have gotten a clear idea of this Autel Maxisys Elite review article.
Kevin Nicholas is an automotive technician who is a genius at software and hardware-related issues. He manually tested more than a hundred OBD scanners and gave his honest opinion on whether the device was worth the money or not. His in-depth OBD review articles help people choose the right product, whether it is a European, American, or Asian vehicle. He completed his Automotive Specialized Training Course at Universal Technical Institute and has more than 15 years of experience in the field.