Whether you ride a motocross bike or a sportbike, it is important to ensure that your motorcycle is in good condition before going out riding. Motorcycle riders know the joy that comes with cruising down the highway on this two-wheeled vehicle. Just like any other vehicle, the motorbike needs maintenance after some time. Instead of visiting a mechanic, it can be less costly and convenient for one to carry out the practice on their own. One of the vital tools that can help in such a practice is a motorbike jack. But with so many brands such as Harbor Freight, Craftsman Lift, and Venom, selecting the best motorcycle jack is crucial. This review brings you the best Motorcycle jacks on the market for the proper repair of your bike.
5 Best motorcycle jack review 2023
We have listed the top motorcycle jack here.
Powerzone 380047 1700 LB hydraulic motorcycle/ATV jack
Powerzone is a famous brand that is highly rated by its previous users. The brand comes up with quality and durable jacks that mechanics and DIYers have come to love. It is made of steel construction and has the ability to hold up to a weight of 1700lb. It comes with various safety and protection features such as a safety lock, rubber saddle, and T-handle, making using this easy. With its foot-activated hydraulic pump, adjusting the motorbike to the ideal position is quick and seamless.
Technical Features of Powerzone 380047 Hydraulic Jacks:
Features
Powerzone 380047
Rated Capacity:
1700LB.

Lifting Range

:
4-1/2″ to 14-1/2″
Construction:
Heavy-duty steel construction
Safety Lock:
Multiple locking positions
Secure Grip:
T-Handle
Rubber grip saddle pads:
Yes
Foot-activated hydraulic pump:
Yes
Easy Storage:
Collapses to just 4-1/2″ high
Dimensions:
33 x 16.5 x 5.5 inches
Weight:
62.4 pounds
Check Price
Features:
Heavy-duty steel construction
Rubber grip saddle
1700lb capacity
T-handle
Safety lock
Lifting range of 4, ½ inches to 14, ½ inches
Foot-activated hydraulic pump
Pros:
It is durably made with heavy-duty steel construction for longevity
Powerzone 380047 has a rubber grip saddle to prevent damaging the load
It has an effective foot-activated hydraulic pump that leaves both hands free for the position and steadying the load.
The safety lock prevents the jack from adjusting and has multiple locking positions.
It can collapse up to a height of 4, ½ inch which makes it easy to store
Powerbuilt 620422E heavy-duty 4000 lb triple lift jack
This is another excellent brand known for creating durable motorbike jacks. The Powerbuilt 620422E is a heavy-duty jack with the ability to lift loads with a weight capacity of you to 4 000 lbs. Like most jacks on the market, this jack is manufactured in China and offered at a great price. The flexible design of the jack enables the triple lift to adapt to various kinds of vehicle frames. The locking safety bar holds the jack in position as a result of getting rid of the use of jack stands. You don't have to worry about your motorcycle frame getting damaged as it has padded lift rails. Furthermore, it has a wide base and wheels for extra stability. With the built-in tie-down loops, lifting your motorbike is made easy. Use this ANSI-certified jack to lift your ATV, motorbike, car, or even truck.
Technical Features of Powerbuilt 620422E Triple Lift Jack, 4000lbs.:
Features
Powerbuilt 620422E
Rated Capacity:
4 000 pounds

Lifting Range

:
6 inches to 17.5 inches
Construction:
Heavy-duty steel construction
Safety Lock:
Precision locking design
Handle Length:
40 inches
Rubber grip saddle pads:
Yes
Strong ultra-wide chassis:
Yes
Meets:
ASME and PALD standards
Dimensions:
16.4 x 26.1 x 8.1 inches
Weight:
85 pounds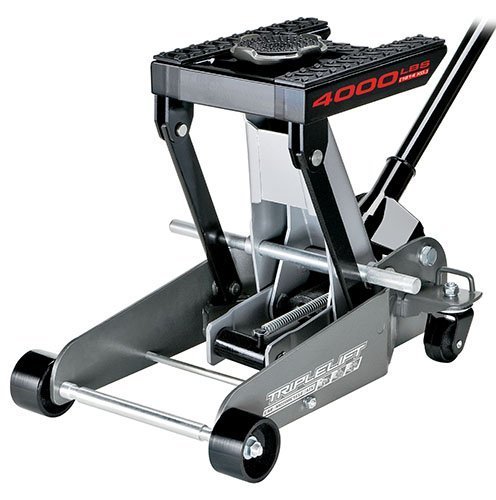 Check Price
Features:
Heavy-duty construction
Locking safety bar
Flexible design
Padded lift rails
Meets ANSI standards
Lift range of 6 inches to 17.5 inches
Removable lift saddle
2-ton capacity
wheels
Pros:
It is durably made to last long
It is really easy to use
Meets or exceeds ANSI quality standards
It has a safety bar that locks the jack in position after being raised
Black Widow MC-JACK motorcycle jack
If you're looking for a high-quality motorcycle jack for mounting, this is one of the best. The Black widow mc-jack is a durable tool that is specifically built to lift one end of the motorbike at a time. It is operated manually by a 7/8 inch socket-driven scissor lift frame. The jack comes with adjustable and removable frame adapters. It is capable of lifting a motorcycle that weighs 1,100lbs or less. It has welded brackets on the base of each side, which can be drilled for permanent mounting and offer great stability during use. Since it's made from heavy-duty steel, expect this jack to serve you for a long while.
Related article: What are the differences between Floor Jack and Scissor Jack?
Technical Features of Black Widow MC-JACK 1100lb. Capacity:
Features
Black Widow MC-JACK
Rated Capacity:
1100LB.

Lifting Range

:
3-3/4″ to 16-1/4″
Construction:
durable steel with black powder coating
Adjustable:
additional 2″ to 3-1/4″
Secure Grip:
hex socket handle
Rubber grip saddle pads:
Yes
Easy to use:
Yes
Easy Storage:
Welded brackets
Dimensions:
17.8 x 6 x 16.1 inches
Weight:
18.5 pounds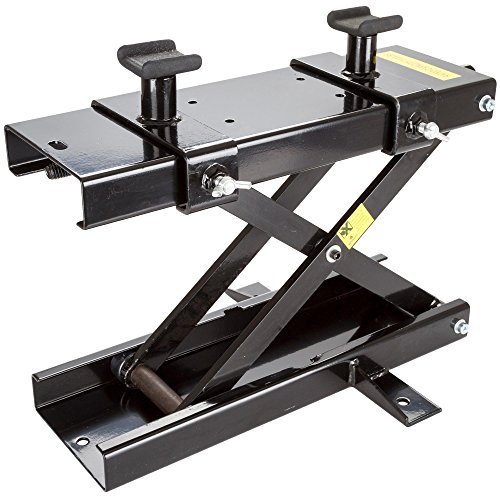 Check Price
Features:
Steel construction
Welded brackets at the base of the jack
Two removable frame adapters
Maximum lifting capacity of 1,100 lb
Lift range of 3.75 inches to 16.25 inches
Pros:
It can be adjusted to the preferred height
The jack is easy to operate
It is sturdily built with steel parts
Suitable to use on the shop floor
OTC 1545 Motorcycle lift
This is another quality motorcycle/ ATV jack. It comes with quality features, and it is very easy to use. It can lift a load that weighs 1 500 pounds or less. Moreover, it can lift the load from a minimum height of 3 ½ inches to a maximum height of 16 ¾ inches. The removable handle makes controlling the load easy as it can move in any direction. It as well comes with an automatic safety lock and two ratcheting tie-down straps for extra safety. With a two-year warranty being offered by the manufacturer to the purchaser, this is a jack that can be heavily relied on to offer great support while repairing the bike or changing its tire. Otc also has a car diagnostic scan tool to find out the car problems.
Technical Features of OTC 1545 Motorcycle/ATV Jack:
Features
OTC 1545
Rated Capacity:
1,500 pounds

Lifting Range

:
 3-1/2 inch to 16-3/4 inch
Removable Handle:
360 Degree access to load
Safety Lock:
Automatic
Skids:
17 inch long
Extra Safety:
two ratcheting tie-down straps
Adjustment:
foot pedal release
Easy Storage:
Two years limited warranty
Dimensions:
20 x 6.5 x 39.2 inches
Weight:
74 pounds
Check Price
Features:
Removable handle
Automatic safety lock
Foot pedal release
17 inch long skids
Two ratcheting tie-down straps
Rear casters
Lift capacity of 1500 lbs
Lift range of 3.5 inches to 16, ¾ inches
Two years limited warranty
Pros:
It is ergonomically designed to lift your bike accurately
OTC 1545 has a removable handle that offers easy access to the ATV or bike.
It has an automatic safety lock to hold the load in position
The foot pedal release is for adjusting the load up to the desired height
Venom sport bike motorcycle jack
If you own a sports bike such as BMW, Yamaha, Suzuki, Honda, Kawasaki, or even Ducati, then this is the best jack for you. It is made from high-grade steel metal that will serve you for a very long period. It comes with a combo of the rear paddle and front fork wheel lift stand that allows the user to either lift the bike from the back or front or even both. The front and rear stand set is very easy to use and is fully adjustable to fit a good number of sports motorbikes.
Technical Features of Venom Sport Bike Motorcycle Front and Rear Combo Wheel :
Features
Venom Sport Bike Jack
Rated Capacity:
1700LB.

Lifting Range

:
4-1/2″ to 14-1/2″
Construction:
High-grade steel
Easy and Safe lifting:
rear spool lift stand
Front stand:
"under-fork rubber-coated" adapters
Easy to assemble:
Yes
Fully adjustable design:
Yes
Not compatible with:
single-sided swingarms
Dimensions:
20.9 x 18.5 x 3.9 inches
Weight:
20 pounds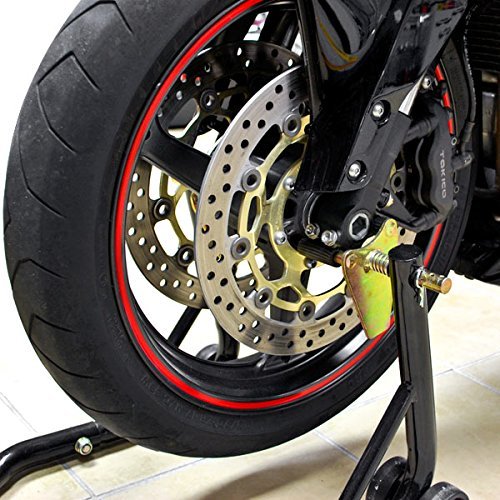 Check Price
Features:
High-grade steel construction
Fully adjustable design
Wheels
Dual rear paddle and front fork wheel lift stand
No need for spools
Engineered with the leverage ratio
Pros:
It is very easy to use as it needs lifting of the front or rear wheel
Venom jack is well constructed with steel, which is a durable metal
It can be utilized on all forms of terrains as it has wheels that offer stability
It allows safe lifting of the rear wheel, and no spool is needed
Summary
When buying a motorcycle jack, you need to look at various factors before coming up with your final choice. There are lots of lifting jack brands being offered on the market, and choosing the best motorcycle jack is really important. Ensure that you buy a motorbike jack that is durably made, is within your budget, has safety features, and has the ideal weight to strongly lift your motorcycle. Still, have a question after reading this Best Motorcycle Jack? Comment below.
Meet our professional car mechanic, Russell D. Steele, who has been in this field for five consecutive years and works with several automotive companies. He completed the "AUTOMOTIVE & LIGHT DUTY DIESEL TECHNOLOGY" course from NorthWest Lowa Community College, where he learned essential diagnostic and transportation management skills and became a certified mechanic.