With a wide range of floor jacks on the market, it is vital to choose one that stands out from the rest. There are various brands with high-quality carjacks. Ensure you know what your needs are for the auto jack so that you can pick one that is highly effective. DIY jack may not be as sophisticated as a garage or car repair shop jack. In this Powerzone floor jack review, we are going to look at one of the most notable and highly regarded service jacks on the market, which is the Powerzone floor jack.
Powerzone is a Chinese brand that has been in the market for a long time. The brand strives to come up with high-quality as well as affordable floor jacks. They pay attention to durability, strength, versatility, and as well as stability. Read on further to know more about the most famous Powerzone floor jack, which is the Powerzone 380044 3 ton steel garage jack.
Powerzone Floor Jack Review: 3-ton capacity steel garage jack
For motorists searching for a quality and affordable garage jack, the Powerzone 380044 is a great pick. This lightweight but still durable jack has several amazing features. Although it's made in China, the auto jack offers outstanding performance. It is made up of a heavy-duty steel lift arm that offers strength and durability. The lightweight aluminum frame lowers weight and heightens the portability of the jack. In addition, it comes with a quick lifting hydraulic system that saves time when lifting your load. The rubber padded saddle secures your vehicle frame from being scratched. Furthermore, it has a lift range of between 4 inches and 18 ¼ inches. When it comes to maneuvering the jack, it has rear wheels swivel for easy movement. So, if your vehicle weighs less than 3 tons, this is a very suitable service jack to acquire at a very good price.
Technical Features of Powerzone Aluminum Steel Garage Jack- 380044:
| | |
| --- | --- |
| Features | Powerzone 380044 |
| Rated capacity: | 3 Ton (6000 pounds) |
| Lift Range: | 4 inch to 18-1/4 inch |
| Made of: | lightweight aluminum frame |
| Saves time: | Quick lifting hydraulic system |
| Rubber padded saddle: | Yes |
| Rear wheels swivel: | Yes |
| Foam covered handle: | Yes |
| Dimensions: | 28.4 x 13.9 x 7.4 inches |
| Weight: | 59.1 pounds |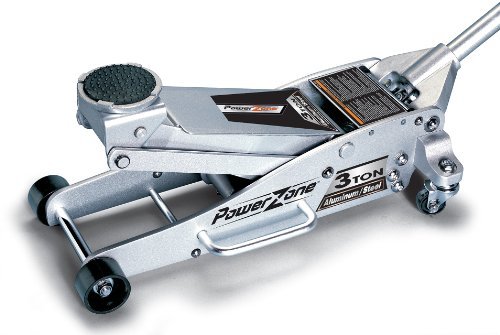 Check Price
Features:
Rubber padded saddle
3-ton capacity
Quick lifting hydraulic system
Rear-wheel swivel
Lightweight aluminum frame
Heavy-duty steel lift arm
Pros:
It is sturdily built with a heavy-duty steel arm and lightweight aluminum frame
This prevents the jack from scratching your car with its rubber padded saddle
It has rear wheels for easy positioning of the service jack
Lifting a load with this jack stand is quick as it has a fast lifting hydraulic system
It is safe to use with the safety valve, which prevents overloading beyond rated capacity
Cons:
Positive reviews about the Powerzone 380044 steel garage jack
The Powerzone 380044 floor jack is an outstanding jack with top features. Its versatility has made it a preference for many motorists, which can be seen from the positive reviews left behind on different online sites.  For instance, in most of the eCommerce sites I have seen, this floor jack has been awarded a 4.5+ star rating out of the possible five stars. This is an indication that many people have embraced this product and prefer it over many others.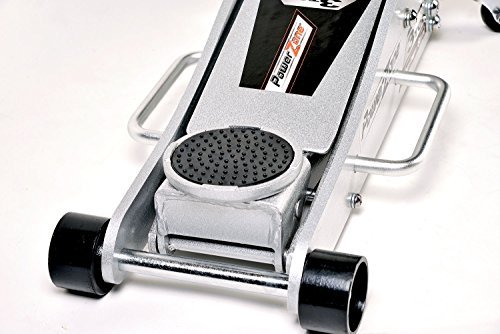 Check Price
One of my friends was telling me about this garage jack like this, "I am a DIY guy used the jack a few times paid for itself did a tire change when my wife ran over a nail in a brand new tire, of course. For two oil changes and tire rotations. This garage jack is not really lightweight but very durable and easy to use! It's better than most full steel jacks that I saw at the big box retail stores. Quality is really well more than I need being a DIY guy."
Related product: Need a stable Jack Stand? Check our Popular Jack Stand Reviews
Important tips when purchasing a floor jack
Always check the weight capacity that the floor jack can handle. This implies that if you want the service jack to work effectively, you should pick one that exceeds the weight of the car you want to lift. Acquiring one with exact weight capacity may be risky and not stable.
Ensure that the floor jack you are buying has wheels for easy maneuvering of the jack stand. Also, it should comprise a handle for positioning and a hydraulic cylinder for lifting. This will give you ample time during use.
Check the lift range of the jack. Usually, the lift range will enable you to know what maximum height you can lift your vehicle to.
You don't need to spend a lot of money on a heavy-duty floor jack to lift bikes. Bikers should use a lightweight Harbor Freight or Craftsman motorcycle lift jack for DIY use.
In the scenario where you are going to use a floor jack to lift trucks or other big vehicles, you may need a professional service jack that has air assist features.
Look for a floor jack with safety accessories that may help in case the floor jack slips, car cramps, or sliding.
Summary
Powerzone has left its mark on the service jack field by creating one of the most preferred and highly functional service jacks, which is the Powerzone 380044. As seen above, this is an excellent car jack with powerful features that many love. From its strong built to sturdiness and stability, it has it all. Also, this Chinese make comes at a very competitive price when compared to the Arcan aluminum 3-ton floor jack. I hope you've found this Powerzone floor Jack review to be of great help.
Meet our professional car mechanic, Russell D. Steele, who has been in this field for five consecutive years and works with several automotive companies. He completed the "AUTOMOTIVE & LIGHT DUTY DIESEL TECHNOLOGY" course from NorthWest Lowa Community College, where he learned essential diagnostic and transportation management skills and became a certified mechanic.