Are you in search of a professional and affordable diagnostic scan tool? Look no further than the Autel Maxisys MS906BT. Featuring the Android operating system with the best possible coverage of OE-level diagnostics and ECU coding capabilities, this is a gadget that you can rely on for a wide range of functions. Read this Autel Maxisys MS906BT Review to know more about this.
The Autel Maxisys MS906BT scan tool is an upgraded version of the Autel MS906, DS708, and DS808. The scan tool comes well packaged in a sturdy carrying case for the safety and proper storage of the device. It also uses the powerful Exynos 5260 6-core processor and has an 8-inch capacitive HD touch screen. In addition, the Autel scan tool comes with a VCI connection, which allows the user to roam around the garage as they diagnose the vehicle easily.
Pros: Why buy Autel Maxisys MS906BT Scan Tablet?
It has easy and intuitive navigation for simple and fast use
It is sturdily constructed for longevity
MS906bt has a powerful operating system for quick boot time and multitasking.
It has wireless connectivity for convenient use within the garage
This tool has a built-in 8MP camera for taking photos of car issues and sharing them with the community
It can run for 14 hours constantly on its built-in rechargeable battery
Extensive vehicle coverage of more than 80 US, Asian, and European vehicles
It comes with an automatic system and software updates
One-year limited warranty
Cons of the Autel ms906bt scanner

This device comes with limited free software updates of only one year

It is not compatible with all vehicle makes and models
Technical Specifications Autel Maxisys MS906BT OBD2
| | |
| --- | --- |
| OS: | Android 4.4.2 |
| Display: | 8.0″ LED capacitive touch screen (1024x768P resolution) |
| Processor: | Samsung Exynos T5260 6-Core Processor (1.3 GHz quad-core ARM Cortex-A7 + 1.7 GHz dual-core ARM Cortex-A15) |
| Internal Memory: | 2 GB RAM, 32 GB ROM |
| Camera: | The 8-megapixel rear camera, autofocus & flashlight |
| Connectivity: | USB: 2.0, Mini USB 2.0, Wi-Fi (802.11 b/g/n), Wireless BT V2.1+EDR, Class1, HDMI 1.4a |
| Audio Input/Output: | Microphone, Single Speaker, 3-Band 3.5 mm stereo/standard headset jack |
| Sensors: | Gravity Accelerometer, Ambient Light Sensor (ALS) |
| Batteries: | 1 Lithium Polymer battery required(included). (up to 14 hours of continuous operation) |
| Main Functions: | Oil Reset Service, Tire Pressure Monitor System(TPMS) Service, Electric Parking Brake(EPB) Services, ABS/SRS Services, DPF Regeneration Service, Steering Angle Sensor(SAS) Service |
| Vehicle Coverage: | More than 80 US, Asian, and European makes and models |
| Support Car Models: | Abarth, Acura, Benz, BMW, Fiat, Ford, Gm, Alfa, Audi, Bentley, Holden, Bugatti, Chevrolet, Chrysler, Hyundai, Dodge, Dacia, Daihatsu, Infiniti, Isuzu, Citroen, Kia, Land Rover, Mazda, Mini, Mitsubishi, Lexus, Lancia, Maybach, Honda, Jaguar, Jeep, Saab, Scion, Seat, Nissan, Opel, Peugeot, Skoda, Smart, Sprinter, Suzuki, Subaru, Porsche, Renault, Toyota, Volvo, VW, Vauxhall, Etc. |
| Live data: | Yes |
| Views Freeze frame data: | Yes |
| Real-time push message notifications: | Yes |
| Smart AutoVIN Technology: | Yes |
| Operating Temperature: | -10 to 55°C (14 to 131°F) |
| Storage Temperature: | -20 to 70°C (-4 to 158°F) |
| Update Option: | Yes. (via the internet) |
| Warranty: | 1-year Limited Warranty |
| Price: | Check Today's Price |
Autel Maxisys MS906BT Reviews 2023
If you have been looking for a professional-grade scanner that can perform a wide range of functions and be used on a variety of vehicles, then the Autel Maxisys MS906BT is a great tool to acquire. Besides, it comes with automatic updates, great customer support, and a 1-year warranty. Read on to get more about Autel MS906BT functions:
Sturdy construction
A good OBD2 scan tool is one that can withstand tough floor garage conditions on a daily basis. The MS906BT is durably made to last long. It has unique ergonomic rubberized outer protection and sturdy internal housing. These ensure that the device still stays strong even when accidentally dropped. On top of that, the sturdy carrying case helps to keep the device safe and transportation easy.
Intuitive user interface
Despite being a professional-grade scan tool, it is still very easy to use. The MS906BT diagnostic scanner comes with a large 8-inch LED display with a resolution of 1024×768. The screen is LED-backlit for easy reading of outcomes in dark or poorly lit areas. Furthermore, it has audio, USB, and auxiliary ports that allow you to link the device to other accessories.
Basic and advanced functions
The things that you can diagnose using this scan tool are endless. This is because it performs not only basic functions but also special and advanced functions. The device is able to perform exceptional OE-level functionality from comprehensive OBD2 diagnostics to advanced ECU coding functions for living, codes, data, adaptation, ECU information, and multitasking, among others.
Fast operation
No more lagging behind when it comes to diagnosing your vehicle, as this gadget is super fast with its Android operating system and Exynos 5260 6-core processor. The core processor is faster than the Autel Maxicom MK808 scanner. The Open Source Android operating system allows the user to multitask, and it has a quick boot-up time. Therefore, you can perform different functions at the same time without the device lagging behind.
Outstanding run time of Autel MS906BT Maxisys
Not every device has the ability to function when the car is turned off or when the car's battery is out of power. The Autel MS906BT is a wonderful unit that will still work even when the car is not turned on. This is because it has a built-in 10 000 mAh 3.7V lithium-polymer battery that runs continuously for 14 hours. So, you will never run out of power during working hours as it can run for the entire day.
Wireless VCI
The wireless connection makes this device flexible and very convenient to use in a busy garage. The enhanced wireless Bluetooth OBD2 connectivity between the display tablet and VC device enables greater mobility and ease of work in your garage. As a result, you can work on your vehicle but still perform other duties at the same time. Also, you don't need to be physically in the car in order to diagnose it.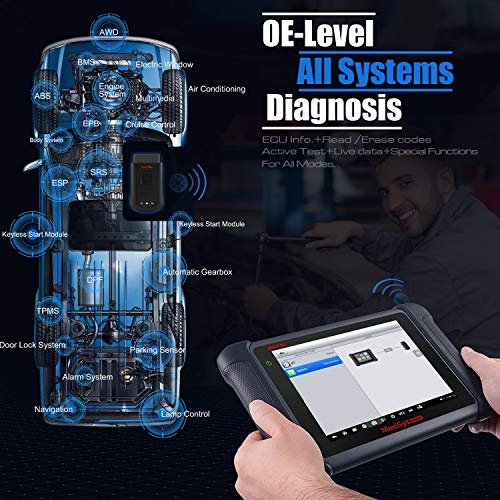 Check Today's Price
Cloud-based MaxiFix
With the Cloud-based MaxiFix online community, you will get a database of diagnostic and repair tips and proven fixes. Additionally, you can take photos of your car issue and share them with the community and find possible fixes.
Extensive vehicle coverage
Since this scan tool has the ability to cover more than 80 domestic, Asian, and European vehicles, you will be able to fix and diagnose many vehicles' makes and models. Simply ensure that the car you want to diagnose is compatible with the tool and it is OBD2 compliant. Some of the popular vehicles that this scan tool covers include BMW, Honda, Fiat, Ford, Audi, Toyota, GM, Bugatti, Land Rover, etc.
Free software updates
If you want to have the latest bug fixes and software, this gadget will automatically update. But know that the free updates only last for a year, and from there, going forward, you will have to pay for the updates at a certain fee. But it is not a must to update the device as you can still use it without updating.
One-year warranty
Autel offers a warranty on all of its products, with this one included. Like the Autel MaxiCom MK808TS TMPS, the MS906BT comes with a one-year warranty against defects in material and workmanship.
Final Thought on Autel MS906BT Scanner
The Autel Maxisys MS906BT is a powerful and reliable diagnostic scan tool suitable for technicians and professional mechanics. The gadget is very easy to use and comes with both basic and advanced OBD2 functions. It is also compatible with a wide range of vehicles and has automatic free updates. With functions like advanced ECU coding, matching, and adaptation, this is a great device to acquire for your car repair shop.
The MS906BT is also sturdily constructed for long-term use and can perform off-car review analysis as it has a built-in lithium battery. With a wireless Bluetooth connection, this is a device that will make your work easier as you will be able to diagnose from a distance. I hope this Autel Maxisys MS906BT review article will help you make the right decision.
FAQ
Question: Is it a must to update the Autel Maxisys MS906BT after 1-year?
Answer: No, it is not. But it is important that you update the gadget so that you can have the latest software and bug fixes. This helps to diagnose new vehicle models and has the latest software. The free update only lasts for one year, and after that, you can start paying a small fee in order to have your device updated.
Question: What is the main difference between Autel MS906 and MS906BT?
Answer: These scan tools are of the same model, but the difference is the BT feature. The MS906 with BT means that the device is wireless with Bluetooth and can as well as do coding. Another difference is in their hardware, as the MS908 runs faster than the MS906BT. Since MS906BT has VCI, you can inspect your vehicle from anywhere.
Kevin Nicholas is an automotive technician who is a genius at software and hardware-related issues. He manually tested more than a hundred OBD scanners and gave his honest opinion on whether the device was worth the money or not. His in-depth OBD review articles help people choose the right product, whether it is a European, American, or Asian vehicle. He completed his Automotive Specialized Training Course at Universal Technical Institute and has more than 15 years of experience in the field.