Are you undecided between the Autel MK808 and Autel DS808 diagnostic scanners? Worry not, as you have come to the right site. Autel produces many outstanding scan tools that make selecting from the pack to be quite challenging. Read this Autel MK808 VS DS808 to find out the difference between these tools.
Among the best Autel midrange scanners are the Autel MK808 and Autel DS808. These two scanners share many features but also differ slightly. They are robustly constructed, have a large touchscreen, fast processor, easy to navigate, compatible with a wide range of vehicles, offer accurate results, and come with a one-year warranty.
Comparison Chart: Autel MK808 VS DS808 Scanner
Display:
7-inch LCD capacitive touchscreen
7-inch LCD capacitive touchscreen
Operating system(OS):
Android 4.4.4
Android 4.4.4
Processor:
Cortex-A9 processor (1.5 GHz)
Cortex-A9 processor (1.5 GHz)
Internal Memory:
32GB
32GB
Oil Reset, ABS, SRS, TPMS, EPB, SAS, DPF, BMS Resets:
Yes

Yes

Audio Input/Output:
Input: N/A & Output: Beep
Input: N/A & Output: Buzzer
All Systems Diagnostics:

Yes

Yes

Active Test:

No

Yes

Bidirectional:

No

Yes

Power Balance:

No

Yes

Pull Drift Compensation(PDC)Reset:

No

Yes

Check and Adjust Fuel Balance:

No

Yes

Bluetooth, Wi-Fi:

Yes

Yes

Configurable Engine Immobilizer(CEI)lock configuration:

No

Yes

Hybrid Operation Mode Adjustment:

No

Yes

Passenger Zero Seat Weight Test:

No

Yes

Storage Temperature:
-20 to 60°C
-20 to 70°C
Operating Temperature:
0 to 55°C
-10 to 60°C
Throttle Position Relearn Function:

No

Yes

Reset fuel trims and Alcohol composition:

No

Yes

Crank Position Variation Relearn:

No

Yes

Cylinder Contribution Test:

No

Yes

Battery Charging Input:
5V/1.5Amp
3.7 V/3200 mAh
Software Update:
One-year free update
1-Year update for free
Vehicle Coverage:
Acura, BMW, Buford, Audi, Benz, Bentley,
Bugatti, Chevrolet, Ford, Chrysler, Euford,
Gm, Holden, Hyundai, Infiniti, Honda, Isuzu,
Jaguar, Kia, Land Rover, Lexus, Maybach, Mazda,
Mini, Saab, Nissan, Opel, Mitsubishi, Porsche,
Scion, Seat, Suzuki, Smart, Sprinter, Skoda, Subaru,
Toyota, Volvo, Vauxhall, VW
Acura, Audi, Bentley, Benz, BMW, Bugatti,
Chrysler, Fiat, Dodge, Daewoo, Citroen, Ford,
Gm, GMC, Holden, Infiniti, Isuzu, Honda, Hyundai,
Jaguar, Jeep, Kia, Land Rover, Lexus, Maybach,
Mazda, Mini, Opel, Nissan, Porsche, Mitsubishi,
Peugeot, Seat, Renault, Saab, Scion, Skoda, Smart,
Sprinter, Subaru, Toyota, Vauxhall, Suzuki, Volvo, Volkswagen, VW
Warranty:
12-month
One-year
Price:
Check Price
Check Price
Features Details of the Autel MK808 and DS808
Whether you're a DIYer, technician, or car repair shop owner, you will find these two professional scan tools to be of great help as they offer extensive vehicle coverage and perform a wide range of functions.
Autel MaxiCom MK808 OBD2 Diagnostic Scanner
The Autel MaxiCom MK808 is a multifunctional diagnostic scanner with all system and service functions, including EPB, SAS, perform an oil reset, BMS, TPMS relearn, and DPF. The device is sturdily built and comes with a durable carrying case for proper storage and transportation. Additionally, it has a 7-inch touchscreen that is very sensitive for faster operation. It also displays results clearly for easy interpretation.
The MK808 scan tool performs full detection for all systems, such as the engine, transmission, ABS, Wiper system, Emission system, Light system, and Fuel system. This scan tool is very easy to charge and can be recharged faster than a normal OBD II diagnostic tool, including Autel AL519 and Autel Autolink AL319. It also runs on Android 4.4.4, which ensures that you multitask with much ease.
This gadget is compatible with a wide range of vehicles which include most 1996 US-based, 2000 EU-based, and newer vehicles. It is powered by one lithium polymer battery that runs for more than 4.5 hours continuously. At such a great price, this is an amazing scanner to have in your car repair shop.

Check Today's Price
Pros:
The scanner has a fast processor
It has a large screen for easy interpretation of codes
Autel MK808 is easy to navigate with an intuitive user interface
It has a wider vehicle coverage
It performs a full systems diagnosis
Compact and sleek design
12-month free software updates
1-year warranty
Cons:
The device does not offer adaptation, coding, or even actuation. So you have to use an Autel Maxisys MS906BT advanced scanner to get all these features.
You have to charge the scan tool before using it.
Autel Maxidas DS808 OBD2 Scan Tool
The Autel Maxidas DS808 diagnostic tool is an upgraded version of the DS708 scan tool. The OBD2 scanner can access all the modules. It can provide full bi-directional testing, perform some coding, add key fobs, reset transmission CVIs, Power-balance test & leak-down test, retrieve ECU information,  support oil reset, allow a quick relearn, TPMS, ABS, etc. But it lacks in Key coding feature. The device is compactly constructed for easy use and storage. The 7-inch touchscreen is very sensitive and very easy to operate.
Related article: Check the comparison between Autel MX808 and MK808 scanners before buying 
The Autel DS808 scan tool is very easy to navigate and has a fast processor that ensures you get results within no time. You can diagnose your vehicle while outside as it has a Wi-Fi connection, which also makes updating the unit to be simple. This unit works on most 1996 US-based, 2000 EU-based, and newer vehicles. It also comes with one year of free software updates and a year's warranty. This is a good scanner for professional mechanics who want to perform advanced functions. So clearing normal engine codes and performing deep diagnostic scans is easy with this advanced scanning device.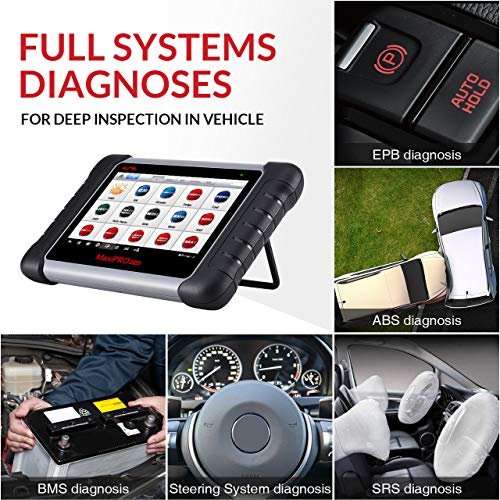 Check Today's Price
Pros:
It performs basic and advanced functions
It is very fast in operation due to its powerful processor
Autel DS808 is user-friendly and easy to navigate
DS808 Autel scanner has a wireless connection for convenient use
It has unrivaled OE-level diagnostics for ultimate engine analysis
DS808 has a large touchscreen that makes the interpretation of results to be easy
It is compatible with a wide range of vehicles
It allows the user to view sensor data and live ECU data in real-time
1-year warranty
Cons:
DS808 Autel tool does not provide ECU programming. So have to use the Autel IM608 scan device that, has the most advanced key programming features.
This tablet cannot be used right away from the box as it has to be charged
Which is better? Autel DS808 or MK808?
Choosing a reliable and accurate diagnostic scanner will help you to diagnose your car quickly and easily. That's what you get when you acquire either the Autel MK808 or DS808 scanners. These two scan tools are well-built, reliable, and offer accurate results. They are also easy to use, fast, and can perform a wide range of functions.
If you're tight on the budget but still want a reliable and sturdy device, then the Autel MK808 is a good scan tool to have. But if you want a quality mid-range scanner with more sophisticated features, then I would suggest you go for the Autel DS808 scan tool. Between Autel DS808 VS MK808, the DS808 is more advanced in that it works with engine and ECU diagnostics more extensively when compared to Autel MK808. So DS808 can show more advanced Manufacturer Specific Codes from different brands.
All in all, these are two amazing Bluetooth scan tools suitable for serious car enthusiasts, DIYers, and professional mechanics. Choose the one that suits your needs and budget.
Kevin Nicholas is an automotive technician who is a genius at software and hardware-related issues. He manually tested more than a hundred OBD scanners and gave his honest opinion on whether the device was worth the money or not. His in-depth OBD review articles help people choose the right product, whether it is a European, American, or Asian vehicle. He completed his Automotive Specialized Training Course at Universal Technical Institute and has more than 15 years of experience in the field.