The Autel Maxicom MK808 scan tool is a great obd2 diagnostic scanner for DIY enthusiasts and beginner mechanics that are looking for a tool that can perform both basic and special functions. This scan tool performs the same functions as the Autel MD802 and the Autel Maxicheck Pro.
The Autel Maxicom MK808 code reader is a full system diagnostic scanner and covers most vehicles manufactured from 1996 and newer. The Autel Scanner runs on Android 4.4.4 with the A9 processor, which makes it fast and fun to use. The device also features a large 7-inch LCD screen that clearly displays all the info and codes for easy interpretation.
Autel Maxicom MK808 (ABS/BMS/EPB/TPMS) Review
The Maxicom MK808 scan tool is robustly constructed to withstand the daily wear and tear of the floor garage. The wireless connection makes the user roam around the car as they read error codes from a distance.
Advantages: Why buy Autel Maxicom MK808 OBD2 Scan Tool
Sturdy and outstanding design
It supports Wi-Fi connectivity for accessing online resources
It is very easy to operate
Has the ability to perform both basic, special, and advanced functions
It performs full system diagnostics for OBD2 vehicles
It comes with one year of free software updates
The manufacturer offers a one-year warranty
However, even with these exceptional functions, this gadget lacks some professional-level functions such as coding, adaptations, and actuation. So, if you're looking for a more advanced unit, this is not the gadget for you, especially if you're a professional technician or mechanic who needs more advanced functions.
Technical Specifications:
Operating System(OS):
Android
Display:
7″ LCD Touchscreen
Processor:
Cortex-A9 processor (1.5 GHz)
Views freeze frame data:
Yes
ABS,SRS,EPB,BMS,SAS,DPF:
Yes
Check Engine Light:
Yes
Live data:
Yes
Reading/Clearing codes:
Yes
Get transmission codes:
Yes
Oil Reset:
Yes
Shop Manager / Data Manager:
Yes
Batteries:
One Lithium Polymer batteries required. (included)
Works:
All 1996 US-based, 2000 EU-based, and newer cars
Vehicle Coverage:
Acura, Audi, Bugatti, Benz, BMW, Auford, Bentley,
Chevrolet, Holden, Euford, Chrysler, Gm, Ford, Honda,
Hyundai, Land Rover, Isuzu, Infiniti, Kia, Jaguar,
Lexus, Mini, Nissan, Maybach, Mitsubishi, Mazda,
Opel, Porsche, Saab, Scion, Seat, Skoda, Smart,
Sprinter, Toyota, Volvo, Subaru, Vauxhall, Suzuki, Vw, etc…
Update option:
12-month free updates
Warranty:
One year warranty
Price:
Check Today's Price
Excellent construction
The Autel Maxicom MK808 is not only a sleek and lovely device, but it is also durably constructed. This means that it will defy the tough floor conditions with its hard construction. The device measures 15 x 13 x 4.5 inches. In addition, it weighs around 5.7 pounds, which means that it is not only lightweight but also compact for easy carry and storage. These features make this scan tool to be very portable.
Wireless connection
Even though this gadget lacks VCI, it still performs at a high level, and it is very fun to use. The wireless connection makes it easy to use, and it has a cable connection as an alternative. So, you've got the option of updating the device via a wireless connection or by connecting the cable.
Basic diagnostics
When it comes to the actual performance, the Autel Maxicom MK808 diagnostic scan tool is a full-system diagnostic scanner. Therefore, it performs all 10 OBD2 protocols and some selected brand-specific protocols. In addition, it provides full detection for all vehicle systems such as SRS, ABS, brake system, transmission, emission system, light system, engine, wiper system, and fuel system, among others. Besides, you can use this gadget to perform I/M readiness tests or know if you will pass the smog test.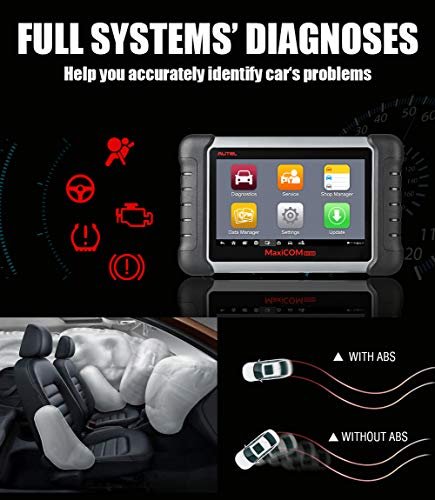 Check Today's Price
Advanced diagnostics
Apart from performing basic functions, the Autel Maxicom MK808 code reader also performs advanced functions and special functions. Some of the advanced functions include resetting service mileage/intervals, BMS service, EPB service, Immobilizer, and oil reset service. But you should try out the functions before acquiring the gadget. For instance, many users have complained that the IMMO function has been overstated as it doesn't do everything that it says it does.
Data
At its price, you can be certain that you are getting a great deal when you buy this scanner. It provides different forms of data, such as freeze-frame data and live data. Moreover, you can view this data in text, analog, or graphical format. During repairs, you need both live and freeze-frame data. The work of live data is to display fixed and pending issues, while freeze frame data indicates the performance of parameters such as fuel supply and coolant temp.
User-friendly design
When it comes to using this gadget, there won't be any problems or difficulties, regardless of whether you are a beginner or a pro. This is because the unit features a user-friendly design with simple-to-use features. The large LCD screen clearly displays all the icons, and it runs on the Android 4.4.4 operating system. It is just like using a smartphone or tablet with apps. In case you want to transfer data from the device to your PC, this can be done easily as it supports Micro SD of up to 32 GB.
Vehicle compatibility
It is important that you always confirm if the scan tool that you're purchasing is compatible with your vehicle or not.  Some users have reported compatibility issues with this code reader, especially those with foreign vehicles. The automotive diagnostic scanner is compatible with OBD2-compliant vehicles manufactured from 1996 and newer. This includes most 1996 and newer US-based, 2000 EU-based, and newer vehicles.
However, if you want to perform injector tests on some BMW and VW cars, it will not respond. Also, performing TPMS on some Honda, Benz, and Hyundai cars may not be applicable. Therefore, test your vehicle before purchasing this gadget.
Free update & warranty
One important factor that people don't understand about most Autel scan tools is that they don't come with lifetime software updates. This scan tool only offers one year of free internet updates, and after that, you will have to pay for yearly updates. But you can still use the device without updating it after one year.
Autel provides users of this device with a one-year warranty. If the device develops any problem within this period, you're free to take it for repair or replace it.
Comparison Table: Autel Maxicom MK808 vs. Xtool D8 vs. Xtool D7
| | | | |
| --- | --- | --- | --- |
| Features | MK808 | Xtool D8 | Xtool D7 |
| Processor:   | Cortex-A9 Processor(1.5GHz) | Quad-Core1.8Ghz | Quad-Core1.6Ghz |
| Display:  | 7-inch LCD Touch Screen | 8-inch LCD Touch Screen | 7-inch LCD Touch Screen |
| Operating System:   | Android 4.4.4 | Android 5.1.1 | Android 5.1.1 |
| Storage:  | 32 GB | 2G+64G | 2G+32G |
| Wifi:    | 2.4GHz | 5Ghz | 5GHz |
| Digiutal inspection Camera:   | No | Yes | No |
| ECU Coding:    | No | Yes | No |
| ADAS Calibration Assistance:    | Yes | Yes | No |
| Videoscope:    | Yes | Yes | No |
| Active Test:   | Yes | Yes | Yes |
| Special Functions:   | 28+ |  31+ | 26+ |
| Price: | Check On Amazon | Check On Amazon | Check On Amazon |
An Alternative Of Autel Maxicom MK808 OBD2 Scanner:
Autel MaxiPRO MP808K OBD2 Scanner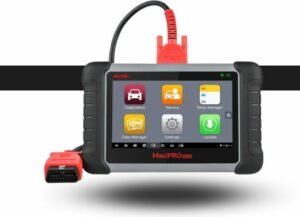 Processor: Cortex-A9 processor (1.5GHz)
Operating System: Android 4.4.4
Memory: 32GB
Touch Screen Display: 7-inches LCD
Connectivity: Mini USB 2.0; USB 2.0;Wifi; Micro SD Card
Battery: 3200 mAh
Vehicle Communication Method Wired: Yes
Auto VIN Technology: Yes
Battery Registration and Reset: Yes
Oil Service Reset: Yes
EPB Reset: Yes
Active Test: Yes
Live Date: Yes
Summary
The Autel Maxicom MK808 diagnostic scan tool is a quality and advanced scanner but not suitable for professional mechanics as it lacks some advanced functions like coding, actions, and adaptations. But if you're a DIY enthusiast or startup mechanic, this is a good device for you.
The Autel Maxicom MK808 is internet updateable, performs both basic and special functions, and it supports full OBD2 functions. The device is also portable for easy carrying outside the garage, and its wireless connection makes using it to be fun. But before you purchase it, ensure that it is compatible with your car's make and model. Also, know that the upgrades last for only one year and not a lifetime.
Cons of the Autel MK808 Scanner:
It is very costly to update the device after one year of free updates

MK808 has some compatibility problems with several foreign cars

It lacks most of the professional-level functions
With this said, this is a nice scan tool for the price, and it is very easy to navigate. On top of that, the manufacturer offers a one-year warranty to buyers of the product. I hope you have got a clear idea after reading this Autel Maxicom MK808 review article.
FAQ
Question: Do I have to pay in order to update the scan tool?
Answer: The car scan tool comes with one year of free updates. After one year, you can decide whether to update the device or not. If you decide to update the gadget, you will be charged a small fee. But if you decide not to update it, you will still use it with the old software.
Question: Does this scan tool come with special functions?
Answer: Yes, it does. The diagnostic scanner offers special functions such as SAS reset, TPMS service, EPB reset, brake bleed, headlamps, oil light reset, injectors, window regulators, and much more.
More Buyers Questions- Answered
| | |
| --- | --- |
| Supports calibrate turbo actuator VGT? | Yes |
| Offers bi-directional functions? | Yes, but update it fast |
| Is software updates free? | Up to one year |
| Update cost after one year? | $120 |
| Read and reset SRS lights? | Yes |
| Throttle Position Sensor check? | Yes |
| Complete TPMS Support? | Yes |
| Reprogram A/C system? | No |
Affiliate Disclosure: "Our site is a participant in the Amazon Associates Program. This page may include Amazon affiliate links, on which we may receive a small commission at no extra cost to you."
Kevin Nicholas is an automotive technician who is a genius at software and hardware-related issues. He manually tested more than a hundred OBD scanners and gave his honest opinion on whether the device was worth the money or not. His in-depth OBD review articles help people choose the right product, whether it is a European, American, or Asian vehicle. He completed his Automotive Specialized Training Course at Universal Technical Institute and has more than 15 years of experience in the field.