Foxwell NT301 is a cheap OBD2 scanner and has all the necessary features like reading and Clear engine Codes, I/M Readiness Status, Freeze Frame/Data Steam, etc. The Foxwell nt301 diagnostic scan tool is one of the easy-to-use code readers on the market. It goes for a fair price, and it's easy to connect with vehicles. The NT301 OBD2 scanner has a wide range of features and is also compatible with cars manufactured from 1996 and newer. This includes domestic and foreign vehicles. Read this Foxwell NT301 review to know more about this scanner.
Erased code history: No
Euro Truck Simulator (ETS) Codes: No
Diagnose without CEL: Yes (View pending codes)
Reset "service now" message: Yes
Diagnose Japanese-made cars: Yes
Beginner Use: Yes
Operate without car power: No
Transmission fluid temperature: No
Diesel compatable: Yes
Car Code Scanner- Foxwell NT301 Review
Foxwell's other two popular models are Foxwell NT630 and Foxwell NT510 scanner. Select a device that is compatible with your car and read and clear error codes whenever they come on. Don't wait till it's too late to take action.
Why spend a lot of cash to take your car to a mechanic when the check engine light comes on? Many motorists will definitely agree with me that they spend lots of cash every year just to get the warning engine light diagnosed by their mechanic. This is a thing that many people take for granted, but by the end of the day, it ends up costing them a lot. Instead of making trips to your mechanic, you can decide to acquire a diagnostic scan tool and clear the pending codes by yourself.
This is a wonderful diagnostic scan tool for starters, DIYers, as well as professional mechanics. Its price is favorable, and the features are very easy to use. The 28-inch TFT color screen displays error codes for easy reading. Other amazing features include lifetime free software updates and one year warranty from Foxwell.
Technical specifications of the Foxwell NT301 OBD2 Scanner

| | |
| --- | --- |
| Display: | DTC definitions are automatically displayed after reading |
| Clear Engine Fault Codes: | Yes |
| Reads and stores Data: | Yes |
| Playbacks live sensor data: | Yes |
| Clears codes & resets monitors: | Yes |
| Update option: | Yes |
| LED Notifications: | Red-Yellow-Green LEDs and build-in speaker indicate |
| Views freeze frame data: | Yes |
| Prints data via PC: | Yes |
| Reads live PCM datastream: | Yes |
| Dimensions: | 8.7 x 3.1 x 6.7 inches |
| Weight: | 2.87 pounds |
| VIN Retrieval: | Automatic VIN acquisition and decoding make it much easier to read the manufacturer's specific codes |
| Foxwell nt301 Vehicle Coverage: | Covering but NOT Limited: Buick, Cadillac, BMW, Chevrolet, Honda, Isuzu, Chrysler, Ford, GM, Hyundai, Jaguar, Kia, Landrover, Nissan, Mazda, Lamborghini, Mitsubishi, Mercedes, Suzuki, Subaru, Opel, Porsche, Saab, Toyota, Volvo, VW, Etc. |
| Price: | Check Today's Price |
In most cases, these are things that can be tackled by finding out the cause of the check engine light. Getting a simple and reliable Foxwell code reader is one way of minimizing the trips to the mechanic. There is a wide range of diagnostic scan tools for DIY car enthusiasts as well for professional use.
The device has a simple-to-use interface, built-in speaker, and LED indicator. In addition, it has a multilingual menu that enables people from different corners of the world to easily use the nt301 scanner. The user can utilize it to read, record, graph, and playback live sensor data. Also, it has special functions and is able to retrieve VIN.

Check Price
Features of the Foxwell NT301 scan tool
Clears trouble codes, turns off check engine warning lights, and reset monitors.
Compatible with 1966 and newer vehicles domestic, EU, Asian, and newer OBDII/EOBD, and CAN domestic or import vehicles
Built-in speaker
Red, yellow, and green LED
Reads, records, graphs, and playbacks live data.
2.8 inches TFT color screen
Supports multiple code requests
DTC Library
Multilingual menu
Reads live O2 sensor/on-board monitor test data
VIN retrieval and advanced engine fault sensor
User-friendly design
Records PIDs
Test emissions system and shows emissions monitor status
Measures 8.7 by 3.1 by 6.7 inches
Lifetime free software update
1-year product warranty
Why Use the Foxwell NT301 Diagnostic Scanner?
I hope this Foxwell NT301 review article will help you a lot.
Favorable price
The Foxwell nt301 scanner comes with excellent features that aid in diagnosing your car. But still, it is offered at a very great price which can be afforded by starters as well as professionals. So, if you want a quality car diagnostic scanner at a favorable price, the Foxwell nt301 will serve you well. This is one of the lowest price Foxwell scan tools on the market.
Sturdy construction
A great scan tool is one that can defy hard conditions and last for a very long period of time. The Foxwell nt301 code reader is sturdily built for longevity. When buying a scan tool, ensure that the plastic housing that it is made of is strong and can remain intact in case it is dropped accidentally.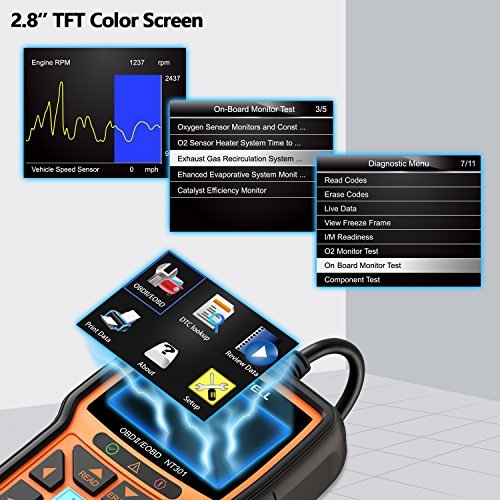 Check Price
Simple to use by both beginners and experts
Advanced diagnostic tools such as Autel MP808TS or Foxwell NT624 can be very difficult to use. But this is not the case with the Foxwell nt301 obd2 code reader. The gadget is very easy to use. It has menu-driven navigation, a properly arranged keypad, hotkeys, and a large 2.8-inch TFT color screen for displaying results. All of these features make using this car scanner easy and quick.
Wide range of functions
The Foxwell nt301 scan tool performs a wide range of features, such as reading and erasing DTC. Also, it scans on-screen DTC definitions and a built-in DTC lookup feature to enable you to precisely determine the causes of the car engine light. Besides the main functions, it carries out some special functions, which include a one-click readiness key, display error code definition automatically, live O2 sensor test data, emission reading capabilities, and onboard monitoring tests. All these data will reduce your overall maintenance cost annually.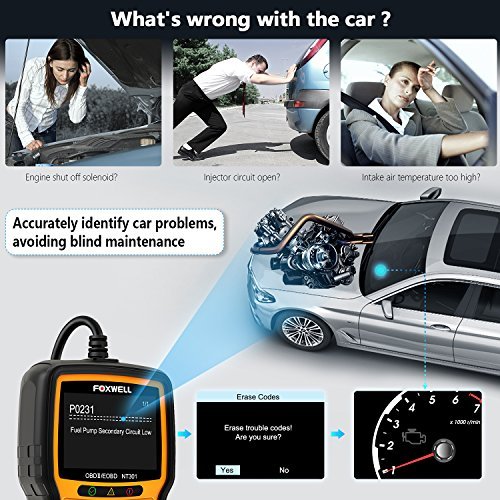 Check Price
Compatible with numerous vehicles
A scan tool that is compatible with a wide range of features is a joy to mechanics and car owners who have more than one car. It helps them to diagnose different cars using one scanner. The Foxwell nt301 diagnostic scan tool is compatible with 1966 US-based, 2001 EU-based, Asian cars, and newer OBD2/EOBD and CAN domestic or foreign vehicles. Such models include Nissan, Mazda, BMW, Toyota, Chrysler, Nissan, Mitsubishi, Jaguar, Scion, Kia, Honda, Isuzu, VW, Jeep, Lexus, Subaru, Volvo, Ford, LandRover, Hyundai, Acura, Infiniti, Opel, GM, and many others.
Related product: Check the list of best Innova scanning devices
Portable scan tool
Foxwell nt301 diagnostic scanner is a lightweight and compactly designed diagnostic scan tool. This makes it easy to carry around as you perform other tasks. In addition, it has a protective case that helps the user to carry it with ease and prevents the device from crashing when it falls. Also, the device is more lightweight than the affordable Autel AL319 scanners.
Check Price
Upgradeable
Are you tired of buying new scan tools from time to time? Get the Foxwell nt301 scanner, as it comes with the free software upgrade. All you have to do is to connect it to the internet, and you will have the current bug fixes and the latest technology, and newly added parameters.
Multilingual scan tool
It doesn't matter which country you come from. You can always find it easy to use the Foxwell nt301 scan tool. This is because it has six different languages to select from, which are English, Spanish, Dutch, German, French, and Italian. These have made this device to be embraced widely around the world.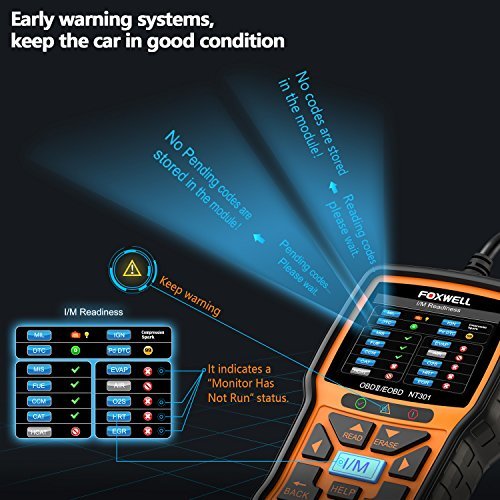 Check Price
One year warranty
On top of the amazing features that the Foxwell NT301 OBD2 offers, the manufacturer provides a one-year warranty to buyers of the product. This is a great idea, as customers can trust the scan tool.
Challenges of the Foxwell NT301 OBD2 scanner
Poor customer support
Foxwell needs to improve its customer support outside China. Like the Autel brand, this is a Chinese brand and has no contact numbers outside China. Responding through the email provided can be time-consuming and won't provide instant help.
Incompatibility issues
Not every car on the market is compatible with this diagnostic scan tool. Some cars are compatible, while others are not. Perform a vehicle test and see whether it is compatible with your car or not before purchasing it. Also, it doesn't feature an ABS or airbag warning system.
Comparison table: Foxwell NT301 vs. Ancel AD530 vs. Ancel AD310 OBD2 Scanner
| | | | |
| --- | --- | --- | --- |
| Features | Foxwell NT301 | Ancel AD310 | Ancel AD530 |
| Dimensions: | 8.66 x 3.15 x 6.69 inches | 8.6 x 6.6 x 0.3 inches | 10.4 x 7.9 x 1.1 inches |
| Software Compatibility: | Windows 7, 8, 10 | Windows 7, 8, 10 | Windows XP, 7, 8, 10 |
| Weight: | 17.28 oz | 9.6 oz | 14.4 oz |
| OBD2 Modes Support: | 10 |  7 | 10 |
| All System Diagnosis:  | BMW, Mini, and Rolls Royce before 2020 | No | VAG vehicles |
| Internet Updateable:  | Yes | No | Yes |
| Battery Maintenance: | No | No | Yes |
| Read and Clear SRS Codes: | No | No | Yes |
| Vehicle Compatibility: | 2001+ US,  2006+ French, 2007+ Japanese, 2011+ Chinese 12V diesel and gasoline vehicles, 2004+ European | Most 2000+ Asian & European 12V diesel and gasoline vehicles, 1996+ US based | Most 1996+ US based, 2005+ Asian 12V diesel and gasoline vehicles, 2000+ European |
| Price: | $69.99 | $29.99 | $69.99 |
Bottom line
If you are a DIY car enthusiast looking for a quality and simple-to-use scan tool, the Foxwell nt301 diagnostic code reader is an amazing OBD2 scanner to acquire. It comes with six different languages to select from, and it is able to perform both normal and special functions. Also, it is favorably priced and doesn't need a backup battery to work. Use this scanner on different cars built from 1966 or newer. Also, it works on a light-duty truck which is exceptional for such a device. With a free lifetime software update and a one-year warranty, this is an exceptional scan tool to have. I have explained everything in this Foxwell NT301 review that you should know about this scanner.
Kevin Nicholas is an automotive technician who is a genius at software and hardware-related issues. He manually tested more than a hundred OBD scanners and gave his honest opinion on whether the device was worth the money or not. His in-depth OBD review articles help people choose the right product, whether it is a European, American, or Asian vehicle. He completed his Automotive Specialized Training Course at Universal Technical Institute and has more than 15 years of experience in the field.