Autel Maxisys MS908CV is a heavy-duty scan tool that can be used for complex troubleshooting! With even the most basic automotive problems becoming complicated by the day, you need a device such as the Autel MS908CV to diagnose them easily. It is similar to Autel Maxisys pro ms908p, but MS908CV is specially made for heavy-duty vehicles.
The Autel MS908CV heavy-duty diagnostic scanner with J-2534 programming is durably constructed to withstand tough floor garage conditions. It also has a 9.7-inch LED screen which is larger than Autel MaxiCom MK808TS and Autel MaxiPRO MP808 scan tools. The OBD2 scanners feature a fast quad-core processor of 1.4ghz for quick booting time and multitasking. Read this Autel MS908CV review to know more about this heavy-duty diagnostic tool.
J-2534 ECU tailored for commercial vehicles
Deeper programming and parameter setting
OE-level ECU Coding
Bi-directional active tests
25+ service functions
23+ adaptions for commercial trucks and cars
With the unique, powerful cortex-A9, you will never lag behind in completing the car repairs in time. Apart from that, it covers more than 80 US, Asian, and European vehicles. This heavy-duty scanner's functions can perform include special functions, advanced ECU coding, and programming.
Technical Specifications of the Autel Maxisys MS908CV Heavy-Duty Diagnostic Scan Tool
Works on:
1996-present(more than 80 US, Asian and European vehicles)
Operating System:
Android
Display:
9.7 inch LED capacitive Touch screen (1024×768 resolution)
Processor:
Samsung Exynos Quad Core Processor 1.4GHz
Memory:
2GB RAM, 32GB Onboard Memory
Connectivity:
WiFi (802.11 a/b/g/n), Ethernet: RJ45 Ethernet Connection,
USB: 2.0, BT v.2.1 + EDR, SD Card (Support up to 32GB), HDMI
Camera(rear):
Rear-facing, 5.0 Megapixel, AF with Flashlight
Oil Reset:
Yes
Input Voltage:
12 V (9-24 V)
Operating Temp:
-10 to 55°C (14 to 131°F)
Storage Temp:
-20 to 70°C (-4 to 158°F)
Batteries:
11000 mAh 3.7 V lithium-polymer battery
Vehicle Coverage:
Expert: Allison, Bendix, International, Caterpillar, Detroit, Cummins, Wabco, Mercedes Benz, Paccar, Volvo, Freightliner, Boschauto, Mack, Mtu, Zf Meritor, Aisin, Iveco, Eaton, Mwm, Powerstroke,
Buses: Obd, Volvo, Agrale,Hino,Mercedes Benz,Mitsubishi Fuso,Toyota,Isuzu,Volkswagen,Renault,
Trucks: Volvo, Agrale, Capacity, Autocar, Fiat, Ford, Foton, Dodge, Freightliner, Isuzu, Kia, GMC, Hyundai, Hino, Great Wall, Mercedes Benz, Mitsubishi Fuso, Sterling, Nissan, Mitsubishi, International, Kenworth, Iveco, Volkswagen, Mack, Peterbilt, Renault, Workhorse, Western Star, Setra, UD, etc.
Live data:
Yes
EPB, Brake Bleeding, DPF & SCR, Immo & keys:
Yes
EASY ABS/SRS DIAGNOSIS:
Yes
Views freeze frame data:
Yes
VIN, CALID, and CVN:
Yes
Software Update Option:
1-year Free Update
Warranty:
One-year warranty
Price:
Check Today's Price
Autel MS908CV Professional OBD2 Reviews in 2023
Featuring a built-in rechargeable battery, this device will run the unit for up to 8 hours continuously. So, it is an Autel OBD2 gadget that you can rely on in your car repair shop for the most part of the day. Furthermore, it has a built-in 5-megapixel rear camera with autofocus and a flashlight to capture photos even in the dark and share them with other technicians for possible fixes. This review article contains all the information that you need to know about this automotive diagnostic scan tool. So read to the end.
Extremely durable
The Autel Maxisys MS908CV scan tool is well-built to last long and to defy tough conditions around car repair shops. Thanks to its strong rubber protection and housing, that secures it from shock and accidental dropping.
Related article: Don't buy without knowing the differences between Autel MK808 and DS808 scanners
User interface
This is one of the easiest diagnostic scanners that you will find on the market. It comes with a large 9.7-inch 1024×768 LED-backlit display with IPS technology that shows all the code definitions detected. Additionally, the scanner has an outstanding and powerful cortex-A9 quad-core processor that makes the gadget fast and enables the user to multitask. Together with the Android operating system, the user will have a simple time utilizing the device.
Compatibility
With coverage of more than 80 USA, Asia, and European vehicles, this is a pervasive scan tool that will diagnose most of the vehicle makes and models. It is one of the best Heavy-Duty Vehicles scanners for 2023.  Some of the cars make that you can diagnose with this code reader include Toyota, Foton Daimler, ISUZU, Mack, Hyundai, Capacity, Sterling, Peterbilt, AutoCar, and Hino, among others. Autel maxisys MS908CV is also compatible with light-duty trucks, semi-trucks, buses, construction vehicles, and agricultural vehicles and supports 80+ brands.
Basic functions
Autel MS908CV is a great heavy-duty OBD2 scanner. However, it can still be used to perform the most basic functions such as oil reset, brake bleeding, Immo and keys, EPB, and displaying live data in text, graph, analog, and digital gauges for simple data review and analysis. Furthermore, it can record and playbacks live data to detect the troubles of sensors and parts.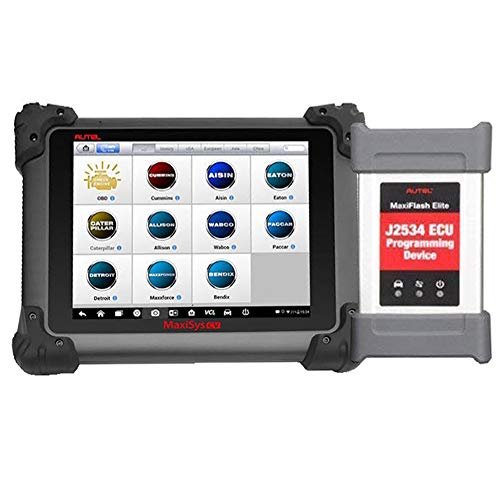 Check Today's Price
Excellent runtime
Powered by a built-in rechargeable battery, the MS908CV lithium-ion battery offers the user an excellent runtime. The battery can power on the device for 8 hours continuously before requiring it to be recharged.
Advanced functions
The Autel Maxisys MS908CV scanner comes with a whole set of medium-duty and heavy-duty vehicle connectors that not only allows it to perform basic functions but as well as advanced functions. For instance, you can use the scan tool to perform advanced ECU programming and coding. Apart from that, you can use this gadget to carry out special functions like DPF regeneration, Adaptations, Maintenance resets, Calibrations, and Injector Quantity Adjustment. But if you are a professional mechanic, you should buy a more advanced Autel Maxisys Elite scanning device.
Connectivity
This Autel Maxisys MS908CV Heavy Duty Diagnostic Scan Tool is limitless in performance as you have the option of either using Bluetooth or a Wi-Fi wireless connection. The Wi-Fi connection allows you to update the device without being in the car or linking the OBD2 cable. So, you have the luxury of roaming around the car repair shop as you diagnose the car.
Large storage space
Not only is this code reader powerful and fast, but it also has a large storage capacity, and the info can be easily transferred to your PC via Bluetooth. Autel MS908CV Maxisys comes with an internal reliable and quick 32GB solid-state drive for greater performance. You can transfer the stored data from this gadget to your PC. The only issue with this scanning device is it is expensive when compared to Autel Maxisys MS906BT and Autel MK808BT.
Internet updateable
If you want to upgrade this gadget to the latest software and bug fixes, you can do so easily, as Autel Maxisys MS908CV comes with a Wi-Fi connection. The updates are automatic the moment you connect to Wi-Fi. Also, Wi-Fi technology makes it possible to print out recorded data anytime and anywhere.
Remote technical support
In case you want support from Autel, you can contact Autel support or visit a Cloud-based data manager. Alternatively, you can take photos of the issue your vehicle is facing using the built-in 5 MP rear camera and share them with other technicians.
Related article: Which model is more advanced between Autel Maxisys Pro and Maxisys Elite?
One-year warranty
Autel provides a one-year warranty to buyers of this product. The warranty covers the product from the date of purchase, and the defects in material or workmanship should be under normal use and maintenance. So, you can rest assured that you will receive repair or replacement in case of a defect.
Why buy the Autel Maxisys MS908cv truck diagnostic tool?

It comes with a large display 9.7 inches led for showing results
It is sturdily built with a tough ergonomic design a strong rubber protection
MS906CV has wireless connectivity for easy and convenient use
Autel maxisys ms906cv has great compatibility as it works on more than 80 US, Asian, and European vehicles
Easy and intuitive user interface
The quick and fast operating system for easy multitasking
Exceptional runtime of up to 8 hours of continuous operation
A wide range of functions
Outstanding customer support
Cons of the Autel scanner ms908cv

Setting up this device is quite cumbersome. This is because registering is difficult as you have to register on the desktop computer and not the tablet.
It is expensive when compared to other similar diagnostic scan tools.
Comparison Table: Autel Maxisys MS908CV VS MS906CV OBD2 Scanner
| | | |
| --- | --- | --- |
| Features | MS908CV | MS906CV |
| Processor: | 1.4Ghz Quad-Core Processor | 1.3GHz+1.7Ghz Hexa Core |
| Camera: | Rear-facing, 5.0 Megapixel | Rear-facing, 8.0 Megapixel |
| Battery: | 11000 mAh | 5000 mAh |
| Weight: | 3.13 lb | 2.05lb |
| Speaker: | Dual Speaker | Single Speaker |
| AutoVIN + AutoSCAN Detection: | Yes | Yes |
| Read/Erase Heavy Duty DTCs: | Yes | Yes |
| Bi-directional Controls: | Yes | No |
| HDMI: | Yes | No |
| Handset Jack: | Yes | No |
| Bluetooth: | Yes | No |
An Alternative Of Autel Maxisys MS908cv OBD2 Scanner: Autel MaxiSYS MS909CV Scanner
Display Size: 9.7 inches
Operating System: Android 7.0
Processor: Samsung Exynos 8895V octa-core Processor
Battery: 15000 mAH
Power Supply: Charging Via 12V AC/DC
Camera: Fornt5.0 MP/Rear 16MP
Memory: 4GB RAM & 128GB On-board Memory
Input Voltage: 12V/ 3A Adapter
Operating Temperature: 0 to 50°C (32 to 122°F)
Storage Temperature: -20 to 60°C (-4 to 140°F)
Bottom line
Have you been looking for a professional-grade scan tool for your busy car garage or big car repair shop? Look no further than the Autel MS908CV diagnostic scan tool. This car scanner may be quite costly when compared to other scanners on the market, but it is worth the price. This is because it performs basic, special, and advanced functions. It is also effortless to use and sturdily constructed for durability. You can update it, and it offers wireless connectivity for easy use around the garage.
Regardless of what you want to use this scan tool for, you can greatly rely on it as it is very fast and responds quickly. So, whether you're a busy mechanic or a professional technician, this Heavy Duty Diagnostic scan tool will be a great addition to your car repair shop arsenal. I hope our Autel MS908CV Review will help you to make the right decision.
FAQ
Question: Does this scan tool come with a troubleshooting function?
Answer: Yes, it does. It has the ability to diagnose vehicles, read and clear DTCs, and, most importantly, perform J-2534 ECU coding and programming. As a matter of fact, this is one of the most advanced Bluetooth code readers on the market.
Question: Can I use this scan tool on a 2017 Toyota car model?
Answer: No, you can't. This is because it provides vehicle coverage from 1996 to 2013. The vehicle should be OBD2 compliant and manufactured between the stated years. So, if your vehicle was manufactured in 2014 or later, then it won't be compatible with this scan tool. Innova 31703 OBD2 scanner would be an ideal option for Toyota car models.  Also, you should confirm with the Autel support team if this scan tool is compatible with your vehicle's make and model or not before buying.
Affiliate Disclosure: "Our site is a participant in the Amazon Associates Program. This page may include Amazon affiliate links, on which we may receive a small commission at no extra cost to you."
Kevin Nicholas is an automotive technician who is a genius at software and hardware-related issues. He manually tested more than a hundred OBD scanners and gave his honest opinion on whether the device was worth the money or not. His in-depth OBD review articles help people choose the right product, whether it is a European, American, or Asian vehicle. He completed his Automotive Specialized Training Course at Universal Technical Institute and has more than 15 years of experience in the field.