The Autel Maxisys MS906 is an expensive Automotive Diagnostic Scanner and a must-have tool for professionals. This is a complete Diagnostic code reader and has extensive features like live data, actuation tests, adaptations, key fob programming, ECU coding, Injector coding, program modules, and much more. The MS906 is the root version of the Autel MS906BT and Autel MS906TS. Read this Autel ms906 review to know more about this tool.
Related: Autel Maxisys Elite Reviews [Most Advanced Diagnostic Tools]
The Autel Maxisys ms906 diagnostic scanner tool can be a wonderful addition to your car equipment and accessories. This is because it can help you check engine lights and other error codes for all your obd2 vehicles. This automotive scanner is compact in design and can be easily handled during use. It has outstanding features that have made many professional technicians and car lovers embrace it to carry out diagnostic tests on their cars.
Technical specifications of the Autel Maxisys ms906 Automotive Diagnostic Scanner

Features

Autel ms906

Display:
8″ LED-backlit glossy Multi-Touch capacitive display(1024×768)
Android Operating System:
Yes
Check Engine Light:
Yes
ABS, SRS, EPB, sass, DPF, TPMS:
Yes
Oil Reset:
Yes
Recording modes:
Full-Screen waveform graphing analysis
Internal Memory:
2 GB RAM & 32 GB ROM
Recording modes:
Shows full-Screen waveform graph & analyzes diagnostic reports
Camera:
Built-in 8-megapixel rear camera with autofocus and flashlight
Live data:
Yes
Active Test:
Yes
Online Update:
1-year free update
Views freeze frame data:
Yes
ECU information:
Yes
Opens and closes electronic brake calipers:
Yes
ECU coding, Injector coding:
Yes
Smart AutoVIN technology for identifying vehicles easily:
Yes
Real-time push message notifications via the internet:
Yes
Extensive Vehicle Coverage:
More than 80 US, Asian, and European car
Real-time push message notifications via the internet:
Yes
Car Models:
Abarth, Acura, Alfa, Audi, Bentley, Benz,
BMW, Bugatti, Chevrolet, Chrysler, Citroen,
Dodge, Dacia, Daihatsu, Fiat, Ford, Gm,
Holden, Honda, Hyundai, Infiniti, Isuzu,
Jaguar, Jeep, Kia, Land Rover, Lexus, Lancia,
Maybach, Mazda, Mini, Mitsubishi, Nissan,
Opel, Peugeot, Porsche, Renault, Saab,
Scion, Seat, Skoda, Smart, Sprinter, Subaru,
Suzuki, Toyota, Vauxhall, Volvo, VW, Etc.
Audio Input/Output:
Single Speaker, Microphone
Operating Temperature:
-10 to 55°C (14 to 131°F)
Storage Temperature:
-20 to 70°C (-4 to 158°F)
Warranty:
12-Month Limited Warranty
Price:
Check Today's Price
They are high-performing and will ensure that your car trouble codes are discovered in good time for easy running of the vehicle. This Autel ms906 review guide will help you to find out why to buy this high-quality Automotive Diagnostic device.
Autel is a brand from China. Their products are created with the user in mind and are of great quality. Also, they cover several vehicle brands and models, which makes them versatile in usage. This model has feature similarities with the
Autel Maxisys ms908p Diagnostic Tool
.
Maxisys Autel ms906 Review in 2023
Since Autel was established, it has been creating high-quality car scan tools. Autel ms906 is one of the high-performing scanners on the market. This ergonomically and compactly designed automotive diagnostic tool comes with a large 8-inch TFT-colored led touchscreen for a clear display of codes, graphs, and texts. It is simple to use by just connecting it to Wi-Fi and performing updates too for free for the first year. Furthermore, the code reader has unparalleled obd2 functionalities and prints out recorded data anytime and anywhere with the use of Wi-Fi. Also, the scanners are compatible with more than 80 US domestic, Asian, and European vehicles.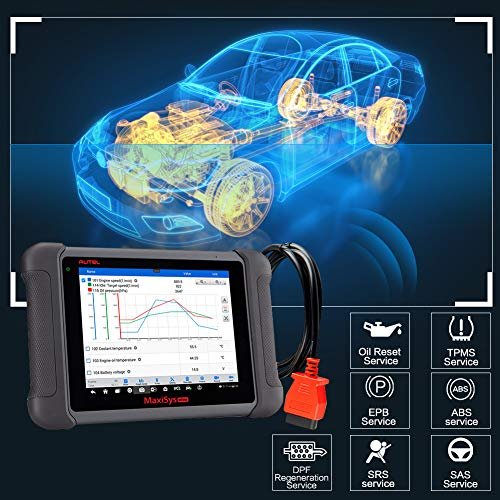 Check Price
Other excellent features that this durable Autel model offers to users are advanced USB communication, intelligent memory of vehicle diagnostics, innovative dual-processor technology, VNC remote control software, etc. Unlike most car scan tools, this Autel model provides free internet software updates, and the manufacturer provides a 12-month warranty to the buyer. Whether it's displaying live diagnostic data in text, graph, and in analog views or recording and playback live data, use this diagnostic car scanner to perform such roles and many others.
Not only does this diagnostic scanner save the user from spending cash visiting a mechanic, but it can also be applied to a number of car brands and models. It will ensure that codes are read well and accurately.
Many motorists or car owners spend a lot of money on servicing their vehicle systems. This, at times, is costly as one uses a lot of cash and wastes time visiting a workshop for diagnostic tests. To save on cash and time wasted to diagnose check engine lights, one can acquire a powerful obd2 scan tool such as this model from Autel. The user will carry out tests the moment they discover trouble with the engine. If you need a more cheap scan tool, then check Autel Maxicom MK808.
This is a high-performance diagnostic scanner that captures, saves, and prints screenshots for convenient troubleshooting. In addition, it has VNC remote control software built in. Generally, this is a high-performing obd2 scan tool.
This model from Autel has powerful features that place it among the best obd2 scanners on the market. These features allow it to be in a position to read, record, and erase trouble codes with much ease.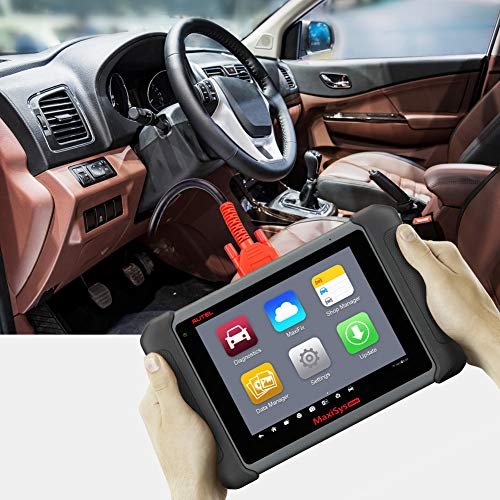 Check Price
These include wireless connectivity, tire pressure monitor, built-in overvoltage protection, advanced USB communication, and innovative dual-processor technology, among other top features.
Compatible with several vehicles
One of the joys of being a professional mechanic is having an automotive diagnostic scan tool that can be applied to several cars instead of just a few of them. This Autel ms906 model is compatible with over 80 American, European, and Asian vehicles. This makes the gadget a likable option for professional mechanics and DIYers.
Autel is famously known for creating quality car diagnostic scanners on the market. This is a high-quality scanner and has excellent features that ensure accurate data is acquired. It is well-built and can withstand shock resistance.
Easy to use the Autel ms906
The scan tool also comes with an easy-to-use touchscreen. It is large and colored for easy reading of the displayed information. For a beginner or newbie to get started with this scanner, they need to read a user manual, and they will use it very easily.
For individuals looking for a durable and long-lasting scan tool, this model is excellently made for longevity. It has a tough ergonomic design made up of multi-layered rubber protection and strong housing that is shock-resistant.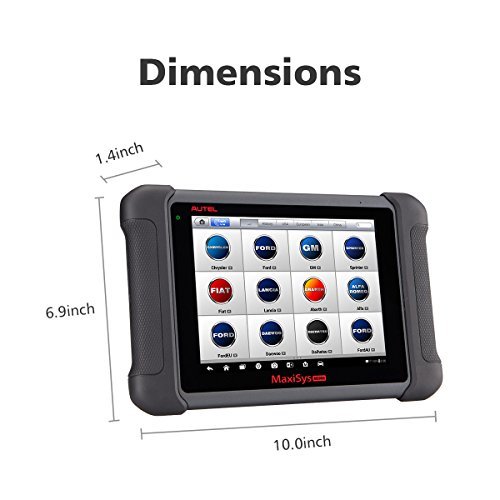 Check Price
In addition, it is compact and can fit in tight places, making it easy to use.
Autel ms906 Has a power backup
This device comes with a power backup that is made up of lithium batteries. These are rechargeable and can run for long hours. In addition, they are environmentally friendly as they are degradable. These functions are better than the non-rechargeable types.
Large colored display screen
When it comes to the reading of data codes, graphs, and texts, the scanner has an 8-inch 800×480 pixels colored touchscreen where they are displayed. It is large enough to clearly show the displays for easy reading.
A distinct feature of the Autel ms906 is its wireless Wi-Fi connectivity. This feature allows the user to easily use the automotive scanner without connecting directly. Also, it enables updates to be carried through internet connectivity.
Buyers of this excellent model get 12 months of free internet updates. This allows the user to update their apps and software on a weekly basis. This is an amazing feature, and most of the latest diagnostic scanners have it.
Warranty and world-class technical support
Autel is a wonderful brand that has full trust in its products. This model, just like any other Autel scanner, has a one-year warranty from the day of purchase. In addition to this warranty, Autel has one of the best technical supports in the world. Customers get to ask questions that are answered by Autel technicians.
Summary: Why buy Autel Maxisys ms906 auto diagnostic scanner?
Complete function capability, including live data management, ECU programming, and many more
8-inch LED color display shows all the supported functions and data
Wide & excellent vehicle coverage for over 80 US domestic, Asian, and European vehicles
Records and playbacks live data to pinpoint troubles of sensors and components
Wi-Fi internet connectivity
Supports actuation tests
Unparalleled obd2 functionalities
Prints out recorded data anytime and anywhere with Wi-Fi
Free internet updates
One year warranty
Comparison Table:  Autel MS906  Vs Autel MS908 OBD2 Scanner
| | | |
| --- | --- | --- |
| Features | Autel MS906 | Autel MS908 |
| Processor:  | Cortex-A7 quad-core | Cortex-A9 quad-core |
| Display: | 8.0 inches | 9.7 inches |
| Wifi: | Single-band (2.4GHz) | Dual-band (2.4GHz & 5GHz) |
| Battery: | 5000 mAh | 11000 mAh |
| Input Voltage: | DC/12 V (9-35 V) | DC/12 V (9-24 V) |
| Camera: | 8MP | 5MP |
| ECU programming: | No | Yes |
Alternative of Autel MS906: Autel Maxicom MK808 Scanner
Processor: Cortex-A9 processor (1.5GHz)
Operating System: Android 4.4.4
SSD Memory: 32GB
Display: 7-inch LCD
Battery: 3200 mAh
Auto VIN Technology: Yes
DPF Regeneration: Yes
Battery Registration and Reset: Yes
ABS Bleeding: Yes
Active Test: Yes
ECU Information: Yes
Live Data: Yes
Read/Erase Codes: Yes
Conclusion
Taking into consideration all the top features and the perfect design that the Autel ms906 has, it is definitely among the best and most effective obd2 scan tools on the market. This will assist the user in taking good care of their car by identifying trouble codes in good time and diagnosing the situation. In addition, they erase DTC definitions and are very easy to use with their user-friendly touchscreen. Using this scan tool is simple as it comes with Wi-Fi connectivity. Autel is a top manufacturer, and buyers of this OBDII scan tool are offered a free internet update for 12 months and a one-year limited warranty. Also, this scanner is versatile in nature in that it can be utilized on different car brands and models. Such features and many more make it a powerful obd2 diagnostic scanner.
Kevin Nicholas is an automotive technician who is a genius at software and hardware-related issues. He manually tested more than a hundred OBD scanners and gave his honest opinion on whether the device was worth the money or not. His in-depth OBD review articles help people choose the right product, whether it is a European, American, or Asian vehicle. He completed his Automotive Specialized Training Course at Universal Technical Institute and has more than 15 years of experience in the field.