It is not a good idea to just randomly select a scan tool. Autel Al519 is one of the best-selling scanners from the Autel brand. If you end up selecting an OBD2 scan tool that isn't compatible with your car, you will regret it. Diagnostic scanners come with different features. This means that if a scanner lacks certain features, it may not be able to perform certain tasks. So, ensure that you make the right choice and choose the best. The Autel al519 scanner is easy to use, has a wide range of compatibility, accurate and fast diagnosis, online free update, etc., features included. It is a more advanced scanner than the Autel AL319 scanner. Read this Autel AL519 review article to know more about it.
| | |
| --- | --- |
| Technical Features | Autel Autolink AL519 OBD2 |
| Works: | ALL 1996 and newer vehicles |
| Display: | TFT color screen |
| Reads and stores Data: | Yes |
| Check Engine Light(MIL): | Yes, it determines the cause |
| Playbacks live sensor data: | Yes |
| Enhanced OBDII Mode: | 6 |
| Clears codes & resets monitors: | Yes |
| Update option: | Yes (Via the internet) |
| Emissions readiness checks: | Yes |
| Check mpg/miles per gallon : | No |
| Retrieves vehicle information: | VIN, CIN, and CVN |
| Views freeze frame data: | Yes |
| Voltage: | 12v |
| Dimensions: | 7.8 x 4.1 x 1.5 inches |
| Weight: | 2.05 pounds |
| Get transmission codes: | Yes |
| Price: | Check Price |
Autel AL519 Scan Tool Review & Specs



One of the notable diagnostic scan tool brands on the market is Autel. In this review, we are going to look at the Autel al519 code reader. This may not be the best diagnostic scanner from Autel, but it's still a great device. It is suitable for individuals who don't want to spend so much to acquire a diagnostic tool but still get the job done.
The Autel AL519 scanner carries out both basic and professional functions. It is compactly designed and lightweight for easy carry. I also like the Autel AL619 ABS OBD2 scan tool for its portability.

The built-in speaker and TFT screen make the reading of codes and result easily and very fast. Also, it is able to support all ten modes of the OBD2 test for a complete diagnosis. Use it to view freeze frame data and retrieve different codes. It is powered by lithium metal batteries, which act as a backup in case you run out of power. With its versatility, you can use it on different cars as long as they were built from 1996 onwards. It doesn't matter if they are domestic, Asian, or European vehicles.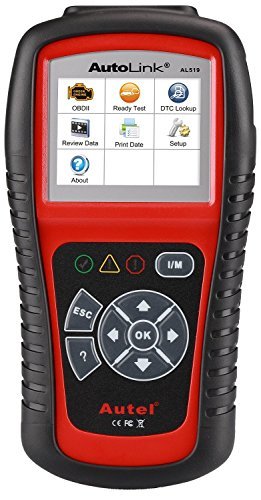 Check Price
Technical Specifications
It has a patented one-click readiness key
Turns off the check engine light
Bright color-coded LEDs
Supports all ten modes of OBDII test for a complete diagnosis
Views freeze frame data
Built-in speaker
Reads, records, and plays back live sensor data
It can be updated via the internet for compatibility with newer vehicles
Functions on all 1996 and newer vehicles
Retrieves generic, manufacturer-specific, and pending codes
TFT color screen for display
Powered by lithium metal batteries
12 volts
Weighs 2.05 pounds
Benefits of using the Autel AL519 code reader
Technicians and mechanics know how crucial choosing the best OBD2 scanners is. A good code reader should save data and tell you why the check engine light is on. It should also read and retrieve generic, manufacturer, and pending codes. Most of the scan tools being made today function on all 1996 or newer vehicles, be they domestic, Asian, or European.
Durable construction
This is a very important factor to consider when purchasing a scan tool. Diagnostic scanners are used in tough surroundings. So, having a poorly constructed scanner may be a bad decision. Autel creates quality scan tools that are durable and can withstand tough conditions. The Autel al519 is well built and will serve the user for a very long while before requiring a new device.
Compact design
Like Foxwell NT301 and Innova 3030, the Autel al 519 scanner is compactly designed for easy use and to fit in tight places. It is small and comfortably fits in the hands of the user. Also, the scanner is lightweight and can be carried to any destination without any problem. Due to its compact design, storing this device is easy. Keep it in the car or in the drawer in the garage.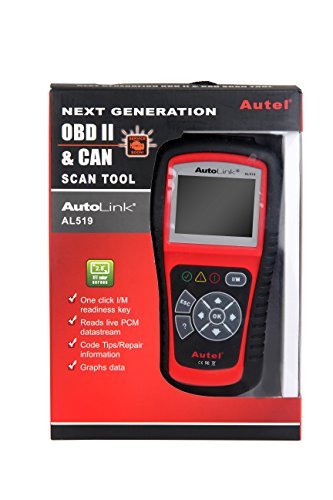 Check Price
Easy-to-use interface
Using a scan tool for the first time can be very challenging. If you are a start-up technician or mechanic, you need to learn how to correctly read the codes displayed. The Autel al519 is an easy-to-use device for both start-ups and professionals as well. It comes with a patented one-click I/M readiness key that provides fast state emissions readiness checks and drives cycle verification. The tool is as well accompanied by a user manual that helps the mechanic to insert the cables the right way and read codes as needed.
Large display screen and built-in speaker
Reading codes or results is very easy. The scan tool has a large colored TFT display screen where codes are read from. In addition, it has a built-in speaker that provides an audible tone for readiness verification. This makes the reading of codes easy and fast. If you need more advanced features with a large display, then I will suggest buying Autel Maxidas ds708 or ds808k.
The great mid-range scanner at a great price
If you want to check simple issues with your cars, such as checking engine lights and freeze frame data, this is the best tool for the job. With outstanding features, this mid-range scanner is offered at a very great price but functions well than scan tools in the same category.
Backup battery
Another great point to note about this diagnostic scanner from Autel is that it has a battery backup. Normally, scan tools use power from the engine. But in case you run out of power, the Autel al519 has a backup power supply that functions even when the engine is switched off. This is a great idea, and it helps a lot. So, you don't have to worry about solely relying on engine power.
Related product: Check the feature details of the Autel Maxidas DS708 scanner
When I first bought this scan tool, I thought it would turn out to be a bust like the other models in its price range. I guess I was wrong, as it has functions beyond my imagination. I will continue to use it as I have come to love its ease of use and reliability, even when the power runs out.
Functions on all 1996 or newer vehicles
This scan tool functions on vehicles constructed from 1996 or newer. This includes domestic, European, and Asian vehicles. But you should be wary of old GM vehicles. So, you can use it on your Subaru Legacy, BMW, Mercedez Benz, Ford, and many other cars.

Check Price
Additional accessories
On purchase of this device, you get a nylon case, USB cable, CD, OBDII cable, and user's manual. The nylon case can be utilized to keep the USB cable and obd2 cable when not in use.
Shortcomings of the Autel AL519 OBD-II scanner
Even though the Autel AL519 scanner is an excellent tool, it isn't perfect and has its own troubles. First of all, the diagnostic scan tool doesn't update easily, as stated. Updating the device is very difficult. The lack of updates makes this tool to be unable to record the requisite codes, more so if they are complicated.
Another shortcoming is that the scan tool has some incompatibility issues. It doesn't read ABS and SRS functions, which are very crucial to have in a quality scan tool. So, if you have an old model GM car, there is a high chance that this scanner won't function on it. In that case, you have to use the Autel MaxiLink ML629 scanner. I have explained everything in this Autel AL519 review that you should know.
Autel AL519 firmware update:
Go to https://support.autel.com/support/ and click on "Firmware & Downloads" and then "CLIENT UPDATE"
Now extract the file on your PC and run the setup.exe file.
Go to "SOFTWARE UPDATE PACK" or directly download through this link: https://www.autel.com/autelcms/u/cms/www/201808/27221317jcfp.zip
Extract the file. Use the BIN file to update the program and the AUT file to update the DTC library. To complete the task, connect the AL519 scanner to your PC and click on all the update buttons.
Summary
If you are a professional looking for a quality mid-range scan tool, the Autel al519 scanner is a great addition. It can perform the basic as well as professional tasks of a scan tool. The diagnostic scanner is sturdily built and lightweight. Also, it is more advanced compared to the Ancel AD310 affordable scanning device. Thus, you can move it from one location to another without any problem. Its compact design makes it ideal for working in tight areas, and the TFT screen with audible sounds makes relaying data easy and quick. At such a great price, this tool is marvelous and will make the work of a driver or technician simple and fast.
Bonus article: Autel AL539 vs. AL539B: Key Differences
Kevin Nicholas is an automotive technician who is a genius at software and hardware-related issues. He manually tested more than a hundred OBD scanners and gave his honest opinion on whether the device was worth the money or not. His in-depth OBD review articles help people choose the right product, whether it is a European, American, or Asian vehicle. He completed his Automotive Specialized Training Course at Universal Technical Institute and has more than 15 years of experience in the field.