Autel is among the top diagnostic scan tool brands on the market. They produce high-quality, accurate, and reliable scan tools. That's why picking from one of their products is never easy, especially if they share similar features like the Autel AutoLink AL539 and AL539B.
The Autel AL539B and AL539 perform OBD2 functions and act as an electronic component tester. However, the Autel AutoLink AL539B also provides battery testing services, making it slightly more advanced than the AL539.
If you're having difficulty selecting between these two entry-level diagnostic scan tools, you're in the right place. This in-depth review will highlight their features, pros, cons, similarities, and differences. Ultimately, interested buyers will have a simple time picking the ideal scan tool for their needs and budget.
Comparison Table: Autel AL539 VS Autel AL539B
| | | |
| --- | --- | --- |
| Features: | Autel AL539 | Autel AL539B |
| Display : | TFT color display (320 x 240 dpi) | TFT color display (220 x 176 dpi) |
| Weight: | 2.3 pounds | 2.44 pounds |
| Item Dimension: | 74.8 x 31.5 x 102.36 inches | 11.61 x 9.8 x 3.31 inches |
| Vehicle Coverage: | Some protocols are missing | KWP2000, ISO9141, VPW, J1850 PWM, J1850, and CAN |
| EVAP : | NO | YES |
| Multimeter: | NO | YES |
| Battery Check Technology: | NO | YES |
| Price: | Check Price | Check Price |
Autel  AutoLink AL539 Scanner: Quick Overview
The Autel AL539 is an elegant entry-level scan tool that helps users read OBD2 modes and AVOMeter easily. It will prepare the user for vehicle emission checking, O2 sensor test, and on-board diagnostics status monitoring.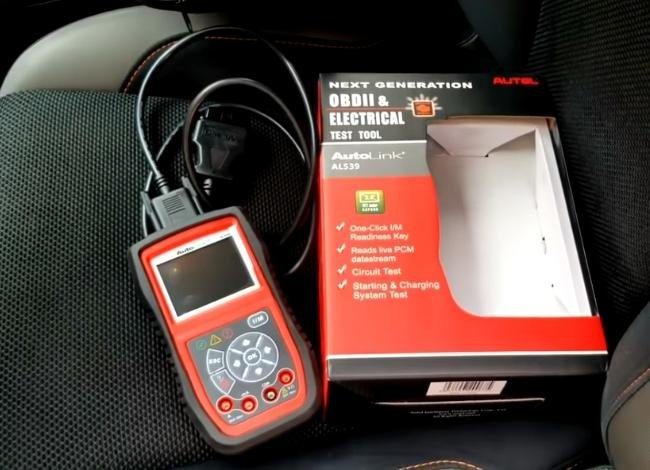 This Autel scan tool is an upgraded version of the Autel AL519, so you can use it as an electrical tester to diagnose 12V charging systems and starting systems and check the condition of a discharged battery. Besides, the unit is compact, sturdy, and easy to use. The buttons are very well labeled, and the large display shows all the results.
The AL539 is a fantastic tool for beginner electricians and mechanics with excellent construction and performance.
Pros:
It is well made to last
It is straightforward to use
The scanner is affordable
It is compactly designed for swift use and storage
It offers comprehensive vehicle coverage
The manufacturer provides free lifetime updates
It can test your car's electronics
Cons:
It has a limited number of functions
Updating this scan tool is somehow cumbersome
Autel  AutoLink AL539B 3-in-1 Scanner Overview
The Autel AL539 may be an upgraded version of the Autel AL519, but the Autel AL539B is an upgraded version of the Autel AL539B. Unlike the AL539, the AL539B comes with a battery tester. Hence, it costs slightly more than its sibling. Aside from that, these two Autel scanners share many features, from construction to the hardware and features they perform.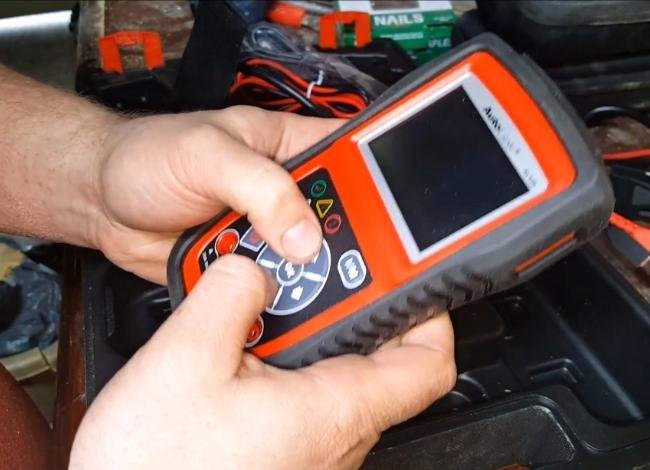 Since the Autel AL539B has additional functions, it is slightly costlier than its predecessor. But it also has free lifetime updates and can be used to test electrical components in a vehicle. It is better suited for people who not only want to test OBD2 modes but also diagnose battery health.
Pros:
It is sturdily constructed to last
It is easy to use
The scanner is compactly built for ease of use and storage
It prepares your car for the emissions test
It supports all the 10 OBD2 test modes
The device can be used to test the car's battery
The unit works with most 1996 and newer domestic and foreign vehicles
It comes with free lifetime updates
Cons:
It is slightly more expensive than the AL539 and AutoLink AL319 scan tools
Updating this tool is quite cumbersome
What are the similarities between the Autel AL539 and AL539B?
The Autel AL539 and AL539B have a lot of similarities. First and foremost, they have a similar design and finish, making it hard for beginners to differentiate them. Secondly, they offer OBD2 functions and diagnose the vehicle's electrical system. Thanks to the AVOMeter that every scanner is equipped with.
Furthermore, they come with free lifetime updates, meaning the user will always have the latest bug fixes to tackle issues on the most recent car models. They are also equipped with audio and visual features to ensure the user gets the results regardless of the condition around the work area.
Apart from the full OBD 2 test modes that they offer, other functions they provide are charging system test, resistance test, starter test, AC/DC voltage test, resistance test, diode test, and current test.
What are the main differences between the Autel AL539 and AL539B?
The first difference is that the Autel AL539B provides a battery test, while the Autel AL539 does not. The second difference is that the AL539 has a bigger housing and unit than the Autel AL539B. The AL539 measures 74.8 x 31.5 x 102.36 – inches, while the AL539B measures 11.77 x 9.06 x 3.7 – inches.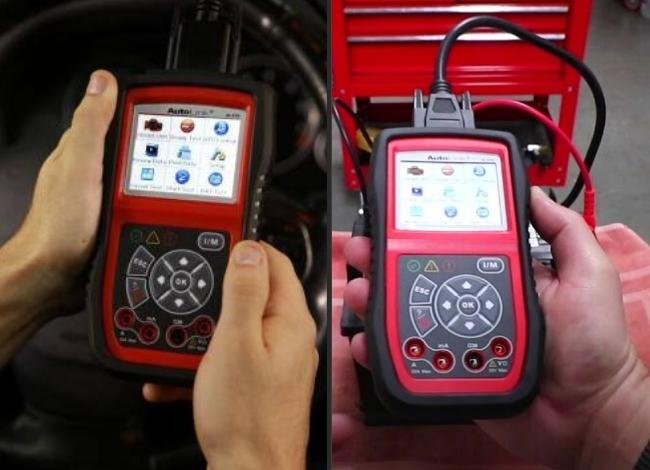 Surprisingly, the AL539 is much lighter than the AL539B as it weighs 2.3 pounds compared to 2.44 pounds for the AL539B scan tool. On top of that, the AL539 provides better resolution with its 320×240 TFT color display screen, while the AL539B TFT color display offers a 220×176 resolution.
Another main difference is in terms of price. The Autel AL539 is much cheaper than the Autel AL539B. This is because the latter comes with additional functions, making it slightly costlier.
Recommendation: Who should buy which scan tool?
Both scan tools are excellent and will not only help you to diagnose your car but also help you test the electronics on your car. But if you want to know the health or status of your battery, consider picking the Autel AL539B scan tool as it comes with an additional function of testing the battery.
On the contrary, if you're looking for an inexpensive but efficient scan tool with basic functions and the capability to test electronics on your car, the Autel AL539 is the better option. You will get almost similar functions but at a fraction of the price of the AL539B.
Summary
The Autel AutoLink AL539 and AL539B code readers are two excellent scanners that cover most basic functions but also test electronics on the car. They both cover full OBD2 test modes and can be used to find out whether your vehicle will pass the I/M readiness test.
However, if you want a tool with more features, the Autel AL539B offers battery testing, which the AL539 doesn't. But you should be ready to pay more. Aside from that, these two tools have the same design and share a lot of functions. Therefore, the AL539 scanner is the best choice if you're on a budget.
FAQ
What is the function of the built-in AVOMeter?
This feature allows the user to test the circuit. Therefore, the user will diagnose the vehicle's electronic system with a lot of ease. As a result, they can also analyze DC or AC voltage, continuity, and current precisely and effectively.
How do I update the Autel AL539 or AL539B scan tool?
Updating the AL539 is very easy. Start by downloading and installing the "Autel Maxi Link II Tool Kit" on your computer. Next, connect the scanner to the computer using a USB cable, then run the update via the internet. With this simple procedure, your tool will have the latest software version to help you fix most problems.
Can I use the Autel AL539 or AL539B to diagnose my car's system?
No, you cannot. This is because none of the above scanners can diagnose any car's system. Whether it is the engine, transmission, SRS, ABS, or even the entire system, it won't be possible. Instead, you will have to invest in a more advanced scanner to diagnose most vehicle systems.
Nonetheless, these two scanners will only allow you to check engine emission-related issues on your car.
Will this scan tool work on a 2000 BMW 328i model?
Yes, it will. Whether you pick the Autel AL539 or AL539B, they will work with a 2000 BMW model. These scanners are compatible with most 1996 and newer domestic and foreign cars, light trucks, and SUVs.
Kevin Nicholas is an automotive technician who is a genius at software and hardware-related issues. He manually tested more than a hundred OBD scanners and gave his honest opinion on whether the device was worth the money or not. His in-depth OBD review articles help people choose the right product, whether it is a European, American, or Asian vehicle. He completed his Automotive Specialized Training Course at Universal Technical Institute and has more than 15 years of experience in the field.