Konnwei KW808 diagnostic scan tool is a reliable and accurate diagnostic code reader. It is affordable but still performs functions of top-range scan tools. It has a large screen that makes the reading of error codes to be easy and quick. This scanner supports all 9 OBDII test modes on all OBD2, EOBD, and CAN-compliant vehicles. It covers vehicles manufactured from 1996 and current, such as Ford, Chrysler, Honda, Toyota, Nissan, etc.
You can utilize it to detect pending codes, retrieve vehicle information, read live PCM data stream, display monitor and I/M readiness status, and many other functions. Read our Konnwei KW808 Reviews to know more about this scan tool.
Technical specifications of the Konnwei KW808 obd2 scanner:



| | |
| --- | --- |
| Features | Konnwei KW808 |
| Works: | ALL 1996 and later vehicles |
| Display: | DTC definitions on unit screen |
| Check Engine Light(MIL): | Easily determines the cause |
| o2 sensor test data: | Yes |
| Reads live PCM DataStream: | Yes |
| Identifies pending codes: | Yes |
| Playbacks Live Sensor Data: | Yes |
| Reads, stores Data: | Yes |
| Playbacks live sensor data: | Yes |
| Clears codes & resets monitors: | Yes |
| Graphs data c (1996 and newer): | Yes |
| Retrieves vehicle information: | VIN, CIN, and CVN |
| Views freeze frame data: | Yes |
| Prints data via PC: | Yes |
| Reads live PCM datastream: | Yes |
| Software Update: | Free Update via Internet |
| Prints data via pc: | Yes |
| Get transmission codes: | Yes |
| Price: | Check Today's Price |
Konnwei KW808 Reviews (video):
The Konnwei KW808 can be upgraded via the internet, and it supports CAN and has memory/battery for backup or off-vehicle information. This is definitely an amazing scanner for both mechanics and DIYers to diagnose the toughest error codes on your vehicle. You can also take a look at the Ancel AD310 Universal OBD II Scanner, which price is almost the same as Konnwei KW808.
Features of the Konnwei KW808 scan tool
Built-in OBD2 DTC lookup library
Supports all OBD2 test modes
Compatible with numerous vehicles
Reads live PCM datastream
OBDII protocols
Memory/battery backup
Shows DTC definitions on unit screen
Displays live O2 sensor test data
Performs modules present test
Displays monitor and I/M readiness status
Detects pending codes
Reads, stores, and playbacks live sensor data
Retrieves vehicle information
Software upgradeable through the internet
It Covers 1996 vehicles and newer models
Carry case
Benefits of the Konnwei KW808 diagnostic code reader
Sturdy construction
Like Autel AL319 and Foxwell NT301, Konnwei KW808 is a sturdily constructed scan tool. It is made from a durable plastic casing that can resist tough conditions that the mechanic or technicians work in. This makes it be a durable device and can be utilized for a very long period of time by the user. In addition, it has a carry case for easy transportation and storage.
Easy to use the device
If a scan tool is complicated or has a wide range of features, it might be difficult to use. This is not the case with the Konnwei KW808 diagnostic scanner. This is because it has an easy-to-use interface and a large easy to read backlit LCD screen. Hence, you will be able to clearly read and clear codes.
Related article: Is it worth buying an upgraded Innova 3030 code reader?
Software upgradeable
One of the features that mechanics look for in a scan tool is if it is upgradeable or not. A good scan tool should be updateable so that it can be used to scan the latest car models. Konnwei KW808 diagnostic scanner can be upgraded via the internet. All you need is to connect it to a PC by use of the USB cable and upgrade the software.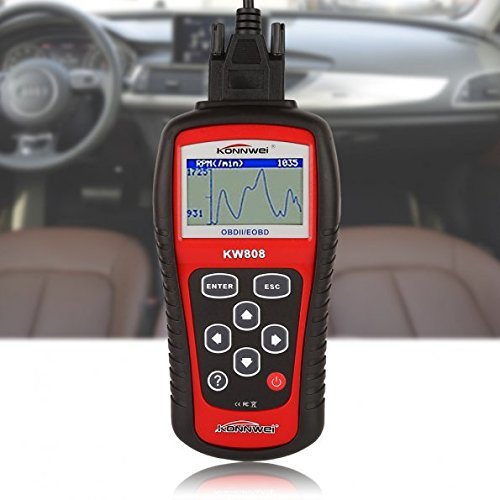 Check Price
Performs a wide range of functions
As simple and sleek as the Konnwei KW808 car scan tool appears to be, it is able to perform a wide range of functions. This means it can be utilized by both DIYers and professional mechanics. Here are some of the functions that it performs on different cars; it views freeze frame data, displays O2 sensor test data, displays DTC definitions, carries out modules present test, retrieves vehicle information, displays monitor and I/M readiness status, and many other functions.
Battery/memory backup
In case your car engine runs out of power, or if it is switched off, you can always proceed to scan error codes and clear them, too. The Konnwei KW808 diagnostic scanner comes with a backup battery that can power on the scan tool even when the car is off.
The compact and portable device
The Konnwei KW808 device comes with a carry case for keeping it and for easy transportation. You can keep the USB cable, OBD2 linking port inside the bag. This will ensure the safety of the scan tool.
Wide vehicle coverage
This code reader model from Konnwei covers different car makes and models manufactured from 1996 and newer. Some of these vehicles include Toyota, Ford, Nissan, Chrysler, Honda, and other Asian and European 1996 and current vehicles.
Setbacks of the Konnwei KW808 scan tool
The scan tool is made up of a low-quality display that sometimes doesn't display the information well, or it becomes white.
It is not compatible with all the vehicles that it says it is. Make sure that it is compatible with your vehicle before buying.
The scan tool doesn't read ABS airbag or SRS codes. Also, it doesn't tell you how to fix the fault codes, which is a big issue.
Bottom line
At such an affordable price, you will get to read and erase different fault codes on your car. Unlike other professional scan tools, the Konnwei KW808 scan tool is very easy to use with a simple-to-comprehend interface and large TFT backlit screen. The scan tool is upgradeable over the internet and covers vehicles manufactured from 1996 and newer. Get to perform various functions like displaying live O2 sensor test data, viewing freeze frame data, retrieving vehicle data, and many other functions. Comment below if you have any questions after reading our Konnwei KW808 reviews.
Still, have a question after reading this Konnwei KW808 Reviews? Comment below
Kevin Nicholas is an automotive technician who is a genius at software and hardware-related issues. He manually tested more than a hundred OBD scanners and gave his honest opinion on whether the device was worth the money or not. His in-depth OBD review articles help people choose the right product, whether it is a European, American, or Asian vehicle. He completed his Automotive Specialized Training Course at Universal Technical Institute and has more than 15 years of experience in the field.