There are many types and brands of scanners, but you should choose the best brand, like Foxwell. A quality scan tool can save lots of money. Foxwell NT630 plus scanner is a great tool to diagnose a car. The NT630 code reader that you pick should be updateable and compatible with a wide range of vehicles within your budget. Simply connect the code reader by linking it to the OBD2 port below the steering.
What does the Foxwell NT630 have that the NT514 Elite and BT705 don't?
ABS auto-brake bleeding, bidirectional control, SAS calibration
What feature does the Foxwell NT630 lack?
EPB/Oil Light Reset, Transmission Codes, Car Battery Tester
Make sure that you always acquire quality and a reliable OBDII scanners. A great diagnostic scan tool like Foxwell NT30 plus will help you find the trouble code and solve the issue that your vehicle is facing.
Technical specifications of the Foxwell NT630 Plus scanner
| | |
| --- | --- |
| Price & Rating: | Check Here |
| Works: | ALL 1996 and later vehicles |
| Display: | DTC definitions on unit screen |
| ABS Active Test: | Yes, (Typical special test options include) |
| Airbag Diagnostic Functions: | Yes |
| Global OBDII: | Yes |
| Show ABS live data: | Yes |
| ESP sensors data: | Yes |
| Full OBD2 Service Function: | Yes |
| Reads and stores data: | Yes |
| Service Functions: | Yes! Reset Check Engine Light, ABS, and Airbag Service Light |
| Steering Angle Sensor Calibration: | Yes, (For more than 35 car makes) |
| Bi-directional Control Tests: | Yes |
| Life-long Free Updates: | Yes |
| Update Tool: | FoxScanner |
| Mode: | 6 functionality |
| Dimensions: | 13.5 x 9.2 x 3.2 inches |
| Weight: | 3.2 pounds |
| Warranty: | One-Year Limited Warranty |
| Price: | Check Price |
FOXWELL NT630 Bidirectional Scanner Review
Whenever you see CEL on your car's dashboard, you shouldn't take it for granted. Get it diagnosed at a repair shop or acquire a diagnostic scan tool to diagnose it by yourself. And before you erase the error codes, ensure that the problem is rectified by checking the error codes online and knowing what part of your car is causing the light to come on.
Among the various scan tools on the market, the Foxwell diagnostic brand is one of the best. Just recently, I acquired the Foxwell nt630, and very glad that I did. The Foxwell nt630 diagnostic code reader has outstanding features that many mechanics and motorists look for in the best scan tools. The tool shows results faster than the cheap Foxwell NT301 device. This scanner is able to support at least 10 different OBD2 test modes such as O2 sensor test, live data, component test, and much more.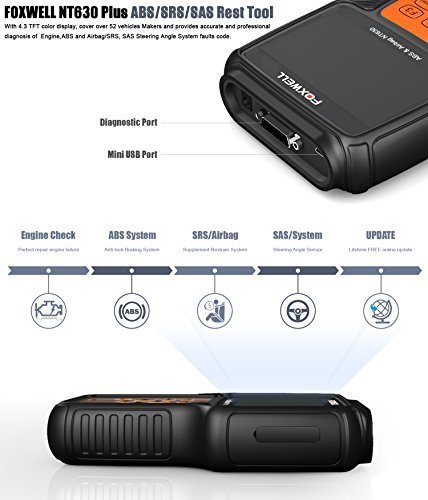 Check Price
Furthermore, the user can use English or Spanish language. The large TFT screen makes the reading of the error codes to be simple and quick. It is ergonomically designed and ruggedly built for versatile use. With incredible coverage of at least 52 different vehicles, you can be glad that this scanner will read and erase codes on different types of cars. In addition to reading trouble codes, it has the capability to provide an accurate and professional diagnostic of the Anti-lock braking system and airbag faults.
Related article: Check the review of Nonda Zus OBD2 wireless scanner with pros & cons
Foxwell NT630 Plus Automotive ABS Scanner Features
Reads and clears codes and turns off ABS/Airbag warning indicator
Supports all 10 OBDII test modes
3-inch TFT color screen and menu-driven options
Delivers SAS calibration on more than 35 vehicles, makes
Has English and Spanish languages
Enhanced OBD2 Mode 6 functionality
Covers an incredible range of 52 manufacturers, with the latest models included
Retrieves ECU information
Code troubleshooters offer you a faster and easier diagnosis
Ergonomic design
Provides live data graphing
Provide accurate diagnosis on ABS, SRS, and steering angle system
Lifetime free update
USB cable
Memory card
User's manual
Why use the Foxwell NT630 Scanner?- Our Findings
Sturdily built with durable plastic
It doesn't matter if you are a mechanic or DIY; having a strong and durable OBD2 scan tool is important. The Foxwell nt630 scanner is solidly built from durable plastic. It will serve the user for a long period of time before acquiring a new scanner.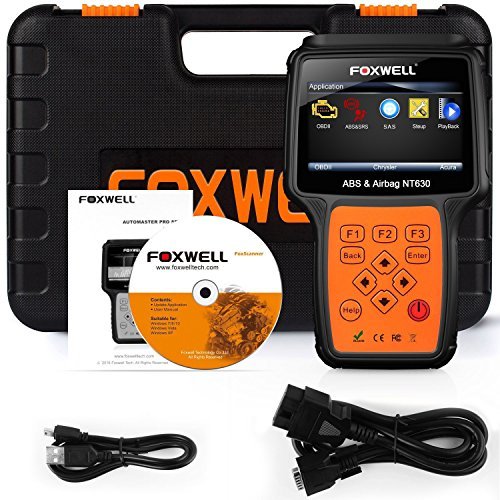 Check Price
Sleek and ergonomic design but has a small display
The nt630 diagnostic scanner is a sleek and well-designed scanner. It is very easy to handle with its ergonomic design. This scan tool can be used in tight places as it measures 12.6 by 8.5 by 3 inches. In addition, it weighs just 3.24 pounds which means that carrying it around the shop or in your car isn't a problem at all. For a larger display, you may look at the Foxwell NT510 model.
If you have been finding it difficult to read or interpret your scan tool, the Foxwell nt630 code reader is very easy to read and interpret. This is because it comes with a 4.3-inch TFT color screen that displays the outcome of the read error codes. It is as easy as 1-2-3.
10+ wide range of feature
Similar to high-end diagnostic scanners, this scan tool offers a wide range of features. It allows the user to diagnose the ABS system, read and clear error codes, and as well tell you what is wrong with the ABS system when the service light comes on. Also, it supports all 10 OBD2 test modes like the component test, live data, O2 sensor test, and many others.
Multilingual options and code definitions
One of the unique features of this code reader is that it has two languages to choose from. This is English and Spanish. So, the user has the opportunity to select the language he or she understands better. Also, the scan tool enables the user to read different codes and clear them too. Also, it offers Bi-directional control that Foxwell NT510 doesn't offer.
Update the latest software for free
Another good thing about this diagnostic scanner is that it is updatable, like the Foxwell NT624 diagnostic scanner. The lifetime free update feature makes it possible for the user to have the latest software, which enables the device to function on newer car models, even those built in 2016/2017. All you need is to update the diagnostic scan tool on the internet and get started. Updating the device will enable your device to have the current bug fixes, new cars, newly added parameters, and functionality.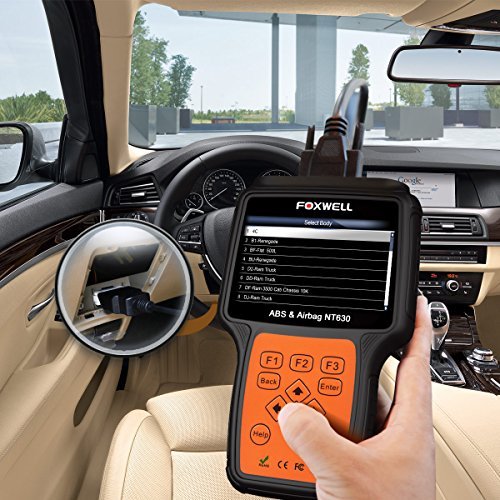 Check Price
Compatible with a wide range of vehicles
In case you have different types of cars, or you work or own a car repair shop, this is the ideal diagnostic scanner to have. It is compatible with more than 52 cars and offers precise diagnosis on ABS, SRS, and steering angle systems. As well you can use it on newer car models, even those built in 2016/2017, as it can be updated via the internet.
Saves time and labor cost
Using this scanner helps you save time and overall labor costs. This is because it enables the user to use the scan temporarily active or control the ABS/airbag system or component. Also, you can inspect electronic components like sensors, actuators, switches, and relays are all made simple. This saves you time.
Related article: Check the differences between Launch CRP123 and CRP129 Scanners
Cons of the FOXWELL NT630 Plus Auto Bleed Scan Tool
Not compatible with all vehicles
A good number of users have complained that this scan tool is not compatible with their vehicles. This is a serious issue, and one needs to test the scanner before buying it.
Unsupportive customer care with no US number
A reliable brand is one that offers support to clients whenever they need it. This is not the case with the Foxwell n630 scan tool, as it doesn't have a number in the US where you can reach their customer care. You will have to send an email to them, and they are based in China.
It functions slowly
A good number of users have reported that this device functions slowly, which is a setback for such a quality scan tool. Also, it is not a Bluetooth-supported car scan device.
Comparison Table: Autel MOT Pro EU908 vs. Foxwell NT644 vs. Foxwell NT630 OBD2 Scanner
| | | | |
| --- | --- | --- | --- |
| Features | Autel MOT Pro EU908 | Foxwell NT644 | Foxwell NT630 |
| Screen Size:   | 3.3 inches | 4.3 inches | 4.3 inches |
| Live Sensor Data:  | Engine Olny | All Systems | Engine, Airbag, ABS |
| Vehicle Coverage:  | Over 50 Makes | Over 50 Makes | Over 50 Makes |
| System Coverage:  | All System | All System | Engine, Airbag, ABS |
| Freeze-Frame Data:   | Yes | Yes | Yes |
| On-Screen Text Definitions of Codes:    | Yes | Yes | Yes |
| Free Updates:  | 1 Year | 1.5 Year | 1.5 Year |
Final Thoughts
As sleek as the Foxwell nt630 scan tool looks, it is able to read and erase problematic codes that appear on your vehicle. In addition, it covers a wide range of vehicles and supports all 10 OBD2 test modes. It has lifetime free updates and a 4.3-inch color TFT screen for easy reading and erasing of error codes. Other functions of this professional code reader include diagnosing the ABS system, reading and clearing error codes, and indicating what is wrong with the ABS system when the check engine light is on. It retrieves ECU information and provides live data graphing. Such features and many others make this scan tool offer accurate readings. I hope you have gotten a clear idea about this scanner after reading this Foxwell NT630 review.
Kevin Nicholas is an automotive technician who is a genius at software and hardware-related issues. He manually tested more than a hundred OBD scanners and gave his honest opinion on whether the device was worth the money or not. His in-depth OBD review articles help people choose the right product, whether it is a European, American, or Asian vehicle. He completed his Automotive Specialized Training Course at Universal Technical Institute and has more than 15 years of experience in the field.