The Innova brand is one that has set its standards high, and it's well known for its quality and reliable obd2 scan tools. Normally, their scan tools are highly priced, but not the Innova 3030 code reader. This is an affordable scan tool ideal for entry-level professionals or DIYers, just like the Innova 3120. Read this Innova 3030 review article to know more about this scan tool.
Every person loves having or using the best. That's what I can describe when it comes to tools and products. If you are a DIY enthusiast, you should choose the best tools if you want to perform the job outstandingly. Innova 3030 scan tool price is lower than the Innova 3040 code reader.
Technical specifications of the Innova 3030 Scanner

| | |
| --- | --- |
| Features | Innova 3030 |
| Works: | All 1996 or newer car |
| Check Engine Light: | Yes |
| Freeze Frame Data: | Yes |
| Emissions Readiness: | Yes |
| Read & Erase ABS Light: | Yes |
| Network Scan: | No |
| Oil Light Reset: | No |
| EVAP Codes: | No |
| DTC Severity: | Yes |
| Live Data Graphing: | No |
| All-in-One Patented Screen: | Yes |
| Data Refreshes: | Automatically every 30 seconds |
| Network Scan: | No |
| Active Test: | No |
| Steering Angle Reset: | No |
| Software Update: | Yes |
| Item Weight: | 6.4 ounces |
| Product Dimensions: | 10 x 6.5 x 2 inches |
| Price: | Check Today's Price |
Inexpensive Basic Tool Innova 3030 Review
A few features have been excluded from this Innova 3030 diagnostic scanner, but it still possesses the standard of other Innova scan tools. Read below Innova 3030 review to know more about this scanner. The newer version of this model is Innova 3030g and features almost identical.
The Innova 3030 obdII scan tool has some excellent features that make it get rid of your car engine issues. It erases check engine light and ABS light. It is very easy to use with a large display screen, and it's multilingual. The scan tool has a mini USB cable for updating, and it is compatible with a wide range of vehicles manufactured from 1996 and newer. With the display screen, it has the ability to show you up to 25 different pieces of data that are being displayed.
Features of Innova 3030 diagnostic scan tool with ABS for OBD2 Vehicles
Compatible with any 1996 or newer light truck, car, SUV, minivan, or hybrid, both domestic and foreign
Internet USB updateable and upgradeable
Erase check engine light and ABS light
Vehicle health monitors for instant vehicle emissions check
Automatically refreshes data every 30 seconds when linked to the vehicle
Functions on 1996 and newer GM, Ford, and Chrysler Vehicles
Patented all-in-one back-lit display
Mini USB cable
Measures 10 x 6.5 x 2 inches
Battery backup
Quick reference guide
One year warranty
Why buy Innova 3030 Diagnostic Code Reader?
Extremely durable
Similar to the other Innova products, such as Innova 3150 or Innova 3100, this scan tool is well constructed and of aesthetic design. It is also compact in design and can fit in tight places. The readily available ASE technical team helps the user to utilize this scan tool for a very long period. Call the technical team if you have any query and you will receive help.
Easy to use – this scan tool is very easy to use by simply plugging in and playing the device. When you scan the device, the information is displayed on the large LCD screen. Here, all the codes and data are read with much ease and fast. The parts of the device are made in a very easy and simple way.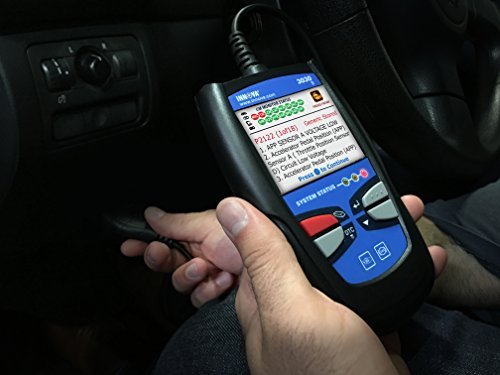 Check Price
Cost-effective
Innova scan tools are known to be costly and very sturdily built. This Innova 3030 scan tool is fairly priced but still has exceptional features to offer users. It may not have all the features of the top models, but it will check and erase codes.
Efficient in performance
The scan tool performs different services and has the ability to refresh and indicate both live and freeze data. Also, it provides clear and up-to-date coding. Such features make it be outstanding and very efficient in performance.
Has power backup
Not all scan tools can be used when the car engine is switched off or when out of power. This is not the case with this Innova 3030 scan tool, as it comes with backup power. This can be used when there is no power or if you want to save on the engine power.
Great compatibility
The unique thing about the Innova 3030 diagnostic code reader is that it has a wonderful compatibility ratio. It covers older OBD 1 and newer versions of OBD 2 compliant vehicles. Thus, it is able to identify different manufacturer-specific and genetic codes. It is compatible with any 1996 or newer light truck, car, SUV, minivan, or hybrid. This is for both domestic and foreign vehicles.
Exceptional features
The Innova 3030 has unique features like the automatic refresh that assist in determining the status of the proceeding repair. Another feature is data retrieval. It retrieves data from previous diagnosis outcomes of your vehicle. In addition, it retrieves specific, global, and pending codes. The emission readiness advisor feature enables the motorist or mechanic to determine the readiness of your car emission tests.
Optional repair solutions
If you have a problem and need help, there is the ASE technical team. All you have to do is to contact them and have the problem sorted out. It doesn't matter what the issue is, and this team will get it solved.
It is multilingual
Whether you speak English, Spanish or French language, you don't have to worry about this device at all. The Innova tool is multilingual, and as long as you understand one of the above-named languages, then you are good to go. This makes it fun to use as a person can utilize a language that they understand better.
It can be updated
If you acquire a new car or model, you can rest assured that this scanner will function on your computer interface. This is because it comes with an internet USB that enables it to be updated and function on the latest car models. Also, when in use, it automatically updates after every 30 seconds.
It is very easy to store
There are some scan tools or code readers that are large and heavy. The Innova 3030 code reader is made of a sleek, lightweight, and compact design. Measuring 10 by 6.5 by 2 inches, this device can easily fit in your pocket or be carried easily.
It comes with a year warranty.
Innova is a very reliable brand with a great reputation. For the years that this brand has been existence, it has continued to offer excellent and top-quality scan tools to the market. This is the same case with their Innova 3030 entry scan tool. Actually, they as well offer a one-year warranty on this product. So, you can be well assured of its performance and reliability.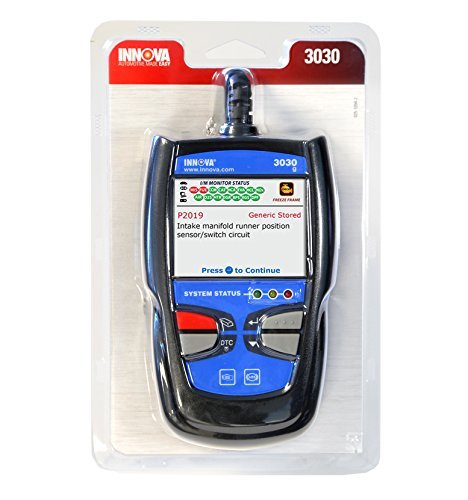 Check Price
Innova 3030g Review(Latest Version)
The Innova 3030g is the improved version of 3030. The main difference between Innova 3030 and 3030g is the display screen. Innova 3030g has colored bigger screens. On the other hand, Innova 3030 has a smaller black-white screen.
Cons:
If you are looking for a diverse scan tool like Battery-powered Innova 31603, then this is not the scan tool for you. It comes with little features for tackling a few basic functions. It is well suited for beginners.
On some occasions, the tool will detect the problem code but will not indicate how to repair the issue.
Summary
If you are a beginner in car repair, the Innova 3030 diagnostic code reader will be a great scan tool to start with. Similar to the top models, it will provide you with data from your onboard vehicle computer. The large display will show you all the outcomes of the codes read. In addition, it is compatible with a wide range of vehicles and is multilingual. This gadget is small and very easy to use and keep.
Though it is not a professional OBD2 scan device, the Innova 3030 diagnostic scan has features that are enough to check why the engine light is on and sort out any problems that your vehicle might be facing. Hence, you will be glad you got such a quality scan tool at a great price. Still, have a question after reading this Innova 3030 review? Comment below.