With many years of car repairing experience, I can say choosing the right OBD2 scanner isn't a simple task. When I started this job, I had to try out different brands and types of OBD2 diagnostic scanners. But with time, I have come to know which brands and types of OBD2 scan tools are the best. Not every famous brand or highly-priced tool that you see out there will get the job done and identify the issue with your car. Even some scan wrong error codes, while others fail to detect the car problems when there is actually a grave issue. The main features of this Innova scan tool model are the Check Engine light, ABS, SRS, EVAP, and Freeze Frame. Read this Innova 3100 review to know why I am suggesting buying this scanner tool.
Technical specifications of the Innova 3100 OBD2 Scanner:

| | |
| --- | --- |
| Features | Innova 3100j (Upgrade Version) |
| Works: | All 1996 and newer vehicles |
| Live data: | Yes |
| Check Engine Lights: | Yes |
| Emissions Readiness: | Yes |
| Oil Light Reset: | Yes |
| ABS/SRS Codes: | Yes |
| EVAP Codes: | Yes |
| Emissions Readiness: | Yes |
| Views freeze frame data: | Yes |
| Batteries: | 3 AA batteries are required. (included) |
| Software Updates: | Free updates |
| Dimensions: | 10 x 8 x 1.5 inches |
| Weight: | 2.5 pounds |
| Warranty: | Limited One Year Warranty |
| Price: | Check Today's Price |
After buying the Innova 3100 obd2 scanner, I thought it would turn out to be like the previous average scan tools that I have used before, but I was very wrong. The Innova 3100 code reader has stood the test of time and proven to be a quality diagnostic scan tool from a top brand. First of all, this tool is well built and functions with all cars that were assembled from the year 1996 and as well as newer cars. This is inclusive of SUVs, trucks, and minivans. The Innova 3100 diagnostic code readers are sturdily built and have a large display screen for reading the outcome. You can also compare this tool with Innova 3150 & Innova 3160 scanner.
Scan Tool Innova 3100 Review(Video):
The compact design of the 3100 diagnostic scan tool makes it easy to use and store. It is well reliable and quickly reveals what the problem is when connected to the car and computer. At such a great initial price, this is a great tool for DIY enthusiasts and start-up professional vehicle mechanics. Below are different models of the Innova 3100 scan tool. This price is much lower than the Innova 3120 model. Now let's check the review of 3 popular Innova scanners from the 3100 series with pros and cons.

INNOVA 3100 Diagnostic scan tool for OBD2 vehicles(

Initial Release

)
The Innova 3100 diagnostic scanner is an excellent device that can be used to diagnose cars, SUVs, light trucks, and minivans, either foreign or domestic. It is durably made to serve the user for over a long period of time and comes with a patented all-in-one screen and LED display for easy use and reading of error codes. With a backup battery and warranty, this is a great tool to have in your car for safe and sound driving.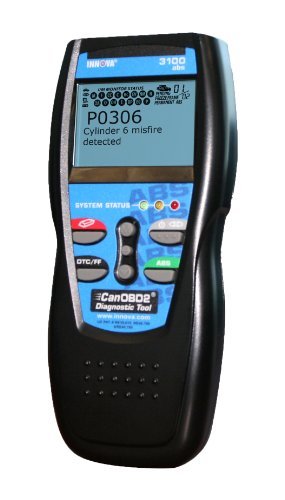 Check Price
Features Review of Innova 3100 Scanner

Read and erase ABS light trouble codes and repair solutions
Automatically refresh data every 30 seconds
Quickly shows the cause of check engine light warnings
Battery backup & internal memory storage
Features a patented all-in-one screen and LED display
Compatible with 1996 or latest cars, light trucks, SUVs, or minivans – domestic and foreign vehicles
Mini USB cable
Graphic data presentation functionality for proper diagnosis
Obd2 16-pin DLC cable
Pros:
This entry-level scan tool is durably built to last long and be used in tough environments.
It is user-friendly with a large screen display and three different languages.
This tool is reliable in performance as it comes with backup power for use when the devices run out of power.
The Innova brand offers great customer support to buyers of the scan tool
It makes repairing the car easy as it automatically refreshes data after every 30 seconds when connected to the car.
Innova scan too offers one year warranty
Cons
INNOVA 3100i Diagnostic code reader with ABS for OBD2 Vehicles(

Big screen

)
You can never go wrong with any Innova product. The Innova 3100i is another quality scan tool with outstanding features. It is ideal for use by starters as well as professional technicians. This is well built and has a large display screen for simple use. It performs out several tasks such as battery/alternator test, anti-lock braking system, check engine light, and freeze frame. Also, it uses 2 AA batteries and comes with a one-year warranty.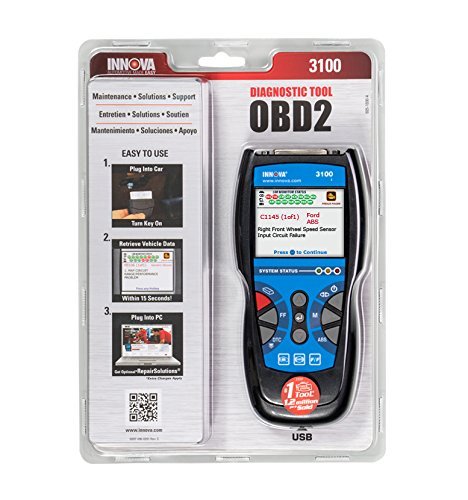 Check Price
Short Features Review of Innova 3100i Code Reader:
Battery/alternator tests
Red, yellow, and green LEDs
Quickly show the cause of check light warnings
Compatible with 1996 or newer cars, SUVs, minivans, light trucks, and as well hybrid
Freeze frame
2 AA batteries
Ant-lock braking system
Pros:
This is a versatile diagnostic scanner as it can perform several tasks such as checking engine light, battery/alternator test, anti-lock braking system, and freeze frame.
It is very simple to use with a large display and hotkeys. Also, it comes in three different languages.
The scan tool is compatible with any foreign or domestic 1996 or newer car, SUV, light truck, hybrid, and minivan.
Innova provides excellent customer support from Monday-Saturday from their ASE-certified technicians.
INNOVA 3100j Scan Tool with ABS and SRS for OBD2 Vehicles(

Latest Version

)
If you are a professional technician or DIY enthusiast looking for a reliable and advanced diagnostic scan tool, the Innova 310oj is what you should try out. It is made of a compact and lightweight design. The diagnostic scanner has a large screen display for easy use and comes with three different languages to choose from, which are French, English, and Spanish. Also, it has outstanding features that will enable you to diagnose several issues with your car in a quick and accurate way.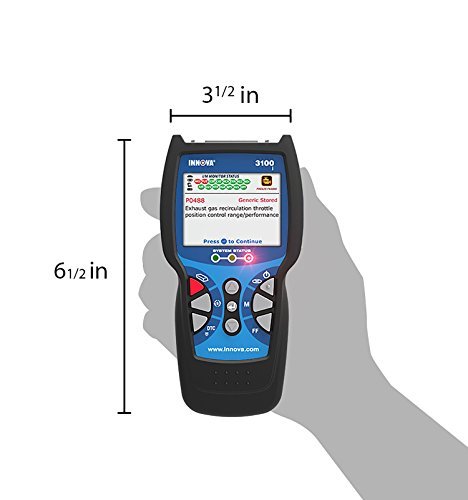 Check Price
Features:
Quickly shows the cause of the check engine light warnings
Freeze frame
Read and erase ABS & SRS light trouble codes
Oil reset feature
Battery and alternator tests
Large screen display
Compatible with 1996 or newer cars, SUVs, hybrid, light-duty trucks, and minivans
Antilock braking system
One year warranty
Pros:
It is sturdily built for longevity
It is made of a compact design, and it is lightweight
The scan tool is easy to use with the widescreen display and three different language options
It can be used on 1996 or newer cars, SUVs, minivans, hybrid, and light trucks. This includes foreign or domestic.
The importance of buying one of the above odb2 scanners
Durable
The Innova brand is well known for creating not only quality but as well as durable odb2 scan tools. The above three different Innova obd2 diagnostic scanners are well constructed to function well in tough environments. So, you can expect them to work for many years before requiring a new tool.
User-friendly
The needs of users vary greatly. For this reason, the Innova brand has ensured to create different user-friendly interfaces to meet these different demands of customers. Also, they have a large screen display for showing the outcomes of the scan tool. The all-in-one screen display will enable you to view up to 25 pages in three different languages.
Cost-effective and reliable
Even though these Innova 3100 scan tools perform exceptionally, they are still offered at a very great price. In addition, they have a power backup system that is utilized when the battery runs out of power. This is automatic, and you won't even have to switch it on. This makes it reliable if you are carrying out an important diagnostic issue.
Warranty
Another unique feature is that the buyer of this product shouldn't worry about anything as the scan tool is backed by a one-year warranty on defects and repair. Just like the Innova 31603 code reader, it has a team (ASE technical support) that is just a call away in case of any issue with the diagnostic scanner.
Innova 3040 VS 3100 OBD2 Scan Tools
What is the difference between the Innova 3040 and 3100 scanners?
Features

Innova 3100

Innova 3040

Reads & Clears Brake (ABS) Lights
Yes

No
Reads & Clears Airbag (SRS) Lights
Yes

No
Live Data Graphing
No

Yes
Battery Backup

Yes

No
Product Dimensions:
12 x 8.5 x 2.5 in.
10.6 x 7.5 x 1.8 in.

Item Weight:
2 pounds
0.95 pounds
Price:
High
Less
Review:
This
Go here
Price:
My Choice
Check Price
Check Price
Bottom line
If you have been looking for a reliable and user-friendly OBD2 diagnostic tool, the Innova 3100 scan tool is the best for you. This code reader is sturdily built, compact, lightweight, reliable, and provides instant results. Also, the initial cost of acquiring this tool is fair compared to Innova 3160g Pro OBD2 device. It is important for any driver to always inspect their car so that they can drive safely. By acquiring this scan tool, you will be able to prevent costly repairs and drive your car without any worry. Still, have a question after reading this Innova 3100 review? Comment below.