The Autel brand creates code readers that are considered to be among the best. The Autel md802 all systems scanner performs advanced functions such as read/erase codes, Live Data, Freeze frame, DTC lookup, Retrieving I/M Readiness Status, OIL reset service, EPB, O2 monitor test, Component test, ON-board monitor test, Viewing vehicle information, Modules present, and much more.
Professional mechanics and DIYer enthusiasts understand having a quality obd2 scan tool. A high-quality automotive diagnostic scanner save lots of money and headache as well. That's why most of them use the most sophisticated diagnostic scanners on the market. Not every scan tool will carry out a diagnostic test on every car. But most of the best scan tools, like Autel MD802, can perform a test on almost all vehicles.
Affiliate Disclosure: "Our site is a participant in the Amazon Associates Program. This page may include Amazon affiliate links, on which we may receive a small commission at no extra cost to you."
Technical Specifications of the Autel MD802 Maxidiag Elite Scanner

Works:

ALL available systems

for most European, Asian, and domestic vehicles after 1996

Freeze frame Data

:
Yes
Check Engine Light:
Yes
Broad Vehicle Coverage:
Nissan, Infiniti, Toyota, Lexus, Scion, Honda, Acura, Subaru, Mitsubishi, Suzuki, Isuzu, Kia, Daewoo, Mazda, Holden, Bens, Hyundai, Smart, Sprinter, Maybach, BWM, Mini, VW, Seat, Skoda, Audi, Opel, Land Rover, Volvo, Porsche, Jaguar, Saab, EU Ford, Ford, GM, Chrysler, Peugeot, Vauxhall, Citroen, Renault, Dacia, Fiat, Abarth, Alfa-Romeo, Maserati, Lancia.

Retrieving I/M Readiness status

:
Yes

On-board monitor test

:
Yes

Component test

:
Yes
Live Data:
Yes

Viewing vehicle information

:
Yes

OIL reset service

:
Yes

Enhanced Mode

:
6
Software-update:
Yes,

lifetime free software update

Automatic VIN Acquisition

:
Yes
Price:
Check Today's Price On Amazon
Their diagnostic scanners are built with cutting-edge features that make diagnostic tests to be easy and quick. In this Autel md802 Review article, we will explain why this is one of the best scan tools.

One of the best creations of Autel is the md802 scan tool. This car scan tool is regarded as one of the best obd2 scanners on the market. It is compact in design, performs quick scans, and is very easy to use. Autel is among the top manufacturers of scan tools on the market. Since the firm was established around ten years ago, it has been offering its clients high-quality diagnostic tools at very competitive prices. The brand boasts of a number of diagnostic scanners from which a user can pick.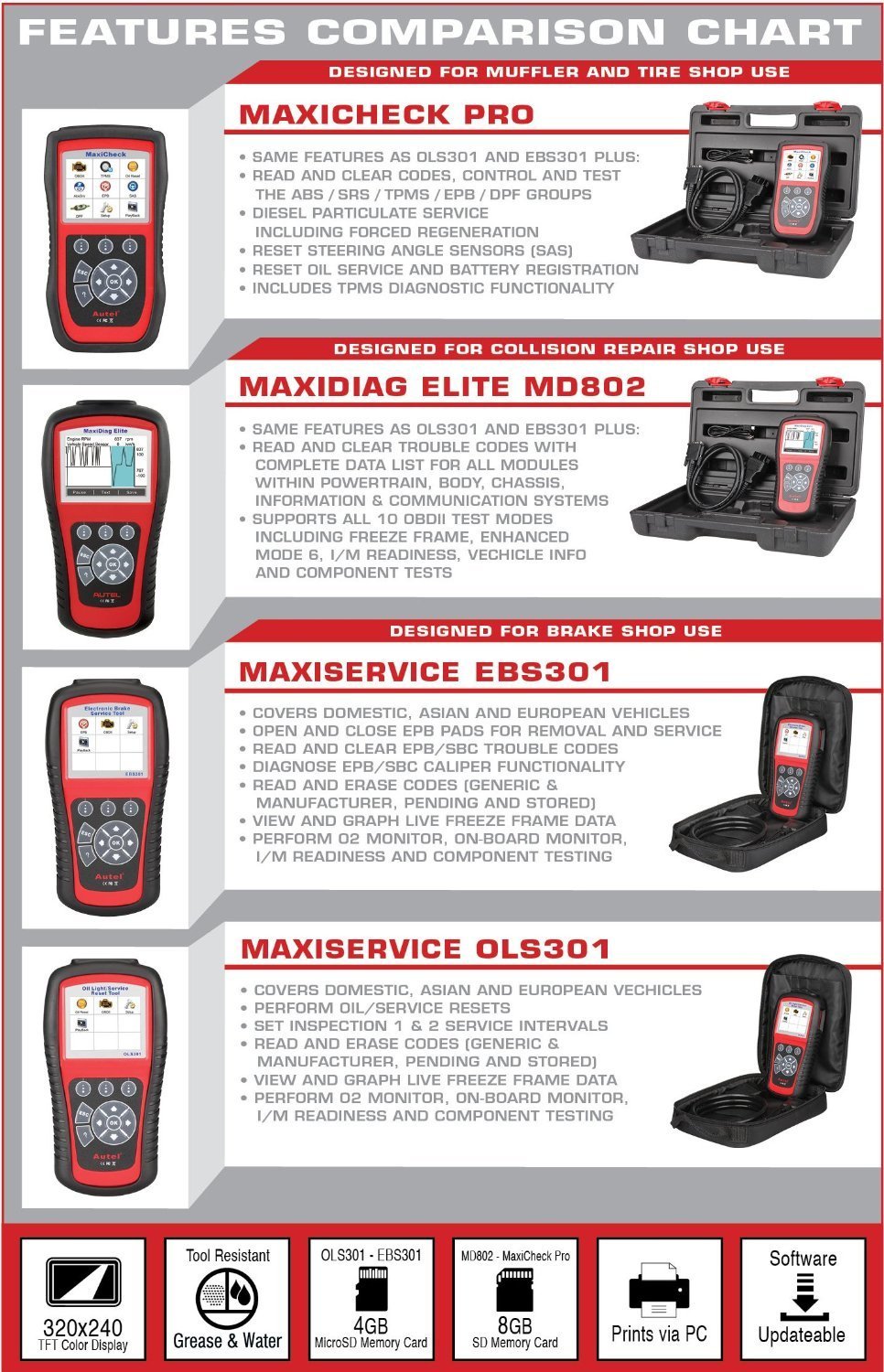 Check Price
Thus, depending on your needs, you will find a diagnostic scanner that you love, and that has the features that you desire from Autel.
Main Features of the Autel Maxidiag Elite MD802
The Autel md802 is a powerful obd2 scan tool with excellent features that give the user an easy time performing diagnostic tests. The device has 50-plus module coverage and automatic VUN acquisition. In addition, the diagnostic scanner comes with a carrying case for proper storage and longevity of the tool. It has a large colored LCD screen that enables the user to read the graphs and error codes with much ease. Other outstanding features that the tool has included live data graphing for all modules and performing oil light/ maintenance reset.
Unlike other OBD2 scan tools, this scanner has a simple-to-use one-click erase all codes. Also, it's lightweight and compact in design for easy use. On purchase, the manufacturer provides a one-year free internet software update. Such features make this Autel md802 model to be regarded as one of the best odb2 scanners. Device features and advantages are below:
Main features:
Live data graphing for all modules
50-plus module coverage
Automatic VIN acquisition
Perform electronic parking brake testing
A sturdy storage case ensures the safety of the device
Compatible with all domestic, European, And Asian vehicles model 1996 or newer
Performs full systems diagnosis, including oil light/ maintenance reset
One-click erases all trouble codes
One year of free internet software updates
Diagnostics menu with all the basic functions
Control unit function
Limited one-year warranty
Scanner Autel MD802 Review in 2023
For now, we are going to review the Autel md802 car diagnostic scanner. This scan tool has all the features that a person can wish for in a powerful odb2 scan tool.
Autel md802 Vehicle Coverage
Finding a device that works on most cars is not an easy thing. But the Autel md802 is an excellent automotive scan tool that supports domestic, Asian, and European vehicles of model 1996 or newer. Simply connect the device well to your respective car and carry out the diagnostic test. So the OBD2 device has wide vehicle coverage all over the world.
Some obd2 code readers are very difficult to use and have a difficult understanding interface. But this scanner comes with a simple understanding of the menu and doesn't need any training for the user to get started. Also, it just uses one click to get rid of all the engine codes.
Many professional mechanics love code readers that they can handle easily during repair work or when servicing the car. This obd2 scan tool is compactly created to fit well in the hands of the user and give them ample time during use. In addition, it has a nice grip that allows the user to hold firm as they view the results of the test or graphs.
It's quick and saves time.
For commercial use, mechanics need an obd2 device that works fast and saves them time in carrying out different assignments. This model from autel is regarded as one of the fastest obd2 scanners on the market today. It allows the user to perform a very quick diagnostic test.
For individuals who own several cars or mechanics that have clients with varying car brands and models, this scanner can prove to be helpful to them. This is because this diagnostic scanner has been functioning on different car brands and models, domestic, Asian, and European, since 1996 or later. This will, in turn, prove to be less costly than having several obd2 scanners. If you need a cheap scan tool, then check out this Bafx 34t5 Bluetooth scanner.
Highly reliable & portable
This system diagnosis scanner is reliable in that it has the capability to read, erase and guide the user. This feature makes it be distinct from other obd2 scan brands and models being sold.
There is no need t worry if you want to move around with this powerful obd2 scanner. This is because it is lightweight and compact for simple storage and use. Also, it comes with a carrying case that ensures the tool is kept safely after use.
Easily reads and clears codes.
Every professional mechanic or DIYer loves a scan tool for cars that can easily read and erase fault codes without much trouble. This model from Autel will provide you with quick results, and you won't struggle to use it.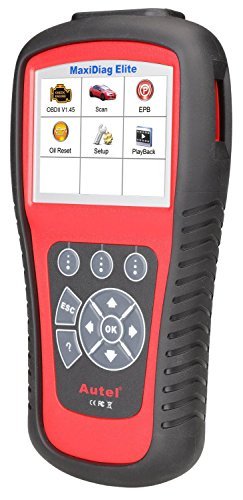 Very Amazing Price
It supports all 10 test modes of the latest J1979 OBD2 test specs
Not all the diagnostic tools on the market can support all the 10 test modes of the latest J1979 OBD2 test specs. But this Autel model has the capability to do that. So when you acquire this gadget, you will be able to test all ten modes.
What is the importance of acquiring a quality scan tool that you can't view its figure well? The Autel md802 is an excellent car diagnostic scanner that allows the user to view codes, figures, and graphs being displayed on it. It is large and colorful for excellent views. Its screen is similar to the Autel Maxicheck Pro.
Some devices come with complicated menus, making it challenging for users to use the obd2 scanner. With this model, the mechanic or motorist will have ample time to read the menu as it is very simple to comprehend. Everything is named, and the user won't have a hard time using it.
Warranty from manufacturer
Finally, it's important to acquire a scan tool with at least one year warranty. A warranty not only shows how the manufacturer is confident in their product but also is an indication of a quality product. Autel offers one year of free internet software updates to buyers of the product.
Autel al619 vs. md802
Here is the difference between Autel md802 and al619:
| | | |
| --- | --- | --- |
| Features | Autel MD802 | Autel Al619 |
| Dimensions:   | 14.6 x 3.9 x 8.7 inches | 7.83 x 4.11 x 1.48 inches |
| Weight: | 3.35 Pounds | 2.03 pounds |
| Screen Size:   | 4 inches | 4 inches |
| EFB: | Yes | No |
| Oil Reset: | Yes | No |
Autel md802 vs maxicheck pro
This Autel Maxicheck pro md802 scanner offers a very competitive price and is almost the same. You will find similarities in their functionalities too.
Conclusion
If you are looking for a great odb2 scanner from the Autel brand, then the Autel md802 is one of them. This compact and simple-to-use automotive diagnostic scanner has great features that offer the user a wonderful experience. The display screen is large. The comprehensive scan tool has a simple-to-use menu and easily reads and clears codes. In addition, the scanner is very reliable and efficient in use. I hope you have enjoyed this Autel md802 review. Get this car scan tool for your different range of cars.
Kevin Nicholas is an automotive technician who is a genius at software and hardware-related issues. He manually tested more than a hundred OBD scanners and gave his honest opinion on whether the device was worth the money or not. His in-depth OBD review articles help people choose the right product, whether it is a European, American, or Asian vehicle. He completed his Automotive Specialized Training Course at Universal Technical Institute and has more than 15 years of experience in the field.