If you want to keep your car maintenance costs low, you should acquire a code reader that will be able to identify the problems, and most of these problems can be handled by you. But in case the issue is complicated or needs proper attention, you can take the car to your mechanic. Don't wait for the car to be in a bad state before repairing it. Foxwell NT510 is a great scan tool for ABS, SRS, EPB, etc., issues. There are various automotive scan tool devices on the market to choose from. It is a great idea to select a reliable and quality brand such as Foxwell. The Foxwell NT510 has a rich feature than the Foxwell NT310 car code scanner. Read this Foxwell NT510 review to know more about this obd2 scanner.
A car needs to be well maintained for it to function well all the time. The moment you suspect that your BMW, Ford Ranger, or Volkswagen Beetle has an issue, you should instantly check it before it becomes worse. Some motorists have a habit of leaving minor car issues unsolved, and this ends up costing them a lot.
Technical specifications of the Foxwell NT510 automotive scanner
Features

Foxwell NT510

Works:
ALL

1987-1996

and later vehicles
Display:

2.8" TFT color screen

active tests on systems and components

:
Yes
Reads, stores Data:
Yes
Playbacks live sensor data:
Yes

Diagnoses EPB caliper functionality

:
Yes
Update option:
Yes
Views freeze frame data:
Yes
Dimensions:
7.9 x 1.5 x 3.9 inches
Weight:
1.35 pounds
Get transmission codes:
Yes
Price:
Check Price
Foxwell is a Chinese brand with quality diagnostic code readers. One of their top scan tools is the Foxwell nt510 OBD2 scanner. This gadget is very simple to use and sturdily built. It is also compatible with a wide range of vehicles such as BMW, Honda, Ferrari, Aston Martin, Toyota, Audi, VW, Mazda, Maserati, GM, and many others. This includes OBD1 and OBD2 compatible vehicles.
FOXWELL NT510 Review (Video)
Moreover, the Foxwell nt510 has a large TFT screen that displays error codes and other functions. It comes with a lifetime free update, and thus you can use it to check newer car versions. It is also able to read live data stream info and clear diagnostic fault codes. The TF memory card that it has is for backing up data and software updates.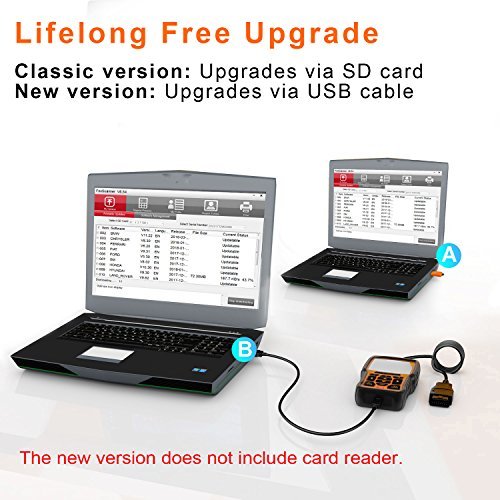 Check Price
A unique feature of this diagnostic scan tool is that it offers a wide range of languages to select from.  You can select English, Spanish, French, German, Italian, or Dutch. This has enabled this device to appeal to a wide range of people as one can easily select the language that they understand best.
Features of the Foxwell nt510 scan tool
Read and clear diagnostic error codes from a wide range of vehicle systems
Read live data stream info
Datastream graph display
Read vehicle and ECU information
The device comes with functions such as ABS system calibration, DPF regeneration, ECM replacement, etc.
Multi-language menus and code definitions
Quick test function to test most vehicle systems
Compatible with OBDI and OBDII cars
TF memory card for data backup and software update
Merges graph for easy and intuitive diagnosis
Lifetime free update
Benefits of using the Foxwell nt510 scanner
Easy to use interface
The Foxwell nt510 diagnostic scanner has an easy-to-use interface. To start with, it is sleek in design and compact. It measures 7.9 by 1.5 by 3.9 inches. Also, it weighs 1.61 pounds which is ideal for working with for long hours as it's not heavy.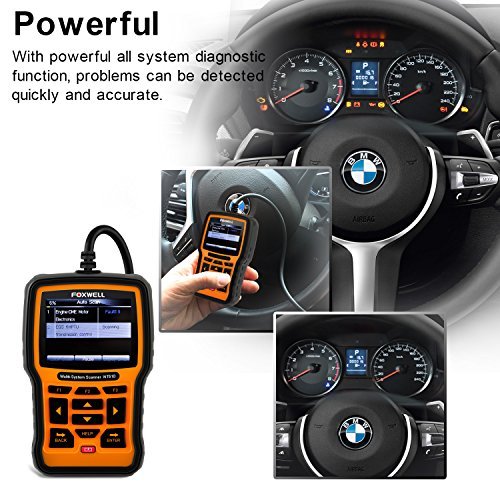 Check Price
It has a large TFT screen that displays error codes for easy reading and clearing. Finally, all the buttons on the device are clear and very simple to use.
Durable construction
The Foxwell nt510 code reader is built for tough use. The scan tool is made from a durable plastic material that can withstand hardships. Also, it is compact and can fit in tight places. To effectively use this gadget, simply follow the user manual, which is included in the purchase, and it will last for a very long period of time.
Related: FOXWELL NT630 Review: Plus Automotive ABS Scanner
Compatible with a wide range of vehicles
This diagnostic scan tool is compatible with a wide range of vehicles from around the globe. These include Rolls Royce, Ferrari, Aston Martin, MINI, Lexus, BMW, Honda, Audi, Toyota, Maserati, Hyundai, Fait, Lancia, KIA, Ford, Volvo, VW, Abarth, Porsche, Alfa, Acura, GM, Skoda, Sicon, and Seat. So, if your car falls in one of these categories, you can rely on this scanner to diagnose its trouble codes.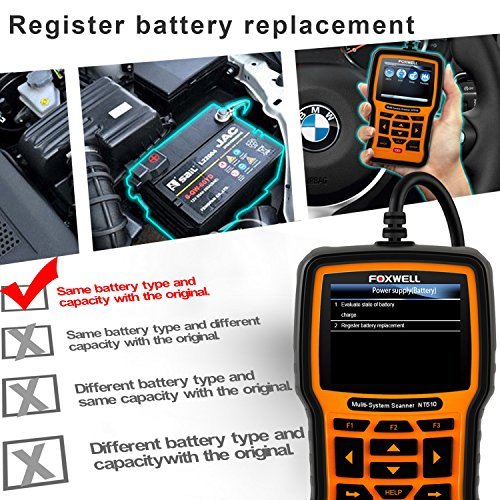 Check Price
Performs a wide range of tasks
Using this scanner saves you on the cost of acquiring different tools as it is compatible with both OBD1 and OBD2 vehicles. In addition, the scan tool performs a wide range of functions such as reads and clears diagnostic trouble codes and resets MIL. Also, it provides live data graphing and other advanced functions like adaptation, actuation, and programming.
Performs special functions
besides performing the normal functions, this obdII scan tool as well as some special functions that it performs. This includes automatic transmission, DPF regeneration, ECM replacement, ABS system calibration, HVAC self-test, ETC throttle follower test, manual DPF regeneration, and much more. The main function of this diagnostic scan tool is to read and clear diagnostic error codes from several vehicle systems, component testing, read live data stream info, data stream graph display, read vehicle and Ecu information, and view freeze frame data, etc.
Unlike other scan tools on the market, the Foxwell nt510 diagnostic scanner comes with different languages from which different users can select. It has the option for English, Italian, Spanish, French, Dutch, and German. This is a great feature as this device can be used in different parts of the world by simply selecting a language that one understands.

Check Price
Lifetime free update
Another outstanding feature of this device is that it comes with free lifetime updates. This can be done through the TF memory card. Also, it has to be updated through the Foxscanner. To update the device, you have to register a Foxwell ID and then register your scan tool. As well, you have to know that this scan tool cannot be updated on MAC systems. Get to download the software before using this quality device.
Quick test function
Due to its small size and easy-to-use features, using this gadget is very quick and less costly when compared to other diagnostic scanners on the market.
Still, have a question after reading this FOXWELL NT510 Review? Comment below.
Shortcomings of the Foxwell nt510 diagnostic scanner
Poor customer support
One of the main shortcomings of the Foxwell brand is that they don't have customer support within the US. This makes people dislike this brand, as getting assistance if you have a problem with one of their scan tools is almost impossible. They have no number to contact them and just an email.
It doesn't work on some vehicles.
Even though this scan tool connects to a wide range of vehicles, you should assume that it will function on your car make. For instance, it doesn't function on the Mercedez brand and many other vehicles. So, you should ensure that it is compatible with your car before purchasing the scan tool.
Summary
The Foxwell nt510 is a quality scan tool that can be used by DIYers, car repair shops, small garages, and even technicians. This device covers a wide range of vehicles and helps a person who wants to diagnose more than one car model have ample time doing so. It comes with a multilingual menu and a large TFT screen for easy use of the scan tool. Furthermore, it performs quick and accurate scans that save time, unlike other scan tools on the market. Also, it has a TF memory card for the backup of data and updating software. Use this diagnostic scanner to check engine, oil reset, SAS, ASR, abs, transmission, and many other things. If you read the full article of the Foxwell nt510 review, then you will understand why I am recommending this scan tool.
Kevin Nicholas is an automotive technician who is a genius at software and hardware-related issues. He manually tested more than a hundred OBD scanners and gave his honest opinion on whether the device was worth the money or not. His in-depth OBD review articles help people choose the right product, whether it is a European, American, or Asian vehicle. He completed his Automotive Specialized Training Course at Universal Technical Institute and has more than 15 years of experience in the field.