For busy commercial repair shops, professional mechanics, and individuals with different car brands, the Autel Maxidas ds808 (Upgraded Version of DS708) scan tool is the best obd2 scanner to have for reading and clearing trouble codes. This Autel scanner is costly but has features that justify its price. Also, it functions great in diagnosing electronic car issues. Read this Autel Maxidas DS708 review to know more about this diagnostic tool.
The Autel Maxidas DS708 scan tool can be applied to more than 80 domestic, European, and Asian vehicles. The main features of this scanner are Oil Reset, TPMS Programming, EPB, DPF Regeneration, SAS Calibration, ABS/SRS, and more.
Technical specifications of the Autel Maxidas DS708(DS808) professional vehicle scanner:

Features

Autel Maxidas DS708 (DS808)

Works:
1996 and newer vehicles
Display:
7-inch LCD Touchscreen
Os
Android operating system
Memory:
32GB
Processor:
Cortex-A9 processor (1.5 GHz)
Operating Temp:
-10 to 60°C(14 to 140°F)
Storage Temp:
-20 to 70°C (-4 to 158°F)
Check Engine Light:
Yes
ECU information:
Yes
Live Data:
Yes
POWERFUL FUNCTIONS:
Yes
TPMS Programming Service:
Yes
DPF Regeneration Service:
Yes
Oil Reset Service:
Yes
SAS Calibration Service, ABS/SRS Service:
Yes
Smart AutoVIN:
Yes
Connectivity:
• USB 2.0 •Mini USB 2.0• Wi-Fi • Micro SD card
Special Features:
Additional special features of the product include a Puddle Lamp or Memory settings on a mirror.
Featuring multitasking-capable:
Yes
Weight:
2.95 pounds
Vehicle Coverage:
Acura, Audi, Benz, BMW, Bentley, Bugatti,
Citroen, Dodge, Daewoo, Ford, Chrysler, Fiat,
Gm, GMC, Infiniti, Holden, Hyundai, Honda,
Isuzu, Land Rover, Jaguar, Kia, Jeep, Lexus,
Maybach, Mini, Nissan, Mazda, Mitsubishi,
Opel, Saab, Peugeot, Porsche, Renault, Scion,
Seat, Smart, Suzuki, Skoda, Sprinter, Subaru,
Toyota, Volvo, Vauxhall, Volkswagen, VW, etc.
Software Update:
One year free update online
Warranty:
One Year
Price:
Check Today's Price On Amazon
Some of the roles of the Autel Maxidas ds708 automotive scanner plays include: monitoring the smooth running of the engine, detecting the faults disturbing your car, electrical system, and inspection maintenance procedures of your vehicle. This model is costly, and in our Autel Maxidas Ds708 review article, we will discuss why you should buy this model.
professional-level diagnostic scanner
with excellent features that can be used to diagnose several issues. Unlike other scan tools, the Autel Maxidas ds708 has Wi-Fi and USB connections that make it user-friendly. The Autel brand has come a long way and is at the moment considered as one of the best OBDII diagnostic scanners. This brand has been creating high-quality tools with advanced features. So, whatever motor vehicle emission issue that your car might be having, you can count on the Autel Maxidas ds708 to tackle it as it's one of the best. You can compare this scanner with
Autel Maxisys ms906
, which is an advanced tool like this. Read further below to understand more about this high-quality automotive diagnostic OBD2 scanner.
Features Details of the Autel Maxidas DS708 Scanner
Autel Maxidas ds708 is a high-quality model from the Autel brand. This tool is more suitable for professional-level users as it has a wide range of features and uses. It has the ability to support at least 80 domestic, European and Asian vehicles. It is ECU certified and accepted in both European and Asian markets.

Check Price
Also, it is very easy to use as it can be linked with a USB or even Wi-Fi connectivity. It comes with a highly innovative processor technology, and displays live data in text, graph, and analog views. Other unique features of this scan tool are the smart AutoVin technology for detecting vehicles easily and instant remote control tech support.
Related product comparison: Know the differences between Autel DS808 and MK808 scanning tools
The colored 7 inches LED display that it has is for showing the results of the diagnostic test, graphs, and codes. It also has automatic updates, and the manufacturer provides a 2-year warranty to purchasers of the car diagnostic scanner. Features and benefits of the Autel Maxidas DS708 have been discussed further below.
Main features:
It is ECU certified
Innovative dual-processor technology
VNC remote control software built-in
7 inch colored touch screen interface
Wide vehicle coverage for more than 80 American, European and Asian vehicles
Complete function capability
Displays live data in text, graph, and analog views
Wi-Fi connectivity
Innovative graph merging
Advanced USB communication
Two years warranty from the manufacturer
Autel Maxidas DS708 review 2022
The Autel Maxidas DS708 scan tool is a high-quality device, and that's why it's expensive. It has excellent features that make using it fun and very easy. The main reason for this Autel Maxidas ds708 review is the scanner quality.
If you want to reduce cash spent visiting a service station or garage, then you should get this quality scanner for your car. Although the initial price is high, you will get more from this obd2 scanner than other average scan tools on the market. Also, the price is lower than the updated Autel Maxidas DS808K and Autel MaxiPro MP808TS TMPS scanners. It can be used on more than 80 vehicles, so you can use it on different cars. Low price scanner available in the market too but high quality with rich feature scan tool cost will be like this.
This scanner is built with a highly innovative and lovely design that any car enthusiast will love to have. Besides this, the obd2 scan tool is small in size and fits well in your hands without much trouble. This implies that using it won't be an issue. Whether it's in the shop or garage, this scan tool will still look beautiful.
The large colored display touchscreen
One of the features that can be easily noted when one buys this advanced scan tool is the size of its screen. Like the Autel MK808BT, the Autel ds708 is made up of a colored 7-inch screen with an 800×480 pixel screen. This enables greater viewing of tests and graphs by the user. Also, the colored screen is clearer, and it's hard to go wrong with it.
I want a high-performing scan tool. Look no further than this model from Autel. It has outstanding features that not only provide the user with quick results but is also easy to use.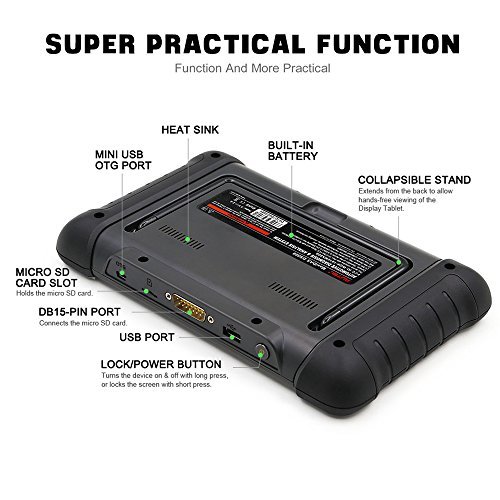 Check Price
Connect the device through Wi-Fi, and your diagnostic results will be detected within no minutes. That's why many professional mechanics love this odb2 scanner.
Unlike the Autel MD802 Maxidiag elite scanner, this device being a high-quality one with lots of features, it is still easy to use. It has a simple-to-use interface and intuitive operation. All the users need to do is to read the user manual, and they will be ready to start utilizing the quality obd2 scanner.
A scan tool is a tool that you will use for a very long duration of time. So if you want to fully utilize a car scan tool, it's'' better if you acquire a well-built and compact diagnostic scan tool. The Autel Maxidas scan tool is compactly created to withstand hard situations. This gadget will last as long as you keep it in good condition.
Before buying a scan tool of your choice, it is important to check if it covers the range of cars that you have. Some automotive diagnostic scanners just cover a few cars, while some covers are several. The Autel Maxidas ds708 covers more than 80 car models domestic, Asian and European.
Customer support from the technical team
Autel is one of the brands known for having the best technical support team. In case you buy one of their automotive diagnostic tools and discover that you have a problem, they will help you tackle the issue as long as you get in touch with them.
Has free automatic updates
Any device that doesn't have a feature that allows updates can be deemed inferior. This is because as technology changes, so make the demands of cars.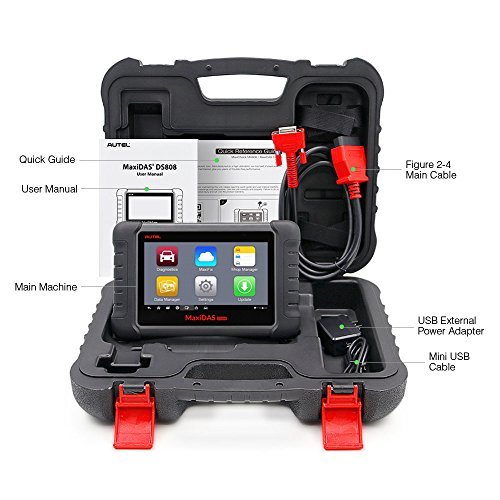 Check Price
This model allows for free automatic updates, which ensure that the car diagnostic scanner has up-to-date software. This free update lasts for 12 months.
The one-year warranty provided by Autel is a great way of instilling confidence in the buyers of this quality device. Although it's costly, the Autel Maxidas ds708 is worth its price as it performs well, and in case of any issue, the manufacturer is there to assist the buyer.
Conclusion
Many people have highly praised the excellence of the Autel Maxidas ds708. It is a high-end diagnostic scan tool that performs very exceptionally. It has a wide range of features that make it one of the best obd2 diagnostic scan tools on the market. From the large LCD screen to Wi-Fi connectivity and other unique features, this device is an ideal scanner for cars. In addition, it covers more than 80 domestic, Asian and European vehicles. For those who are ready to spend to get the best, then they can acquire the Autel Maxidas ds708 automotive scanner. The diagnostic scanner is worth every penny spent on it.