If you deal with a lot of vehicles in your workshop, then you will like the Autel Maxidas DS808K(Upgraded Version of Autel DS708 & DS808). The device performs several functions and is easy to use. Autel DS808K has complete capabilities for live data, codes, ECU information, active test, matching, adaptation, and much more. Aside from that, it performs 23 special services and all OBD2 test modes. Read this Autel Maxidas DS808K Review to know more about this tool.
The Autel Maxidas DS808K is a professional automotive scanner; thus, it is ideal for professional mechanics and auto repair shops. However, it can as well as be utilized by DIYers or car enthusiasts who want a reliable and quality tool for diagnosing their vehicles.
Technical Specifications of the Autel Maxidas DS808K OBD2 Scanner
Features

Autel Maxidas DS808K

Operating System:
Android 4.4.4
Display:
7-inch LCD capacitive touchscreen with 1024×600 resolution
Memory:
32GB
Processor:
Cortex-A9 processor (1.5 GHz)
Sensors:
Ambient light sensor for brightness auto changing
ABS, SRS, TPMS, EPB, SAS, DPF, BMS Resets:
Yes
Operating Temp:
-10 to 60°C(14 to 140°F)
Storage Temp:
-20 to 70°C (-4 to 158°F)
Audio Input/Output:
• Input: N/A • Output: buzzer
Power and Battery:
3.7 V/3200 mAh lithium-polymer battery • Charges via 5 VDC power supply
Connectivity:
Mini USB 2.0 • USB 2.0 • Wi-Fi • Micro SD card (supports up to 32GB)
Oil Reset:
Yes
Tested Battery Life:
Around 4.5 hours of continuous use
Power Consumption:
500 mA (LCD on with default brightness, Wi-Fi on) @3.7 V
Battery Charging Input:
5 V/1.5 A
Vehicle Coverage:
More than 80 U.S., Asian and European vehicle
Models:
Acura, Audi, Benz, Bugatti, BMW, Bentley,
Citroen, Chrysler, Dodge, Daewoo, Ford, Fiat,
Gm, Hyundai, Gmc, Honda, Infiniti, Holden,
Isuzu, Jaguar, Kia, Jeep, Land Rover, Lexus,
Maybach, Nissan, Mitsubishi, Mazda, Mini,
Opel, Saab, Peugeot, Renault, Porsche, Scion,
Seat, Smart, Skoda, Sprinter, Suzuki, Subaru,
Toyota, Volvo, Volkswagen, Vauxhall, VW, etc.
Update Option:
Free Online Update
Warranty:
12-month warranty for any product problems
Price:
Check Today's Price
Read this Autel Maxidas ds808k review to the end to find out more about the Autel Maxidas DS808K automotive diagnostic scan tool.
Autel Maxidas DS808K Review 2022
Intuitive user interface
One of the first things to note about the DS808K scanner is the great and intuitive user interface. The scanner features a 7-inch LCD capacitive touchscreen with 1024 by 600 resolution. This means that you will view results better than the Autel Maxicom MK808 scan tool, even in poorly lit areas.
Apart from the outstanding screen, the icons are large and clear for quick operation. If you're new to automotive scanners, a user manual is included for guidance.
The Autel Maxidas DS808K is extremely fast. This is thanks to the cortex-A9 processor and Android 4.4.4 operating system. You will be able to diagnose different vehicles in a few hours. So, it is perfect for busy car repair shops where one has to diagnose several cars in a short while.
Related article: Easy way to choose between Autel MK808 and DS808 with the comparison chart
A more extensive range of functions
What makes this car scanner stand out from its competitors is the number of tasks that it executes. The device can diagnose 21 service functions, some of which include:
TPMS programming service,
Oil reset service,
SAS calibration,
ABS/SRS services,
DPF regeneration service,
Brake bleed,
Set the electronic parking brake to assembly position,
Reset battery behavior, and much more.
When it comes to OBD 2/EOBD functions, the unit can perform I/M readiness, on-board monitor, read/erase fault codes, live data, vehicle status, DTC & FFD, O2 sensor monitor, vehicle information, and component test. Other advanced functions include bi-directional tests, real-time graph sensors, and AutoVin scans. Also, it comes with the Cortex-A9 1.5GHz processor, which is faster than the Autel Maxisys MS906 automotive scanner.
Great compatibility
One of the most significant challenges that mechanics face is buying a scanner that is not compatible with the vehicles that they handle. The good news is that the Autel Maxidas DS808K is compatible with most OBDII compliant vehicles manufactured from 1996 and newer. Like Autel Maxisys Pro MS908P, it works on more than 80 vehicles makes from the USA, Europe, and Asia.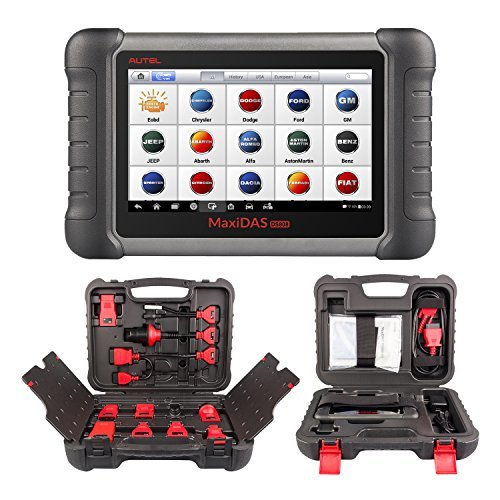 Check Today's Price
Some of the vehicles make that this unit works with are Ford, Suzuki, Benz, GM, KIA, Bugatti, Hyundai, Chrysler, BMW, Toyota, Dodge, Audi, Volvo, Mitsubishi, Jeep, Mazda, Honda, Nissan, Volkswagen, Jaguar, Aston Martin, Isuzu, and much more.
Rechargeable battery
The scanner runs on a 3.7V/3200 mAh lithium-polymer battery. The battery is included in the purchase, so you don't have to go looking for it. Besides, it provides the user with an excellent run time of up to 4.5 hours on a full charge. And when the battery is drained, you can quickly recharge it through the 5 VDC power supply.
With its source of power, the DS808K wireless Bluetooth OBD2 scanner is convenient to use. You don't have to rely on the energy from the vehicle. So, even when the car battery power is low, you can still go ahead and diagnose your vehicle.
Sturdy carrying case
Investing in such a quality and durable automotive scanner will help you diagnose different faults in your car. However, you also need to protect and handle this costly device very well. That's why the manufacturer included a robust carrying case for the safe storage of the scanner. Also, the durable carrying case keeps all the accessories that the unit comes with.
Software updates and warranty
Updating your scanner after some time is crucial to keep it updated with the most recent software. Autel offers a 1-year of free updates. So, you can update your device before this time elapses. After this period, you will start paying for the updates.
Related article: Should you buy Autel MX808 over Autel MK808?
Additionally, the company offers a 1-year warranty. The warranty may be short, but it assures users that the brand thinks about them, and they can fully trust them. As a result, if you receive a damaged tool, you can always return it for repair or have it replaced.
Summary: Why buy Autel Maxidas ds808k automotive diagnostic tool?
Easy to use with the large LCD screen
Excellent compatibility with most 1996 and newer vehicles
Works with OBDII domestic, European, and Asian vehicles
Performs various functions
It is internet updateable
Smart AutoVin technology identifies vehicles quickly and easily
Carrying case for safe storage
1-year comprehensive warranty
Cons of the Autel DS808k scanner
Who will use this Autel DS808K automotive scanner?
The Autel DS808K automotive scan tool is a quality and accurate tool that you can use to diagnose different car issues. Since it performs a broader range of functions, the device is ideal for car repair shop owners, mechanics, and experienced car enthusiasts. DIYers and newbies can also use it, but it is quite costly.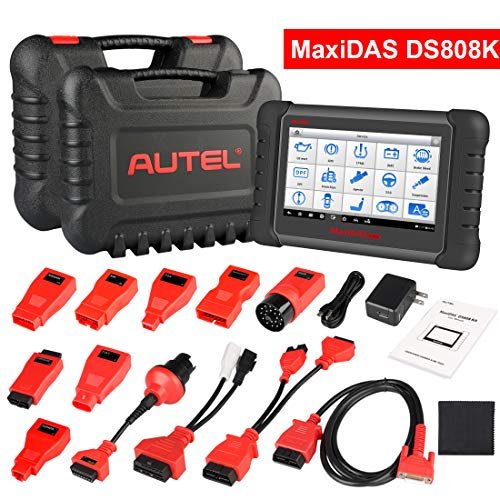 Check Today's Price
The device is compact, lightweight, and portable, making carrying it to different places of work easy and convenient. It is similar to carrying a tablet. The scanner won't take up much space in your backpack or car compartment.
Conclusion
The Autel Maxidas DS808K is a quality and reliable scanner that is best suited for professional users. This is because it doesn't come cheap and offers a broad range of functions. Some of the tasks that it performs are: reading trouble codes, graphing live data, adaptation, providing EC information, matching, and active test. Besides, it also covers more than 80 domestic, European, and Asian vehicles makes.
Overall, the Autel Maxidas DS808K is a reliable scanner that will update you on the status of your car or those of your clients. Update it to have the latest software and diagnose as many vehicles as possible.
FAQ
Question: What does it mean if my check engine light is blinking?
Answer: This is an indication of a grievous engine issue like a catalyst-damaging misfire taking place, and it should be taken care of as quickly as possible. Even with such a problem, you can still drive your car, but you should minimize your time on the road. Also, you should drive slowly and avoid carrying heavy items.
Question: Can this automotive scanner read all wheel speed sensors?
Answer: Yes, it can read. But the problem is that the graphing is weak than the Launch x431 V+ scanner, which will make establishing trends to be quite challenging. So, you may not be able to read all wheel speed sensors. The manufacturer should improve on this.
Question: What to consider when selecting an OBD2 scan tool?
Answer: Before you rush to get an OBDII scanner, there are lots of things that you should consider. First and foremost, you should know what you intend to use the scanner for. Is it for your auto car repair shop or for diagnosing your car? What functions do you want to perform the scanner with? A good code reader should execute all the 10 OBD test modes. Also, ask yourself whether the scanner is accurate or not? These factors will help you to get a quality and reliable diagnostic car scanner.
Still, have a question after reading this Autel Maxidas DS808K Review? Comment below.