The Autel MaxiCheck MX808 car san tool comes with a fast quad-core processor, which makes the unit easy and fast in operation. It is also easy to use, thanks to its 7-inch LCD touch screen that displays at 1024×600 quality. Autel MX808 can also be updated, and it comes with a one-year warranty. It is an upgraded version of Autel MD808 Pro and the same as Autel MK808. This is a mid-range scan tool with lots of basic and advanced functions. MX808 can read and clear error codes, support IMMO functions, display live data in text, graph, & analog form, and perform relearn. In this Autel MX808 Review, we're going to look at the Autel MaxiCheck Maxicom diagnostic scanner's main features.
Autel is one of the leading scan tool brands with lots of outstanding and exceptional scanners. The brand is dedicated to creating advanced, sturdy, and user-friendly scan tools. So, whether you're looking for an entry-level, mid-range, or professional diagnostic scanner, Autel offers everything.
Technical Specifications of the Autel MX808 OBD2 Scanner Diagnostic Scan Tool
Features

Autel MaxiCheck MX808

Works:
All 1996 US-based, 2000 EU-based, and newer vehicles
Operating System:
Android 4.4.4
Processor:
Cortex-A9 processor(1.5 GHz)
Display:
1024×600 7-inch LCD touch screen
Memory:
32GB
Connectivity:
• Mini USB 2.0 • Wi-Fi • USB 2.0 • Micro SD card(supports up to 32GB)
Sensors:
Ambient light sensor for brightness auto changing
Audio Input/Output:
•Input: N/A •Output: buzzer
Power and Battery:
•3.7 V/3200mAh lithium-polymer battery •Charges via 5 VDC power supply
Battery Life:
Around 4.5 hours of continuous use
Storage Temperature:
-20 to 70°C (-4 to 158°F)
Operating Temperature:
-10 to 60°C(14 to 140°F)
Read/Clear Codes:
Yes
ENG/AT/ABS/SRS/EPB/SAS Codes:
Yes
Freeze Frame Data:
Yes
Auto VIN Detection:
Yes
Display live data:
Yes
Oil Reset:
Yes
Support TPMS sensor relearn:
Yes
Check Engine Light:
Yes
I/M Readiness:
Yes
Vehicle Coverage:
Acura, Audi, BMW, Bugatti, Benz, AuFord, Bentley,
Chevrolet, Ford, Honda, Chrysler, Gm,  Holden, Euford,
Hyundai, Land Rover, Isuzu, Infiniti, Kia, Jaguar,
Mitsubishi, Mazda, Lexus, Maybach, Mini, Nissan,
Skoda, Saab, Porsche, Seat, Scion, Smart, Opel,
Sprinter, Toyota, Volvo, Subaru, Vauxhall, Suzuki, VW, etc.
Warranty:
Limited 1-year warranty
Price:
Check Today's Price
Powered by a 3.7V lithium polymer battery, this scan tool will help you carry out a diagnosis for more than 4.5 hours of continuous use. Furthermore, it has a good storage capacity of up to 32GB of memory. So, you can store as much diagnosis info on your device as you want and then transfer it to your PC when it is full.

Maxicheck Autel MX808 Review 2022
Sturdy construction
This is a sturdily constructed device that will withstand tough conditions and lasts long. It has a tough plastic cover that protects it. Additionally, it has a sturdy casing that is used to transport or keep the device. With this carry case, your device will always be protected and secure.
Related product: Need a more advanced scan device? Check Autel MaxiCom MK908p review
Quick and fast processor
Regardless of its simple design and affordable price, the Autel MX808 diagnostic scan tool is a powerful and fast gadget that will allow you to diagnose error codes quickly. This is all thanks to its exceptional cortex-A9 processor. It also runs on the Android 4.4.4 operating system.
Easy to use interface
One of the major features of any scan tool is its user interface. The MX808 is perfectly built for quick and simple use. It has a large 7-inch LCD capacitive touch screen with a 1024×600 resolution. This resolution is enough to clearly display code definitions and graphs on the screen. Besides, the advanced OBD2 gadget comes with a multilingual menu, which helps different users to have an easy time utilizing the device. The default language is English, but you also have Spanish and French to choose from.
Greater compatibility
If you're a busy mechanic or own a small car garage, this device will prove to be crucial to your job as it is compatible with a wide range of vehicles. The MX808 is compatible with most 1996 and newer domestic, Asian, and European vehicles. Some of the vehicles made and models that it is compatible with include GM, Ford, BMW, Fiat, Acura, Toyota, Nissan, Lexus, Chrysler, etc.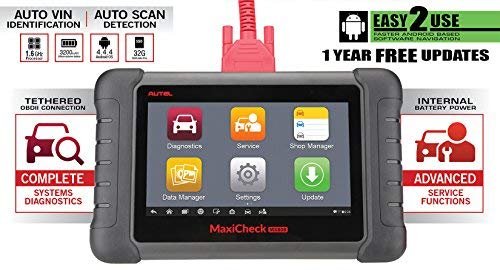 Check Today's Price
Excellent runtime
Unlike Autel ML629 tools that cannot run when the car is switched off or when the car battery is dead, the Autel MX808 is slightly different as it will still read and clear codes even with this challenge. This device is powered by a 3.7V lithium-polymer battery that runs continuously for 4.5 hours. As a result, you can be sure to use this gadget for some time before having to recharge it again.
Very portable
Just like your tablet, this scan tool is very portable and compact in design. You can easily operate it just like you would with your tablet. It measures 9.4 x 5.9 x 1.4 inches, which is an ideal size for a scan tool. The scan tool also weighs 2.42 lb, which means that it is very light and not a burden to carry. So, you will have an easy time utilizing it around your car garage or repair shop.
Basic and advanced functions
Whether you want a scan tool to perform the most basic functions or a few advanced functions, the MaxiCheck MX808 will still deliver. It has the ability to read and erase error codes, show live data in text, graph, and analog for easy review, support IMMO functions, reset service mileage & service intervals, support forced DPF regeneration, reset steering angle sensor, etc.
Auto-VIN technology
This is a special feature found mostly in advanced scanners. But the Autel has the Auto-Vin function, which means that you will be able to quickly and automatically identify the car's make, model, and year data within no time.
Free software update
Having the latest software on your scan tool is very vital, especially if you constantly deal with new vehicles or fixes. Like the Autel MaxiCom MK808TS TPMS scanner, it offers free software updates to its clients for a certain period. When this period elapses, you will have to pay a certain fee in order to receive the updates.
Warranty
This product comes with a one-year warranty. This means that your product will be under warranty and can be returned and replaced or repaired in case it has a defect in material or workmanship for a period of one year.
Why buy Autel Maxicom MX808 obd2 Scan Tool
It is very easy to use
It has a large screen that makes interpreting code definitions to be easy
The device comes with a reliable wireless connectivity
It performs both basic and advanced functions such as TPMS relearn
It is favorably cheap
Outstanding runtime as the battery can last up to 4.5 hours
It has the ability to print reports through PC.
Durable construction with outer protection
One-year warranty
Cons of the autel maxicheck mx808
You have to wait for the scan tool to charge in order to use it
There are extra costs on updates
It performs relearn functions on only a handful of car makes and models and not on all vehicles.
Summary
Generally, the Autel MX808 scan tool is a wonderful mid-range diagnostic scanner for people who want to advance from a basic scanner to a more advanced one. The device is cheaper than the Autel MaxiPro MP808 scanning tool. Despite being simple and affordable, this scan tool features both basic and some advanced functions such as Immo and Relearn functions. It is easy to use and very fast. As a result, you will never waste time in your garage diagnosing only one vehicle.
But even with these amazing features and functions, the MX808 scan tool is not compatible with all vehicle makes and models. So, if you're a professional mechanic or own a car repair shop, this scan tool will be a great purchase as it will help you perform a lot of functions quickly and more accurately. I hope you have got a clear idea after reading this Autel MX808 review article.
FAQs
Question: What is the difference between the Autel MK808, MK808BT, and MX808TS?
Answer: The Autel MK808BT device is somehow different, and BT means Bluetooth that connects your car to your device, which is more convenient, but you will have to pay a small fee for it. The MX808 comes with an extension cable and allows you to work remotely. And finally, the MX808TS is an upgraded version of the Autel MK808BT, but it also has a Bluetooth connector, and it can reprogram the TPMS sensor.
Question: Does the Autel MX808 scan tool come with an extension cable?
Answer: Yes, it does. It comes with a 5 feet free extension cable that allows you to work outside the car without any problem. Just connect it to the OBD2 port and use it without an issue or straining.
Still, have a question after reading this Autel MX808 Review? Comment below.
Kevin Nicholas is an automotive technician who is a genius at software and hardware-related issues. He manually tested more than a hundred OBD scanners and gave his honest opinion on whether the device was worth the money or not. His in-depth OBD review articles help people choose the right product, whether it is a European, American, or Asian vehicle. He completed his Automotive Specialized Training Course at Universal Technical Institute and has more than 15 years of experience in the field.