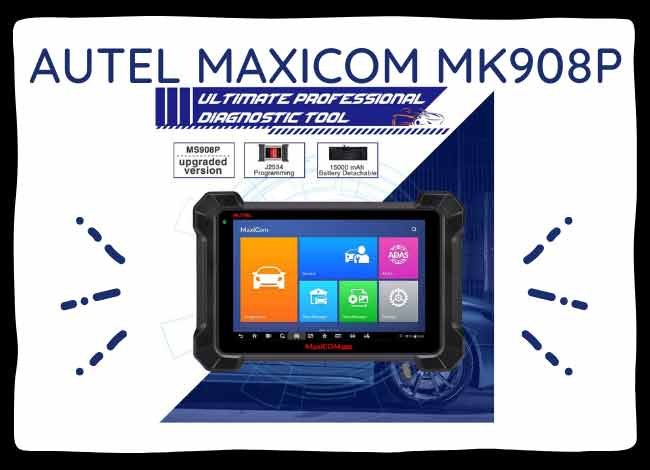 If you're looking for a professional-level automotive diagnostic scanner with bi-directional control and key programming functions in one unit, the Autel MaxiCom MK908P scanner is the best choice. Some tools usually have these features in separate devices, but the Autel MaxiCom MK908P offers them both in one unit. Read this Autel MaxiCom MK908p review to know more about this automotive diagnostic scan tool.
Apart from providing key programming and full bi-directional control, the Autel MK908P scan tool also supports all OBD2 test modes and OBD2 functions and performs 20 plus special services. These functions are displayed on a large screen for easy reading, and it has a fast processor than Autel Maxisys MS906BT and Autel MS906TS Maxisys automotive scanner. Together with a large storage capacity and wireless connection, you get more than what you pay for.
Pros of Autel Maxicom MK908P diagnostic scanner
User-friendly design

Affordable professional OBD2 scanner (Check price here)

Multilingual menu

Sleek and sturdy construction

Faster and more efficient performance  

Wireless connection for convenience

Performs basic, special, and advanced functions

It works on most 1996 and newer vehicles

12-month free software updates  

1-year warranty
Affiliate Disclosure: "Our site is a participant in the Amazon Associates Program. This page may include Amazon affiliate links, on which we may receive a small commission at no extra cost to you."
Autel MK908P vs. MS908P
Though both professional scanners offer the same features, differences exist in their hardware. Autel MS908p is the upgraded version of Autel MK908p and has a more advanced and fast processor. Here is the comparison chart:
| | | |
| --- | --- | --- |
| Features: | Autel MK908P | MS908P |
| CPU: | Samsung Exynos Hexa-Core Processor | Samsung Exynos Quad-core Processor |
| Android Operating System:   | 4.4.2 KitKat | 4.0 Ice Cream Sandwich |
| Memory:  | 64GB | 32GB |
| Touch Screen: | 10.1 inches | 9.7 inches |
| Resolution: | 1920×1200 | 1024×768 |
| Display: | Retina LCD | LED Capacitive |
| Polymer Battery:  | 15000 mAh | 11000 mAh |
| Battery Volt: | 3.8V | 3.7 V |
| Rear Camera: | 8.0 Megapixel | 5.0 Megapixel |
What are the differences between the Autel MK908P and Maxisys Elite?
Many people tend to confuse these two diagnostic scanners. This is because they share many features and differ in just a few. The Autel MaxiCom MK908P is somewhat lighter and more portable than the advanced Autel Maxisys Elite scan tool. Additionally, it is faster since it comes with a more sophisticated processor. The display is also larger, doing reading and erasing errors straightforwardly. Another area where the Autel MK908P dwarfs the Autel Maxisys is in terms of storage. MK908P has a larger storage capacity, allowing it to store more data.
Autel MaxiCom MK908p Review in 2023
Read the entire review before deciding whether to acquire this tool for your auto shop or personal cars.
Sleek and elegant design
The Autel OBD2 scanner brand has some of the most advanced devices on the market. The first thing that meets your eyes is the Autel MK908P is a sleek construction. The device resembles a tablet, meaning it is easy to handle and operate. From your looks, you can quickly tell that this is a sophisticated scan tool.
User-friendly design
It is followed by a large intuitive screen that displays all the results from the tests carried out. Whether it is displaying live data, graphs, or regular codes, the 10.1-inch capacitive touchscreen will show all the outcomes clearly, even in poor conditions.
Faster processor
The scanner boasts one of the most powerful processors (Samsung Exynos Hexa-core processor) on the market. As a result, you will have quick results, which allows you to perform many tests within a short time.
Related article: What would be the best option between Autel MX808 and MK808?
Large storage capacity
With an internal memory of 64GB and 2GB RAM, you will be overjoyed to own this tool. You can keep all your client's info and have an easy time diagnosing their vehicles every time they visit.  Also, you add your files for future use.
Excellent operating system
The scanner is fitted with Android 4.4.2. KitKat operating system, which allows the user to multitask when using this tool. You can carry out various diagnostics tests at once without the device slowing down on performance. But at such a high price, this may prove to be uneconomical for such a group of people. So if the price is an issue, you can use a mid-ranged scanner such as Autel Maxicom MK808 or an upgraded Autel Maxidas DS708 scanner.
Built-in battery
The scan tool does not rely on vehicle power as it comes with its own 15000 mAh lithium-polymer battery. This battery will give you a runtime of 7 hours plus.
Extensive vehicle coverage
If you own a car repair shop and handle different vehicle makes and models daily, the Autel MK908P will match your needs. It works with more than 80 US, Asian, and European cars. Nonetheless, call Autel and find out which vehicles are compatible with this device.
Wireless connection
If you don't intend to use the OBD2 cable in diagnosing your car, you can opt to connect the device using Bluetooth. It is fitted with BT v.2.1 + EDR, which provides a strong connection. It also comes with Wi-Fi, which allows you to update the scanner.
Check Today's Price on Amazon
What accessories does the Autel MaxiCom MK908P feature?
The Autel comes well-packaged with all the accessories that you need. These include all the cables and connectors required. You will find an OBD2 cable, a mini USB cable, a 2.0 USB cable, an Ethernet cable, and several OBD2 adapters. Furthermore, it features an AC adapter, a cigarette lighter charger, and a lithium-polymer battery.
Warranty and Software upgrade
Buyers are awarded a 1-year of free software upgrade and a one-year warranty. Note that after one year, you will have to pay for software upgrades, and they are somewhat costly.
Functions of the Autel MaxiCom MK908P
Full OBD2 functions

– you can use this tool to execute all basic OBD2 functions, such as reading and erasing error codes, viewing live data, freezing frame data, etc.

Supports special services –  It also supports multiple special functions such as oil light reset, SAS reset, EPB reset, PDF reset, ABS, BMS service, and much more, which you may not find with the Autel Maxidas DS808K scan tool.
Supports all systems

– It supports all systems like the engine, transmission, ABS, SRS, transmission, etc.

Full bi-directional control

– this tool has full bi-directional control over vehicle-specific subsystems and parts such as SRS, ABS, roof, window, and door.  

ECU coding- You can find this function in a mid-range scanner.
20 plus OE-level diagnostics
Auto VIN technology

– you no longer have to take a lot of time trying to identify the vehicle make, model, and year of manufacture with the Auto Vin function. It gives you the details instantly.

ADAS compatibility

– ADAS or advanced driver assistance systems is a range of vehicle systems that help the driver either through passive alerts or active control of the vehicle to drive safer and with greater attention. Autel ADAS calibration covers the following car makes: Audi, Benz, BMW, Lexus, Ford, Volvo, Toyota, VW, Infiniti, KIA, Nissan, GM, Honda, and Hyundai.
Who should buy this Autel MK908p scanner?
If you're a busy mechanic or professional technician with advanced car problems, you will be delighted to have this tool. The Autel MaxiCom MK908P diagnostic scanner is easy to use ad intuitive. It is also fast and efficient in performance. You can use it to perform oil reset, EPB, SAS, injector coding, and much more.
On top of that, you can use it to diagnose advanced functions like ECU coding, ABS bleed, and bi-directional control. DIY enthusiasts, car owners, and start-up mechanics can also use this tool if only it helps them diagnose advanced functions.
Conclusion
Autel MaxiCom MK908P is one of those scanners that should be on top of the professional mechanics and technicians lists. Even though this scan tool is quite pricey, it lives up to its cost. The device performs all basic, special, and many advanced functions. It also offers extensive vehicle coverage, which is crucial to mechanics who work in busy garages. The device is even faster than competitor tools and allows the user to multitask without any challenges.
Cons of the MaxiCom MK908P Scan tool
If not for its compatibility issues and high software upgrade charges after the free software upgrade offer, this would be a near-perfect scanner. It also features the usual Autel 1-year warranty and a 30-day repair or replacement policy. Overall, this is an excellent professional scanner at such a fantastic price. I hope that this Autel Maxicom MK908P review article has given you a clear idea about this scan tool.
Related article: Check the Features Comparison Between Autel Maxisys Pro and Elite Before Buying
What is the importance of buying a diagnostic scan tool?
A good OBD2 diagnostic scanner helps you to have a report of the different systems within your car. It allows you to know if the vehicle is safe for driving or whether it needs some repair work done. Also, it helps you pass emissions testing, which is vital in helping to maintain and less polluted environment. Besides, they also help reduce the overall cost of repairs. This is because one can search for specific maintenance prices and don't wait for the mechanic to quote any price that they wish.
Technical Specifications of the Autel MaxiCOM MK908p TPMS Scanner
| | |
| --- | --- |
| Display: | 10.1-inch capacitive touchscreen |
| VCI box for Bluetooth connection: | Yes |
| BMS/SAS/DPF: | Yes |
| Throttle/Brake Bleed: | Yes |
| Comprehensive OBD relearn coverage: | Yes |
| Autel MX sensors programming: | Yes |
| Oil reset/EPB: | Yes |
| Activate 98% of TPMS Sensors: | Yes |
| Advanced TPMS function: | Yes |
| Dimensions: | 12.28 x 8.19 x 1.42 inches |
| Weight: | 20.8 pounds |
| Fitted OS: | Android 4.4.2. KitKat operating system |
| Vehicle Coverage: | Ford, Buick, Cadillac, Chevrolet, Chrysler, Geo, GMC, GMC Truck, Hummer, Hyundai, Kia, Pontiac, Mazda, Saturn, SCION, etc |
| Warranty: | 1 year |
| Price: | Check Today's Price on Amazon |
Kevin Nicholas is an automotive technician who is a genius at software and hardware-related issues. He manually tested more than a hundred OBD scanners and gave his honest opinion on whether the device was worth the money or not. His in-depth OBD review articles help people choose the right product, whether it is a European, American, or Asian vehicle. He completed his Automotive Specialized Training Course at Universal Technical Institute and has more than 15 years of experience in the field.