If you're looking for an inexpensive but versatile scan tool, the Innova CarSacn Pro 5210 diagnostic scan tool is one of the best in its price range. This device can be paired with your smartphone to offer real-time solutions and parts information. So, sometimes you may not have to visit the mechanic to repair or replace some parts.
The Innova 5210 diagnostic scanner is simple, reliable, portable, and sturdily made. It is also compatible with a broader range of cars and has several basic and special functions. It has intuitive controls, and the screen is big enough to view results easily.
In this review, we've featured everything you need to know before investing in this excellent, affordable diagnostic scan tool from Innova Electronics.
Technical Specifications of the Innova 5210 obd2 diagnostic scan tool
| | |
| --- | --- |
| Features: | Innova 5210 |
| Item Dimensions: | 6 x 3.3 x 1 inches |
| Screen Size: | 2.8 Inches |
| Item Weight: | 11.2 ounces |
| Read and Clear Vehicle Codes: | Check Engine – ABS |
| Oil Light Reset: | Yes |
| Read Oil Level & Oil Life: | No |
| Battery Reset: | No |
| ABS Brake Bleeding: | No |
| Active & Bi-Directional System Tests: | No |
| Emissions Check: | Yes |
| Repair Solutions2 App: | Yes |
| Live Data: | Yes |
| Freeze Frame Data: | Yes |
What makes the Innova 5210 scan tool special?
The Innova 5210 scanner is unique because of its simplicity, functions, features, and accuracy. It can also be used by beginners, professional technicians, and car enthusiasts.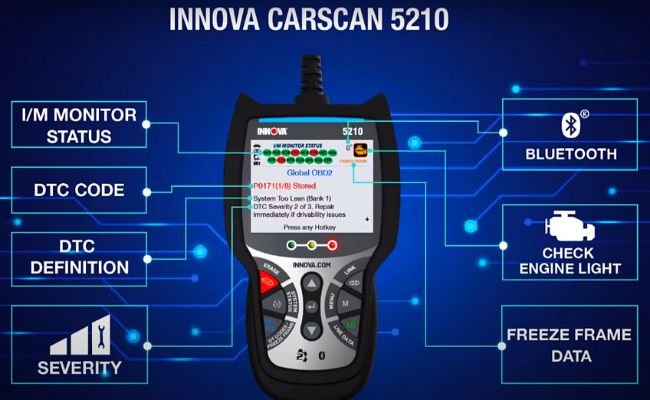 Is the Innova 5210 ergonomically designed and sturdy?
Like most Innova scanners in its class, the Innova 5210 is well designed for ease of use and has an intuitive user interface. It comes with clearly labeled hotkeys and LED indicators for emissions testing. This includes green, yellow, and red LED indicators.
What is the dimension of the Innova 5210 scanner?
The Innova 5210 is a compact and light diagnostic scan tool. But first of all, it measures 6 x 3.3 x 1 – inches. Additionally, it weighs around 11.2 ounces, which is quite heavy compared to other Innova products in the same price range.
Nonetheless, the 5210 compact device makes storage and transportation easy. So, you won't feel burdened carrying this device in your toolbox or car's compartment.
Why is it essential to install the RepairSolutions2 App on your smartphone?
The RepairSolutions2 App is vital because it provides real-time solutions and fixes to your automotive problems. Moreover, it gets verified fixes, finds and buys the exact components needed for repair, checks maintenance schedules, purchases parts, gets technical bulletins, dealer and safety recalls, and provides access to Innova's database.
What functions does the Innova 5210 OBD2 scan tool cover?
The Innova 5210 diagnostic code reader supports all the 10 OBD2 test modes. Some of them include reading and erasing fault codes and live data. Nonetheless, it performs other functions like battery/charging system tests, cod severity levels, oil light reset, and diagnosing ABS.
What is the role of live data in this scan tool?
Live data helps the user to view their car's most critical information, such as speed, RPM, and oil temperature, in real-time to assist in singling out and fixing issues. What's more, it allows you to view and examine your battery and alternator; hence you know whether you've to visit your mechanic or not.
Is the Innova 5210 a multilingual gadget?
Yes, the Innova 5210 scanner is a multilingual unit. This is because it is offered in three languages. This includes English, Spanish, and French.
What vehicles are compatible with the Innova 5210 scan tool?
The Innova 5210 scan tool works with most OBD2 compliant vehicles made in 1996 and newer, including domestic and foreign vehicles. It can be a car, light, truck, SUV, or hybrid vehicle. Regardless, it is vital to determine whether your car is compatible with this tool before buying it.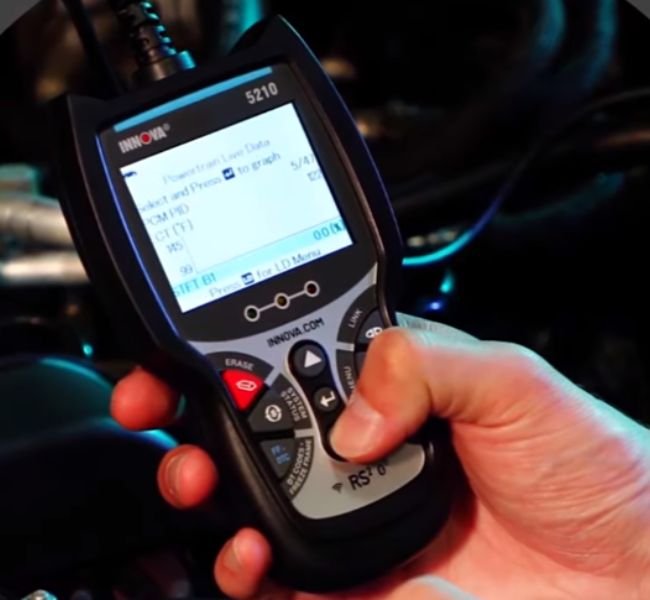 Does this unit come with a warranty?
Yes, Innova Electronics offers a one-year warranty to buyers of this product. Therefore, if the scanner develops a problem or comes with a defect, the user can return it for repair or replacement if they are still within the warranty period.
Pros of the Innova 5210 scan tool
It is sturdily built for long-lastingness
It is sleek with a big display for easy viewing of results
The device is compact and light for easy storage and transportation
The unit performs a variety of functions
It functions with most 1996 and newer OBDII compliant vehicles
It offers live data
The scanner comes with a one-year warranty
It prepares your car for an emissions test
Cons of the Innova 5210 scan tool
It only links to one VIN, and you will have to purchase "keys" to add more vehicles.
It is slightly complicated for beginners
Who should buy the Innova 5210 scanner?
The Innova CarScan Pro 5210 diagnostic code reader is ideal for amateur mechanics, DIY enthusiasts, and car enthusiasts. This is because it offers a handful of functions and lacks the most advanced functions. All in all, it's still an excellent scan tool, offers accurate outcomes, and is simple to use.
Bottom Line: Our Innova 5210 Review
The Innova 5210 diagnostic scan tool is excellent for amateur mechanics who desire a scanner that performs more than just the basic functions. With this scanner, you can check emissions readiness, reset oil lights, and perform battery/charging tests. These are functions that most basic scan tools cannot perform.
Nonetheless, the Innova 5210 device users should be ready to purchase additional keys if they intend to check various cars. Furthermore, this scanner is slightly complicated, so beginners might find it challenging to use. It is a friendly tool with many outstanding diagnostic features and functions.
FAQ
Can I use the Innova 5210 code reader to activate the air injection pump and solenoid?
Unluckily, the Innova 5210 scan tool cannot activate the air injection pump and solenoid. Besides, Innova doesn't sell any product or diagnostic scan tool that can perform such a function. So, if you desire a tool that can activate air injection, you must consider other brands.
Can the Innova 5210 diagnostic code scanner read oil level and oil life?
No, the Innova CarScan Pro 5210 scanner cannot read oil level or oil life. However, it can be used to reset oil lights and perform other basic functions. Since this tool is an entry-level scan tool, it cannot perform the most advanced functions, such as enhanced data stream, bi-directional systems tests, EPB/ABS brake bleeding, and battery reset, to name a few.
What is included in the Innova CarScan Pro 5210 scan tool?
The Innova 5210 scanner package includes the code reader with attached OBDII cable. It also features a quick start guide that helps newbies and car enthusiasts properly diagnose their car by following the instructions provided.
Is the Innova 5210 an excellent scan tool for professional mechanics and auto repair shops?
It depends on what you plan to utilize the scan tool. This is a nice tool to have if you're a professional mechanic or have an auto repair shop that desires a device with a few basic functions. Overall, this tool is not suited for professional use as it performs a few functions.
What is the power source of the Innova 5210 scanner?
Batteries power the Innova 5210. However, it can still function without batteries if connected to a running car. Therefore, you can plug and play as long as the car runs.