The Craftsman 3 ton floor jack is one of the essential tools a driver should have in their garage. I understand there that their lots of floor jacks, but this one stands out. This is because, unlike other service jacks, Craftsman 3 ton floor jack is a three-in-one jack. It comes with a 36-inch creeper, two jack stands, and a floor jack. Read this Craftsman 3 Ton Floor Jack review to know more about this jack.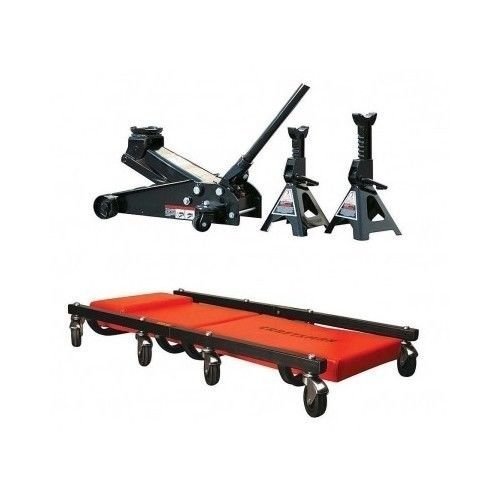 Check Price
In addition, this car jack is special in that it is durably made to provide maximum safety to the mechanic or DIYer who is repairing the brakes or changing tires underneath the car hood. Being a 6,000 lb hydraulic lift, this trolley jack has the ability to lift different cars, trucks, trailers, minivans, and SUVs. If you have a motorcycle to lift, then you should check this Craftsman motorcycle jack. Why this Craftsman 3 ton floor jack review, and why should you consider it to buy?
Craftsman 3 ton floor jack review (video):
Furthermore, the 36-inch creeper with smooth-rolling casters allows easy movement below the car and has a headrest for added comfort to the mechanic. When using this auto jack, you don't need to get an expert to assemble it as this can be done quickly and easily by you. In addition, it has a minimum lifting range of 5.5 inches and a maximum lifting range of 19.25 inches. The 3-ton capacity jack comes with a full one-year warranty from the manufacturer. Such features make this service jack to be an ideal tool to have in your home garage so that you can handle your car issues easily and fast.
Features of Craftsman 3 ton floor jack
A 36-inch creeper with smooth-rolling casters
6, 000 lb hydraulic lift
Twin jack stands
Headrest on creeper
Lifting range of 5.5 to 19.25 inches
Service jack
3-ton capacity
One year full warranty
Pros:
It is very easy to assemble and keep
Its sturdy construction gives the mechanic or DIYers peace of mind as they work under the hood of the car or truck.
It is versatile in use as it can lift different cars such as trucks, cars, SUVs, trailers, and minivans.
The 36-inch creeper has a built-in headrest for added comfort to the user
It has an excellent lifting range of 5.5 inches to 19.25 inches
The three-in-one set of the jack stand, floor jack, and creeper makes it simplify the work of the user or mechanic as they don't have to buy separate tools.
Cons:
What to look for in a Service/Floor jack?
Imagine your car tire bursting in the middle of nowhere. This can be really disturbing. Having a service jack that you can carry in your car ready to lift it when it develops a mechanical issue is something that shouldn't be taken for granted. Thus, when choosing a service jack, there are various things that should be considered to ensure that you select the best choice for your needs. Below are some of the crucial factors to look at before acquiring a service jack for your car repair works.
Construction
This is very vital especial for individuals who want to lift heavy cars such as trucks, trailers, and SUVs. In most cases, durable floor jacks are made from either stainless steel or aluminum metals. Some auto jacks have plastic parts and shouldn't be used to lift heavy cars. In addition, you should check the ton capacity of the service jacks. 2 ton and 3-ton floor jacks are the most common. If you want to lift a car or SUV, a two-ton capacity is the best. While for trucks, trailers, and minivans, a 3-ton capacity is the most suitable. A well-built trolley jack will last longer and serve you better. So, don't compromise the build quality.
Type of car to be lifted
Another thing that many car owners forget about when buying a service jack is the car they intend to lift. It is important to identify the vehicles that the service jack you're acquiring will be used to lift. Not every vehicle can be lifted by any service jack. First of all, you will need to know the weight of your car so that you can get a service jack that can lift it with little issues and safely. Also, you will be required to know if the auto jack you're buying is for lifting low profile or high profile cars.
Purpose
Floor jacks can be chosen based on the type of use. For instance, a service jack meant for use by a mechanic will be totally different from that intended for use at a home garage. This is because a mechanic deals with all sorts of cars and thus they need a very reliable and strong car jack. At the same time, a garage jack for home use should be able to lift your car and nothing more. So, as you go about the business of choosing a car jack of your choice, ensure that you get one that carries out its role effectively. A service jack made of stainless steel is the best for commercial use, while an aluminum jack is portable and is suitable for maneuvering within your home garage for simple repairs.
Related article: Ergonomically Designed Red & Black Torin Floor Jack Review in 2022
Lifting speed
Be aware that not all service jacks have the same lifting speed. This is a crucial feature, especially for a person who services a lot of cars. There are certain brands that have a very effective floor jack that lifts their loads quickly and well.

Check Price
Look for such floor jacks as they will save you time. Also, the lifting range varies, and the higher the range, the better. A high lifting range will give you enough space to work under your car hood without worrying so much about safety.
Ease of use
How is the car jack made? Does it have four wheels with a handle? If so, then this is the best floor jack to get the job done fast and easily. The handle should be the two-piece type with a nice grip.
Brand
Is it from a re-known brand or not? Ensure you buy from one of the famous brands as they have the best. In addition, such brands offer warranties and are recommended by many people. Stay away from the inferior brands, as you will be throwing away your cash.
Price
Ensure you get the best quality for long-lasting use. Don't be afraid to spend if you are sure that the service jack you are buying is the best quality. Also, such brands come with a warranty, and you can be certain that you're getting value for money.
Conclusion
Craftsman 3 ton capacity floor jack is an outstanding lifting tool that motorists should have. With different brands offering different types of service jacks, it is important for a person to select a floor jack that serves them better. This floor jack has an advantage over the other brands in that it offers three in one (creeper, floor jack, and jack stands), making it easier for the mechanic to repair his or her car. This is way cheaper than buying these tools separately. Also, the floor jack can be used to lift different types of cars, SUVs, trailers, minivans, and trucks. Save the cash you spend at a repair shop by getting this sturdily built service jack in your home garage to take care of simple car mechanical issues. Still, have a question after reading this Craftsman 3 Ton Floor Jack Review? Comment below.
Meet our professional car mechanic, Russell D. Steele, who has been in this field for five consecutive years and works with several automotive companies. He completed the "AUTOMOTIVE & LIGHT DUTY DIESEL TECHNOLOGY" course from NorthWest Lowa Community College, where he learned essential diagnostic and transportation management skills and became a certified mechanic.