Motorcycles are a joy to ride. It doesn't matter if it's just for fun or for competition. But similar to other machines, motorbikes get worn out and develop issues. Also, a motorcycle's tire can burst to force the rider to change it. In order for you to verify the issues your motorcycles might have, you need an excellent jack to lift it so that you can inspect and make the necessary changes for the smooth running of the machine. There are various brands and kinds of motorcycle jacks to choose from. Among the best performing brands in the harbor freight motorcycle or ATV jack. Read this Harbor Freight motorcycle lift review to know the best tool from this brand.
Harbor freight is a long-serving company with more than 40 years of experience. It is the leading discount in the United States, selling high-quality tools at very low prices in more than 800 stores around the country. Also, they offer numerous tools that can be found on their online portal, www.harborfreight.com. The areas that they specialize in include: air and power tools, automotive, shop equipment, and hand tools. If that's not enough, the manufacturer offers a lifetime guarantee which assures the users of its excellent quality. In addition, Harbor freight tools make quality and user-friendly tools that meet the demands of customers.
Top two Harbor freight motorcycle lift review
Although Harbor freight offers a wide range of motorcycle jacks, we decided to select the best two and elaborate on them. These are highly recommended by motorcyclists. Also, they have outstanding features that make repairing of ATVs and motorbikes to be easy and fast. These are as follows:
Harbor Freight high position motorcycle lift
If your motorbike weighs less than 1100 pounds, you can comfortably use this jack to lift it for repair works. The high position motorcycle jack has the capability to lift motorcycles between a height of 2, 1/2 to 30 inches. It has a wide saddle that comes with a rubber top, which prevents the motorcycle frame from being harmed. In addition, its ergonomic design makes it easy to lift ATVs and motorcycles. The wheels on the jack make maneuvering to be easy and quick. With the central hydraulics system, this is a very excellent jack for using to lift your motorbike or ATV when it has a problem.
Technical Features of Harbor Freight 1100lb High Transmission Jack 33615:
| | |
| --- | --- |
| Features | Harbor Freight 1100lbs |
| Rated capacity: | 1100 lb. |
| Lifting range: | 2.5 in. to 30 in. |
| casters: | Four swivel casters |
| Base: | Extra stable wide base |
| Accessories Included: | Safety chain/strap |
|  convenient foot-operated pump: | Yes |
| Perfect for: |  lifting ATVs and motorcycles |
| Length: | 31 in. |
| Weight: | 100.00 lb. |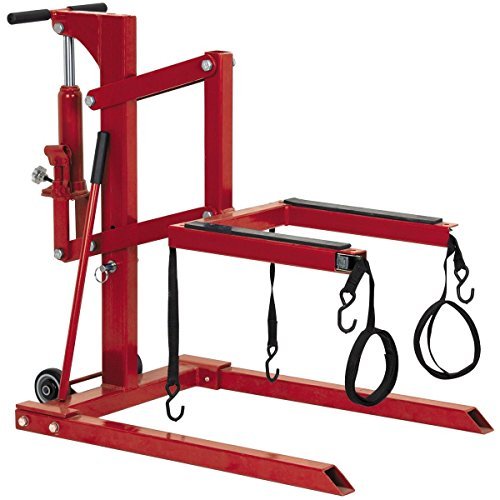 Check Price
Features:
Wheels
Nice handle grip
1100lb capacity
Lift range of 2,1/2 inches to 30 inches
Saddle
Rubber grip on lift saddle
Ergonomic design
Pros:
It has a wonderful grip handle for easy handling of the motorcycle jack
The ergonomic design that the jack comes with makes lifting off the ATV or motorcycle to be easy and fast.
It is durably made to last long and offer the much-needed support
It can be able to lift up to a load of 1100 lb.
The saddle has a rubber grip that prevents the motorcycle frame from being damaged
It has wheels for easy maneuvering of the motorcycle jack during use
The lift range of 2.5 inches to 30 inches provides the mechanic or DIYer a simple time repairing the ATV or motorcycle.
Harbor Freight 1500lb capacity ATV/Motorcycle lift
The Harbor freight 1500lb capacity jack is an effectively and sturdily made tool. To begin with, it is built with swivel casters that make maneuvering of the jack to be easy. It has rubber grip pads on the lift saddle to secure the motorcycle frame from getting damaged.
The handles are extremely long for simple lifting. In addition, it has a wide low profile base with rear-mounted ball bearing swivel casters. The heavy-duty hydraulic pump can lift the load up to 17 inches from 5.2 inches. Also, it has welded loops for use with tie-downs. The jack has the ability to lift weights of 1500 lbs or below. Use this reliable harbor freight jack to lift your ATV or motorcycle for repair and maintenance works.
Technical Features of Harbor Freight 1500lb capacity Jack:
| | |
| --- | --- |
| Features | Harbor Freight 1500lbs |
| Rated capacity: | 1500 lbs |
| Lifting range: | 5.2 in. to  17 in. |
| Pads: | Rubber grip pads |
| Base: | Wide, low profile base |
| Coating: | Powder coat |
| Body: | Steel |
| Perfect for: | repair and maintenance works |
| Length: | 32-1/2 in. |
| Weight: | 70.8 lbs. |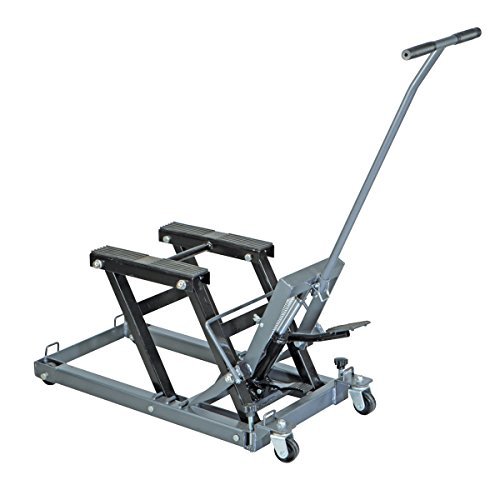 Check Price
Features:
Extra-long handle
Rubber grip pads on lift saddle
Welded loops
Heavy-duty hydraulic pump
1500lb capacity
Saddle
Lift range of 5,1/2 to 17 inches
Swivel casters
Four lockable work heights
Pros:
It is sturdily made for longevity and to offer great support for the load
The handle is very long for a simple lifting of the load
It has a nice grip for full control or the ATV jack
It has welded loops for use with tie-downs
This can be folded down, which makes it easy to store
It can lift to loads of up to 1500 lb
The motorcycle jack has a minimum of 5.5 inches to a maximum of 17 inches.
The swivel casters that it comes with make maneuvering of the jack to be smooth and simple.
Tips on using motorcycle jacks or floor jacks
Look for a flat surface – for your motorcycle to be lifted in place and be stable, you need to place the ATV jack on a flat and stiff surface. A concrete surface is an ideal place. Avoid putting it in on soil or carpeted ground.
Inspect beneath the motorbike – go on your knees and heck the underside of the motorcycle. It is required that the engine should be lifted without being changed when lifted. Make necessary changes – if you've side stands, ensure that your bike is well positioned on the jack before lifting it into the air. It should be upright so that it doesn't weigh on one side when being lifted.
Tie the cycle down – after that, make sure that you tie the bike with two ratchets. Most of the jack firms make motorbike jacks with ratchets so that you can tie them in place in case they aren't stable. But in case your jack doesn't have ratchets, you can buy them from the nearest store for added safety when working on your motorbike or ATV. Place the jack in the right position – using the big handle that the jack comes with, roll the bike onto the jack and position it uprightly. And in case you have a center on your bike, ensure that it is positioned in the middle of two rubber platforms on the bike jack and then lock the wheels.
Support the bike with jack stands – when you are sure that the bike is perfectly positioned and stable, raise the jack to a positioned that will make you repair easily and well. In case their lots of maintenance work to be carried out on the bike, it is advisable to place jack stands for added safety as you work on different parts.
Conclusion
The Harbor freight brand is among the most reliable brands when it comes to floor jacks, jack stands, and motorcycle jacks. Instead of utilizing a car jack, you can acquire one of the above two motorcycle jacks to effectively repair your ATV or motorbike. These are durably constructed to last long and have excellent features to make work easier. The saddle they have ensures your motorbike frame is secured and has fully functional hydraulic systems in place. I hope you've found this Harbor Freight Motorcycle Lift review to be informative and impacted how you will choose your next harbor freight motorcycle.
Still, have questions after reading this Harbor Freight Motorcycle Lift Review? Comment below.
Kevin Nicholas is an automotive technician who is a genius at software and hardware-related issues. He manually tested more than a hundred OBD scanners and gave his honest opinion on whether the device was worth the money or not. His in-depth OBD review articles help people choose the right product, whether it is a European, American, or Asian vehicle. He completed his Automotive Specialized Training Course at Universal Technical Institute and has more than 15 years of experience in the field.