Being a car dealer, I have come across different types of OBD2 scan tools, both conventional and wireless. I can say they both have their own good and ugly side. Some brands and models outperform others. Conventional scan tools, which are the most common ones, are good, but I have come to love wireless diagnostic scanners due to their ease of use. Since I deal with lots of different cars (new and old models), I have had some of the best diagnostic code readers on the market. For this reason, I wanted to share with you one of the exceptional Bluetooth code readers that I have come across. This is the Blue driver OBDII scanner. It shows Live Data, Important Vehicle Information, Smog checks, Freeze Frame, and more.
Affiliate Disclosure: "Our site is a participant in the Amazon Associates Program. This page may include Amazon affiliate links, on which we may receive a small commission at no extra cost to you."
Technical specifications

| | |
| --- | --- |
| Advanced Features | OBD2 Scanner BlueDriver |
| Works: | ALL 1996 and newer vehicles |
| Read and Clear Permanent CEL Codes: | Yes(Confirmed, Pending, and Permanent for all makes) |
| Check Engine Light: | Yes |
| Live Data Stream: | Display multiple PIDs as a graph, tranny codes, gauge, or digital readout (or export the log to a file) |
| Mode: | 6 (Advanced test results) |
| ABS Check: | Yes |
| Freeze Frame: | Vehicle snapshot when a fault code is stored |
| Repair Report: | Code Definition, Possible Causes, Reported Fixes (Vehicle-specific for each DTC) |
| Airbag Check: | Yes |
| Dimensions: | 2.2 x 1.9 x 1 inches |
| Weight: | 3.84 ounces |
| Price: | Check Price |
I started to use the Bluedriver diagnostic scanner a few months ago when one of my friends recommended it to me. I can say that it is by far the best wireless scan tool that I have used. It is easy to connect and very stable. Also, it offers functions that other conventional scan tools provide and much more. For example, the Bluedriver is more advanced than the BAFX scan device. This wireless scan tool is very accurate and can perform a basic scan of all vehicles to ensure that they pass the emissions test and to check for trouble or pending codes. Unlike conventional code readers, this scan tool is small in size and highly portable. You can keep it in your pocket or on the dashboard.
Bluedriver OBD2 Reviews (Video):
Some of the special features that this device comes with are the ability to customize your live data dashboard using different data sources like fuel pressure, mass airflow, and many others. Also, it provides vital vehicle data about your vehicle, such as maintenance schedule, vehicle speed, Manufacturer specific codes, technical surveillance, and recalls. With this device, you can check freeze frame data instantly, conduct smog checks, and view repair suggestions.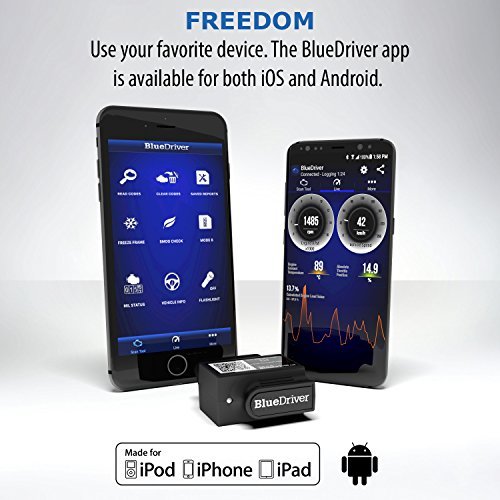 Check Price
All in all, the Blue driver obd2 scanner is a great device for reading and clearing enhanced codes like airbag, vehicle speed, engine oil temp, ABS, transmission, and other module codes for Ford, GM, Toyota, BMW, Nissan, Chrysler, 20003+ Honda, and several other vehicles. In addition, it has great customer support that is present 24/7 and ready to hear your queries and offer you solutions. The only shortcoming of this diagnostic code reader is that it is not compatible with windows mobile devices. It is specifically built for iOS and Android phones, which is a huge disadvantage to individuals with windows phones.
Related article: What Are the Differences & Similarities Between BlueDriver and FIXD Bluetooth Scanners?
Bluedriver OBD2 Main Features
Clear and read codes on the phone screen

Freeze frame and smog check

Ideal for professional mechanics

Free vehicle-specific repair reports

Officially licensed and certified for Apple and Android devices

Free Bluedriver App

Shows trouble code and real-time data

Made for iPhone, iPad, iPod, and Android

24/7 customer support

Bluetooth compatible

Measures 2.2 by 1.9 by 1 inch
Why buy BlueDriver Bluetooth Professional OBDII Scan Tool?
| | |
| --- | --- |
| Battery Operated? | No |
| Operating Systems: | iOS & Android |
| Airbag & TPMS? | Yes |
| Can you leave it plugged in? | No |
| Installation time: | Less than 5 seconds |
| Diagnosing time: | Less than 1 minute |
| Bi-directional communication: | No |
| ABS bleeder test: | No |
| Is BlueDriver App free? | Yes |
| Detailed fuel trim data? | Yes |
| Support 2002 Allison 1000? | Yes |
| Required internet connection? | Yes |
| Phone: | 1-866-302-0054 |
Sturdy construction
Getting a reliable and durable Professional diagnostic code reader is a great thing. After all, you want to use the code reader for a very long period of time. The Bluedriver code reader is compact in design and simple to carry. It doesn't take up much space like conventional scan tools.
Portable device
With its compact design, this is very portable, and you can carry it as you wish. It measures 2.2 by 1.9 by 1 inch. It weighs less than 1.6 ounces and is very small in size. Keep it in your pocket when not in use or even in your backpack.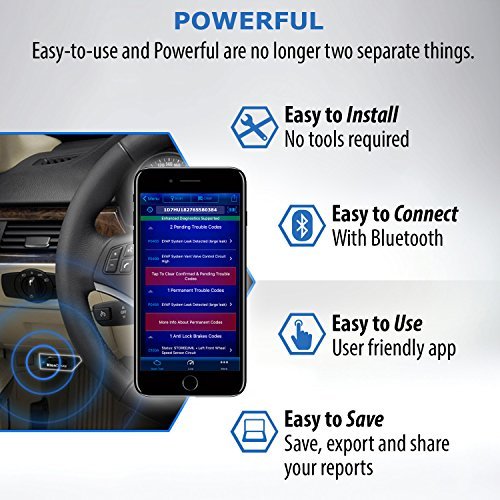 Check Price
Easy to install
Unlike conventional code readers, where you have to link the scan tool cable to the car and then to the device, this one is very easy by simply placing it in the car and connecting it with Bluetooth on your android or apple gadget.
Bluedriver OBD2 scan tool is easy to use
Simply download the Bluedriver app to your iOS or Android device and link it with the scan tool with the help of Bluetooth. Then, you're ready to start using it. You can get free app updates whenever you need them, and there is a team of certified professionals that will aid you.
Unlike other types of scan tools, the Bluedriver diagnostic code reader enables the user to easily save, export vehicle data, and share reports obtained from their vehicle. This makes repairs easy and fast. It shows free Repair Reports from Identifix that you will not find in the Autel MaxiLink ML619 tool.
Versatile use
This onboard diagnostic scan tool is able to perform the functions of conventional scanners and much more. It can read and clear enhanced codes, check and verify if the car is ready for a smog test, read and clear CEL error codes, repair reports, conduct advanced test results, and show a wide range of PIDs as a gauge graph or a digital readout. Also, it has an interactive graph of live data.
Related article: BlueDriver VS OBDLINK: Which Scanner is better for you?
Bluedriver OBD2 Compatibility
If you are worried that your car is compatible with this device, then you shouldn't be. This is because it functions on all vehicles and has no compatibility issues. If you are living in North America, then you can use it on Ford, GM, Nissan, BMW, Chrysler, and several other vehicles. Just download the app from iTunes or Google Play and start using it by linking the scanner with your tool.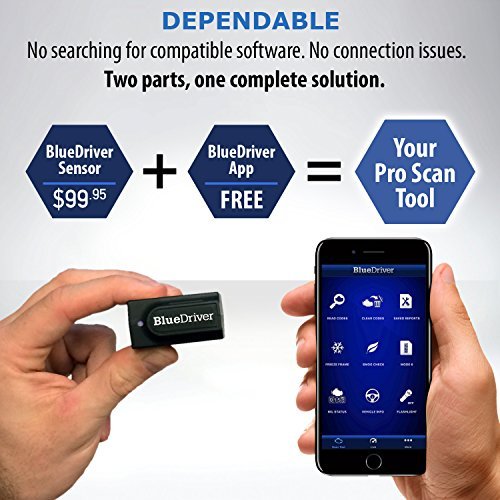 Check Price
OBD2 Scanner Bluedriver is Very Reliable
This is a very reliable enhanced diagnostics tool as it is very stable. After you connect it to your phone, it will accurately read and clear diagnostic codes on your car and other issues. This is done within a very short period of time. Also, it is very efficient in performance.
It is economical
Having a device that offers a wide range of features can cost you so much. But at such a great price, you will find a wide range of advanced features that will enable you to perform different tests and scans. If you need a low-price scanner, then you can check the BAFX 34t5 Bluetooth scan tool.
Great customer support
Of all the different brands that I have used, I really appreciate the great customer support I have received so far from the Bluedriver scanner. They have a technical support team that is active 24/7, and thus you can contact them anytime you wish to. Made by American engineers, you can as well heavily rely on this tool to always deliver as it meets the necessary standards.
Summary
If you are looking for a quality and reliable wireless scan tool, then the Bluedriver OBD2 code reader is a great choice. This car diagnostic scanner has saved me a lot of time and money. Working in a busy repair shop means that I have lots of vehicles to handle in a day. The Bluedriver is very accurate and efficient in performance. All you have to do is connect it to your car and link it to your phone. It does this in less than 5 seconds.
Minor Setbacks:
The first setback of the Bluedriver scan tool is that it doesn't offer you solutions about fuel economy or driving. You can use

OBDLINK MX+

or

OBDLINK LX

for both android and windows operating systems.

The huge setback is that it cannot be linked with windows devices as it is only compatible with iOS and Android devices.
The portable Bluedriver OBDII scan tool will give you live and freeze engine data, turn off check engine lights, analyze error readings, and perform tests such as the smog test instantly. Link it with your iPhone, Apple, iPad, and Android gadgets. If you have a windows gadget, you will be forced to acquire one of the 4 that I've just mentioned prior.
Compare with other models:
| | | | |
| --- | --- | --- | --- |
| Features | ThinkDiag | ThinkCar | BlueDriver |
| Actuation Tests: | Yes | No | No |
| Real-time data: | Yes | Yes | No |
| Auto VIN Reading: | Yes | Yes | No |
| Remote Diagnosis: | Yes | Yes | No |
| Reset Services: | Yes | No | No |
| Online Report: | Yes | Yes | No |
| Community asks: | Yes | Yes | No |
Kevin Nicholas is an automotive technician who is a genius at software and hardware-related issues. He manually tested more than a hundred OBD scanners and gave his honest opinion on whether the device was worth the money or not. His in-depth OBD review articles help people choose the right product, whether it is a European, American, or Asian vehicle. He completed his Automotive Specialized Training Course at Universal Technical Institute and has more than 15 years of experience in the field.