Actron cp9680 is a modern scan tool with lots of features and benefits to offer to the user. The auto scanner guides you on how to line up your troubleshooting and get outcomes quickly. Actron scanner has a code connect that is a very extensive data source of more than 26 million tested fixes. For the DTCs, that leads to the specific check engine light clearing up. Also, it has a large LCD color screen for easy reading of results and a power backup, just in case the engine runs out of power.
Affiliate Disclosure: "Our site is a participant in the Amazon Associates Program. This page may include Amazon affiliate links, on which we may receive a small commission at no extra cost to you."
Actron CP9680 AutoScanner Review in 2023
Actron CP9680 can be applied to different vehicles manufactured from 1966 through 2013. These included domestic and foreign vehicles. It is also able to reset oil light definitions & codes and cover ABS and SRS airbags. The user can as well choose from one of the three languages. Such features and many others make this scan tool to be reliable and very efficient in detecting and diagnosing engine issues. The previous version of this tool is Actron CP9670.
Color screen
Trilingual menu
Record, playback, and graph live engine data
Compatible with all 1996 and newer import and domestic OBD2 and CAN vehicles and also 1994 & 1995 obd2 compliant vehicles.
ABS and SRS airbag coverage for a good number of 1996 to 2013 GM, Ford, Chrysler, Toyota, Honda, Hyundai, and Nissan vehicles.
Can print data to PC
OBDII definitions and codes
Oil light and battery reset
Battery system monitor
AutoID
Technical specifications of the Actron CP9680 Autoscanner plus

Works:

Improved vehicle coverage through 2013

Larger Screen

:
Yes

OEM-specific definitions/codes

:
Yes

Color screen

:
Yes

Powertrain and ABS Vehicle coverage

:
Yes

Battery system monitor

:
Yes
Update option:
Yes

ABS and airbag vehicle coverage

:
Yes

CodeConnect

:
Yes

Oil light and battery reset

:
Yes

ABS and airbag vehicle coverage

:
Yes
Dimensions:
25.9 x 16.5 x 3.8 cm
Weight:
363 g
Get transmission codes:
Yes
Price:
Check Price
Why buy the Actron CP9680 Auto Scanner?
Durability
The cp9680 is a well-built scanner with solid plastic. This can resist impact and crash. Just like the launch of OBD II scan devices, the diagnostic scan tool can be updated on the internet so that it can accept new car models. This means that the user will be able to use it for a long period of time by just updating the device.
Compatibility
This is one of the features that make the cp9680 amazing and loved by many. It has better compatibility as it covers both domestic and foreign cars. One of the most astonishing things about their compatibility is that their coverage is not just limited to cars built from 1996 and newer but as well 1994 and 1995 OBD2 compliant vehicles.
Live data reading and graphic presentation
This feature enables the scan tool used to have the leeway of having to access the data codes in real time. Furthermore, the diagnostic scanner has the alternative of offering the users a graphical presentation of the coded data, which enables greater analysis of the fault and how to amend it.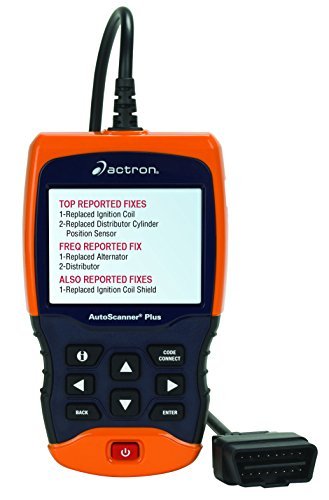 Check Price
Ideal size and weight
Looking at its size, this scan tool is suitable for any car engine. It measures 10.9 X 7.7 X 2 inches. Also, it weighs 0.3 ounces which is very lightweight than the Actron CP9690 elite scanner and not a burden to carry around as you perform various tasks. Thus, it is very portable.
Online Updatability
One of the features that people usually look for in an OBD II scanner is whether it can be updated or not. The cp9680 scanner comes with a USB port that is connected to the internet when updating the device. So, if you purchase the latest car model, you can be certain that it will work on it by just updating the diagnostic scan tool.
User friendly
When it comes to using this OBDII scanner is not complicated or difficult to use at all. The large display screen that it has is very easy to read. It is colored and has a backlight for reading, even in dark or poorly lit places. Also, the scan tool minds different user's from different parts of the world as it is trilingual. One can set it to English, Spanish or French language. It depends on which language is okay with the user.
Related article: Should you buy a Konnwei KW808 scanner in 2023?
Reliability
Factors that make this scan tool to be very reliable are the capability of the cp9680 to provide live data and also representation with support from some of the most innovative systems. In addition, it is very fast and precise in terms of data code reading and determination.
Antilock brake system and Air Bag data coding features
Before you buy a scan tool, ensure that it offers this feature. Many of the diagnostic scanners on the market don't have this feature, but it is very vital. Both the ABS and airbag data coding enable the diagnostic scanner to have a better grap of the data as well as offer it the capability to provide fast outcomes to any data fault reading in case of an emergency.
Hard copy data
Besides providing data in real-time, the OBD2 scan tool users can enjoy the comfort of accessing the data in its printed form for better analysis and rectification as well as the future use of the coded data.
Backup power
With its alternative charging, the OBDII scanner can be referred to as a standalone gadget. It has an external battery that can be connected in case the engine power runs out. As a result, if left on car battery power over a long period of time, it will not delete it as it utilizes its own power.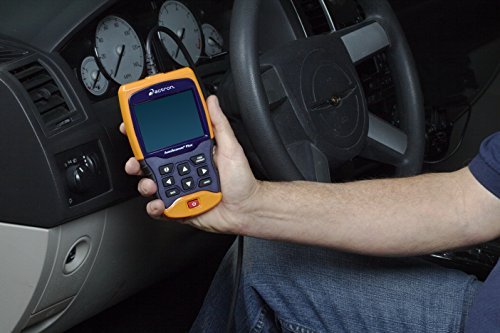 Check Price
It comes with code connect.
This feature makes the scan tool to be versatile in nature. This is because it assures the user of having the capability of accessing varied amounts of data, thus heightening the compatibility mode to cover generic as well as manufacturer-specific data codes.
Utilizes true link technology
This is one of the features that make the cp9680 scanner to be accepted around the world. It is capable of linking to any OBD II-compliant vehicle despite the model.
As usual with all the other scan tools from Actron, the Actron obd2 scanner has properly verified data that is created from the ASE-certified technicians online. This helps users to tackle any issues that they might be having.
Shortcomings of the cp9680 diagnostic scan tool
This professional obd2 scan tool has limited access to the code connect feature. This is because this feature is only present in English and not in the other two languages. This is a huge setback if you don't understand English.
Secondly, some newer cars have reported failure of this device working on them. So, before you acquire it, ensure that it is compatible and fully works with your car.
Apart from these two shortcomings, the Actron cp9680 has innovative technology and is well-designed for everyday use. It is also made by a famous brand with a good reputation on the market. I have explained everything in this Actron CP9680 review that you should know.
Summary
Ensuring that your vehicle is running well all the time should be the top of your priorities. This can be achieved easily by getting a quality obd2 scanner such as the Actron cp9680 onboard diagnostic tool. It is easy to use, reliable, lightweight, and has several outstanding features that are compatible with 1996 or newer vehicles, both domestic and foreign. Also, Actron is a brand that has set its bar high and is well-known for quality scan tools. The scanner is suitable for use by drivers, mechanics, and professional car dealers. Get it online or at a car store near you. I hope this Actron CP9680 review article has given a clear idea about this auto scanner.
Kevin Nicholas is an automotive technician who is a genius at software and hardware-related issues. He manually tested more than a hundred OBD scanners and gave his honest opinion on whether the device was worth the money or not. His in-depth OBD review articles help people choose the right product, whether it is a European, American, or Asian vehicle. He completed his Automotive Specialized Training Course at Universal Technical Institute and has more than 15 years of experience in the field.