The Autel Maxisys Pro MS908P is an advanced diagnostic scan tool suitable for technicians or professional mechanics. This scan tool offered the best solutions for ECU programming and specialized automotive diagnosing. Additionally, it displays data in text, graph, analog, and digital gauges for simple data review and analysis. Autel scanners are the best for professional mechanics or shop owners. Read this Autel Maxisys Pro MS908P Reviews article to know more about this advanced tool. (Check Price)
Technical Specifications:
| | |
| --- | --- |
| Features | Autel Maxisys Pro MS908P |
| Operating System(OS): | Android |
| Display: | 8.0 inch LED capacitive touch screen with 1024x768P resolution |
| Processor: | Samsung Exynos 6-Core Processor (1.3 GHz quad-core ARM Cortex-A7 + 1.7 GHz dual-core ARM Cortex-A15) |
| Power-balance test & auto-scan: | Yes |
| Internal Memory: | 2 GB RAM and 32 GB ROM |
| Camera: | 8.0 Megapixel, AF with Flashlight |
| EPB, ABS/SRS, SAS Calibration, DPF: | Yes |
| Check Engine Light: | Yes |
| Oil Reset: | Yes |
| Freeze Frame Data: | Yes |
| Live data: | Yes |
| Recording modes: | Full-Screen waveform graphing analysis |
| Actuation Tests: | Yes |
| ECU Information: | Yes |
| Opens and closes electronic brake calipers: | Yes |
| Injector Coding: | Yes |
| Connectivity: | Wi-Fi (802.11 b/g/n), DB16 DLC, USB 2.0, SD Card (Support up to 32GB) |
| Read all kinds of DTCs: | Yes |
| Audio Input/Output: | Single Speaker, Microphone |
| Erase the codes easily after DTCs retrieving: | Yes |
| prints out recorded data with Wi-Fi: | Yes |
| Real-time push message notifications: | Yes |
| Vehicle Coverage: | More than 80 US, Asian, and European Vehicles |
| Support Car Models: | Acura, Bugatti, Chrysler, Audi, Bentley, Benz, BMW, Citroen, Dodge, Holden, Honda, Daewoo, Ford, Fiat, Gm, GMC, Hyundai, Kia, Isuzu, Jaguar, Infiniti, Jeep, Land Rover, Lexus, Maybach, Mini, Mitsubishi, Mazda, Nissan, Peugeot, Scion, Opel, Porsche, Renault, Saab, Seat, Skoda, Toyota, Smart, Subaru, Suzuki, Sprinter, Volvo, Vauxhall, Volkswagen, VW Etc. |
| Update Option: | One-year free update |
| Warranty: | 1-Year Limited Warranty |
| Price: | Check Today's Price |
Autel Maxisys Pro MS908P Reviews in 2023
The scan tool is compactly constructed and comes with a large screen for easy use. It is also fast, and you can multitask with it. Just connect it to a Wi-Fi connection and start diagnosing error codes from anywhere within your garage. The obd2 scan tool has enough storage for storing your diagnosis info and error codes recorded over time. With a simple-to-use interface and extensive vehicle coverage, the Maxisys Pro MS908P is a wonderful scanner to have.
Sturdy construction
This is a wonderfully built scan tool as it features a unique tough ergonomic design with strong rubber protection and housing. It will defy hard garage conditions and offer many years of use.
Android operating system
The device comes with Android Ice Cream 4.0, on which it runs and allows it to multitask with a quick boot-up time. This Android system is five times faster than Autel MaxiLink ML629 and MaxiLink ML619 diagnostic scanners.
User-friendly design
The Autel Maxisys Pro MS908P is very easy to use as it has an intuitive user interface. Like the Autel Maxisys Elite advanced diagnostic tool, it comes with a large 9.7-inch 1024×768 LED-backlit glossy multi-touch capacitive display for easy interpretation of results.
Auto-Vin technology
This technology allows you to identify vehicle information quickly and precisely, as long as the vehicles are CAN-enabled with just a single touch. The moment the device identifies a vehicle, it doesn't just run a diagnosis of the engine but also on all the selected systems.
Extensive vehicle coverage
This is a powerful and versatile device as it is compatible with most OBD2-compliant vehicles. It works on more than 80 US, Asian, and European vehicle makes and models. So, you can be certain that it will work on your vehicle, but it is important to find out if it's compatible or not.
8 hours of continuous use
Powered by a built-in rechargeable lithium-ion battery, this ultra-advanced OBD2 device can function for up to 8 hours continuously before having to be recharged. Hence, it is extremely reliable. You don't need the car power to diagnose the vehicle.
Enough storage capacity
The MS908P Bluetooth scanner features a 32 GB internal hard drive that offers sufficient space for keeping all the diagnosed info. In addition, it has 2 GB DDR-3 RAM, which comfortably takes care of huge files and supports live streaming without hanging.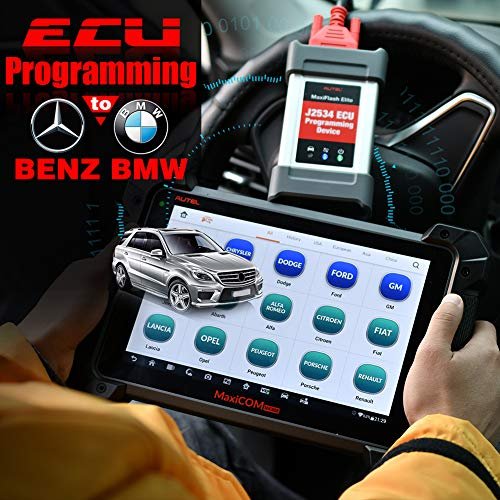 Check Today's Price
Compact and lightweight Design of Autel MS908P Maxisys Pro
If you want a gadget that is easy to use and handle, just like your normal tablet, then the Autel Maxisys Pro MS908P is the tool for you. Despite being powerful and accurate in performance, this is a lightweight tool that you can move with easily.
Performs basic and advanced functions
From functions like recording and playing back live data to functions like ECU programming, this is a device that will perform both normal and advanced functions. The device is more advanced compared to the OTC Encore WI-FI Enabled OBD2 scanning device.
Wireless connection & automatic updates
This device comes with a wireless connection in the form of Bluetooth and Wi-Fi, which allows the user to roam while carrying out the diagnosis. These also allow the user to print data.
With a Wi-Fi connection, you won't have to struggle to update the scan tool, as it automatically updates when connected to a secure Wi-Fi connection.
The manufacturer offers a one-year warranty to buyers of the product. The warranty may be short, considering the initial price of the product, but it's worthwhile.
Why buy Autel Maxisys Pro MS908P diagnostic scanner?
It outstandingly performs J2534 ECU programming
It supports all the 10 tests modes
MS908p performs both basic and advanced functions
It is sleek and compact
It has a wireless connection
The gadget is compatible with a wide range of vehicles
It has high processing speeds as it comes with a cortex-A9 Samsung Exynos 1.4 GHz processor
The Android operating system allows the user to multitask with the device
It comes with one year of free updates
One year warranty
Cons of the Autel Maxisys MS908p
Comparison Table: Autel MaxiCOM MK908P vs. Autel MaxiSYS MS908P OBD2 Scanner
| | | |
| --- | --- | --- |
| Features | MK908P | MS908P |
| Operating System: | AndroidTM 4.4.2 KitKat | Android 4.0 ICS |
| Memory:   | 64MB | 32GB |
| Processor:   | Samsung Exynos Hexa-core Processor | Samsung Exynos Quad-core Processor |
| Camera:  | 8.0 Megapixel | 5.0 Megapixel |
| Weight:  | 3.26 lb | 3.12lb |
| Battery:   | 15000 mAh | 11000 mAh |
| Touch Screen:   | 10.1-inch | 9.7-inch |
| Auto Vin:   | Yes | Yes |
| ECU Coding:   | Advanced | Advanced |
An Alternative Of Autel MaxiCOM MK908P OBD2 Scanner
Autel Maxisys MS906BT OBD2 Scanner
Operating System: Android 4.4.2
Display: 8.0 inch LCD Touch Screen
Processor: Samsung Exynos T5260 6-Core Processor
Memory: 2GB Ram, 32Gb ROM
Camera: 8-Megapixel Rear Camera
Live data: Yes
Real-time push message notifications: Yes
Smart AutoVIN Technology: Yes
Views Freeze frame data: Yes
Operating Temperature: -10 to 55°C (14 to 131°F)
Storage Temperature: -20 to 70°C (-4 to 158°F)
Update Option: Yes. (via the internet)
Warranty: 1-year Limited Warranty
Conclusion
If you want a reliable, accurate, and high-performing diagnostic code reader, then the Autel Maxisys Pro MS908P is a good code reader to acquire. It is robustly constructed, compact, easy to use, compatible with a wide range of vehicles, fast, and very accurate. These features make it a good tool for car repair shop owners and busy mechanics. Though it is quite expensive, it is worth every penny as it works exceptionally.
FAQ
Question: Can I diagnose error codes with this gadget when I am outside my car?
Answer: Yes, you can. This is because it comes with a VCI that links to the main unit wirelessly with up to 230 meters of working range. Therefore, you can use it within your garage without any problem. Apart from that, it has a Bluetooth connection.
Kevin Nicholas is an automotive technician who is a genius at software and hardware-related issues. He manually tested more than a hundred OBD scanners and gave his honest opinion on whether the device was worth the money or not. His in-depth OBD review articles help people choose the right product, whether it is a European, American, or Asian vehicle. He completed his Automotive Specialized Training Course at Universal Technical Institute and has more than 15 years of experience in the field.