Autel provides several outstanding scan tool models. But among the different Autel scanner models, the Autel Maxisys is one of the most powerful and high-performing models. It is highly regarded by professional mechanics and technicians due to its wider vehicle coverage and advanced diagnosis. Autel Maxisys Pro and Autel Maxisys Elite have lots of similarities but still have a few feature differences. But before we jump into the main comparison, let's check the similarities between them.
In terms of vehicle coverage, both support 80+ US domestic, Asian, and European makes and models.
Both offer a one-year warranty.
Operating System: Minimum Android 4.4.4 KitKat
Winner in terms of speed and connection, camera and display quality, and advanced functions: Autel Maxisys Elite
Winner in terms of affordability: Autel Maxisys Pro
Comparison Table: Autel Maxisys Pro vs. Elite diagnostic scan tools
Affiliate Disclosure: "Our site is a participant in the Amazon Associates Program. This page may include Amazon affiliate links, on which we may receive a small commission at no extra cost to you."
Features
Autel Maxisys Pro
Autel Maxisys Elite
Processor Speed:

1.4 GHz Quad-Core

1.8 GHz Quad-Core

CPU:

Samsung Exynos Six-Core

Nvidia Tegra

Wireless connection:
Wi-Fi, Ethernet, & Bluetooth
Wi-Fi, Ethernet, and Version  3Mbs Bluetooth 2.1
Camera:

5.0 Megapixel

(Only rear), AF with the flashlight

8.0 Megapixel

(rear),

2.0 MP(Front)

, AF with the flashlight
Display:
9.7-inch LED capacitive touchscreen
9.7-inch Retina LCD capacitive touchscreen
Screen Resolution:

1024 x 768

2048 x 1536

Boot-up time:

20 seconds

15 seconds

Internal battery:

11000 mAh

3.7v lithium polymer battery

13600 mAh

3.7v lithium polymer battery
Connectivity:
Ethernet: RJ45 Ethernet Connection, Cellular: 3G/4G module: WCDMA
802.11a/b/g/n/ac WIFI
Version 2.1 3Mbs Bluetooth
RJ45 Ethernet Connection
3.0 USB (2.0 Compatible)
HDMI 1.4a
Boot-up time:

20 seconds

15 seconds

Speed:

Faster

Fastest

Price:
High
Higher
Sensors:
Gravity Accelerometer, Ambient Light Sensor (ALS)
Ambient Light Sensor, G-sensor
Audio Input/Output:
Microphone, Dual Speakers, 4-Band 3.5 mm stereotype/standard headset jack
Microphone Dual Speakers 3-Band 3.5 mm stereo/standard headset jack
Power Consumption:

6.5W

Max. 20W

Storage Temperature:
-20 to 60 ℃
-20 to +70°C
Operating Temperature:
0 to 50 ℃
-10 to +55°C
Software-update:

1-year free update

2-years free update

Price:
Check Price
Check Price
Features Details of the Autel Maxisys Pro and Elite Scan Tool
So, if you're looking for a quality Autel Maxisys scan tool and are undecided between the Autel Maxisys Pro and Maxisys Elite scanners, this review will help you make the right choice.
Autel Maxisys Pro MS908P Automotive Diagnostic Scan Tool
The Autel Maxisys Pro MS908P offers many qualities of the MaxiDas DS708 scan tool with a lot of ease and powerful diagnostic performance. It is uniquely built with a tough ergonomic design that can withstand tough garage floor conditions. The device features an extraordinary and powerful Cortex – A9 quad-core processor for fast operation. Like the OTC Evolve 3896, it also has an open-source Android operating system for quick boot-up time and multitasking.
With coverage of more than 80 US, Asian, and European vehicles, this is a great device for busy car repair shops or for professional mechanics. Some of the functions that it performs include ECU coding and programming, displaying DTC description and data values, graphs live data, adaptations, actuation tests, records, playbacks live data, etc.
Connectivity
The Autel Maxisys Pro MS908P has an intuitive user interface that you will have an easy time navigating. Additionally, the scanner can be connected via Bluetooth or Wi-Fi. Actually, you can move with this gadget within 230 meters of your car. It is two times faster than other scan tools on the market. Thus you will enjoy using it. With the built-in lithium-ion battery, this scan tool will work continuously for 8 hours.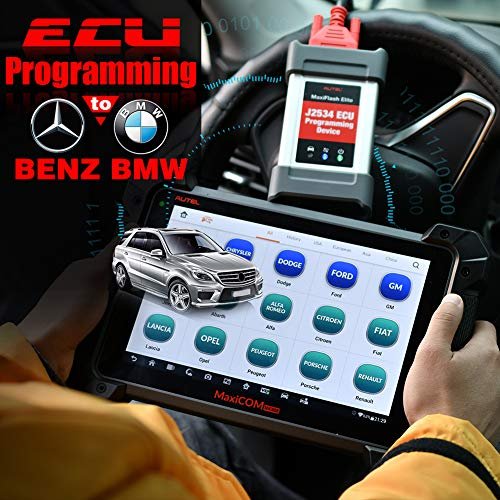 Check Today's Price
Pros: What we like
It is 2x faster than other devices on the market

Sleek and compact design for easy use

It covers more than 80 US, Asian, and European vehicle makes

The Android operating system allows the user to multitask

It has an automatic system and software updates through Wi-Fi

Unique rugged construction with an ergonomic design

It has a large 9.7-inch display for easy erasing and

reading of error codes
Minor Cons:
It only supports ECU programming on Mercedes and BMW vehicles only
It is somehow expensive for the ordinary mechanic or DIYer
Autel Maxisys Elite Diagnostic Tool
The Autel Maxisys Elite scan tool is the latest addition to the Maxisys line of highly advanced smart diagnostic scanners. The device runs on a fast and intuitive Android operating system that also allows the user to multitask. It features NVIDIA's Tegra 4, which is the world's fastest mobile processor. So, no more delays as you multitask from one function to another. It is also sleek and compact with a clear 9.7-inch retina display which is larger than the OTC Encore 3893 diagnostic scan tool. It provides an outstanding resolution of 2048×1536.
Compatibility
The Maxisys Elite performs every function, from comprehensive vehicle diagnostics and services to advanced ECU coding and programming. Moreover, it has interactive data logging sessions that ensure there is direct contact with the Autel Support team for first-hand troubleshooting of diagnostic bugs and fixes. This is a gadget that will last for many years to come as it is made of rugged internal housing with rubberized outer protection.
With automatic updates, you will always have the latest software as long as you are connected to a stable Wi-Fi connection. The device is also uniquely integrated with an SAE J2534-1 & -2 compliant vehicle programming pass-thru interface.

Check Today's Price
Positive Reviews:
It has a large screen for easy interpretation of results
It is easy to use and powerful
Maxisys Elite has enough storage for better performance
It covers more than 80 US, Asian, and European vehicle makes and models
It performs a wide range of functions
Elite runs continuously for 8 hours when fully charged
It has a tough and ergonomic design for durability
Great technical support for convenient demonstration
Automatic updates via Wi-Fi
One year warranty
Limited Setbacks:
It is not compatible with all vehicles; thus, you should confirm with Autel before purchasing it.
The device is quite expensive when compared to other high-end diagnostic code readers.
Which is better? Autel Elite or Autel Maxisys Pro?
The Autel Maxisys line of scanners features one of the best professional diagnostic scanners on the market. Also, the Autel Maxisys Pro and Elite are high-performing and reliable automotive scanners with exceptional features and functions. Both are cheaper than the OTC 3896 Bosch Evolve advanced scanners. Even though they share a lot of functions, these scanners still differ slightly, and the Autel Maxisys Elite and Maxisys Elite II are a bit more advanced than the Maxisys Pro.
The Autel Maxisys Elite runs on NVIDIA Tegra 4 1.8 GHz, while the Maxisys Pro runs on Samsung Exynos Quad 1.4 GHz processor. So the Maxisys Elite is faster in operation. The Maxisys Elite has an excellent boot-up time of 15 seconds, while the Maxisys Pro has a boot-up time of 20 seconds.
But overall, these two scanners offer great performance and will help you to diagnose your vehicles quickly, and they have a continuous run time of 8 hours.
Kevin Nicholas is an automotive technician who is a genius at software and hardware-related issues. He manually tested more than a hundred OBD scanners and gave his honest opinion on whether the device was worth the money or not. His in-depth OBD review articles help people choose the right product, whether it is a European, American, or Asian vehicle. He completed his Automotive Specialized Training Course at Universal Technical Institute and has more than 15 years of experience in the field.