A scanner that is perfect for a professional mechanic may not be ideal for a car enthusiast. Most professional OBD2 scanners are expensive, with advanced functions that may be difficult for newbies and car enthusiasts. It is crucial to acquire the rights scan tool according to our level of experience of needs. The Autel MaxiLink ML629 diagnostic scanner is built for DIYers and inexperienced mechanics. It comes with all the basic OBD2 functions, and it is easy to use. Read this Maxilink ML629 Review to know more.
Compact and sturdy design

It has an intuitive user interface

The scanner supports all the 10 OBD2 test modes

It has Auto Vin, which helps you identify the car

Extensive vehicle coverage

Live data stream

Performs a broad range of functions

12-month free software upgrades

1-year warranty
Cons of MaxiLink ML629 Scanner
| | |
| --- | --- |
| Technical Specifications | Autel Maxilink ML629 ABS Tool |
| Display screen: | 7″ 1024×600 LCD capacitive touchscreen |
| Diagnoses ABS/ SRS system codes on: | Most 1996 and newer major vehicle models |
| Compatible with: | More than 80 US, Asian, and European vehicles, including Acura, Audi, Bentley, Benz, BMW, Bugatti, Chrysler, Ford, EU Ford, GM, Honda, Hyundai, Infiniti, Isuzu, Jaguar, Kia, Land Rover, Lexus, Maybach, Mazda, Mini, Mitsubishi, Nissan, Opel, Porsche, Saab, Scion, Seat, Skoda, Smart, Sprinter, Suzuki, Toyota, Vauxhall, Volvo, Volkswagen, Renault, Peugeot, Lancia, Fiat, Dacia, Citroen, Alfa, Abarth. |
| Generic/pending/manufacturer-specific codes: | Yes |
| Views freeze frame data: | Yes |
| Reads, stores, and playbacks live PCM data stream and live sensor data: | Yes |
| Graphs data: | Yes |
| Prints data via PC: | Yes |
| Vehicle code reader retrieves: | generic (P0, P2, P3, and U0), manufacturer specific (P1, P3, and U1) codes, and pending codes |
| Multilingual menu: | 12 languages |
| Free lifetime software updates: | Yes |
| Warranty: | One year |
| Dimensions: | 10.6 x 7.5 x 3.4 inches |
| Weight:  | 2.1 pounds |
| Price: | Check Today's Price on Amazon |
But if you're still in doubt, read this detailed review about the Autel MaxiLink ML629 before buying it.
Who should buy the Autel MaxiLink ML629 ABS Scanner?  
If you're a DIYer, start-up mechanic, or car owner, you will love this tool. The Autel MaxiLink is not an entry-level scanner, nor is it an advanced tool. Therefore, it provides users with enough functions that help them diagnose issues that drivers face in most cases.
MaxiLink ML629 Review 2023
The Autel MaxiLink ML629 automotive code reader has a large display for quick reading results with clear buttons. It also diagnoses the full engine systems that an Autel Maxilink ML619 diagnostic code reader can't do. It is compact and easy to handle and keep after use. This device is what you need when starting a small car repair shop, with the ability to retrieve generic, manufacturer-specific, and pending codes.
Compact and sturdy construction
The device is compact but with sturdy housing. It is made from robust plastic, which prevents it from impact if it falls accidentally. Expect this scanner to defy severe garage floor conditions and sustain you for a long time.
User-friendly design
Whether it's your first time using a scan tool or you're a professional, you shouldn't have trouble reading and erasing fault codes using the Autel ML629 scanner. The device has more advanced features than the Autel auto-link al519 and Autel AL319 diagnostic scanner. The device boasts a 2.8-inch LCD screen that does reading and interpreting results fast and straightforwardly. It also has well-labeled buttons that assist you in executing different functions.
However, if you decide to refer to the user manual, you may be confused and find the scanner to be challenging. This is because it comes with a user manual with unclear instructions. That's why many users recommend watching videos using this tool instead of following the instructions.
Extensive vehicle coverage
Whether you deal with American, Asian, or European vehicles, you will be happy to learn that this tool can diagnose all of them. It works with most 1996 or newer car makes and models. Nonetheless, there have been some compatibility issues. Thus, get in touch with Autel support and find out if it works on your vehicle.
Related article: What Are The Main Differences Between OBDLINK LX VS OBDLINK MX+ Scanners?
Built-in DTC library
Many mechanics and DIYers find a hard time trying to figure out what the error codes mean. But with the Autel ML629 scanner, you don't have to worry about DTCs. The Autel ML629 comes with a built-in DTC library of 7000 DTC definitions. Therefore, you can look up these definitions and figure out what's troubling your car.

Check Today's Price on Amazon
The Autel ML629 diagnostic scanner comes in a total of 12 languages. This allows different users from different parts of the world to select a language that they understand best. As a result, they can diagnose their vehicles without any confusion.
Software upgrade
Autel provides buyers with one-year free software upgrades. After the end of the first year, you will have to purchase software upgrades, which are slightly more expensive than the Foxwell OBD2 scanner brand.
Warranty
The manufacturer provides buyers with a 30-day return or replacement policy. Besides, it also comes with a 1-year warranty.
Functions of the Autel MaxiLink ML629 San tool
Retrieves all codes

– this scan tool may not be your typically high-end scan tool, but it will diagnose all the significant codes, including generic, manufacturer-specific, and pending.

Performs all 10 modes of OBD2

– With the ability to perform all the 1O OBD test modes, many start-up mechanics and car enthusiasts will love this tool. Some of these modes include read/clear DTCs, ABS, Engine, Transmission, ABS, SRS, I/M readiness, and much more.  

Supports several systems

– besides supporting all the OBDII test modes, the device also supports the four major systems: engine, transmission, ABS, and SRS.

Auto Vin

– the Auto Vin function simplifies the work of mechanics by identifying the car's make, model, and manufacture year. As a result, they save time that they could have used up searching for these details.

Data review and printing

– You can also utilize this tool to review the data you recorded earlier. Also, you can print the data and analyze it or share it with other mechanics or technicians.
Related article: Which scanner is budget-friendly between Autel MX808 and Autel MK808?
Comparison Table: Autel ML629 vs AL629 OBD2 Scanner
| | | |
| --- | --- | --- |
| Features | Autel ML629 | Autel Al629 |
| Dimensions:  | 7.2 x 3.6 x 1.3 inches | 7.83 x 4.11 x 1.43 inches |
| Weight:   | 0.544 pounds | 0.75 pounds |
| Display: | 2.8" LCD screen | TFT color display |
| O2 Sensor Test: | Yes | Yes |
| AutoVIN:  | Yes | No |
| Transmission Scan:   | Yes | No |
| I/M Readiness: | Yes | Yes |
| DTC Lookup:   | Yes | Yes |
| Live Data: | Yes | Yes |
| Compatibility: | 1996 US-based cars, 2000 EU-based cars, Newer cars | 1996 US-based cars, 2000 EU-based cars, Newer cars |
2 Alternative of Autel ML629 OBD2 Scanner
Autel AL619 OBD2 Scanner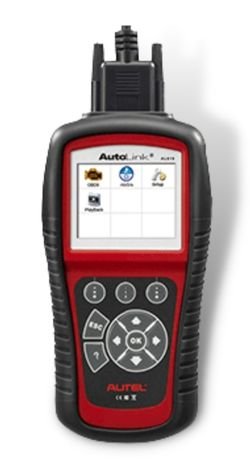 Dimensions: 7.83 x 4.11 x 1.48 inches
Weight: 2 pounds
Display: TFT color display
I/M readiness status: Yes
Views freeze frame data: Yes
Check Engine Light: Yes
ABS, SRS Airbag: Yes
Get transmission codes: Yes
Reads and Clears OBDII, ABS/SRS Codes: Yes
Works: Under 1996 or older vehicles
Autel MD802 OBD2 Scanner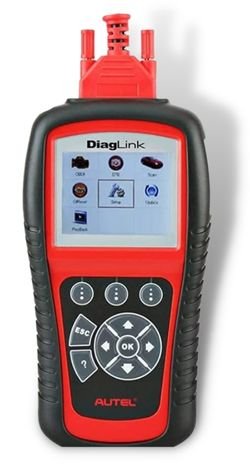 Dimension: 14.6 x 3.9 by 8.7 inches
Weight: 3 pounds
ABS, SRS, EPB: Yes
Check Engine Light: Yes
Freeze frame Data: Yes
Live Data: Yes
Retrieving I/M Readiness status: Yes
Component test: Yes
Viewing vehicle information: Yes
On-board monitor test: Yes
Oil Reset Service: Yes
Conclusion
If you've been searching for a reliable scanner that will retrieve manufacturer-specific, generic, and pending codes without any challenge, this is an excellent tool for you. The Autel MaxiLink ML629 diagnostic scanner may be a compact and affordable tool, but it does more than what many people think. You can also use it to view freeze frame data, graph data, and turn off the check engine light.
The Autel ML629 diagnostic scanner comes with free one-year software upgrades and a one-year warranty. DIYers and start-up mechanics will benefit from this scanner the most. Nonetheless, there are some issues that you will have to deal with, such as updating the scanner, which is quite challenging. It has compatibility issues, which you need to identify before buying the tool. Also, it is not a Bluetooth OBDii Scan tool.
Overall, the tool performs outstandingly and delivers accurate results. I hope that this Maxilink ML629 Review article has given you a clear idea about this Autel scanner.
FAQ
Question: Why do we require OBD scan tools?
Answer: OBD scan tool was introduced after vehicle emissions were getting out of hand. They were seen as the only way drivers could monitor the performance of their vehicles. The scan tools help drivers monitor and maintain different parts of their cars before they excessively pollute the environment.
OBD2 diagnostic scanners have played a vital role in this regard, with their regulation being backed up in the USA under the environment protection act (EPA). Since the protection of the environment is one of the main reasons, failing to meet the set standards is a violation of law in most US states.
Question: Can the Autel ABS MaxiLink ML629 diagnostic scanner diagnose the transmission system on any car make and model?
Answer: No, it cannot. The Autel MaxiLink ML629 may offer various functions and support different systems, but it does not work on all vehicle makes and models. For instance, the scanner may not diagnose transmission, and SRS or some vehicles makes it. Therefore, you should get in touch with the Autel support team and find out if it works with the car makes and models you want to diagnose. You can also use the Foxwell NT510 automotive scanner for transmission data.
Question: What is ABS, and why is it important?
Answer: The ABS, or anti-lock braking system in full, is an automobile safety system that allows the wheels of a vehicle to keep tractive contact with the road surface regarding the driver's inputs during stopping, forbidding the wheels from locking up and preventing uncontrolled slipping.
Meet our professional car mechanic, Russell D. Steele, who has been in this field for five consecutive years and works with several automotive companies. He completed the "AUTOMOTIVE & LIGHT DUTY DIESEL TECHNOLOGY" course from NorthWest Lowa Community College, where he learned essential diagnostic and transportation management skills and became a certified mechanic.