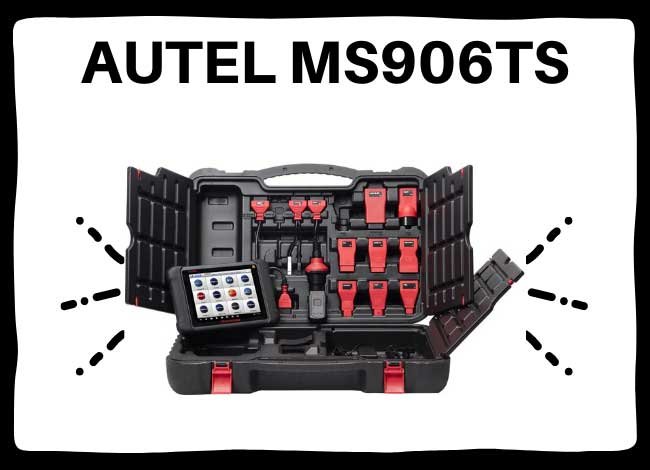 Professional technicians and mechanics rely on advanced OBD2 scanners to find out advanced car problems before making repairs. The Autel Maxisys MS906TS is an advanced OBD2 tool that helps them have accurate diagnostics and make the right repairs. 
If you're searching for a professional-level scanner, the Autel MS906TS should be on top of your list. Autel Maxisys MS906BT and Autel Pro MD808 are not TMPS supported, but this scanner shows full TMPS data. This tool is worth the money and hype behind it, from performance to speed and diagnostic functions.
Technical Specifications of the Autel Maxisys MS906TS diagnostic scanner
Recording modes:
Full-Screen waveform graphing analysis
Active Test:
Yes
ECU information:
Yes
Display:
8.0″ 1024×768 LED-backlit glossy Multi-Touch capacitive display with IPS technology
Operating System:
Open-source Android Operating System
Processor:
Samsung Exynos T5260 6-Core Processor (1.3 GHz quad-core ARM Cortex-A7 + 1.7 GHz dual-core ARM Cortex-A15)
Active Test:
Yes
Audio Input/Output:
Microphone, Single Speaker, 3-Band 3.5 mm stereo/standard headset jack
Connectivity:
Wi-Fi (802.11 b/g/n), USB: 2.0, Mini USB 2.0, Wireless BT V2.1+EDR, Class1, HDMI 1.4a, SD Card(support up to 32 GB)
Read DTC and Clear DTC:
Yes
ABS, SRS, EPB, sass, DPF, TPMS:
Yes
Check Engine Light:
Yes
Internal Memory:
2 GB RAM & 32 GB ROM
Oil Service Reset:
Yes
Camera:
Rear-facing, 8.0 Megapixel, AF with Flashlight
Sensors:
Gravity Accelerometer, Ambient Light Sensor (ALS)
Live data:
Yes
Views freeze frame data:
Yes
Opens and closes electronic brake calipers:
Yes
ECU coding, Injector coding:
Yes
Smart AutoVIN technology for identifying vehicles easily:
Yes
Power and Battery:
10,000 mAh 3.7 V lithium-polymer battery, Charging via 12 V AC/DC power supply
Rechargeable lithium-polymer battery:
Up to 14 hours of continuous operation
Support Car Models:
More than 80 US, Asian, and European makes and models
Vehicle Coverage:
Abarth, Acura, Alfa, Audi, Bentley, Benz,
Dodge, Dacia, Bmw,Bugatti, Citroen,
Chevrolet, Fiat, Ford, Gm, Chrysler, Daihatsu,
Holden, Hyundai, Infiniti, Honda, Isuzu,
Jaguar, Lancia, Kia, Land Rover, Jeep, Lexus,
Maybach, Mitsubishi, Nissan, Mazda, Mini,
Opel, Peugeot, Saab, Porsche, Renault,
Scion, Seat, Smart, Sprinter, Skoda, Subaru,
Suzuki, Vauxhall, Toyota, Volvo, VW, Etc.
Operating Temperature:
-10 to 55°C (14 to 131°F)
Storage Temperature:
-20 to 70°C (-4 to 158°F)
Software Update:
One year free updates
Weight:
20 pounds
Warranty:
One-year limited warranty
Dimensions:
26.5 x 16.2 x 18.4 inches
Price:
Check Today's Price on Amazon
What makes this diagnostic scanner special? Continue reading to find out.  
Autel MS906TS Review in 2023
Sleek and sturdy construction
The Autel scan devices come in a sleek and sturdy design that stands out from other scanners. The device looks like a regular tablet, meaning operating it won't be a problem at all. Aside from its sleek design, the unit is also portable, making it easy for the mechanic to move around the auto shop as he diagnoses one to another.
User-friendly design
Despite being challenging to use because of the advanced functions, it has an intuitive and user-friendly design. The display is made of an 8-inch LED capacitive touch screen with a 1024x768P resolution. Therefore, reading and interpreting outcomes are easy, even in dim places.
Aside from the large screen, the unit also boasts a rear-facing, 8 Megapixel camera with a flashlight. Hence, users can take a photo of their car issues and share them with the community for potential fixes.
Related article: Autel MK808 VS Autel DS808: Best Wireless Scanner for You
Faster processor
For a scanner to be fast, you need to have a powerful and reliable processor. The Autel MS906TS scan tool runs on a Samsung Exynos T5260 6-core processor. This is among the most powerful processors fitted on a diagnostic tool. Expect this scanner to deliver quick results and diagnose many vehicles within a short period.
Outstanding software
Having excellent software but a slower or unreliable operating system will not help. Autel MS906TS combines the Samsung Exynos 6-core processor with the Android 4.4.2 KitKat operating system. Together, you get a reliable and powerful tool that will not let you down, regardless of how many vehicles you diagnose in a day.
Powerful battery
Another outstanding feature of this device is the powerful built-in battery—a 10000 mAh 3.7V lithium-polymer battery powers the Autel MS906TS diagnostic code reader. The battery gives the user 14 hours of continuous use. So you will get a better backup than an Autel Maxidas DS708 scanner. For this reason, the user doesn't have to rely on the car's power to diagnose the vehicle. However, many users say that the battery takes a long to charge fully.
Larger memory
With a larger memory, you can keep all your client's data and use it for future reference when handling their vehicles. That's what you get with Autel MS906TS diagnostic scanner. It consists of 2GB RAM and 32 GB ROM.
Bonus: Autel MS919 Professional Scanner Review
Extensive vehicle coverage
If you handle many vehicles, this is the perfect tool for the job. The Autel MS906TS is an excellent device that works on most 1996 and newer OBD2-compliant vehicles. This includes the USA, Asian, and European vehicle make and models. As usual, you should get in touch with Autel support and find out if the cars you intend to use the scanner on are compatible.
Excellent connectivity
The Autel TPMS MS906TS gives the user a lot of freedom. The mechanic can decide to use the OBD2 cable, connect the device via Bluetooth, or even through Wi-Fi. This OBD2 has one of the strongest Bluetooth connections in the BTV2.1+EDR. This connection is stable and won't disconnect easily. Also, the Wi-Fi connection, which is linked through a diagnostic dongle, is stable.
Warranty and software upgrade
The manufacturer gives buyers a 1-year warranty and one year of free software updates. Considering the initial price of this tool, the manufacturer needs to improve on both of these features. Additionally, acquiring new software after the free offer is over is quite expensive.  
What is included in the Autel MS906TS package?
The device is shipped in a sturdy case that makes it safe and secure. It features the device itself (Autel Maxisys MS906TS), OBD2 connectors, adapters for seven different car makes, and MaxiVCI V100. Other things include a user manual, Autel MS906TS reference guide, packing list, light fuse, mini USB cable, cigarette lighter, external power adapter, compact CD, and a soft cloth.
Functions of the Autel MS906TS Scan Tool

Smart Auto Vin technology

– The smart Auto Vin technology allows you to identify the car's make, model, and manufacture year. This will enable you to carry out timely diagnostics and work on various repairs.

Comprehensive TPMS service – Like the Autel TPMS MP808TS code reader, the device comes with built-in TPMS antennae designed for sparking off known OEM TPMS sensors, programming Autel MX-sensor, and executing TPMS sensor relearn procedure. In short, the integrated TPMS antenna module performs all TPMS services. Thus, you don't have to look for another tool to perform TPMS.  
One-stop multitasking design

– The scanner makes work easy for you as you can perform various diagnostic functions and keep files, customer information, and vehicle records well-organized.

Excellent OE-level functionality

– The tool allows users to perform all OBD2 comprehensive vehicle diagnostics and services and even advanced ECU coding.

Interactive data logging

– Interactive data logging sessions enable direct communication with Autel Technical Support for first-hand troubleshooting of diagnostic faults and bugs.

Supports all OBD2 test modes

– You can use this automotive diagnostic scanner to diagnose any OBD2 test modes. On top of that, it supports all OBD2 protocols.

Convenient data management system

– This function allows you to manage all internal program applications and review data.

Cloud-based MaxiFix online community

– With this feature, you no longer have to guess error codes as it provides a database of millions of diagnostic and repair tips and proven filed fixes.
Related article: Which will Suit you between Autel MK808 and Autel MX808 scanners?
Who should buy the Autel MS906TS?
The Autel Maxisys MS906TS is a great scanning device that is best suited for professional mechanics and technicians. The unit is slightly complicated to use, making it quite challenging for beginners and DIYers. It is also costly and not ideal for users who want to diagnose a few vehicles or perform basic functions only.
Pros: Why buy Autel MS906TS Diagnostic System?
Sleek construction with the elite wireless diagnostic interface

Superior processors and operating systems make the device faster in performing both basic and advanced functions.

Large display for quick and easy interpretation of results

Exceptional battery with an extended runtime of 14 hours

It works with more than 80 US, European, and Asian vehicles

Autel MS906TS supports basic, special, and advanced functions

It has Smart Auto Vin for quick diagnoses

Cloud-based MaxiFix helps users to diagnose their vehicles faster

Convenient to use with the wireless connectivity

12-month free software update

1-year warranty
Cons of the Autel Maxisys MS906TS
These advanced wireless diagnostic devices are expensive

It isn't effortless to use by start-up mechanics and DIYers.

Autel AL619 would be ideal for beginners.

The free software update lasts for only one year
Final Thoughts
Generally, the Autel Maxisys MS906TS diagnostic scanner is a reliable and professional tool used by professional technicians or busy car repair shop owners. The scanner performs basic, special, and advanced functions. It is also fast, accurate, efficient, and reliable in performance.
Even though the scanner is more expensive than the Autel MaxiCom MK808TS, every coin spent on it is worthwhile as it's not your ordinary scanner. Besides, the manufacturer offers a one-year warranty and one year of free software updates. I hope that this Autel MS906TS Review article has given you a clear idea about this diagnostic scanner.
What makes the Autel MS906TS different from the other Autel scanners?
Autel MS906TS vs. MS906 Comparison: The Autel MS906 scan tool doesn't come with Bluetooth, has limited ECU coding, doesn't feature TPMS Antennae, and lacks a built-in camera. These are the features that were added to the latest Autel Maxisys MS906TS.
Compare with the Autel MK808TS: Also, the hardware configuration is far better compared to the Autel MP808TS and MK808TS.
| | | |
| --- | --- | --- |
| Comparison | Autel MS906TS | Autel MK808TS |
| Processor: | Exynox 5260 | Rockchip RK3188 |
| RAM: | 2GB | 1GB |
| Battery: | 1000mAh | 5000mAh |
| Screen: | 8 inches | 7 inches |
| Resolution: | 1024*768 | 1024*600 |
| Rear Camera: | 8M | No |
| Online coding: | Yes | No |
| Bently guidance: | Yes | No |
| Multi-Language Support: | No (only English) | Yes |
Affiliate Disclosure: "Our site is a participant in the Amazon Associates Program. This page may include Amazon affiliate links, on which we may receive a small commission at no extra cost to you."
Kevin Nicholas is an automotive technician who is a genius at software and hardware-related issues. He manually tested more than a hundred OBD scanners and gave his honest opinion on whether the device was worth the money or not. His in-depth OBD review articles help people choose the right product, whether it is a European, American, or Asian vehicle. He completed his Automotive Specialized Training Course at Universal Technical Institute and has more than 15 years of experience in the field.