Finding a professional scanner offering ECU programming for BMW and Mercedes-Benz is difficult. However, the Autel MS919 intelligent diagnostic scanner does offer. Apart from that, this tool also provides advanced ECU coding, has topology mapping, and comes with a 5-in-1 MaxiFlash VCMI connector.
Nonetheless, this scan tool is expensive, with a slightly complicated structure for DIYers and beginner mechanics. So, if you're a professional or busy car repair shop owner that needs a reliable, powerful, and high-end intelligent diagnostic scanner, the Autel MS919 is the tool for you.
In this review, we've highlighted all the vital features, functions, pros, and cons to help interested buyers to know what to expect when they purchase this exceptional scan tool.
Affiliate Disclosure: "Our site is a participant in the Amazon Associates Program. This page may include Amazon affiliate links, on which we may receive a small commission at no extra cost to you."
Technical Features

Autel Maxisys MS919 OBD2

Display:
9.7 inch TFT-LCD
Dimensions: 
11.98 x 8.97 x 1.67 inches
Weight:
1.66kg
Processor: 
2.2 GHz + 1.8 GHz Octa-Core
Memory: 
128GB SSD/ 4GB RAM
Battery: 
15000mAh
Camera:
Rear: 16 Megapixel,
Front: 5.0 Megapixel
Connectivity:
Wi-Fix2 (802.11 a/b/g/n/ac 2×2 MIMO)
BT v.2.1 + EDR
GPS
USB 2.0 (TWO USB HOST Type A, ONE USB mini device)
HDMI 2.0
SD Card (Support up to 256GB)
Read Live Data Stream: 
Yes
AUTO VIN: 
Yes
View Freeze Frame Data: 
Yes
Read Vehicle Information:
Yes
O2 Sensor Test: 
Yes
Vehicle Coverage:
BMW, Ford, Lexus, Land Rover, Jaguar, Audi, Chrysler, Benz, VW, etc
Price:
Check Today's Price on Amazon
What makes the Autel Maxisys MS919 professional scanner unique?
The Autel Maxisys MS919 intelligent diagnostic scan tool is an advanced scanner that performs basic, special, high-end, and advanced functions. Furthermore, it comes with 5-in-1 MaxiFlash VCMI and supports CAN FD/DoIP protocols. And with top-level hardware, the scan tool is easy to use, fast, accurate, and reliable.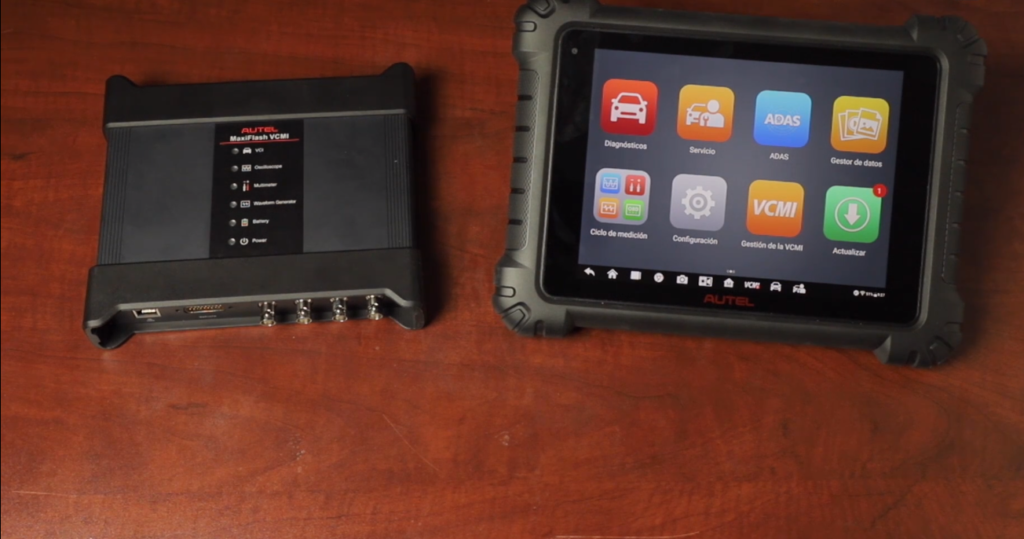 Is the Autel Maxisys MS919 easy to use?
Yes, using this Autel scan tool is straightforward and fun. This is because it has a large 9.7-inch TFT-LCD with 1536×2048 resolution and a capacitive touchscreen. This screen allows the user to view results quickly and perform other tests in real time.
Aside from the large touchscreen, the scanner also comes with a dual Wi-Fi connection to the VCMI unit and a wireless network simultaneously for quicker diagnostics. With Bluetooth wireless connection, you can use the scan tool outside the car or as you carry out other tasks, as it has an excellent range of up to 164ft or 50m.
What makes the Autel Maxisys MS919 perform excellently?
The scan tool is equipped with an Android 7.0 OS and powered by an Octa-core processor with a 2.3GHz Quad + 1.7 GHz Quad. This fast processor allows the user to perform functions faster and more accurately. Moreover, it has a 15,000mAh battery with a continuous runtime of 8 hours, allowing the tool to function even if the car is turned off. With excellent hardware and 4GB RAM+128GB SSD, this scan tool will always perform outstandingly and three times faster than most of its rivals.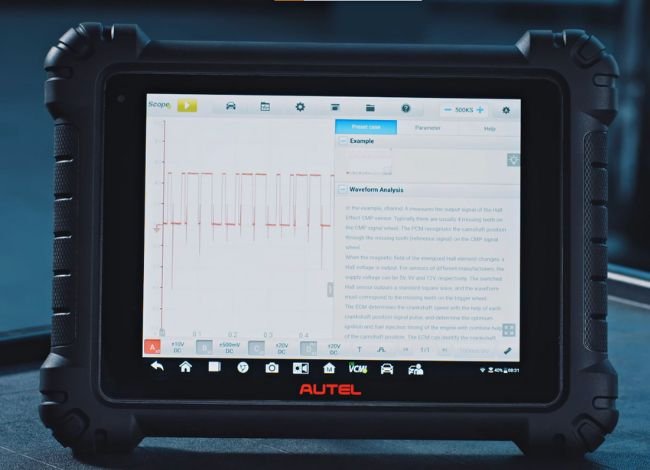 What functions does the Autel Maxisys MS919 cover?
The Autel Maxisys MS919 diagnostic scan tool covers a broader range of functions. This includes basic, special, advanced, and high-end functions. Below are some of the functions explained in detail:
Intelligent diagnostics – the MS929 is an intelligent scan tool as it not only diagnoses your car but also shows you how to fix the faults with detailed repair tips. Therefore, it makes the repair process easy and fast.
Intuitive topology mapping – this is one of the unique features of this scan tool. The scan tool displays the whole system via the Topology Map to show all the modules with faults, making it easy to spot errors and their causes.
Active test/bi-directional control – this function enables the user to test different systems or components by reading the engine ECU data or sending commands to actuators.
Advanced ECU coding – this will ensure the scanner user performs a quick and accurate problem identification; hence repair time is reduced. Nonetheless, you should check for compatibility as this function does not work with all car makes and models.
ECU programming for Benz and BMW – this intelligent scan tool has featured a J2534 programmer to allow the user to program the new replacement ECU module to the existing software and firmware for BMW and Mercedes.
Faster Auto VIN, VIN, and Licence scanning – it can automatically read and decode the VIN on some vehicles to reduce the vehicle selection time. Additionally, it can also scan the VIN, allowing the user to get the VIN quickly.
OE diagnostic protocols – aside from covering the usual protocols, the Autel Maxisys MS919 scanner also supports the new CAN-BUS protocols, D-PDU/J2534/RP1210 OE-diagnostic protocols, and CAN FD/DoIP protocols.
5-in-1 MaxiFlash VCMI – this is an exceptional feature of the MS919 scan tool. The MaxiFlash VCMI is more potent than ever as it features five instruments: Oscilloscope, Multimeter, Waveform Generator, VCI, and CAN BUS. As a result, it can offer simultaneous and in-depth analysis of test components.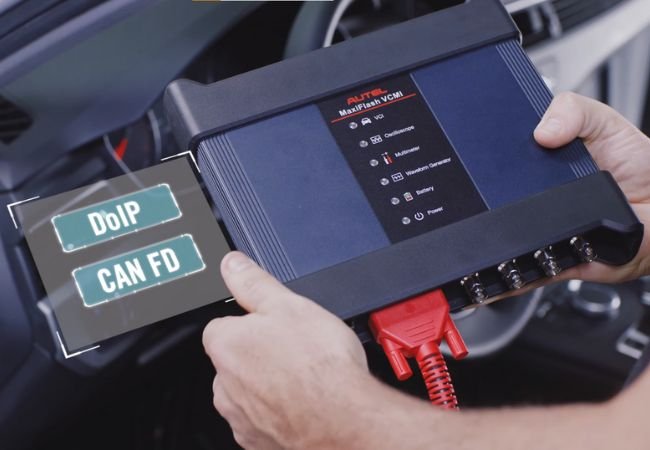 What vehicles does the Autel Maxisys MS919 work with?
The Autel Maxisys MS919 diagnostic scan tool works with more than 80 OBD2-compliant US domestic, Asian, and European vehicles. It covers most cars made between 1996 and 2020. Besides, it also covers some basic functions of 2021 and 2022 car models. Check compatibility for the vehicle model and functions before acquiring this scanner.
Is Autel Maxisys MS919 a multilingual device?
The Autel Maxisys MS919 is a multilingual unit. It comes with English and Spanish as default. Apart from these two languages, other 12 plus languages are provided for free. Some include German, Russian, French, Japanese, Korean, and more.
Does this unit offer free software updates?
Yes, the manufacturer provides free software for 12 months. After one year, the user has to buy software updates, which is pretty costly.
Yes, Autel provides a 2-year warranty that covers quality. Additionally, they offer a 30-day refund and replacement.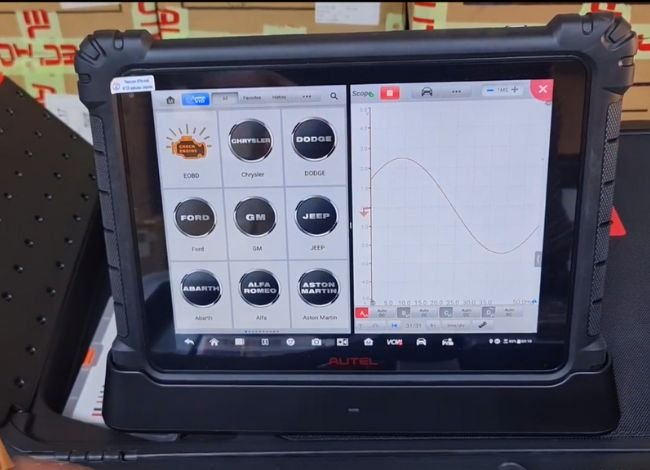 Who should buy the Autel Maxisys MS919 scanner?
The Autel Maxisys MS919 intelligent diagnostic scan tool is perfect for professional technicians and mechanics who deal with advanced and high-end car problems. It is also great for BMW and Mercedes mechanics as it offers ECU programming on several models.
Conclusion: Our Autel Maxisys MS919 Review
The Autel Maxisys MS919 is a perfect scan tool to consider if you're looking for an intelligent scanner with many unique and advanced functions. Its initial price may be high than some of its competitors, but you will get an efficient, powerful, accurate, and reliable diagnostic scanner. It offers key functions like ECU coding and programming, topology module mapping, bi-directional control, and faster Auto VIN.
Pros of Autel Maxisys MS919
It has an elegant design

It is straightforward to use

This OBD2 scanner covers multiple functions

It performs advanced ECU coding and programming on select cars

It supports all protocols, even the latest ones, like the new CAN BUS

The device offers extensive vehicle coverage

It has one year of free updates

The manufacturer offers a 2-year quality warranty and a 30-day money-back guarantee.
Cons of Autel Maxisys MS919 Scanner
It is expensive
The free updates only last one year, and they are costly to renew
It is not ideal for someone who lives outside the North and South America
Like most Autel scanners, this unit has setbacks that may hold back some users. For instance, its updates are costly. Furthermore, it is only suitable for the North and South American markets.
Comparison Table: Autel MaxiSys Ultra vs. Autel Scanner MaxiSys MS919 vs. Autel Scanner MaxiSys MS909 OBD2 Scanner
| | | | |
| --- | --- | --- | --- |
| Features | Ultra | MS919 | MS909 |
| Dimensions: | 14.43 x 1.34 x 11.6 inches | 11.98 x 8.97 x 1.67 inches | 8.97 x 11.98 x 1.67 inches |
| Processor: | Sam-sung octa-core | Sam-sung octa-core | Octa-core Processor |
| Operating System: | Android 7.0 | Android 7.0 | Android 7.0 |
| Memory & RAM: | 256GB SSD/ 4GB RAM | 128GB SSD/ 4GB RAM | 128GB SSD/ 4GB RAM |
| Battery: | 18000mAh | 150000mAh | 150000mAh |
| Screen Size: | 12.9 Inches | 9.7 Inches | 9.7 Inches |
| Camera: | Front: 5MP, Rear: 16MP | Front: 5MP, Rear: 16MP | Front: 5MP, Rear: 16MP |
| IP Restriction: | No | Yes | Yes |
| 5-in-1 VCMI: | Yes | Yes | No |
FAQs
What are some similarities between the Autel Maxisys MS919 and MS Ultra?
These scanners are from the Maxisys series. The first similarity is that they are fitted with the same software. Besides, they also feature intelligent diagnostics, active tests, ECU coding & adaptation, module topology mapping, and 5-in-1 VCMI.
Why is the topology module mapping function important on the Autel MS919 scan tool?
This function displays the entire system via the map's topology to allow the user to view all the modules with faults, which are straightforward to identify errors and causes. Additionally, the color-coded topology shows all the system data on one page. It also allows the user to view the structure of communication between modules.
Which model year vehicles with FCA AutoAuth does the Autel Maxisys MS919 support?
The Autel Maxisys MS919 supports FCA AutoAuth vehicles made after 2018. It can read and erase error codes and perform several special functions. But if your car is FCA and made before 2018, then this scan tool won't be of help.
Kevin Nicholas is an automotive technician who is a genius at software and hardware-related issues. He manually tested more than a hundred OBD scanners and gave his honest opinion on whether the device was worth the money or not. His in-depth OBD review articles help people choose the right product, whether it is a European, American, or Asian vehicle. He completed his Automotive Specialized Training Course at Universal Technical Institute and has more than 15 years of experience in the field.