Working in a busy car repair shop has taught me a lot of things. One of the major things that I have learned is that not all the scan tools that we see on the market offer the results that we desire. There are code readers that are accurate, and some are not. Also, not all car diagnostic scanners perform what they say they perform. Why am I recommending this Innova 31603 car scan tool? Innova OBD2 scan tools read and clear Check Engine Light, stream, view, record ABS & SRS trouble codes, and more. Read our Innova 31603 review to know more.
Update: Innova 31603 is now replaced by the Innova 5100 scan tool with the exact same features.
Best Alternatives of Innova 31603
I have both Innova 3160 and 31603 models. So, What is the difference between the Innova 3160 and the Innova 31603? If you have a budget, then I will suggest you go with the Innova 3160g code reader (upgrade version of 3160) because it has lots of extra features. But, if you need an entry-level ABS/SRS scan tool and have a limited budget, then this 31603 model will be a good choice for you. For more advanced features like TPMS, EPB, brake bleeding, transmission temperature, steering angle reset, oil level, and brake pad life, oil life, you can buy the latest Innova 3160RS model.
Technical specifications of the Innova 31603 Scan tool
Works:
ALL 1996 and

newer

vehicles
Display:
DTC definitions on unit screen
Check Engine Light:
Yes, it Easily determines the cause

Read and erase ABS & SRS trouble codes on most OBD2 Domestic

:
Yes

Stream, view, and record ABS/SRS/Powertrain live data

:
Yes

Perform vehicle network scan

:
Yes
Update option:
Yes (Via the internet)

Enabled Bluetooth provides access to Repair Solutions Pro

:
Yes

Online OBD2 Fix community online

:
Yes
Prints data:
Yes
Batteries:
3 AA batteries required (included)
Dimensions:
8.2 x 7.2 x 3.2 inches
Weight:
1.5 pounds
Get transmission codes:
Yes
Price:
Check Today's Price
Why buy the Innova 31603 scan tool?
Among the different brands that I have used to scan codes on different car engines, Innova has been one of the standout brands. Before you acquire a certain OBD2 code reader, you should find out if it is compatible with your car or not, even if it says it is. Innova 31603 offers a wide range of code readers that offer accurate and reliable outcomes. One of my favorite Innova OBDII scan tools is the Innova 31603 diagnostic scanner.
The Innova 31603 car scan plus ABS/SRS scan tool is sturdily built for versatile use. It has a large display screen than the Autel ML619 scanner that shows 25 important pieces of data. The code reader is compatible with 1996 and newer light trucks, cars, SUVs, minivans, and hybrids for both domestic, Asian, and European. The 31603 has the capability to show, record, and playback OBD2 live data graphing. With battery/memory backup, you can use this device even when the car engine is switched off.
Innova 31603 Reviews: Main Features and Benefits of this Car Scanner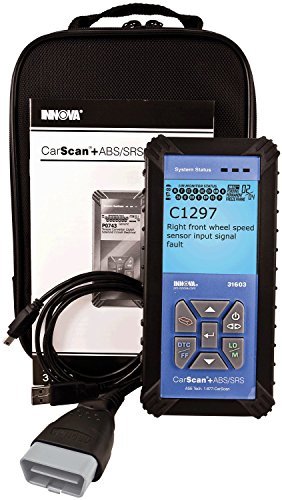 Check Price
Rugged construction
If you are ready to spend in order to get a quality scan tool, then you should ensure that it is of great construction. A scan tool should be able to serve the user for many years. This is what you get when you purchase the Innova 31603 scan tool. With rugged construction, you can be certain that this tool will serve you for a long period of time, even if it falls or crashes.
Related article: Innova VS Autel: Comparing scan tool brands with pros & cons
Updatable by use of internet cable
The joy of a motorist is that the scan tool that they have bought will be applied even if they purchase a new car model or another brand. This is because it can be updated via the internet by connecting the mini USB cable that it comes with.
Multilingual feature
You don't speak or understand English? No problem. This device is multilingual in that it has the other two languages that can be set. This is Spanish and French. So, if you are conversant in Spanish, French, or English language, you can set it and use it to run a scan or see if you qualify for an emission test.
Large display screen
Those who work in a poorly lit or dim area shouldn't be worried at all. The Innova 31603 diagnostic scanner has a large LCD screen. It displays its results in colored form, making it easy to read and erase codes. Also, the patented all-in-one screen shows 25 crucial pieces of information. The backlit screen ensures that the user continues to utilize the device even when in extremely or poorly lit areas. This screen is larger than the Innova 3100j Diagnostic scan tool.
Compatible with a wide range of vehicles
Many professionals, as well as novice mechanics, find this scan tool to be amazing. This is because of its capability to be compatible with various vehicles. Actually, it can read and erase ABS and SRS codes on most of the 1996 and newer Ford, GM, Toyota, Honda, and Chrysler vehicles. Also, it can scan 1996 and newer cars, light trucks, hybrids, SUVs, and minivans – both domestic and foreign.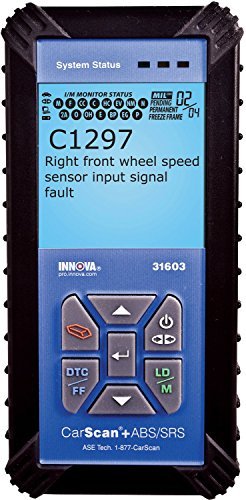 Check Price
Memory or battery backup
If you want a reliable and efficient Bluetooth scan tool, then the Innova 31603 is the best choice. Apart from the freeze frame data that the tool displays, it has a memory and power backup. At times, the car engine might go off, and you may end up not knowing what the cause of the check engine light is. This device continues to work even without the car engine on.
Versatile use
The 31603 scan tool has a wide coverage as it covers OBD I and OBD II with CAN code-compliant vehicles. This makes it economical as well as versatile. You don't need to purchase different types of scan tools if you can get all of these in just a single tool. Typically, both your technical and running costs will be reduced by a great deal, and you will end up saving more.
Wide range of features
This may not be the most expensive scan tool on the market or from Innova, but it has a wide range of features to offer to the user. The device has more advanced features compared to Innova 3030 and Innova 3040 scanners. The gadget is able to display, record, and playback obd2 live data graphing. It reads and erases check engine lights, it has enhanced engine and transmission codes, and finally, it has a presence of both manufacturer-specific and a number of generic codes. For this reason, it can code and decode different vehicle models and brands.
Compact and lightweight scan tool
Despite having a wide range of features and a wide display screen, this diagnostic code reader is compactly designed and lightweight. It measures 11 by 8 by 3 inches. Its weight is 2.2 pounds, that are quite similar to the affordable Innova 3120 scan tool. This makes it easy for the user to fit it in the pocket or move around with it from one workshop to another. Built with a mobile shape, you can easily slide it into your pocket or pouch when you are not using the scan tool.
Customer support
Innova offers exceptional customer support from ASE-certified technicians who are able to listen to your queries and provide you with solutions. There is nothing that they can't tackle. Just get in touch, and all your car issues will be solved.
One-year warranty from the manufacturer
Innova is a professional OBD2 scanner brand that has continued to develop and establish itself as one of the best. Innova scan tools are some of the best on the market and are created with a certain standard. On top of that, the manufacturer offers buyers of the Innova 31603 code reader a one-year subscription warranty.
What is the setback of the Innova 31603 obd2/obd1 scanner?
After looking at some of the great features and benefits of the Innova 31603 scan tool, it is hard to believe that it has shortcomings of its own. To begin with, this device may not be compatible with some car brands on the market. On some car models, it is very slow, or at times, and it doesn't read specific codes. Also, another issue may be that it can become slow when updating over the internet, more so if it is connected to the PC.
Summary
Since there are so many scan tools to choose from in the market, you should consider buying from the best. The Innova 31603 car scan tool is a top-quality diagnostic scanner. Similar to other tops-of-the-range devices like Autel or Foxwell, it has outstanding features and can carry read and erase codes from a wide range of vehicles. It is easy to use with a large colored display screen and compact design. You can use it without switching the car engine on the use of its battery backup. This is an excellent scan tool for both starts and professional mechanics and motorists. I hope this Innova 31603 review article has given you a clear idea about this scanner.
Kevin Nicholas is an automotive technician who is a genius at software and hardware-related issues. He manually tested more than a hundred OBD scanners and gave his honest opinion on whether the device was worth the money or not. His in-depth OBD review articles help people choose the right product, whether it is a European, American, or Asian vehicle. He completed his Automotive Specialized Training Course at Universal Technical Institute and has more than 15 years of experience in the field.