Though there are many obd2 car diagnostic scanners on the market; But, Innova 3150 scan tool is a well-combined price and features. The Innova 3150 is a powerful obd2 scan tool that supports 1996 and newer OBD2 vehicles. It can be used by professional mechanics as well as Do-it-yourself enthusiasts. This automotive scan tool can fix the check engine light issue in an easy and simple way. It also does ABS, SRS, Charging Test, Service Light Reset, and more. Read this Innova 3150 review article to find out more detailed features.
Technical specifications of the Innova 3150 Scan Tool

| | |
| --- | --- |
| Features | Innova 3150 |
| Works: | ALL 1996 and 1996 and newer vehicles |
| Display: | LED display for quick state emissions readiness check |
| ABS/SRS: | Yes |
| Check engine light warnings: | Yes |
| Automatically refreshes data: | Every 30 seconds when connected to the vehicle, making it easy to verify repair completion |
| Displays Freeze Frame Data: | Yes |
| OBD-PC Link™ software required/included with the tool: | Yes |
| C.A.N.(Controller Area Network): | Yes |
| Update option: | Yes |
| Retrieves OBD2 DTCs: | Generic Codes (P0, P2, P3, and U0) / Manufacturer Specific Codes (P1, P3, and U1) |
| Communicates with all OBD 2 protocols: | C.A.N. (Controller Area Network), ISO 9141, J1850PWM, J1850VPW, KWP 2000 ISO 14230-4 |
| Code Definition Display: | Unit in English, Spanish or French |
| Quick auto scanning: | Yes |
| Dimensions: | 7.4 x 2.5 x 10.5 inches |
| Weight: | 1.8 pounds |
| Price: | Check Today's Price |
The Innova 3150 diagnostic scan tool is able to troubleshoot ABS solenoids, speed sensors, control modules, brake switches, ABS pumps, and other things. In this Innova 3150 review, we have highlighted the different features of this car diagnostic scanner and its benefits to the user. The code reader is notably recognized to offer obd2 data and as well as function with the ABS feature. The other popular version of the Innova scanner is Innova 3100i. Why buy Innova 3150 diagnostic scan tools? Read further to know more about this.

Diagnostic Scan Tool Innova 3150 Review
The Innova 3150 diagnostic scan tool is a great choice for professional mechanics. This is because it is very advanced and has exceptional features that carry out extra tasks than just checking the engine light. This scanner is also able to check ABS and SRS in obd2 vehicle issues. Unlike some scan tools, the Innova 3150 diagnostic scanner is can be upgraded for those who require more coverage. Like the Innova 3030 scan tool, this car diagnostic scanner is that it automatically refreshes data every 30 seconds when connected to the car. This, in turn, makes it easy to verify repair complexion. Also, the scanner is compactly designed for easy handling during use and has a display screen for showing the codes being read and for other functions.
Innova Company provides great customer support to its clients and offers a one-year limited warranty from defects. With such outstanding features and many others, the Innova 3150 is an ideal automotive diagnostic scan tool to have for professional mechanics or DIYers specialists to fix the engine light and read & erase ABS and SES codes.
Main features:
The scan tool has the capacity to be compatible with different vehicle brands based on its ability to read both generic and manufacturer-specific codes.
It comprises battery backup memory to provide off-car review and analysis.
It diagnoses ABS and SRS codes on most 1996 and newer GM, Chrysler, Honda, Toyota, and Ford.
Automatically refreshes data every 30 seconds when linked to the car.
Has a large display screen with LED lights.
It has a compact design and is lightweight.
Why should you consider buying Innova 3150f?
Some scan tools can be very challenging to use. But the Innova 3150 is perfectly designed for simple use. It is compact in design and has a large screen where the data is displayed. The buttons are designed simply, and the menu can be navigated without much difficulty. Also, the price is lower than the advanced Innova 31603 and Innova 3160 scan tools.
The scanner has several outstanding features that the user can rely on for better performance from the device.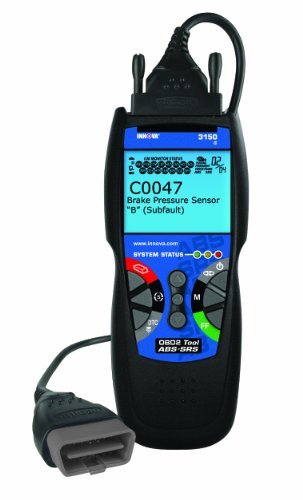 Check Price
In addition, the manufacturer has ASE technicians who provide much-needed support to clients any time they need it.
One of the best features of this car diagnostic scanner is that it is compatible with different cars. This enables professional mechanics and other users to apply it in more than one car. The tool can detect light warnings on any 1996 and newer light trucks, cars, SUVs, and hybrid cars, no matter if it's domestic or foreign.
Related article: Check all these Innova 31703, 31403 & 31003 model reviews
Having an automotive scan tool allows a person to save a lot. This is because the initial cost of acquiring the Innova 3150 is low when compared to the regular visits you have to undertake when you see the car engine light.

Check Price
Also, it saves time and covers several car issues.
Allows updates and upgrades
Many of the scan tools on the market have no upgrades or updates, which makes them be less effective in the long run. With the ever-changing technology, a good car diagnostic scan tool needs to allow for updates and upgrades for it to serve new cars with the latest technologies.
It provides an automatic refresh.
One of the special features of this car scan tool is that it automatically refreshes information every 30 seconds when the OBD2 is linked to the car. This makes it easy to check repair completion.
Has battery backup memory
Not every diagnostic scanner is capable of being disconnected and removed from the vehicle but still keeps the data on the screen. With the backup memory, this automotive scan tool is able to retain the information even after the tool is removed.
It is able to access ABS trouble codes.
This is another excellent feature of this car diagnostic scan tool. It is able to show ABS light besides showing the engine light.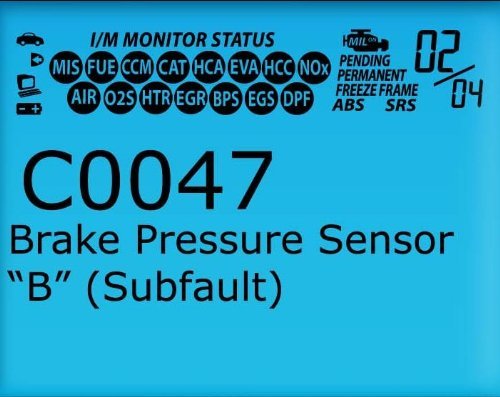 Check Price
If there is trouble with the ABS, the ABS light may glow or the traction control system. A few scan tools have provided access to this system.
It reads and erases trouble codes.
One of the big reasons why people purchase obd2 scan tools is for them to erase and read trouble codes. When you see the engine light on, you are required to run a quick diagnostic test and check what the issue is. Besides reading these codes, this scanner is able to provide a concise description of them.
Provides access to SRS systems
This scanner is built to read SRS system codes on most vehicles. Diagnosing the SRS is very important. This is because, in case of an accident, the airbags won't function, which may be a very life-threatening situation.
Examine readiness monitors
When it comes to smog tests or state inspections, readiness monitors are really crucial. A good number of emission testing are carried out using obd2 tools to detect if there is an emission-connected issue with the car. In case the readiness monitors are not set, the car is less likely to pass the inspection.
Related article: Need an affordable scanner? Check the Innova 3120 review with pros & cons
The scan tool isn't only compactly designed, but it is also nice to handle and work with due to its exceptional design.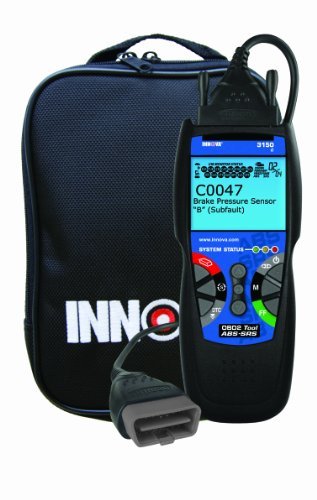 Check Price
One of the biggest reasons why professional mechanics and DIYers love the Innova brand is as a result of its amazing customer support. This brand has ASE technicians who solve the problems a person may be having with their device.
The manufacturer provides a one-year limited warranty free from defects
After purchasing the Innova 3150 model, the firm doesn't stop there as they offer the buyer a one-year limited warranty on defects. This is to show support and belief in their product.
Things included in the box of the Innova 3150 scan tool:
The Innova 3150 automotive scan tool
USB cable
OBD2 16 pin DLC cable
A quick reference guide on OBD2 device
Carrying case
Access to repair solutions from Innova.com
Innova 3150 vs 3150e
Almost similar functionality. The Innova 3150e is the upgraded version of Innova 3150. The most recent version of this model is 3150f. It has a Fix Assist feature.
Final Thoughts
As discussed above, it is clear that the Innova 3150 diagnostic scanner is an excellent tool for reading and erasing ABS and SRS in obd2 cars. Besides this, it has wonderful features that make this process to be easy and quick. Though it is not a Bluetooth-enabled scan tool, the manufacturer provides excellent customer support and offers a one-year limited warranty on defects to buyers of the code reader. There are those known to offer outstanding performance when it comes to vehicle scanning. The Innova 3150 is one of them. As technology changes, so do we use the advanced scanner, and Innova 3150f is the latest invention. Still, have a question after reading this Innova 3150 review? Comment below.
Kevin Nicholas is an automotive technician who is a genius at software and hardware-related issues. He manually tested more than a hundred OBD scanners and gave his honest opinion on whether the device was worth the money or not. His in-depth OBD review articles help people choose the right product, whether it is a European, American, or Asian vehicle. He completed his Automotive Specialized Training Course at Universal Technical Institute and has more than 15 years of experience in the field.