The Ancel AD310 is one of the best-selling and cheap OBD II Scanners on the market. This tool easily determines the cause of the check engine light on. Also, It can Read, Erase, Live data, View Freeze Frame, I/M monitor readiness, and show Vehicle information. Read our Ancel AD310 reviews to know more about this code reader.
Owning a vehicle is a huge expense. You have to learn how to save on fuel and the cost of maintenance. Most of the time, people spend so much taking their car to a mechanic for repair when they can handle it by themselves. For instance, scanning your car for error codes when the check engine light comes on. Instead of taking your car to a mechanic, you can buy an affordable and simple scan tool to check the fault code on your own.
Technical specifications of the Ancel AD310 Classic Enhanced Universal OBDII scanner
| | |
| --- | --- |
| Features | Ancel AD310 Classic |
| Works: | ALL 1996 and later vehicles |
| Display: | Large easy-to-read backlit LCD screen(128 x 64 pixel) |
| Check Engine Light: | Yes |
| Reads Live Data Stream: | Yes |
| Views freeze frame data: | Yes |
| Gets the power: | Directly from the OBDII Data Link Connector in your vehicle |
| Clear code: | Yes |
| OBD II protocol: | 16 PIN |
| Retrieves vehicle information: | Yes |
| Get transmission codes: | Yes |
| Engine Fault Code read: | Yes |
| Voltage: | 12v |
| Dimensions: | 8.8 x 6.5 x 1.5 inches |
| Weight: | 12.3 ounces |
| Warranty: | 3 Years Warranty Guarantee |
| Price: | Check Today's Price |
The initial cost of acquiring a scan tool might be high, but in the long run, you will end up saving a lot. Also, you will find out that some minor faults can be worked on by you.
CAN Diagnostic Scan Tool Ancel AD310 Reviews(Video):
Consider buying a scan tool from a reliable brand such as Ancel, Autel, Foxwell, Launch is a smart decision. In this Ancel ad310 review, we are going to look at the Ancel ad310 OBD2 scan tool. The ad310 scanner is simple and compact in design. It has easy-to-use features and offers accurate readings. It supports different languages and is compatible with OBD2 cars built from 1996 and newer. The price is also cheaper than Autel AutoLink AL319 and Autel AL519 AutoLink scan tools. Some of the functions that it performs include read and erase codes, read live data, view freeze frames, perform I/M readiness tests, and provide vehicle information. The displayed info can be read easily on the large screen, and Ancel provides users with a 3-year warranty.

Features of the Ancel AD310 OBD II Scanner
Reads live data stream
Retrieves vehicle information
View freeze frame data
Large easy to read backlit LCD screen with 128 by 64 MP
Functions on 12V vehicle battery only
Read and clear diagnostic fault codes
5 feet long cable
Compatible with 1996 US-based, 2000 EU-based, and Asian cars, and newer OBDII and CAN domestic or import vehicles.
Supports French, English, German, Spanish, Russian, Finnish, Portuguese, and Dutch.
3 years warranty
Benefits of the Ancel ad310 diagnostic scan tool
Sturdy construction
It is important to purchase a sturdy scanner since they are prone to dropping on the surface as one works on a car. Also, a durable made scan tool such as the ad310 will last for a long and help the user to fully utilize it on a wide range of vehicles.
Related article: Need an affordable car scanner? Check our Launch crp123 device review
Sleek and compact design
There is no doubt that the Ancel AD310 is a well-constructed scan tool with a sleek design. This makes the handling of the gadget to be easy and simple. Also, it is compact and can easily fit in tight places during use.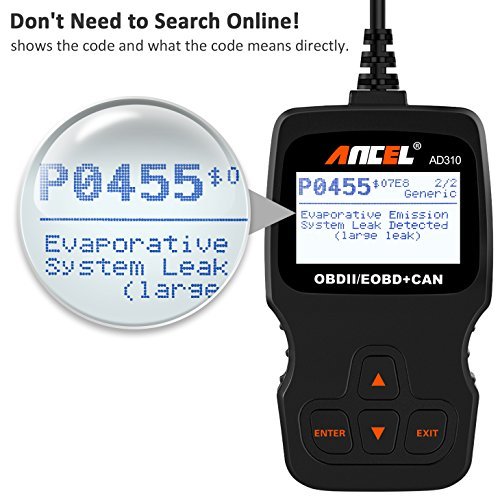 Check Price
Easy to use
One of the challenges that startup mechanics or DIY enthusiasts come across is using a sophisticated scan tool. The Ancel ad310 diagnostic scanner has simple features, and it is very easy to use compared to other professional scan tools. You don't have to be well educated about code readers for you to properly use this device. The buttons have clear signs, and the screen is large for displaying results clearly.
Multilingual scan tool
Similar to many quality scanners, the Ancel ad310 diagnostic scan tool offers the user different languages. These include English, Spanish, French, German, Dutch, Finnish, Portuguese, and Russian. Hence, it can be used by different people from different parts of the world.
Accurate and fast
Even though this scan tool has a handful of features, it still performs exceptionally in offering accurate and quick results. If you want to know the cause of the check engine light, this device will let you know instantly and fix the problem right away. But if need a faster device than this, you have to use the FOXWELL NT630.
Supports all OBDII protocols
It is common to find that many cheap scan tools do not support all OBD2 protocols. This is not the case with the ad310 scanner, as it is able to support all OBDII protocols such as KWP2000, J1850 VPW, ISO9141, CAN, and J1850 PWM.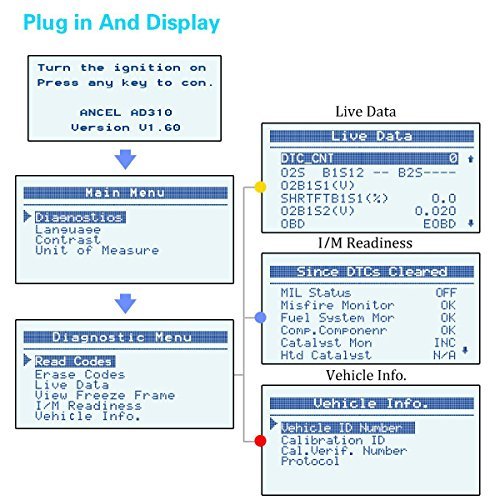 Check Price
Performs a wide range of functions
This code reader performs a wide range of functions apart from reading and clearing diagnostic trouble codes for the check engine light, for both generic and manufacturer-specific codes. The gadget shows the code and what it means; hence, you don't have to search for it online, and it saves you time. Other functions of the AD310 scan tool are to set monitor before undertaking a smog test, offer vehicle info, read live data stream, and view freeze frame data.
Related article: Is it worth buying a cheap Foxwell NT301 OBD2 code scanner
Compatible with numerous vehicles
The ad 310 is compatible with 1996 US-based, 2000 EU-based, and Asian cars and newer OBD2, and CAN domestic or import vehicles. Check for compatibility with your car model before buying.
Portable device
With its compact design and lightweight construction, this gadget isn't a problem carrying or moving around with it. It weighs 12 ounces and measures 8.9 X6.9X 1.4 inches.
Affordable scan tool
If you don't have much cash to spare for acquiring a high-end scanner, this will be a great fit for you. This device is not only affordable but as well as accurate and fast in performance. Also, it covers different car makes, and it is suitable for a person who just needs a code reader for checking his or her car. But it is recommended to use either Innova 31603 or Launch x431 for the professional mechanics.
Suitable for professionals and DIYers
The scan tool is not difficult to use and thus can be utilized by a startup mechanic or a professional technician. This is because of its easy-to-use interface and multilingual menu.

Check Price
Warranty
Not all scan tool brands offer warranties. But Ancel believes in its products, and that's why they provide a 3-year warranty on buyers of the Ancel ad310 diagnostic scan tool. The warranty applies to buyers who purchase from genuine Ancel shops and not third-party sellers.
Shortcomings of the Ancel AD310 code reader
Not suitable for professionals as it has limited features and is only suitable for reading codes, which it does accurately.
It is able to read codes but clearing them is a bit difficult
It doesn't read live data on some car models.
How the Ancel ad310 diagnostic scanner functions
Simply plug the device into the OBD2 port on your vehicle and turn the ignition on, and you are ready to go. Normally, the link to the OBDII port is under the dash or under a panel below the handbrake in the center console of your vehicle. Also, ensure that it is a 16 PIN OBD2 protocol and 12V vehicle battery. Now you are ready to read error codes and as well clear them if possible. The good thing is that you won't need a battery or charger to start the Ancel ad310 OBD2 diagnostic code reader.
Summary
This is one of the easiest and affordable OBD2 scan tools on the market. The Ancel ad310 code reader is easy to use with a large LCD screen and multilingual menu. It is sturdily built and very portable. The device reads and clears codes of 1996 and newer vehicles. Unlike some Bluetooth scan tools, it doesn't require a battery or charger to start working. Just plug it into the port and start your car. Also, it is very accurate and fast in reading error codes. On top of that, the manufacturer gives buyers a 3-year warranty, but you have to buy from Ancel genuine shops. I hope this Ancel AD310 reviews article will help you to make a decision that it will work for you or not.