Autel is one of the world's leading makers of diagnostic tools on the market. However, since they make various diagnostic scan tools meant for different people and purposes, picking a suitable scanner can be pretty daunting. For instance, choosing between Autel ms309 vs. ms300 vs. al319 is not easy.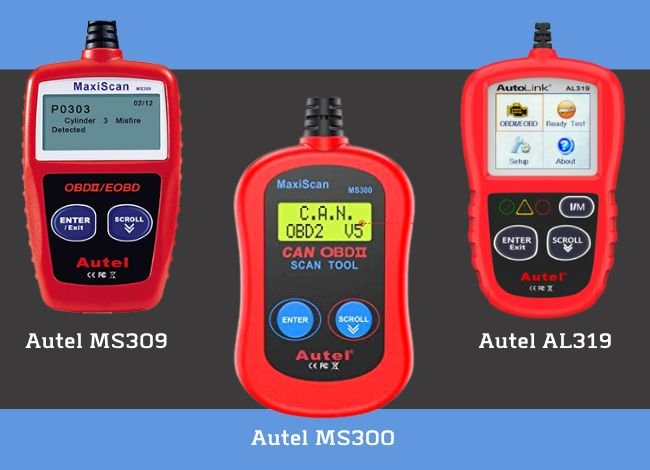 To choose the suitable Autel scanner, you have to consider its functions, compatibility with your vehicles, ease of use, and budget. In this review, we've highlighted all the vital things you need to know to select the ideal Autel scan tool for your car and purpose.
So, which scan tool is better; Autel ms309, ms300, or AL319. Continue reading to find out!
Comparison Table: Autel MS309 vs. MS300 vs. AL319
| | | | |
| --- | --- | --- | --- |
| Features | Autel MS300 | Autel MS309 | Autel AL319 |
| Product Dimensions: | 6.3 x 2 x 9.1 inches | 4.3 x 2.7 x 0.8 inches | 4.6 x 2.8 x 0.7 inches |
| Display: | 2 lines, Backlit LCD, 8 characters each | Backlit, 128×64 pixel display | TFT color display (220 x 176 dpi) |
| Weight: | 0.55 Pound | 0.5 Pound | 0.39 Pound |
| Storage Temperature: | -4 to 158 ℉ (-20 to 70 ℃) | -20 to 70 ℃ (-4 to 158 ℉) | -20 to 70°C (-4 to 158 F°) |
| Operating Temp: | 32 to 122 ℉ | 0 to 60 ℃ (32 to 140 ℉) | 0 to 60°C (32 to 140 F°) |
| Vehicle Information: | Yes | Yes | Yes |
| Internet Updatable: | No | No | Yes |
| DataStream: | No | No | Yes |
| Freeze Frame: | No | Yes | Yes |
| Multilingual Support: | No | Yes | Yes |
| Price: | Check Price | Check Price | Check Price |
Which scan tool is right for me in terms of size and dimensions?
All of the above Autel scan tools are compact and light. Hence, they are simple to carry around and keep. The Autel ms300 measures 12.2 x 6.69 x 6.3 – inches, while the Autel ms309 measures 4 x 2.6 x 0.8 – inches. Last but not least, the Autel AL319 measures 0.71 x 4.61 x 2.83 – inches.
Besides, the Autel ms309 is the heaviest as it weighs 11.3 ounces, the ms300 weighs 8.8 ounces, and the AL319 is the lightest as it weighs 6.2 ounces.
Are all scan tools easy to use?
Yes, all the above three scanners are easy to use. Regardless, the Autel ms309 and Al319 are the easiest to use as they don't rely on the battery alone and can use the vehicle's power to diagnose it. On the contrary, the Autel ms300 needs batteries to run.
Which scan tool is more advanced with more features and functions?
Despite being entry-level scan tools, these scanners boast excellent features and functions. Here are some of the features that every scan tool offers: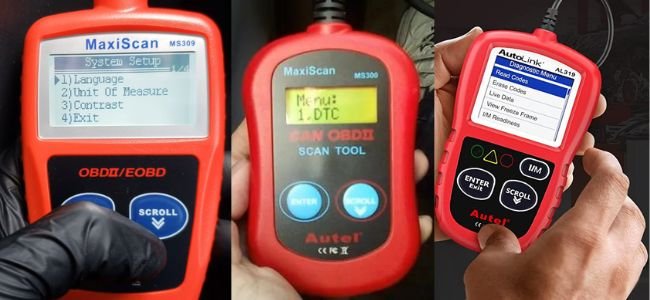 Autel ms300: it can read & erase error codes, turn off check engine light, view VIN, O2 sensor test, rescan data, and retrieve I/M readiness status.
Autel ms309: it can retrieve codes, turn off check engine light, display DTC definitions, retrieve I/M readiness status, view freeze frame data, view vehicle info, O2 sensor test, and EVAP system.
Autel Al319: it can read and clear error codes, read vehicle information, view live data, view freeze frame data, retrieve I/M readiness status, display DTC definitions, EVAP system, O2 sensor test, and ignition test.
What vehicles does each scan tool work with?
These cars are compatible with most 1996 and newer vehicles made in the US, Asia, and Europe. Some popular brands these units work with are Toyota, Honda, Nissan, Mercedes, Kia, GM, Ford, Chrysler, Nissan, Mazda, BMW, Audi, Hyundai, Jaguar, and much more. Always ensure that your car make and model year are compatible before purchasing any of the above Autel scan tools.
Note that the unit is compatible with US cars made in 1996, European made in 2006, and Asian cars produced in 2009. Even though these three scan tools are compatible with most protocols, they don't work with non-OBDII protocols like JOBD and KOBD.
What are some of the similarities between these Autel scanners?
The main similarities between these scan tools are the types of vehicles they cover, their compact and simple design, a backlit screen, and short cords. Moreover, they offer similar functions such as reading/erasing error codes, turning off check engine lights, retrieving VIN numbers, and retrieving I/M readiness status.
Autel MS309 vs. MS300 vs. AL319: All The Pros and Cons
Compare
Autel MS309
Autel MS300
Autel AL319
Pros

It is a plug-and-play scan tool

It is durably made to last

The device is compact and light for easy storage and transportation

It works with most 1996 and newer domestic and foreign vehicles

It performs an extensive range of functions

The user doesn't have to search for DTC's meaning

It supports most protocols

It can be updated for free online

It is compact and durable

It is very affordable

The device is straightforward

It performs various functions

It provides comprehensive vehicle coverage

The scanner prepares your car for the emissions test

It allows the user to retrieve the VIN

It is compact and easy to carry and store

It is easy to use and comes with a user manual

The OBD2 tool has bright color-coded LCDs and a built-in speaker

It reads and clears codes

It retrieves both generic and manufacture-specific codes

This scanner is a plug-and-play unit

It views freeze frame data and reads live PCM data

It is compatible with various vehicles

This is a multilingual unit

The manufacturer offers free lifetime online update

Cons

It has a short cord

The buttons are somewhat loud

The device does not support freeze frame data

It requires a battery to operate

The cord is short

It is pretty annoying when it beeps after the system is done diagnosing your car.
Who should buy which Autel diagnostic scan tool?
If you're DIYer or car enthusiast and want a device that can help you know why the check engine light is on, the Autel ms300 is the best tool for you. On the contrary, if you're a startup mechanic or serious car enthusiast, you will find the Autel ms309 to be an excellent scanner. Last but not least, the Autel AL319 diagnostic scanner is perfect for serious amateur technicians and car enthusiasts who need a tool with more than the basic functions at an affordable cost.
Conclusion: Autel ms300, ms309, or AL319?
If you're looking for an entry-level automotive scan tool, you can't go wrong with any Autel scanners featured in this review. These scan tools are easy to use, affordable, and provide accurate results. The scanner you pick will depend on your needs and budget.
The Autel ms300 is the cheapest and has a limited number of features. Hence, it is only ideal for DIYers or startup mechanics. Secondly, the Autel ms309 is slightly advanced but has limited features. On the contrary, the Autel Autolink AL319 is more advanced with a few special functions, making it the best scan tool for the money.
FAQ
Is Autel a reliable scan tool brand?
Autel is among the most dependable diagnostic scan tool manufacturers on the market. Besides, most of their products are very advanced with top-notch features. So, if you're a professional or startup mechanic, you can't go wrong with Autel products.
What is the best Autel scan tool?
The best Autel diagnostic scan tool title goes to the Autel Maxisys Elite. Not only is this one of the top-of-the-line Autel scanners, but it is also easy to use and has several advanced functions and features. Furthermore, it features a large touchscreen for quick diagnosis and viewing of results. It can also work wirelessly by inking it via Bluetooth or Wi-Fi connections.
Does Autel offer a warranty?
Yes, Autel offers a warranty for its products. The Autel ms309, ms300, and AL319 have a one-year warranty. This means that the manufacturer covers the product for one year from the date of purchase. Hence, if the scan tool arrives with damage or defect, it can be replaced or repaired.
Do all these scan tools need batteries to function?
No, only the Autel ms300 code reader needs batteries to work. This unit runs on a lithium-ion battery alone, while the other units can run on batteries or use the car's power to diagnose the vehicle.
Kevin Nicholas is an automotive technician who is a genius at software and hardware-related issues. He manually tested more than a hundred OBD scanners and gave his honest opinion on whether the device was worth the money or not. His in-depth OBD review articles help people choose the right product, whether it is a European, American, or Asian vehicle. He completed his Automotive Specialized Training Course at Universal Technical Institute and has more than 15 years of experience in the field.