If you are a professional mechanic or DIYers, you should always include a quality torque wrench in your arsenal. One of the most notable torque wrenches on the market is the CDI 2503 MFRMH tool. This wrench has outstanding features and is built for versatile use. It is very accurate, easy to set and read. It is well built for longevity and has a nice firm grip that ensures the user has full control of the tool. In this CDI Torque Wrench Review article, we will explain why you should think to buy CDI wrenches.
The CDI brand which is under snap-on industrial brands has been creating quality wrenches. The brand offers different models and is known for its quality products with great features.
We took our time to review one of the best CDI torque wrenches on the market, which is the CDI MFRMH torque wrench. This is of an ideal size and can be used to perfectly tighten or loosen nuts and bolts to the desired level.
Best CDI torque wrench Review 2020
If you're a newbie in dealing with torque wrenches or are just in such for the best torque wrench from a notable brand, then you've come at the right place. The CDI 2503 MFRMH adjustable torque wrench is sturdily created to perform excellently in measuring torque and tightening of bolts, nuts, and screws. We have thoroughly researched the CDI torque wrench and discovered that it is one of the best especially when it comes to versatile use. Read this CDI Torque wrench review to know more about the CDI 2503 tool.
Technical Features of CDI 2503MFRMH Click Torque Wrench-1/2 inch:
| | |
| --- | --- |
| Features | CDI 2503MFRMH |
| Ratchet: | 24 tooth |
| Accuracy: |  ± 3% clockwise ± 4% CCW |
| Range – in.-lb. / ft.-lb.: | 30-250 Ft Lbs |
| Drive: | 1/2 inch |
| Metric Range: | 47-332 Nm |
| Easy-to-read laser: | Yes |
| Positive lock: | Yes |
|  Operates: | both clockwise and counter-clockwise directions |
| Certification: |  ISO 9001 certified,  ASME B107.14-2004 |
| Weight: | 3.15 pounds |
CDI 2503MFRMH ½ inch micrometer adjustable torque wrench
The CDI 2503MFRMH click torque wrench is among the best on the market. It has several wonderful features that make tightening of bolts and nuts to be easy and very accurate. It is sturdily created to last longer. The torque uses a dual scale that is easy to read and is calibrated in dual direction. On purchase, the user is awarded a certificate of calibration. In addition, the wrench comes with a knurled metal handle and a non-slip grip that offers total control of the tool by the user. The click technique notifies the user when the preset level or value is attained. The quick release button offers great socket retention and has a torque range of 30 to 250-foot pounds. Use this torque wrench on your car, light truck or even tractor.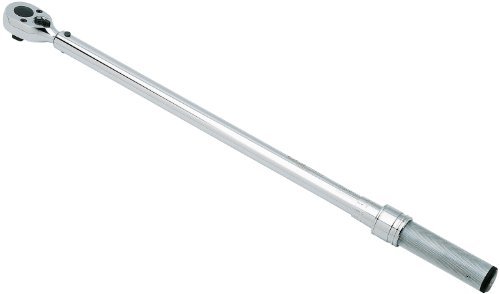 Check Price
Main features:
Click type torque wrench
Knurled metal handle
½ inch drive
Dual scale
Certificate of calibration
Quick-release button
30 to 250 ft pounds
Non-slip grip
47-332nm
Positive lock with a spring loaded pull down lock ring
Storage case
Limited warranty
Pros:
It is made from a rugged and industrial strength material to withstand the harshness of the environment it works in.
CDI 2503MFRMH has an ergonomic and non-slip grip that provides the user or professional mechanic with total control of the tool.
It has a simple to set as well read laser marked scale
The release button offer good socket retention and also socket removal
The buyer gets a calibration certificate on purchase
It comes with a carrying case for easy transportation and storage of the wrench.
CDI 2503MFRMH is suitable for regular car mechanic work as it measures ½ inch and covers a range of 30 to 250-foot pounds.
It is very accurate.
Safety tips of using a torque wrench
Always read the safety instructions that accompany the torque wrench that you buy
Use the wrench by pulling it. Avoid pushing the wrench.
Put on eye protection such as goggles or any other eye protector when using a torque wrench.
Never break fasteners off with a torque wrench
Clean and keep your torque wrench after every single-use
The moment you attain the desired torque level, you should stop.
Always ensure you apply the right wrench for the job. It should be of the ideal size and range.
When you come closer to the final torque, move at a slow pace.
Never use a dirty or worn out torque wrench as t may break off or snap off while in use.
Why choose CDI torque wrench
Before you buy a CDI torque wrench, you should know why it is important to have such a torque wrench from one of the best brands. Below are some reasons why CDI torque wrenches are considered by many as one of the best.
Construction
CDI torque wrenches are one of the well-constructed wrenches on the market. They are ruggedly built for longevity. In addition, they come in different weights with some being very huge and very challenging to carry. Pick a tool that meets your needs regardless of the weight.
Size
There are different sizes to choose from. If you have a bicycle, car, tractor, light truck or motorcycle, you should get an ideal torque spanner wrench size. CDI creates different sizes and you will get a size that you're looking for. Simply go through their different sizes. For instance, CDI torques for large trucks are bigger in size when compared to those meant for small cars or motorcycles.
Features
Unlike some torque wrenches that just have a handful of features, CDI wrenches have amazing features. These features make using the tool to be simple, quick and accurate. But the more advanced the CDI torque is the higher its cost too.
Grip
A grip is a very important part of these tools as pulling them in wet conditions can be a tricky thing to do. So, whatever the intended use, you need to get a torque wrench with a firm grip for easy control of the tool. CDI wrenches are made with nice and firm grips that offer the user full control of the tool.
Performance
If you want the best performing wrenches for cars or trucks on the market, then the CDI brand is one of the best. The torque wrenches from CDI are created for versatility and provide the user with more than just one function.
Price
Built with excellent features and accuracy, the CDI tools are favorably priced unlike other great torque wrenches on the market. You can always get a wonderful torque wrench at a great price. Look through the various models they offer and you will find one that suits your budget.
Conclusion
To conclude, it is evident why the CDI 2503 is regarded as one of the best torque spanner wrenches on the market. This tool has outstanding features that make tightening bolts, nuts, and screws to be easy, fast and accurate. Before buying a wrench for your car, bicycle, tractor or even motorcycle, you need to identify the best torque wrench for the job. The CDI 2503 torque wrench is versatile in nature and covers a torque range of 30 to 250 ft pounds. It has a firm grip for total control, dual scale, and ½ inch drive that makes it be a great all-round tool.
I hope you've found our review and guide on the CDI 2503 MFRMH to be of much help. You can go ahead and use our information to make your choice. Still, have a question after reading this CDI Torque Wrench Review? Comment below.
Meet our professional car mechanic, Russell D. Steele, who has been in this field for five consecutive years and works with several automotive companies. He completed the "AUTOMOTIVE & LIGHT DUTY DIESEL TECHNOLOGY" course from NorthWest Lowa Community College, where he learned essential diagnostic and transportation management skills and became a certified mechanic.