Floor jacks play a very vital role in lifting cars to an ideal level to change oil, check the engine or even change a tire. Pro lift is among the notable brands and has several models to offer. This China made brand is reliable, durably made and offered at a very great price. In this review, we have selected some of the best car floor jacks from Pro-lift with different ton capacity. Read our pro lift floor jack review article and identify a Pro lift car jack that meets your vehicle needs.
Our Recommend Top 4 Pro Lift Floor Jack Comparison Table
Images
Pro Lift Floor Jack
Our rating
Price Idea
Product Dimensions

(Editor's Choice)

Check Price
Pro-Lift F-767 Grey Low Profile Floor Jack - 2 Ton Capacity
Read Review
9.5 our of 10
Medium
17.9 x 5.3 x 8.5 inches

(Editor's Choice)

Check Price
Pro-Lift G-737 Grey Speedy Lift Garage Jack - 3-1/2 Ton Capacity
Read Review
9.2 our of 10
High
30.1 x 6.9 x 15.8 inches
Check Price
Pro-Lift F-2315PE Grey Hydraulic Trolley Jack Car Lift with Blow Molded Case (3000 lbs Capacity)
Read Review
9.4 our of 10
Lowest
18 x 9 x 6 inches
Check Price
Pro-Lift F-2332 Grey Hydraulic Floor Jack - 2 Ton Capacity
Read Review
9 our of 10
Lowest
17.9 x 5.3 x 8.5 inches
4 Top Rated Pro Lift Floor Jack Review 2019
We have selected the most popular Pro lift floor jacks.
Pro-Lift F-767 Grey low profile floor jack (Our Top Pick)
The pro-lift F-767 service jack is durably made with heavy duty steel that provide support and it lasts longer, too. In addition, the jack meets several International quality standards such as ASNI/PALD. The floor jack has the capability to lift a vehicle with a weight of 2 ton capacity or less. Also, it has a peculiar patented bypass device that secures from over pumping. The built-in safety valve offers overload protection and it is great for extra low profile vehicles.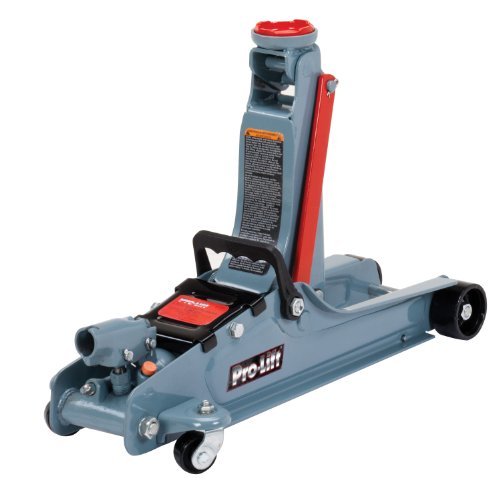 Check Price
Maneuvering this pro lift floor jack is very simple as it comes with two rear wheels and four front wheels.
Users of this the jack can lift their vehicle from a minimum height of 3, ½ inches to a maximum of 14 inches. This lift range ensures that the car is lifted to the ideal height for easy repair under it. One of the good things about acquiring this floor jack is that the manufacturer offers a 90 day warranty from the date of buying the jack.
Pro-lift F-2315 Grey hydraulic trolley jack car lift
If you want a lighter jack that you can carry in your car for emergency repairs, this is a great jack to buy. The pro-lift 2315 grey hydraulic jack can lift your vehicle from a minimum height of 4.92 inches up to a height of 11.81 inches. The grey colored car jack is built with welded steel frame which is not only rust resistant but as well very durable. It provides the car with the much needed support.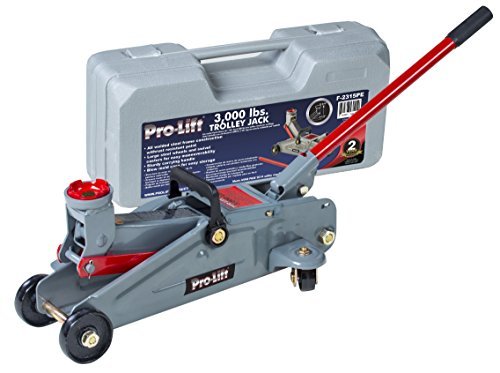 Check Price
The four wheels that the trolley jack has make moving the jack during use or within the garage to be easy and fast.
The sturdy carrying handle on the garage jack as well makes lifting the jack from one place to another to be easy. After using the floor jack, you can keep it in the blow mold case for safe storage or for transporting it from one location to another. Such features make this pro lift trolley jack with 3, 000 pounds to be exceptional in performance.
Pro-lift G-737 Grey Speedy lift garage jack
In case you're looking for a very efficient and high performing service jack, this model from pro-lift is an excellent one. It has fascinating features that make using it to be fun. First of all, the jack is a 3, ½ ton capacity jack. It also comprises of a magnetic tool tray that keeps the little parts within the work area for convenience. Another wonderful feature that this pro-lift speedy jack has is the universal joint release system that gives accurate control of the car in any handle direction.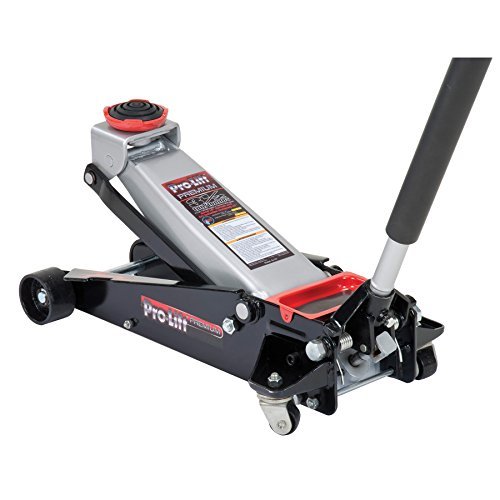 Check Price
When it comes to safety and protection, the car jack meets international quality standards such as ANSI and it has rubber saddle pad to prevent the jack from damaging the vehicle frame.
Use it to lift your load from a height of 5, ½ inches to a maximum height of 22 inches. Get a 90 day warranty from the date of purchase when you acquire this pro lift 737 garage jack.
Pro-lift F-2332 Grey hydraulic floor jack
The 2 ton capacity service jack is a quality tool made from heavy duty steel. This allows its users to apply it on different cars as long as they don't exceed 2 tons. In addition, it has a built-in safety valve that gives it long lasting strength. It has a lift range of 7, 1/8 to 13, 5/8 inches. The swivel saddle and swivel rear ensures safety and allows the load to be positioned easily. If you want to carry it, it has an easy carrying handle for convenience. Besides, it meets the ANSI/PALD quality standards which make it to be safe to use by motorists. Buy this trolley jack to lift your car quickly and in a position that you are comfortable with.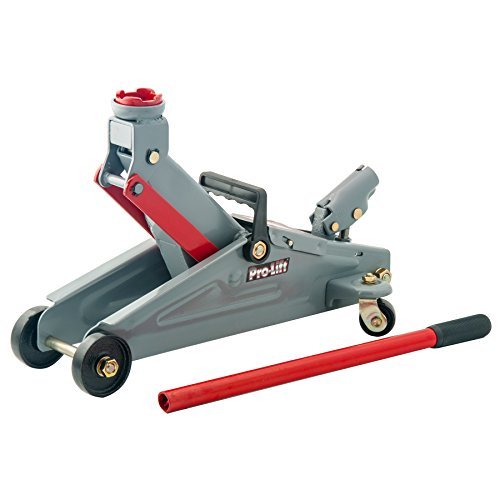 Check Price
Bottom Line
With the wide range of floor jack models to offer as seen from above, the Pro-lift floor jack brand is definitely among the best. The service jacks that they create have a quick lifting system and are durably made. Depending on which car you want to lift, identify the right capacity and lift your car safely with one of the Pro lift garage jacks above.