OBD2 is the most familiar name in the car world. If you own a car, you must know this is a blessing because no one has all the knowledge about maintaining a car. This OBD2 helps lots of people take care of their cars. Many OBD2 brands are famous for providing different features with just one scanner. Autel is at the top of the list, and you'll find many products from this OBD2 manufacturer. But choosing a product from its MaxiDiag series is very difficult. Here we just draw the difference between three Autel MaxiDiag scanners, MD802, MD806, and MD808. So if these three readers are on your bucket list, then this is the perfect article for you.
Is Autel A good OBD2 brand?
Before starting with the scanner, the first talk about the Autel company, which is the shining star in the car repairing tools brand, the motto of this company is to provide car repairing tools for every customer at excellent quality and affordable prices. This Autel is a China-based car tools company, but many warehouses are located in other countries. Autel is very popular all over the world. They produce every type of scanner for low-budget to premium quality cars. And the most important thing about this brand is they give you 24hr customer service anywhere, anytime. If you don't understand anything, they are ready to help you at any moment. With that, you also get a lifetime of free software updates. And buying software is not a difficult job but also needs money. But Autel gives it free for unlimited time.
Autel designed many types of car repairing tools at an exceptionally budget-friendly expense. So don't you doubt the quality of their product? Each and every product is outstanding in quality; that's why it's still the first choice for many customers. And you can get this and also repair this anywhere in the world. All car repair tools come with a user manual. Try to carry it with you while you are driving the car. It'll give you information about the issue code and how to solve it. It provides a step-by-step guideline, so you can easily understand the fault and solve it yourself.
This is the most exclusive professional scanner from the Autel brand in this series. The most significant advantage of this scanner is that it is a multifunctional scan tool with exclusive technology. And that's why this is very easy to use for every car owner to car mechanic. And that's why this model is prevalent all over the world.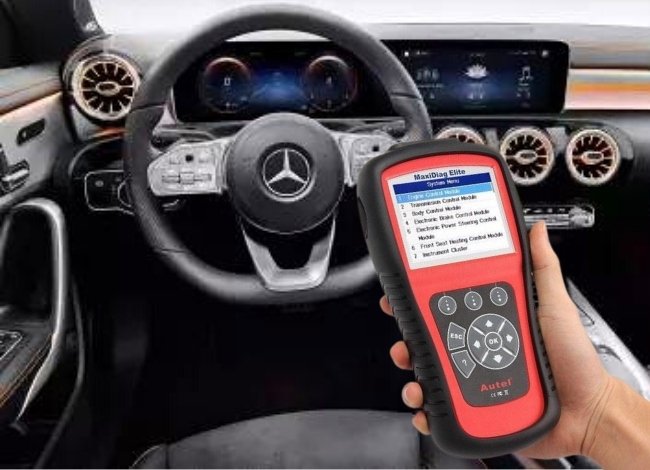 This tool can read and clear four types of trouble codes: engine, transmission, ABS, and airbag. You can turn off the warning light with this device. Like other Autel devices, you can get this scanner's live data and freeze frame information. It also supports 10 test models of recent OBD-II codes. Not only can you detect the code with this scanner, but you can also read this, erase it from memory, component test, get vehicle information, etc., which also supports enhanced OBD2 mode 6 and helps get data graphs. 
Like other Autel scanners, you also get lifetime free software updates on this device. And this also brings you a hard copy for future use. The TFT display shows you where the issue happens and how bad this is. Sometimes you also get some information about how to solve the troubleshoot in the car. This is a very lightweight scanner, so you can easily carry it. And this can operate directly with the battery power of the vehicle. And that's why you don't need to worry about charging it.
About the Autel MD806 OBD2 scan device:
The Autel MD806 is designed with a new technology device, which can give you a smooth experience with the scanner. This scanner can be used for oil reset, battery registration, parking brake, etc., which means this MD806 scanner can easily give you access to the engine, transmission, ABS, and Airbag system of the car. And with that, you can get the 4-inch hand-held device, and that makes this scanner the best on the market.
The description of this scanner first talks about live data and freeze-frame information capability. You can use this scanner to read the trouble code and clear this from memory. With that, you can also control and clear BMS/SRS/oil reset? DPF from the system. It can support battery registration and reset, millage service reset and intervals, turn off the ECU warning light, perform an O2 monitor, etc.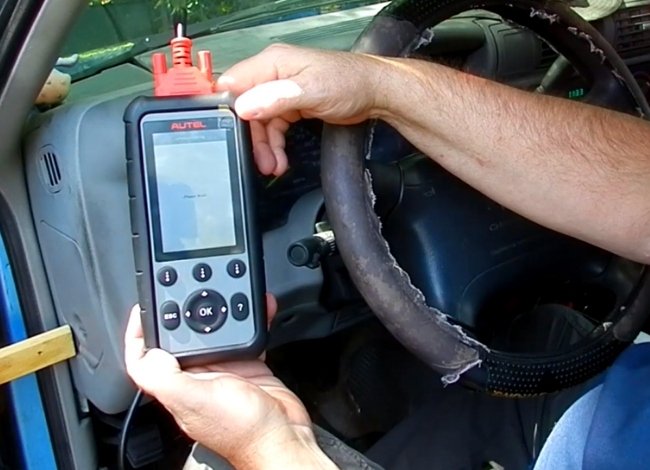 You can use a USB port in this scanner, and it also has a slot for an SD card. With this, you can print out any trouble code to get its detailed version and use it for future repayment. It gets 32 MB 166 MHz memory and a 4.0-inch LCD display with 800×480 resolution. The ARM ® Thumb® processor gives you heavy-duty, up to 400MHz. This scanner is available everywhere in the world, so you don't need to worry about fixing any issue. And like another device from Autel, you also get a lifetime free software update. 
This device is suitable for every car. That means it's available for low-budget cars compared to expensive ones. And you not only scan the OBD2 code with that, but it also provides you with CAN issues. It supports all OBD2 protocols with 10 test modes and enhanced OBD2 mode 6. So, this scanner not only covers the total USA but is also available in Asia and European Car.
Just like other Autel MaxiDiag series, this is one of the best editions of scanner MD806. It's easier to handle and gives you four support systems: Engine, Transmission, ABS, and SRS or Airbag system. Like other Autel scanners, you can read and reset the troubleshooting code with this. Standard features like test and control BMS, SRS, EPB, etc., are also available in this product. This scanner supports oil service reset, battery registration and resets, particular diesel services, reset steering angle sensor, etc. You can also relearn the barking brake pad after replacing it with a new one. With the help of a PC connection, you can print out your issue anywhere. And this scanner supports all OBD protocols,10 test modes, and enhanced mode six support.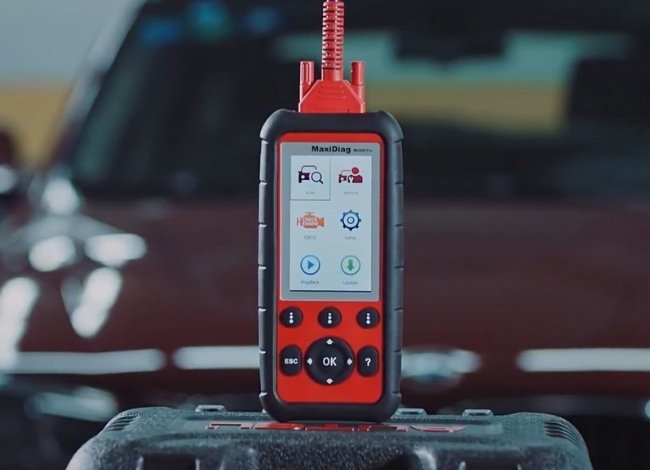 With the 4 inches LCD display, you can easily find the issue in the scanner. A USB connection ensures you can attach any device to the scanner. You also get an SD card slot for 16GB of storage. And the power consumption is only 1.7W. The size of this scanner is convenient, so you can easily carry this with you; it doesn't take up any extra space.
Autel MD802 Vs. MD808 Vs. MD806: Which one is the best?
It would help if you got confused with all these similarities from the details we talked about above. But there are also many differences between these three scanners. Let us find out those so that you can get to choose the suitable scanner for your car:
Autel MD802, MD806, and MD808 can give you four system coverage: Transmission, Engine, ABS, and SRS. But now, Autel upgrades most of the scanners from four systems to all. So if you want, you can buy its pro version for all coverage with one device.
Which one has the fastest processor?
The processor of the MD808 and MD806 are the same, the ARM ® Thumb® processor running up to 400 MHz, But the MD802 is a standard scanner, and there is a slow processor used in this.
Compare Display Regulations: 
Autel MD802: TFT Color display with 320×240 dpi,
Autel MD806: 4.0-inch LCD display with 800×480 resolution,
Upgraded Autel MD808: 4.0-inch LCD display with 800×480 resolution.
Autel MD802: 212×110.5×37.5 mm or 8.35×4.35×1.48 inches.
Autel MD806: 202×92×35 mm or 8.35×3.62×1.4 inches.
Latest Autel MD808: 202×92×35 mm or 8.35×3.62×1.4 inches.
Autel MD806 and MD808 both are in the same weight, 313 gm or 0.69lb. But MD802 is a little bit heavier than others. It's 280 gm with wire, and without wire, it's 484  gm. And without wire, you can't operate the scanner with your car.
More features to Compare…
Steering handle learning:

Both MD806 and MD808 have this system, but this is totally absent in the MD802 scanner.

Read and erase code:

All three scanners can read and erase the code from the system.

Battery:

just like before, Autel MD806 and MD808 have battery registration and reset the system, but MD802 can't do this.

Live data and freeze frame rate:

all these three scanners have this system.

USB port:

There is no USB port in the Autel MD802 scanner, but the other two have this option.

Memory:

Autel MD802, MD806, and MD808 all have the same amount of memory space,32MB+16GB.

Operating and Storage temperature:

the operating temperature of MD806 and MD808 are -10 to 60 ̊C. But the MD802 can only perform at 0 to 60 ̊C. And storing temperature is the same in all three -20 to 70 ̊C.

Save and print data:

All these three scanners can save the data into the memory, and you can use the saved data to print out the data for further use.

Price:

the main difference remains in the price of these three scanners. If your budget is around $200, then MD802 is the best for you. But the other two cost more than about $300 dollars. 

Software update:

As an Autel product, every scanner gets a lifetime software update for free. So you don't need to buy it from the company.
Final Recommendation: which one is the winner?
All the MaxiDiag scanners are almost the same in terms of function and features. But if you compare MD802 and MD806, then the last one is more updated. That's why this also works quicker than the other one. For Autel MD802, you need to use wire to operate this; it can't work without a direct power supply from the battery or the other side. That's why this scanner's size and weight are a little bit more than the MD806 one.
You can get an SD card and USB port in the MD806 scanner. With a 4-inch LCD display, you can easily find the fault in the screen. And LCD is better than TFT display. On the other hand, Autel MD802 needs a wire to operate. It can't work without a power supply. You need to attach this with your car's power, and then you can get the result. But if you are new in this car repair world and don't know much, then you can buy this MD802. This is very budget-friendly and gives you almost every feature of the other two scanners.
On the other hand, Autel MD806 and MD808 are both quite the same in features. There are some differences in their hardware parts and outlook. Other than that, both are the same. The size and weight are also similar in both devices. But MD808 is more upgraded than MD806, that's why it's easier to use and quicker to find the issue from the car. If you look at the price, then Autel MD808 is more expensive than MD806. If you don't need the quicker result, then you can buy the Autel MaxiDiag MD806. 
And if you are still confused about Autel MD802 and MD808 and you don't have to worry about the budget, then go with MD808. You got an LCD display with a fast-running processor. The quality of every scanner is undoubtedly the best. And Autel gives you the best quality product in every budget, and it just depends on the number of features and functions Only. Now Autel brings their pro version of every scanner. And this is more user-friendly than other older ones. The price would be higher, but this is easy to use and gives you many more features. With all this scanner, you can get a user manual, which is very helpful. You can get any solution from this book. So try to carry it with your car.