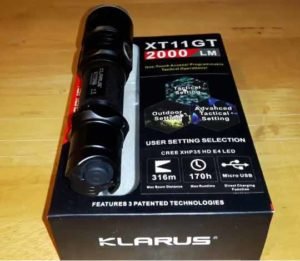 The Klarus XT11GT is the best selling flashlight from Klarus brand. The light beam distance is 402 meters, 2 switching modes, total 6 lighting modes, polarity protection and lot more features. Read this Klarus XT11GT review to know more about this flashlight. Here are the main reasons why you should consider to buy this Klarus XT11GT flashlight:
1) Six brightness settings
SOS mode (100 lumens) – run time 36 hour.
Low (10 lumens) – run time 170 hour.
Medium (100 lumens) – run time 12 hour.
High (400 lumens) – run time 3.5 hour.
Strobe mode (2000 lumens) – run time 1.7 hour.
Turbo (2000 lumens) – run time 50 minute.
2) Can be used for tactical or outdoor activities
3) Led Compact Rechargeable Flashlight
4) Include: 18650 Battery, USB Charging Cable, Car Charger, Pocket Clip, Wall Adapter, Lanyard, Holster and USB Mini Light (Check below Buying link).
Currently, there are various flashlight brands on the market, providing different types of lights. Some are durably made while others are of poor quality. Consider buying a flashlight from a reliable brand such as Klarus. Flashlights made by Klarus are one of the best and normally come with excellent features. You can also compare this light features with Klarus XT11S flashlight and klarus xt12gt rechargeable flashlight.
Technical Features of the Klarus xt11gt flashlight
| | |
| --- | --- |
| Features | Klarus xt11gt |
| Maximum Brightness: | 2000 lumens |
| Minimum Run-time: | 50 minutes (2000 lumens) |
| Minimum Brightness: | 10 Lumens |
| Maximum Run-time: | 170 hours (10 lumens) |
| Beam Distance: | 402 Meters |
| Normal Modes: | 4 (10, 100, 400, 2000 lm) |
| Battery include: | Yes (1 Lithium ion battery) |
| Flashing Modes: | 2 (100, 2000 lm) |
| Switch: | 2 (side switch and tail switch) |
| LED: | CREE XHP35 HD E4 |
| Weight: | 130 grams |
| Body: | Aerospace Aluminum Alloy |
| Waterproof standard: | IPX-8 |
| Length: | 142.6 mm |
| Warranty: | Yes |
| Price: | Check Today's Price On Amazon |
Klarus XT11GT Flashlight Review(video):
Using your mobile torch to provide you with light is not a bad idea, but it can quickly drain your mobile battery. Most of today's phones come with a torch or have the alternatives of installing mobile torch apps. This is not a bad idea, but it should be used on a temporary basis. A flashlight is more reliable and offers a handful of uses. Read this Klarus XT11GT review and find out it is worth buying or not.
One of the best flashlight from Klarus is the Klarus xt11 gt. This is ultra-compact and lightweight flashlight. It is built for tactical use and has outstanding features. It has 6 different light settings with flashing strobe and SOS modes included. The light uses one rechargeable 18650 battery and has a USB charging cable. Furthermore, it has a dual tactical tail switch that offers two places for lighting the flashlight. With a maximum of 2000 lumens and a beam distance of 402 meters, expect this light to meet different uses. This klarus brand have 3000 lumen flashlight too.
Everything you need to know about the klarus xt11gt led flashlight is included in this post. Read further…
Main features & Flashlight Klarus xt11gt review
CREE XHP35 HD E4 LED
6 light setting modes
Dual tactical tail switch and side switch
Max output of 2000 lumens
Three operating modes
USB charging cable
Pocket clip
Mini USB light
Battery capacitor indicator
Rechargeable 18650 battery
A car charger
A holster
A lanyard
Firm grip
Spare O-ring
Smart ITS temperature control system
Waterproof up to IPX8 standard
Impact resistant up to one meter
Weighs 130g without battery
Klarus 5 year warranty
Why buy Klarus Upgraded XT11GT Compact Tactical Rechargeable Flashlight?
Lightweight and compact design. This flashlight is made with sturdy but lightweight materials as it just weighs 130 g with battery excluded. This is very light and you can easily move with the flashlight around. You can keep it in the backpack or pocket by attaching the clip. Also, it is compact in design and fits well in your hand.
Easy to operate. Some flashlights come with complicated features that makes using them can be tricky. The Klarus xt11 gt is very easy to use. It has a dual tactical switch and side switch for simple operation. The side switch has a lock function to prevent accidental illumination from taking place. Al you have to do is to place a rechargeable 18650 battery and start to use the flashlight.
Offers different light settings for different use. One of the unique features of this light is that it comes with 6 different lighting modes. These include turbo, high, medium, low, strobe, and SOS modes. Every mode has its own function. The low mode is great if you want to use the light for a long period of time such as inside a tent. The turbo mode is the most powerful and can be used to disorient the enemy together with the strobe mode. And finally, the SOS mode is for alerting rescuers in case you are stacking somewhere or when in grave danger.
Extremely bright light with maximum 2000 lumens. If you're looking for a very bright light that is lightweight and compact in design, then this is the most suitable flashlight for you. It operates at a maximum of 2000 lumens. This is extremely bright and you will be able to light the entire room or path without any problem. Also, its maximum beam distance is 402 meters, which means that you will be able to view your target when hunting from such a distance.
Excellent grip. Some flashlights are very hard to handle. This is because they don't have a firm grip that can be successfully utilized even in wet conditions. The xt11 gt led light has a firm grip that enables the user to easily handle the flashlight even in wet conditions. This is really important, especially if you're chasing a deer or fending off an assailant. You wouldn't want the torch to slip from your hand while on the go.
Check Price
Impact resistant and waterproof. What is the use of acquiring a light at a high price and for tactical use only to fail functioning in adverse weather conditions? The Klarus xt11 gt is both impact and water resistant. Actually, it is rated as IPX8 waterproof. Also, it can resist an impact of up to one meter.
Uses LED bulb. There is not a strong and reliable bulb such as the LED bulb. It is indestructible and has a long hour lifetime. This tactical light comes with CREE XHP35 HD E4 LED that provides a maximum of 2000 lumens. In addition, it has 50, 000 hour life time. No matter the condition, the light produced from the LED bulb will be visible. So, it can be used in a smoke, dust or dark environment without any problem.
Uses rechargeable battery. The good thing about this flashlight is that it has a battery that can be recharged. This can be done even in the car by use of the car charger included or from a port using the USB charging cable provided. The rechargeable 18650 battery offers different run times depending on the mode being used. When the light is switched to low mode, it can function up to 170 hours. But when on turbo mode, it can only function for 50 minutes.
Easy storage with the clip and holster. When not in use, you can store it in your pockets or attach it on your belt by use of the clip. Also, it comes with a holster which ensures that it is safely stored.
Has a 5 year warranty from Klarus. Buyers of this quality led light get a 5 year warranty from the Klarus brand. This indicates that the manufacturer has full trust in the flashlight and is willing to provide such a warranty.
Klarus xt11gt recall?
Nope! This model is one of the best selling flashlight from Klarus brand. Demand and supply still normal.
Cons:
I don't like a few things:
If you run flashlight at turbo mode half an hour or more continuously, then flashlight body will be too hot and may face problem to keep it in your hand. (Although, Most of the time you don't need to run at that mode continuously because you don't need that much brightness for normal work).
The flashlight gets very hot when in use(Turbo mode).
It doesn't accept all kinds of batteries and you should be prepared to use Klarus batteries for great performance.
It is not sturdily made and when dropped a few times, it will shatter or stop working altogether.
Klarus xt11gt vs xt11s
Find here the difference between Klarus xt11s and xt11gt.
| | | |
| --- | --- | --- |
| Features | XT11GT | XT11S |
| Brightness: | 2000 lumens | 1600 lumens |
| Beam Distance: | 402 Meters | 330 Meters |
| Maximum Runtime: | 170 hour | 260 hour |
| LED: | CREE XHP35 HD E4 | CREE XP-L HI V3 |
| Length: | 142.6 mm | 139 mm |
| Weight: | 130 grams | 115 grams |
| Price: | Check Price | Check Price |
Summary
Flashlight users usually select a light that can be relied on in different conditions. The Klarus xt11 gt is a powerful flashlight that is powered by a rechargeable 18650 battery. It is very bright with a maximum of 2000 lumens and has several lighting modes to control the light that you need for different uses. The light has a holster for carrying the flashlight when not in use. You can adjust the light to any of the 6 lighting modes with SOS and strobe mode included. Such a quality and feature packed flashlight is great for hunting, hiking, and for other outdoor activities. Adding it to your emergency kit is a great idea. Hope you've found this Klarus XT11gt review helpful.