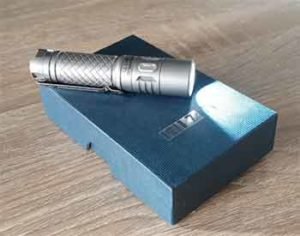 Started a few years ago, Klarus is now considered to be among the best flashlight brands on the market. This is because of its quality flashlights that are durably built and perform well. Also, these flashlights are sold at very favorable prices when compared to other brands. The Klarus Mi7 flashlight has a brightness of 700 lumens, total 5 modes, water resistant, lock-out & reverse polarity features and more. So, is it worth to buy Klarus mi7 flashlight? Read the Klarus mi7 review article to know more about this keychain light.
Technical Features of the Klarus Mi7 flashlight
| | |
| --- | --- |
| Features | Klarus Mi7 |
| Maximum Brightness: | 700 lumens |
| Minimum Brightness: | 5 Lumens |
| Maximum Run-time: | 67 hours (5 lumens) |
| Minimum Run-time: | 53 minutes (700 lumens) |
| Flashing Modes: | 2 (90, 700 lm) |
| Beam Distance: | 180 Meters |
| Lighting Modes: | 3 (5, 90, 700 lm) |
| Switch: | Side switch |
| Body: | Aerospace Grade Aluminum Alloy |
| Battery include: | Yes |
| LED: | CREE XP-L HI V3 |
| Reverse Polarity Option: | Yes |
| Length: | 87.2 mm |
| Weight: | 26.4 grams |
| Waterproof standard: | IPX-8 |
| Lock-Out mode: | Yes |
| Price: | Check Today's Price |
A good flashlight should be well made and provide very bright light to illuminate the area of choice. Moreover, it should cover a wide area so that you can be safe when using it in the woods, camp or even in dark alleys. With different types of flashlight being offered by Klarus, you can choose a model that you think suits your needs.

Video Review of the Klarus Mi7 Flashlight:
The Klarus mi7 is one of the most affordable and durably made flashlights from the Klarus brand. It is constructed from aerospace grade aluminum material and has a hardened mineral glass lens. The switch is simple to use and it is made of stainless steel metal. The compact and lightweight flashlight is suitable for everyday use as it's not cumbersome to carry. It can also be used in different weather conditions such as in rain. A flashlight is a must have device for any outdoor enthusiast. But it is also important for one to correctly select a quality flashlight so that they can benefit abundantly from it.
With maximum lumen of 700, expect this light to cover a wide area. It has a beam distance of 110 meters and can function up to 67 hours. The lock-out mode included in the flashlight is for preventing accidental light and the reverse polarity protection prevents from bad battery placement which can damaged the LED light. These and many other features make the Klarus Mi7 to be an exceptional flashlight.
The flashlight Klarus Mi7 review & Product specifications
Hardened mineral glass lens with anti-reflective coating
Aerospace grade aluminum body
Stainless steel side switch
Battery capacity indicator
Reverse polarity protection
Has 3 brightness levels and 2 special light modes
Maximum runtime of 67 hours
Uses CREE XP-L HI V3 LED with 50, 000 hours lifespan
IPX-8 waterproof rating
Over discharge protection
Constant current control with no PWM flash
Lock-out mode
Impact resistance up to one meter
Maximum lumens of 700
Maximum beam distance of 110m
Weighs 26.4g without battery
Klarus 5 year warranty
Benefits of using the Klarus Mi7 LED flashlight
Read this Klarus Mi7 review to know the main features of this keychain light.
Aerospace grade aluminum construction
A flashlight isn't worth buying if it's not well built. The Klarus mi7 maybe a small flashlight but it is built to serve the user for a very long period of time. The body of the flashlight is built with aerospace aluminum alloy 6061-T6 military grade and has a hard anodized finish. In addition, the glass lens is of hardened mineral with anti-reflective coating. This prevents the lens from scratching. The switch is not left behind when it comes to sturdiness as it is as well made from stainless steel metal.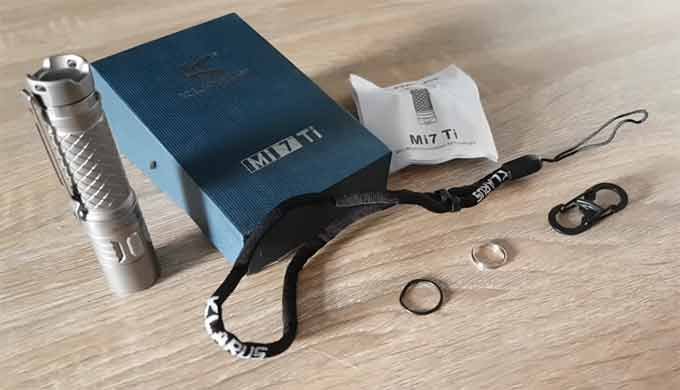 Powered by AA and Li-ion 14500 batteries
Unlike some small flashlights which only use AA batteries, the Klarus mi7 LED light uses different types of batteries. These include rechargeable AA batteries, AA batteries, LiFePO4 batteries, IMR Li-ion batteries, AA lithium batteries and rechargeable Li-ion batteries. On purchase, one gets one AA battery included in the bundle. Also, the flashlight accepts all types of AA batteries on the market. But if you want excellent outcomes, it is recommended that you use 14500 Li-ion rechargeable battery.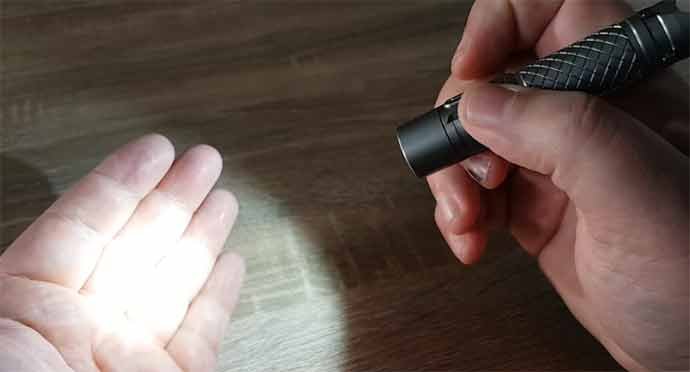 Extremely bright light with maximum of 700 lumens
When I first obtained the mi7 led light, I thought it will provide light similar to flashlights in its range. But it turned out to be different as it offers very bright light. It has a maximum of 700 lumens with a beam distance of 110 meters. This implies that the flashlight will light your path very well and it has no dark spots in it. The 700 lumen flashlight also has a constant current circuit with no PWM dimming that prevents flickering, secures your eyes, and suitable light for photography. If you need more powerful light then check this klarus xt11gt light.

Check Price
Offers three output levels and two specialty modes
Many everyday carry lights don't offer much. The Klarus mi7 flashlight is different. It comes with 3 different light modes and 2 special modes. The moonlight light mode has 5 lumens and runs for 67 hours, low light mode has 90 lumens and runs for 3 hours 47 minutes, high light mode has 700 lumens and runs for 53 minutes, the strobe mode has 700 lumens and runs for 1 hour 46 minutes, and finally, the SOS mode has 90 lumens and runs for 11 hours 21 minutes. Choose the right mode with accordance to use or needs.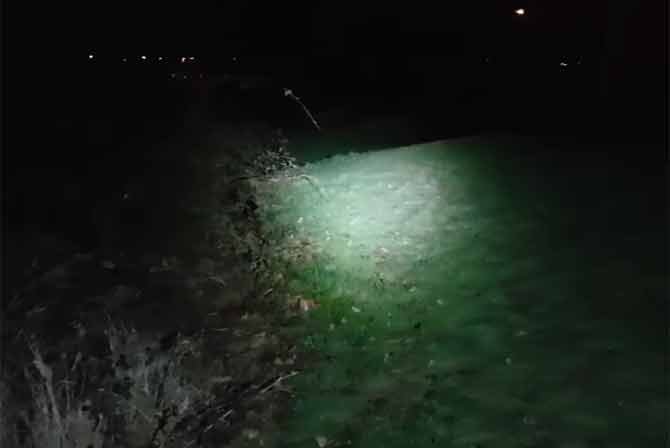 Compact and lightweight design
The flashlight is perfectly designed to fit well in the hands of the user. It has a diamond shaped knurling to act as a grip for easy handling during use. Its compact design means that it can be used in tight places and be also kept easily. Use the keychain hole to attach it to your keys or the lanyard to attach it to your belt.
Easy to operate flashlight with a side switch
Operating this flashlight is very easy and quick. The stainless steel side switch can be used to switch on/off the flashlight. It has a one touch access to moonlight and one touch access to high output levels. The switch is well positioned and it makes using the flashlight to be very easy with one hand operation.
Functions in adverse weather conditions
If you work in tough areas such as mines where dust and water is common, this flashlight can still deliver. It has an IPX-8 water proof rating and thus it can stay under water up to 2 meters for 30 minutes. Also, it is resistant to impact up to one meter. That's how strong the mi7 is. So, you can use it in the wild or rugged places and it will still deliver.
Lock-out mode
One of the unique features of this flashlight is the lock out mode. Since the flashlight has a side switch, there is a probability that it can accidentally turn on when kept in the pocket. This feature prevents that from happening.
Reverse polarity protection
Placing the battery the wrong in the flashlight can end up damaging the device. To prevent this, Klarus has included the reverse polarity protection feature. It also has an over-discharge feature that lowers output level to protect rechargeable battery.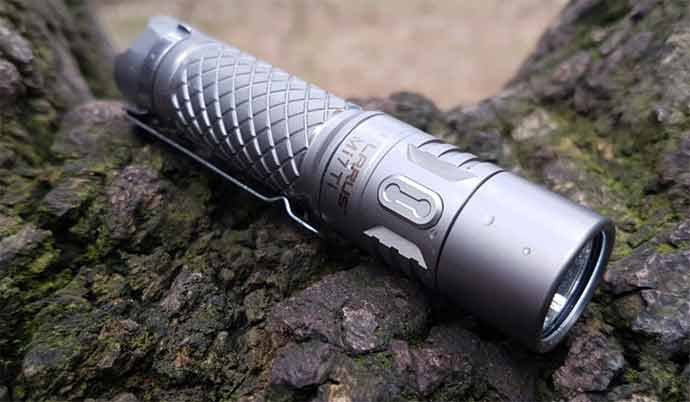 Battery capacity indicator
If you want to know what percentage of the 14500 lithium ion battery remains, simply click the switch three times while it's off. The LED will blink the battery power and the results will be as follows: 3 blinks will mean that it is over 70%, 2 blinks will mean that it is between 30% and 70%, while 1 blink will mean that it is below 30%. This applies for the rechargeable battery only.
Summary
Despite being small in size, the Klarus mi7 flashlight has proven to be among the best edc flashlights on the market. The flashlight offers a high 700 lumen which is hard to find in a flashlight of its size. In addition, it has a maximum runtime of 67 hours with three different lighting modes and two special modes. The flashlight can be used in tough surroundings and even n bad weather such as rain. Also, it has some unique features such as battery level indicator, lock-out mode, reverse polarity protection, and over discharge protection. These features placed together make this flashlight to be exceptional and highly reliable for daily carry and use. I hope you have gotten a clear idea after reading this Klarus Mi7 review article.