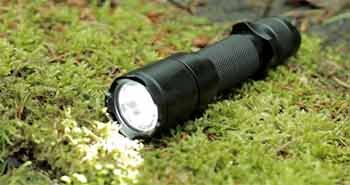 Buying a flashlight is one of the most challenging things people normally face. There are several types of flashlights on the market to choose from. Knowing how to distinguish a great flashlight from the low quality one is crucial. Depending on where you want to use the flashlight, you can choose one that has the features that you need. The Fenix TK16 flashlight maximum lumen is 1000, beam distance 240 meters, Waterproof, 5 modes, 7 days run-time(10 lumen mode), impact resistant and more. In this Fenix TK16 review article we have discussed all features of this flashlight.
Technical Features of the Fenix TK16 LED Flashlight
| | |
| --- | --- |
| Features | Fenix TK16 |
| Maximum Brightness: | 1000 lumens |
| Minimum Brightness: | 10 Lumens |
| Maximum Run-time: | 150 hours (10 lumens) |
| Minimum Run-time: | 1 hour & 10 minutes (1000 lumens) |
| Impact Resistance: | 1 meter |
| LED: | Cree XM-L2 U2 |
| Waterproof standard: | IPX-8 (Underwater: 2 meters) |
| Beam Distance: | 240 Meters |
| Modes: | 5 (1000, 400, 150, 10, 1000(strobe)) |
| Body: | Aircraft-grade aluminum |
| Length: | 140 mm |
| Weight: | 122 grams |
| Battery Include: | Yes (Two CR123A Lithium) |
| Price: | Check Today's Price On Amazon |
Tactical flashlights are the best. They are durably built and last longer than normal lights. That's the reason many people prefer small and sturdy flashlights to the big ones. Everyday carry tactical lights are lightweight and compactly constructed for simple use. 
One of the reliable flashlight brands on the market is Fenix. The Fenix has introduced the tk15 light which is an upgrade of the bestselling fenix tk16 flashlight.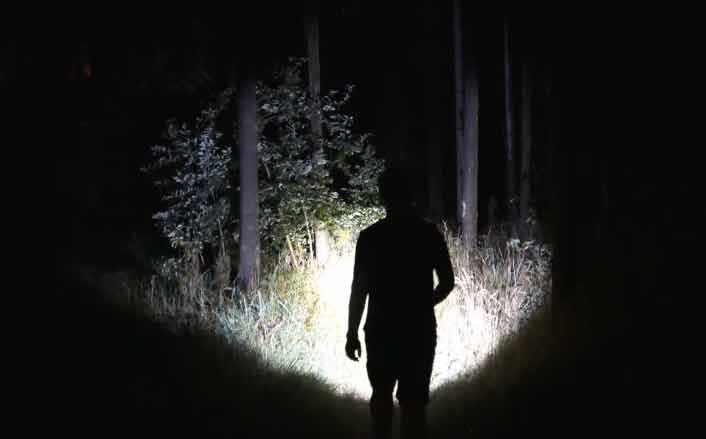 Fenix tk16 is sturdily built from aircraft grade aluminum. It uses CREE XM-L2 U2 led which provides a maximum of 1000 lumens and covers a beam distance of 240 meters. The dual tactical switch makes switching on/off the light to be easy and it comes with 5 different lighting modes. The dual design provides extra stability and it is as well waterproof up to 2 meters for 30 minutes. If you intend to use it as a security weapon, it has a striking face bezel and strobe mode for using against an assailant. This flashlight have similar functionality with fenix pd35 flashlight(check review here).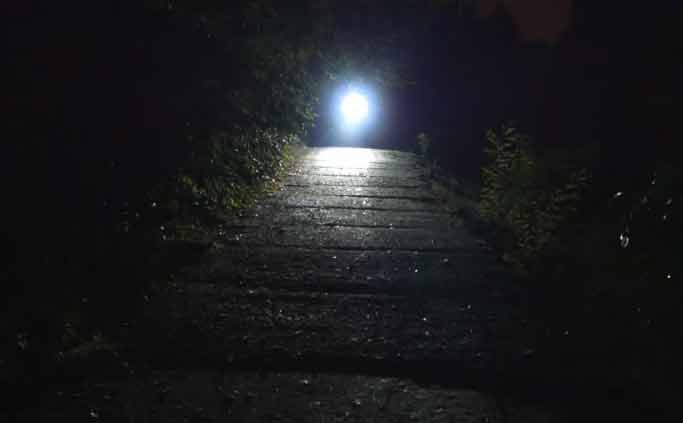 The rechargeable tk16 uses one 18650 Li-ion battery or 2 3voltage CR123A lithium batteries. With the reverse polarity protection, the battery is secured from improper insertion. The low voltage warning function lets you now if the battery is low and should be recharged. If you want a reliable tactical light for security reasons, hunting or hiking, this is the best flashlight for you.
The Fenix TK16 Review & product features
Anti-roll, slip resistant design
Durable aircraft grade aluminum body
Premium type III hard-anodized ant-abrasive finish
Dual spring design
Reliable dual layer body
Toughened ultra clear glass lens with anti-abrasive reflective coating
Uses Cree XM-L2 U2 led bulb
Tactical tail switch for momentary-on function
Tactical mode switch for simple and quick out-put selection
5 lighting modes with strobe mode
Powered by one 18650 Li-ion battery or 2 3volt CR123A batteries
Reverse polarity protection
Strike face bezel
Low-voltage warning function
1000 max lumens
Max runtime of 150 hours
240 meters max beam distance
IPX-8 waterproof
Impact resistant up to 1 meter
Body clip and lanyard
Limited lifetime warranty by fenix lighting
Why the Fenix tk16 flashlight is highly rated
The fenix tk16 led light is durably made with high grade aircraft aluminum. This makes it to be sturdy. In addition, it has a premium type III hard anodized anti-abrasive finish. The ultra clear glass lens is toughened and has anti-reflective coating. The dual spring design enables the flashlight to be more impact resistant and ideal for flat-head batteries. With the anti-roll and slip resistant design, the flashlight is reliable for use in tough conditions.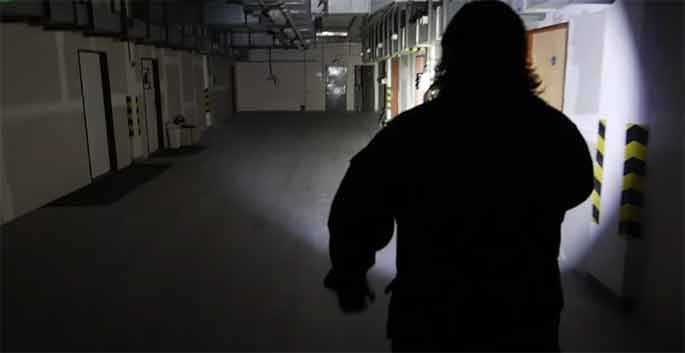 Everybody wants a flashlight that produces bright light. Furthermore, the flashlights that come with different light modes give the flashlight users control over how the led flashlight is used. The fenix tk16 has Cree xm-l2 u2 LED bulb. This is a powerful bulb and an upgrade from that of the fenix tk15. It is able to produce a maximum of 1000 lumens and has a beam distance of 240 meters. Moreover, the rechargeable tactical flashlight has 5 modes with strobe modes. These include low, mid, high, and turbo. For a longer run time, the low mode is the best. But if you want the best throw, then the turbo or high mode is the best.
Fenix TK16 review(video):
Tactical Features
Using the Fenix tk16 flashlight is easy and quick. It has a tactical tail switch for momentary-on function and a tail mode switch for easy and quick output selection. The tail mode switch can be cycled to set a light mode of your choice. Both of these switches can be operated using one finger. Also, inserting the battery is very easy. All you need is to open the tail cap and screw it back. To switch on/off the light, you will need to hold the switch for some time. This prevents the light from switching itself on.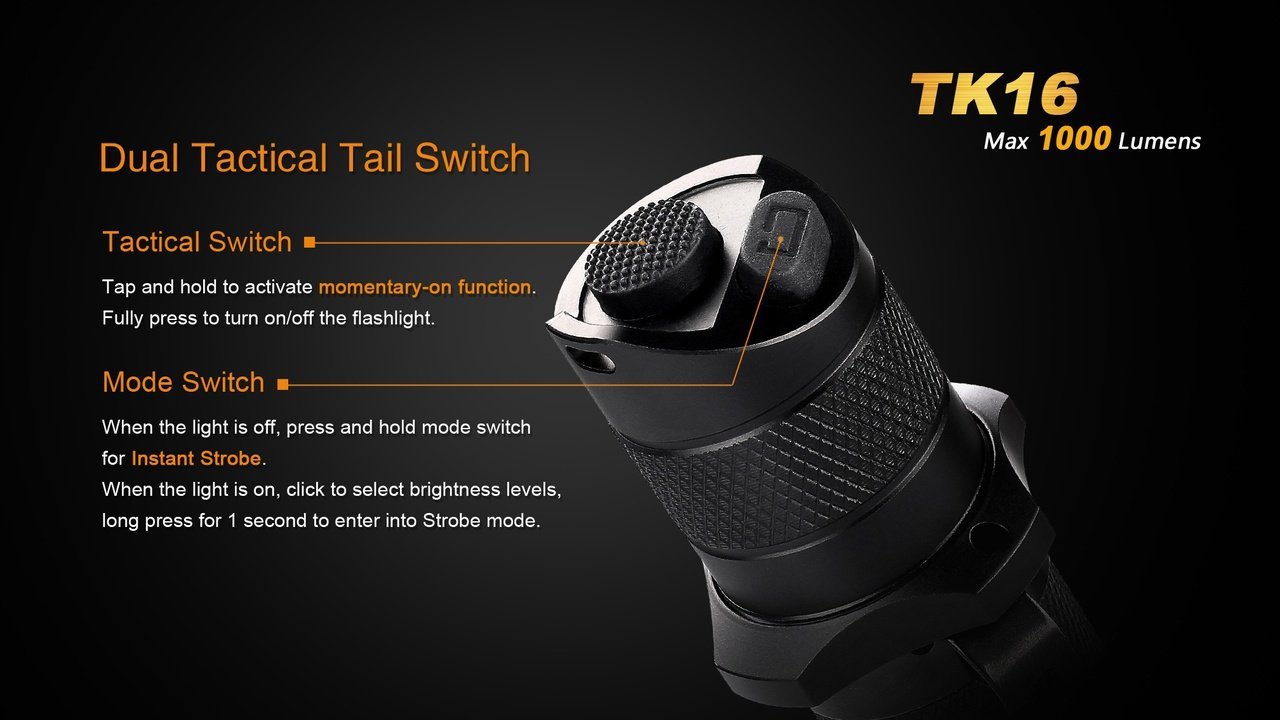 Check Price
The fenix tk16 flashlight uses rechargeable batteries. It comes with 2 LegionArms CR123 lithium batteries. One can use one 18650 lithium ion battery or two 3volt CR123 lithium batteries. When the battery is low, the low voltage warning function will indicate. The battery will run according to the type of mode being used. For long operations, one should consider using low or medium mode. Turbo and high modes use a lot of battery power and don't usually last long.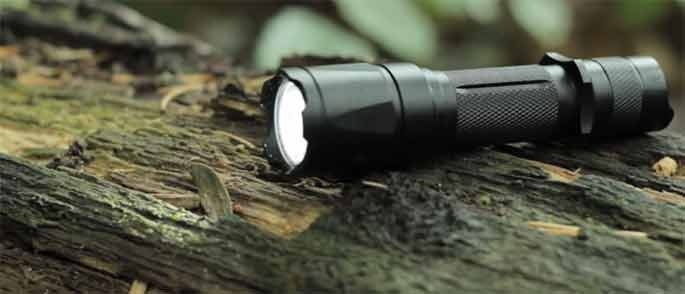 Having a flashlight that you can rely on in different situations is a great idea. The fenix tk16 flashlight is built for tactical use. Its durable construction makes it survive in tough conditions and even withstand falling on hard surfaces. The light has a strobe mode for using against attackers, and it can be mounted on a gun. So, if you're a shooter or hunter, you can attach it on your gun and use it to provide bright light.
Weather and waterproof
Flashlight users love flashlights that can defy all weather conditions. A flashlight that you acquire should provide you light in rain and underwater. It should also provide light that allows you see id dusty or smoke areas. For instance, when there is an outbreak of fire or in emergency situations. The fenix tk16 is impact resistant up to 1 meter. It has a waterproof rating of IPX-8. This allows the light to be immersed in water up to 2 meters for 30 minutes.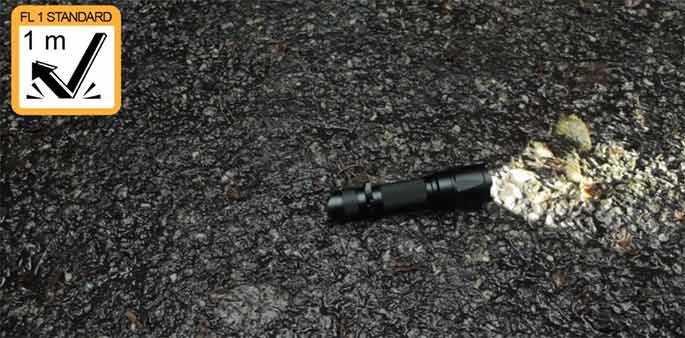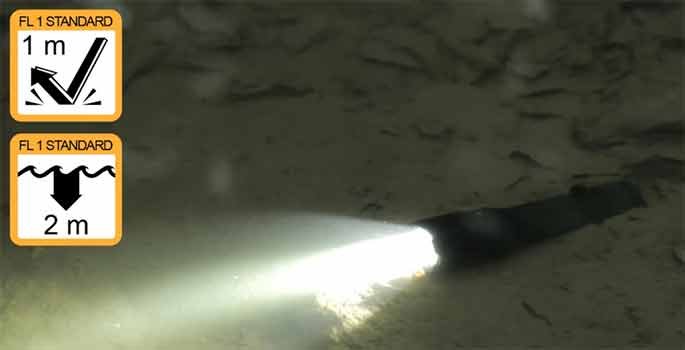 Some flashlights are heavy and difficult to maneuver around with. To avoid this, you can acquire a lightweight and compact light. The Fenix tk16 weighs 122 grams without batteries. It has a pocket clip and lanyard for easy storage. Such features make to be a very portable flashlight.
Reverse polarity protection
Unlike other flashlights on the market, Fenix led flashlights are safe for using. It comes with a reverse polarity protection to avoid improper installing of batteries. Also, it has an over-heat feature that changes light modes if the flashlight starts overheating. So, when the flashlight operates on light mode for more than 20 minutes, the light will change its mode.
Acquiring a flashlight that can be relied on is very important. Not all flashlight brands that you acquire perform exceptionally well. All-in-all, having a flashlight that you can use indoor or outdoor is wonderful. Consider buying one from a reliable brand such as the Fenix. When a person purchases the Fenix tk16 rechargeable LED light, they get a limited lifetime warranty from Fenix lighting US.
Fenix TK16 vs PD35
| | | |
| --- | --- | --- |
| Features | TK16 | PD35 |
| Modes: | 5 | 6 |
| Beam Distance: | 240 Meters | 200 Meters |
| Maximum Runtime: | 150hour (10 lumens) | 140hour (8 lumens) |
| LED: | Cree XM-L2 U2 | Cree XP-L (V5) |
| Length: | 140 mm | 137 mm |
| Weight: | 122 grams | 89 grams |
| Price: | Check Price | Check Price |
Conclusion
If you're looking for a tactical flashlight, the Fenix tk16 is a great choice for you. This LED light is sturdily created with special features. It has a dual spring design for providing better resistance and an IPX-8 waterproof rating. The dual switch makes using of the flashlight to be easy and quick. With such features, this flashlight can be relied on by the user to provide very bright light in dark places or strobe mode to blind an enemy in case of an attack. Still, have a question after reading this Fenix TK16 review? Comment below.