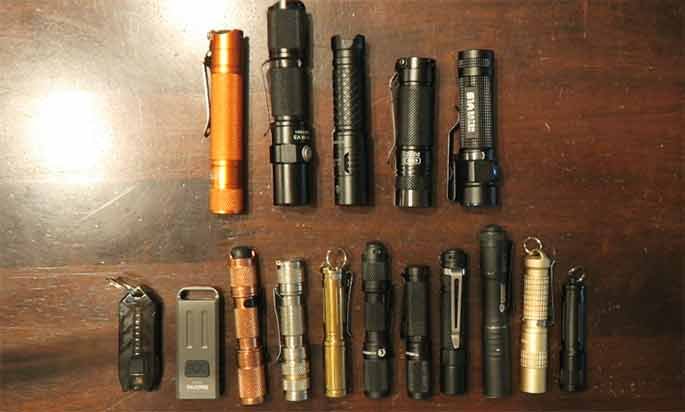 Why use the aa battery flashlight? AA batteries have higher amount of electrochemical material than the AAA batteries. That means, AA battery flashlight have higher voltage than the AAA battery flashlight. Thus, AA batteries are more powerful than any other normal batteries. If you want a long runtime flashlight, then the AA battery flashlight is the best option to buy. Also, Rechargeable aa batteries allow a larger amount of current flow that means long run time again. So, how to find the best AA flashlight that will give a higher brightness and longer run-time too!
Popular AA flashlight comparison Chart
Images
AA Flashlights
Lumens
Battery
Body

(Editor's Choice)


Check Price
ThruNite Archer V3 edc flashlight

Read Review
Max.=200L
Min.=0.1L
Modes=5
1 AA or 14500 rechargeable
Aerospace grade aluminum
Check Price
Streamlight 88033 ProTac Professional light

Read Review
Max.=250L
Min.=18L
Modes=3
2 AA batteries
Anodized aluminum
Check Price
Fenix LD22 Flashlight

Read Review
Max.=300L
Min.=5L
Modes=6
2 AA batteries
Aircraft-grade aluminum
Check Price
Nitecore MT2A LED Flashlight

Read Review
Max.=350L
Min.=17L
Modes=6
2 AA batteries
Aluminum
Check Price
ThruNite TN4A LED Flashlight

Read Review
Max.=1150L
Min.=0.5L
Modes=6
4 AA batteries
Aluminum
Our Top Pick Streamlight Protac aa flashlight video review:
When picking a flashlight of choice, one of the greatest things to look at is the type of battery it uses to function. Rechargeable batteries have become very common in today's flashlights. But AA batteries are easily available and may make a person to opt for an AA powered light. These EDC flashlights are compact and can be carried easily in the pocket or backpack. They are as well powerful and durably made. Another popular battery flashlight is AAA. But this detailed review will enlighten you more about the best AA flashlight and what to consider before buying one of them.
---
SAVE TIME: Directly Go Our Recommend Top 5 AA Flashlight
---
Factors to consider when selecting an AA flashlight
A good thing to look at when acquiring a quality aa flashlight is the material it's made with. The material will determine the longevity of the flashlight as cheap materials like plastic will crush quickly when compared to high grade aluminum and stainless steel which are wonderful for tactical application.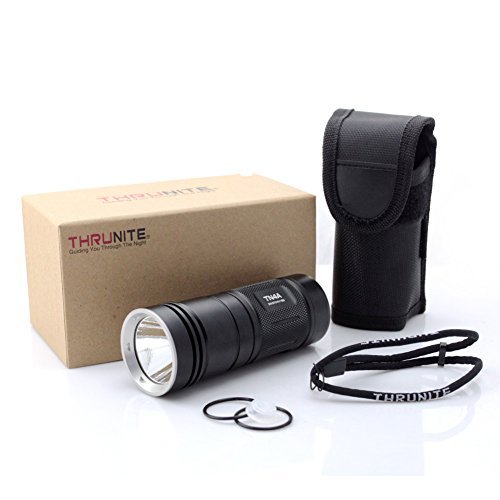 Go for the best aa light with durable materials that can withstand rust, corrosion and is impact resistant.
Flashlight is a tool that every outdoorsman should have it handy. For this reason, it is crucial to buy an EDC flashlight that you can carry easily in your backpack or pocket. There are both large sized, small and medium flashlights to choose from. A good lumen light should be able to fit well in the hand and compact in design for versatile use and easy carry. But if you are going to camp or in totally dark place, a bigger light would be better as they tend to be brighter than the small ones.
Beam distance is really vital when choosing the best aa light. This is because it will determine how far your light reaches. Pick a flashlight with a beam hat you need for your tasks. 
Normally, it comes with two kinds of beams which are flood beam and spot beam. Spot beam covers longer distance while flood beam covers a broad area. Select as per your needs.
How bright do you want your LED light to be? The level of brightness a torch has is usually determined by the number of lumens it has. AA flashlights are not very powerful as other types of lights but still have variations within them. If you want an LED flashlight that lights your path well, choose one with higher lumens. The number of lumens a flashlight has determines its level of brightness.
Even though aa flashlights use the same batteries, their runtime varies with regard to how powerful the light is. If a flashlight has higher lumens or operates using the high lighting mode instead of low or medium lighting modes, the battery won't last for long. Choose a lumen light that gives you several options to allow the battery to run for a longer period of time.
How easy is your flashlight to operate? AA lights come with simple to operate buttons that allow the user to put on/off the light, and adjust the lighting modes with one button. 
Select an LED light with features that allow you operate with one hand.
Price shouldn't be a big factor when picking the best aa light. Different flashlights come with different features. Go for lumen flashlights that function the way you want them to. If you engage in tactical activities, choose a highly durable torch at a very favorable price. Normally, AA flashlight price is less if you compare with others. Alternatively, if you are looking for a torch just for lighting, choose one with higher lumens.
There are so many aa flashlights brands on the market today. Purchase from those with a reputation to avoid buying inferior LED lights. Acquire from brands like streamlight, FENIX, Nitecore, and ThruNite. Here, you will get value for your money.
The 5 best aa flashlight reviews
After researching on different types of AA lights, we managed to come up with the 5 best aa flashlight that most of the people recommend and are proud to own.
ThruNite Archer AA Flashlight reviews(Our Top Pick)
The ThruNite archer is made from quality aerospace grade aluminum body that makes it last long. It has CREE XP-L V6 LED bulb that is bright and powerful. The pocket allows the user to attach the flashlight as they perform their duties. With a limited lifetime warranty, this LED light is among the best.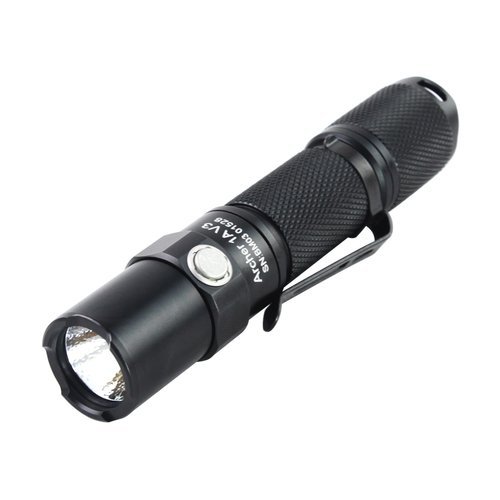 Check Price
Main features:
Aerospace grade aluminum body
CREE XP-L V6 LED
200 Lumens
Pocket clip
Military grade type III hard anodized ant-abrasive finish
Pros:
Limited lifetime warranty and 30 day money back guarantee
Durably created
Easy to carry with its pocket clip
Streamlight 88033 ProTac Professional Tactical Flashlight
This is a quality light from a notable brand streamlight. It is durably made to withstand hard surroundings and has a pocket clip to easily carry the torch as you hunt or fish. The tail switch makes the LED light to be easy to operate. Also, the light can be applied both indoor and outdoor.

Check Price
Main features:
Anti-roll face cap
Multi-function, push button tailswitch
250 lumens
CA LED technology
Pocket clip
3 lighting modes
Pros:
Provides bright light with 250 lumens and C4 LED bulb
Durably made to last longer
Has 3 lighting modes for versatile use
Pocket clip for easy carry
Easy to use tail switch button
FENIX LD22 Flashlight
FENIX is among the notable flashlight brands on the market. The FENIX LD22 light has 300 lumens and CREE XP-G2 LED for maximum brightness. It has a strong body made from aircraft grade aluminum and a pocket clip for attaching to the pocket as you hunt, or carry out outdoor activities. the strobe mode can be used to disorient enemies.

Check Price
Main features:
CREE XP-G2 LED with lifespan of 50, 000 hours
Aircraft grade aluminum body
4 brightness modes with strobe and SOS
Max of 300 lumens
Pocket clip
Pros:
Easy to use with 4 lighting modes and the strobe and SOS lights available
Very bright with 300 lumens max
It last long with aircraft grade aluminum body
Nitecore MT2A LED Flashlight
Nitecore MT2A light has it all with the CREE XP-G2 R5 LED bulb that is powerful. The 3 lighting modes allows the user to use the light for different purposes with the addition of the strobe and SOSA modes. In addition, the light is very bright with 345 lumens making it good for outdoor use.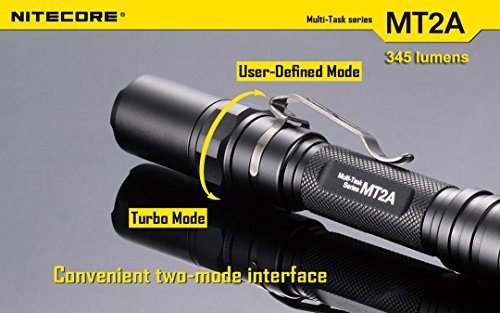 Check Price
Main features:
345 lumens
3 lighting modes with strobe and SOS
CREE XP-G2 R5 LED bulb
Lumen tactical premium top cover
Pros:
Easy to operate
It is bright with a max of 345 lumens
Has a cover to provide safe storage
ThruNite TN4A LED Flashlight
The ThruNite TNA light is one of the most advanced when it comes to the best aa flashlight. It has 1150 lumens that makes it to be very bright and is made of durable materials for longevity. The advanced electronic switch makes using this device to be simple and quick.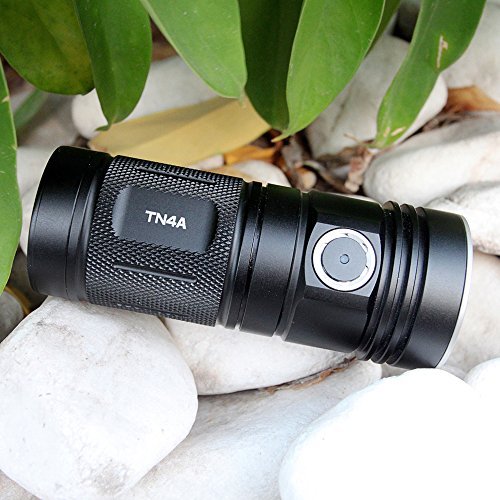 Check Price
Main features:
1150 lumens
Durable material
Advanced electronic switch
CREE XPL –V6 LED
Pros:
Compact in design
Built with durable materials for longevity
Extremely bright with 1150 lumens
Klarus Mi7 LED Flashlight
Powered by the Cree XP-L VI 3 LED with 50, 000 hour lifespan, the Klarus Mi7 flashlight is one of the best selling EDC lights on the market.
Product features:
Aero-grade aluminum construction
Hardened mineral glass lens
Hard-anodized finish
Waterproof up to 2 meters
1-meter impact resistant
Reverse polarity protection
3 light modes and 2 strobe modes
Battery capacity indicator
Stainless steel switch
Lockout mode
Over-discharge protection
Despite being small in size, this flashlight will give you the brightness that you need in a very dark area. In the brightest mode, it will reach up to 110 meters which is just great for its size. It is also durably constructed and can survive the daily bashing. Keep this in your pocket and you will never feel alone ever again!
Pros:
Made with sturdy materials for long-lastingness
It is small and lightweight
The light is very bright with a maximum of 700 Lumens
It is water-resistant up to 2 meters and impact resistant up to 1 meter
The lockout mode prevents accidental activation of the light
It is versatile with 3 light modes and 2 special modes
The battery is protected by the over-discharge protection and reverse polarity protection
Cons:
The button is not well made as it taps so easily and changes modes so fast
Fenix E12 130 Lumen Flashlight
Fenix offers many flashlight types and sizes to all kinds of users. The Fenix E12 flashlight is created for people who need a small but powerful flashlight for everyday use. This can be for work, camping, or for simple home lighting needs like when there is a blackout. To begin with, the flashlight is solid as it is constructed from durable aircraft aluminum. It is also powered by one AA NiMH or alkaline battery and runs for 40 hours. Use the tail cap to turn on the light and access low, medium, or high light modes.
Product description:
Tail tap switch
Durable aircraft-grade aluminum
Premium type 3 hard-anodized anti-abrasive finish
Utilizes Cree XP-E2 LED
3 brightness levels
Broad beam lens
Reverse polarity protection
High-efficiency total reflection lens
IPX-8 waterproof rated
Pros:
It has a peak beak distance of 88 meters which is amazing for its size
Strongly made to last longer
Offers the user with 3 light modes for different uses
Reverse polarity protection prevents bad battery placement
It is waterproof up to 2 meters for 30 minutes
It has a slightly recessed switch for preventing accidental activation
Cons:
Not the brightest light on a very dark night.
Summary
AA flashlights may not be the most powerful or durable but still deliver excellent results. All you have to do is pick a light that matches your needs and easy to operate. Most of them have simple to use features and compact for easy carry or storage.